Thursday, November 8, 2012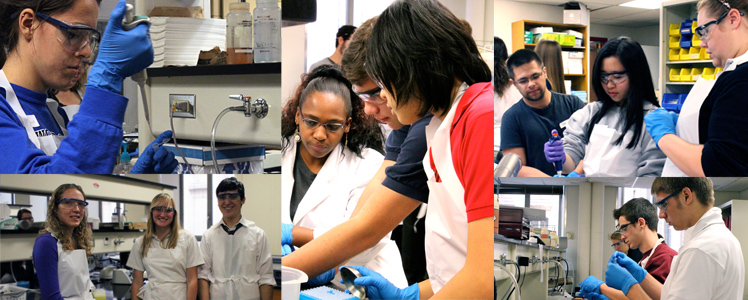 Department of Biological Sciences Hosts A Murder Mystery Outreach Event
On October 10, the Department of Biological Sciences hosted an outreach event for area high school students. The event was attended by 55 students from Serra Catholic, Ringgold, Bishop Canevin, and Ellwood City High Schools, along with their teachers Cara DeSalvo (Serra Catholic), Sarah Brown (Ringgold), Peggy Evans (Bishop Canevin), and Jonica Walters (Ellwood City).
The high school students were transformed into forensic scientist for the day by solving a murder mystery with DNA fingerprinting technology. The human genome has regions of repetitive DNA sequences known as Variable Number of Tandem Repeats (VNTR). The number of repeats and the location varies between individuals. Since the DNA fingerprint is so unique to each individual, students were able to compare "crime scene DNA" to known "suspect DNA", and solve the crime. Purified plasmid DNA was used as the crime scene DNA. Prior to creating the DNA fingerprint, restriction enzymes were used to determine the VNTR. This created a highly specific pattern of DNA and the DNA fragments were then analyzed by agarose gel electrophoresis.
Numerous undergraduate and graduate students served as teaching assistants and guided the high school students through the experiment. The following graduate students assisted with the event: Emily Furbee, Andy Kehr, Ming Zhang, Alys Cheatle, and Yi Wang. The undergraduates involved included Kayla Zamora, Laura Filliger, Joe Defazio, Michael Platov, Darren Morris, Erica Moore, Tam Minh Le, Katie Supko, Rachel Sewell, So Jung Lee, Nick Zuniga, Vishnu Chandra, Alex Rodriguez, Lauren Williams, Marianne Pan, Alex Chen, Danielle Peters, Jimmy Shak, Mark Nicholas, and Stephanie Hare.
Additionally, Dr. Carrie Doonan and Sara Blankenship organized the event. Dr. Emily Drill, Dr. Annette Vincent, Mr. Barry Harris and Lynley Doonan were lead instructors for the event. Anther departmental participant in the outreach event was Trina Goggins.
By: Sara Blankenship