Tuesday, February 14, 2012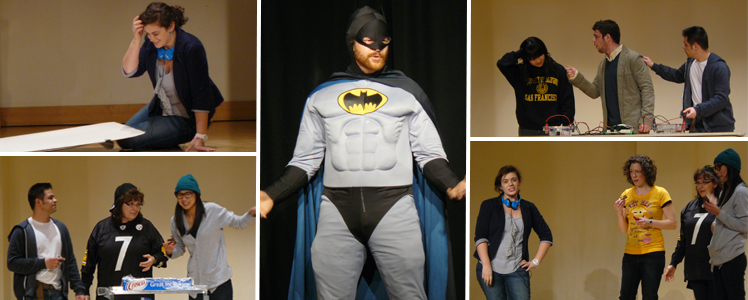 BioSAC Presents "In the Dark of the Knight"
The Biological Sciences Student Advisory Council took center stage for their annual Murder Mystery Dinner on January 31 and February 2. This year the group performed the play "In the Dark of the Knight," written by undergraduates Stephanie Guerra and Andrew McCoy
"In the Dark of the Knight" follows a group of students as they gather for the annual summer poster session. As the competition heats up for best overall poster and research idea murder ensures.
This year's cast included:
Katherine Forsyth as Penny Phage,
Stephanie Guerra as Terry Tryptophan,
Dr. Carrie Doonan as Harrison Helicase,
Dr. Maggie Braun as Lola Lysine,
Joe DeFazio as Mike Crow Tubule,
Neha Chaurasia as Dakota Gene,
Marianne Pan as Sammy Spindle,
Andrew McCoy as Professor Peptide,
Lyndsey Fong as Maya Sin,
Vishnu Chandra as Dr. Mannose,
Dr. Justin Crowley as Batman (the narrator),
and Tom Miller as Police Officer.
Ian Campbell, Abby Schaeffer, Sara Hoge and Danielle Devine also served as stage crew.
Click for more photos or to view the video of "In the Dark of Knight."