Tuesday, May 15, 2012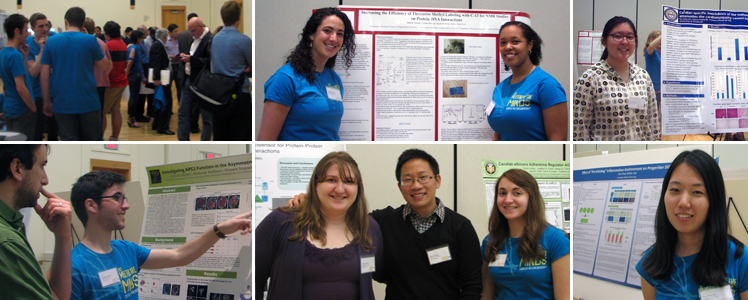 Biological Sciences Participates in the Meeting of the Minds
On May 9, 2012, Carnegie Mellon University hosted its annual symposium celebrating undergraduate research, the Meeting of the Minds. Sponsored by the Office of Undergraduate Research, this event allowed undergraduates to display their research to the entire campus community and visiting industry professionals.
During the Meeting of the Minds, Sigma Xi, the international honorary research society, sponsored a poster competition. Numerous biological sciences undergraduates participated in the event, since it was open to any student presenting a poster in the quantitative sciences. Biological Sciences undergraduate David Huang tied for first place with a physics student. His poster was entitled "Candida Albicans Adherence Regulator ACE2 Is A Pivotal Target Of SNF5;" his advisor was Dr. Aaron Mitchell.
In addition to the undergraduates, the Biological Sciences department supported this outreach event in numerous capacities. Dr. Shoba Subramanian served as organizer of the competition. Faculty members Maggie Braun, Emily Drill, Veronica Hinman, Linda Visomirski-Robic, postdoctoral fellows Jill Dembowski, Jeanne Morin-Leisk, Wenjie Xu, and alumnus Parul Nisha were among the judges.
Associate Professor A. Javier López also served as a judge for the Richard Schoenwald Phi Beta Kappa Undergraduate Research Prize.
All Biological Sciences Undergraduate Participants
Areej Ali
Infants' Perception of Causal Chains
Advisor: David Rakison
Titas Banerjee
Phylogenomic Analysis of Tumorigenesis Using Breast Cancer Cells
Advisor: Russell Schwartz
Veronika Biskis
The Relationship Between Attentional and Statistical Language Learning Processes in Preschool Children
Advisor: Erik Thiessen
Clare Bozso
Behavioral Response to Positive Emotional Distractions Differentiate Youth with ADHD Based on Familial Risk of Bipolar Disorder
Advisor: Lori Holt
Neha Chaurasia
Using Analogical Comparison to Improve Mineralogy Site Identification
Advisor: David Klahr
Lianne Cohen

A Flourogen-Activating Protein Biosensor for Protein-Protein and Cell-Cell Interactions

Advisor: Jonathan Jarvik
Paige Davison

Determining the Ways in Which APC2 Cortically Localizes
Advisor: Brooke McCartney
Nicholas Delrose & Allyson Koyen
Investigating the Role of APC2 in Asymmetric Division of Drosophila Neuroblasts
Advisor: Brooke McCartney
Belle English
Visualization of GFP-tagged Proteins in Neuronal-fated MES
Advisors: Margaret Fuhrman & Jonathan Jarvik
Stephanie Guerra

Identification of CIS Regulatory Sequences of Effector Genes in the Sea Urchin Skeletogenic Gene Regulatory Network

Advisor: Charles Ettensohn
Siping He

Investigating the Biological Function of a Non-exonic Recursive Splice Site in the Polychaetoid Gene of Drosophila
Advisor: A. Javier Lopez
David Huang

Candida Albicans Adherence Regulator ACE2 is a Pivotal Target of SNF5

Advisor: Aaron Mitchell
Minju Kim

Human Tear Lipocalin for Imaging Cell Surface Proteins

Advisor: Gordon Rule
Diane Koeller
Truncation, Cloning and Expression of Debranching Enzyme
Advisor: Mark Macbeth
Ling-Yi Kung
Modeling Cell Shape Dynamics
Advisor: Joshua Kangas
Eun Hwa Lee

Effect of "Pre-Existing" Inflammatory Environment on Progenitor Differentiation

Advisor: Phil Campbell
So Jung Lee

Cardiac-Specific Knockdown of the Sodium Dependent Glucose Cotransporter 1 (SGLT1) Attenuates the Cardiomyopathy Caused by a Mutation in PRKAG2
Advisors: Maggie Braun & Ferhaan Ahmad
Margaret Libonati

Identification and Analysis of Patira Miniata Gene CGM CIS-Regulatory Module

Advisor: Veronica Hinman
Janice Lyu

HSP27 and its Effect on Caspase Activity During Sperm Differentiation in Drosophila
Advisor: Jonathan Minden
Andrew McCoy

Thrombin Biosensors and Characterization of the Fluorogen-activating Protein (FAP) Platform

Advisor: Peter Berget
Mridula Nadamuni

Inspired: Common Themes in Science
Advisor: Maggie Braun
Prihanka Nandakumar
Structural Determination of Branced RNA by Single Molecule Fluorescence Resonance Energy Transfer
Advisor: Linda Peteanu
Anna Park

Characterizing the Role of Nucleolar Protein NOP12 in Ribosome Assembly

Advisor: John Woolford
Oliver Ruiz

The Effects of Amphetamine on the Regulation of Intracellular Signaling by Reward-predictive Cues
Advisor: Edda Thiels
Maneesha Sakhuja

Understanding Conformational Changes in Opioid Receptors upon Ligand Binding
Advisor: Manojkumar Puthenveedu
Katherine Siewart

Phylogenetic Reconstruction of Domain Shuffling in the Maguk Protein Family
Advisor: Dannie Durand
Hannah Wirtshafter

Cortical Representation of Temperature Sensation in Mouse

Advisor: Alison Barth
Pavan Yalamanchili

A Political Survey of the CMU Community

Advisor: Brian Junker
Cindy Zhu
The Role of Diaphanous in Actin Assembly in the Drosophila Syncytial Embryo
Advisor: Brooke McCartney
Nicolas Zuniga-Penaranda
Priming of Manual Actions by Their Related Sounds
Advisor: Laurie Heller
Nicolas Zuniga-Penaranda
Newly Formed Sound-action Associations Elicit Auditory-motor Priming
Advisor: Laurie Heller