Wednesday, September 19, 2012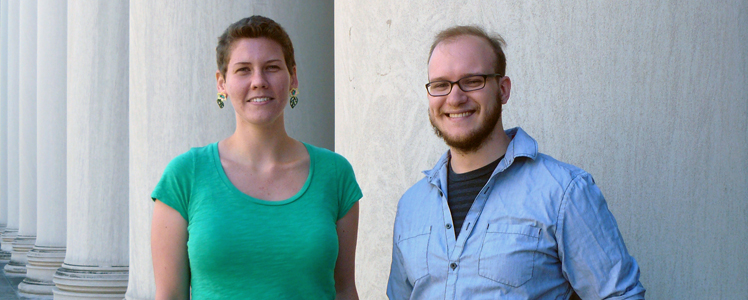 Davidson and Vistein Awarded Graduate Student Teaching and Service Awards
Philip Davidson and Rachel Vistein received the 2012 Department of Biological Sciences Graduate Student Teaching and Service Awards.
Davidson, a second-year Ph.D. student in Dr. Dannie Durand's laboratory, was awarded the Graduate Student Teaching Award for his work as a teaching assistant for the Computational Molecular Biology and Genomics and Phylogeneics courses. When describing Davidson's teaching contributions, Durand stated, "Philip committed himself to the success of the course as a whole…His suggestions about course content, teaching strategies and class assignments were thoughtful and imaginative. In each course, he volunteered to develop an assignment, taking full responsibility for it from start to finish."
Additionally, Davidson excelled in his interactions with students. He held extra office hours, which were heavily attended. Students said that Davidson always made them feel welcome.
Vistein, a fourth-year Ph.D. student working within Dr. Manojkumar Puthenveedu's laboratory, was the recipient of the Graduate Student Service Award. Her work as the departmental Graduate Student Assembly (GSA) representative, orientation committee member and outreach volunteer were just a few of the reasons that she was selected for the award.
As GSA representative, Vistein served on the political committee and made sure that biological sciences GSA funding was properly utilized, thus insuring appropriate funding for future years.
As an orientation host, "she [was] kind, informative and enthusiastic," comments Vistein's labmate Amanda Soohoo.
Vistein and Davidson officially received their awards at the Elizabeth Jones Departmental Retreat held at Hidden Valley Resort on August 25 and 26, 2012.
Congratulations!