Wednesday, December 19, 2012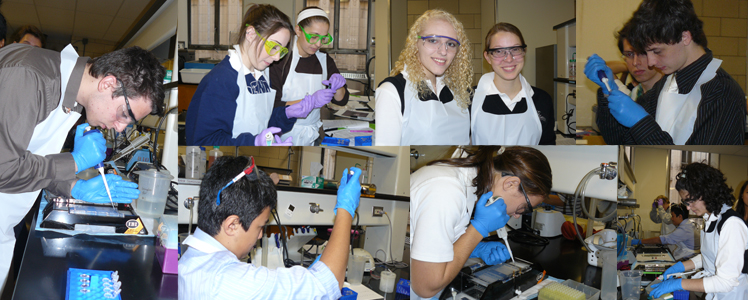 Genetically Engineered Foods Explored at Outreach Event
One of the greatest achievements of genetic engineers is the creation of genetically modified organisms (GMOs). The genomes of such organisms are changed or adapted to increase crop yield, raise nutritional value, or decrease fat content in livestock. Many food products, especially processed foods, contain GMOs unless clearly labeled as 'Organic.'
One way to test for genetic modification is by identifying the presence of a cassette, segments of DNA containing a promoter, gene of interest, and a terminator, within an organism's genome. Most plants modified in this way use the cauliflower mosaic virus (CAMV35S) as the promoter, because it is easily incorporated into the host genome; therefore, scientists can test for genetic modifications based on the presence of the CAMV35S promoter.
In November, the Department of Biological Sciences used this knowledge of testing for genetic modifications as the basis for three-week outreach project with area high school students. Twenty-two students enrolled in biology at Central Catholic and Oakland Catholic high schools as well as teachers Eric Dunkerley (Central Catholic) and Melissa Franks (Oakland Catholic) were given the chance to design and carry out a research project investigating the biotechnology in genetically engineered foods.
Some students chose to determine whether various foods were made using modified corn or soy, while other students chose to confirm that organically labeled foods were truly organic. No matter which direction the students chose, their first step was to isolate DNA from the food samples, and then performed polymerase chain reaction (PCR) on the sample using primers for the CAMV35S promoter region. By performing PCR, students were able to amplify the amount of DNA containing the modified promoter. Primers specific to this region ensured that only the promoter, if present, would be amplified. Next, the high school students and their undergraduate or graduate biological sciences student mentors performed agarose gel electrophoresis using their PCR samples, positive and negative controls, and molecular weight markers of known sizes. Then, students and mentors worked as a team to analyze the results.
To conclude the project, the students formally presented their results on November 13. Dr. Amy Burkert, Vice Provost for Education, welcomed the students, mentors, parents and principles to the presentations.
Undergraduate mentors were Tom Miller, Rachel Sewell, Marianne Pan, Xuexia Jiang, Sherry Chiang, Catherine Byrd, Naomi Gunawardena, Semawit Gebrehiwot, Victor Bass, Nick Zuniga, Darren Morris, Kayla Zamora, Kelly Shibuya, and Alex Rodriguez. Graduate students and alumni included Andy Kehr, Ming Zhang, Sheila Chandran, and So Jung Lee. The event was planned and run by Dr. Carrie Doonan. Sara Blankenship helped coordinate the event.
By: Sara Blankenship