Thursday, May 31, 2012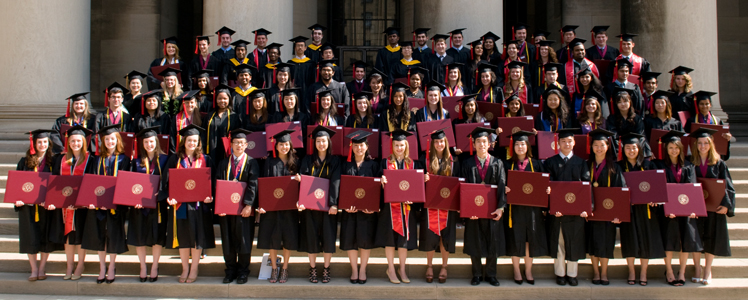 Congratulations, graduates!
In honor of Carnegie Mellon University's many Scottish traditions, 9 doctoral, 14 masters and 76 bachelors graduates were led into the Department of Biological Sciences diploma ceremony on May 19 by a bagpiper. Department Head Nathan Urban, Assistant Head for Undergraduate Affairs Maggie Braun and Professor John Woolford presided over the festive ceremony.
The diversity of the degrees awarded to the 76 graduating seniors included:
46 B.S. in Biological Sciences,
19 B.S. in Biological Sciences and Psychology,
five B.A. in Biological Sciences,
four B.S. in Biological Sciences/Neuroscience Track
one B.S. in Computational Biology,
and one B.S.A. in Biological Sciences and Musical Performance (Guitar).
There were also 14 Science and Humanities Scholars. The interdisciplinary nature of Carnegie Mellon University was highlighted in the additional majors and minors of the students. Chemistry, Environmental Policy, History, Biomedical Engineering, Business Administration, Art, Chinese Studies, Hispanic Studies, French and Francophone Studies, Computer Science, Neural Computation, Psychology, Physics, Health Care Policy and Management, Music Performance and Philosophy were just a few of the additional areas of study.
"Outstanding Academic Achievement," "Outstanding Undergraduate Research," and "Student Advisory Council Service Awards" honors were bestowed upon 48 deserving undergraduate students. Lisa Brubaker, Ian Campbell, Anna Park and Elizabeth Record were recognized for honors in research biology.
Futhermore, Simone Costa received the Elizabeth W. Jones Award for Excellence in Undergraduate Research. Costa was a research intern at the Pittsburgh Center for Kidney Research at the University of Pittsburgh Medical Center under the direction of Dr. Ora Weisz. She also volunteered at The Children's Institute of Pittsburgh assisting in the autism pod of The Day School and travelled to Honduras in 2011 as a member of the Global Medical Brigades to provide medicine and educational materials to underserved communities. After graduation, Costa plans to continue working as a research assistant in the Weisz laboratory, then pursue graduate school in the field of biomedical engineering.
Future plans for the other students are just as varied as their bachelors' degrees. Many of the students are pursuing graduate degrees at institutions such as Cambridge University, Columbia University, Harvard University, Johns Hopkins University, Massachusetts Institute of Technology and Dartmouth College, within fields such as bioengineering, public health, genetics, deep-sea microbiology, developmental biology and cellular neuroscience. Students are also entering medical and law schools, or research positions at places such as the Baylor College of Medicine, University of Pittsburgh School of Medicine, National Institutes of Health, and Howard University Hospital.
Additionally, the doctoral and masters students have varying post graduation plans.
Dr. Jeanne Morin-Leisk will begin a postdoctoral position in the lab of Jenny Hinshaw at the National Institutes of Health characterizing the structures, activities and mechanisms of the proteins in the dynamin superfamily of large GTPases.
Anish Chakka is working in the Department of Biomedical Informatics at the University of Pittsburgh.
Naveen Chandramohan has accepted a position at the Lawrence Berkeley National Laboratory in California working in the sequencing technologies division.
David Hamilton will begin work as a software engineer in the Windows division at Microsoft in Redmond, Washington.
Songdet Nillasithanukroh has accepted a position as a software engineer in Boston with TripAdvisor.
Jinxue Zhou will work as a software engineer at NetApp in Pittsburgh.
Congratulations to all of the graduates!
Photos from the diploma ceremony can be found on the departmental Flickr account.