Tuesday, April 24, 2012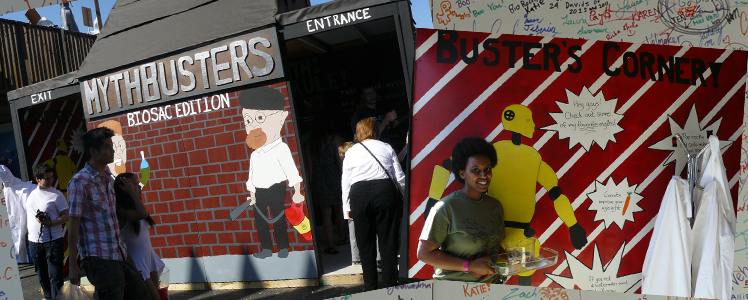 BioSAC at Carnival
You can't sneeze with your eyes open. Also, your head stops growing before the rest of your body.
If you know whether the above statements are fact or fiction, then you would have done well at this year's game within the Biological Sciences Student Advisory Council (BioSAC) booth at Carnegie Mellon University's Annual Spring Carnival.
In the spirit of Carnival's "As Seen On TV" theme, the BioSAC booth portrayed a television program that applies the scientific method to common questions or myths.
That's right, the booth focused on the Discovery Channel show: Mythbusters.
Visitors were greeted by larger-than-life size paintings of the show's hosts, Adam and Jamie. Within the booth, visitors played the "Fact or Fiction" game mentioned above, wore lab coats as they busted myths and signed their name on one wall when they completed "Mythbusters: BioSAC Training."
This year's booth committee was co-chaired by undergraduates Neha Chaurasia, Joe Defazio, Semawit Gebrehiwot, and Jessika Louissaint. In total, about 25 BioSAC members helped plan and construct the booth.
Carnival 2012 took place on April 19 – 21, 2012. See you next year!