Tuesday, October 18, 2011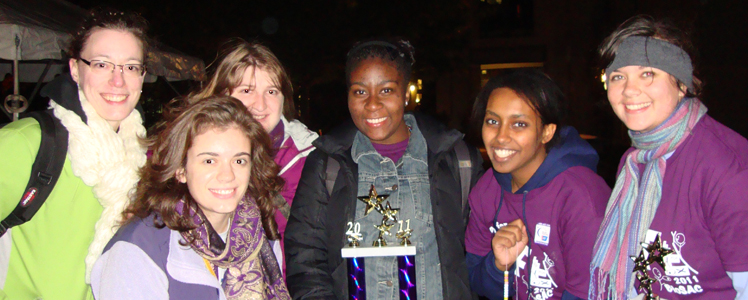 BioSAC, Top Fundraising Organization at Relay for Life
For the fifth straight year, the Biological Sciences Student Advisory Council (BioSAC) was the top fundraising organization at Carnegie Mellon's annual Relay for Life event. Through bake sales, raffles, and individual donations, the group raised over $3100.
Relay for Life is an American Cancer Society event, which celebrates survivorship and raises money for cancer research and programs. The 12-hour event began on October 14 and featured numerous teams from across the university walking or running laps.
BioSAC is an undergraduate student organization that provides undergraduate biology majors with an institution that promotes academic excellence, free exchange of ideas, ethical behavior, responsibility to the campus and society and commitment to work. The BioSAC was created to advise the department to better serve students in terms of academics, future professional goals and personal development. When students leave Carnegie Mellon they will not only be prepared for society's challenges, but also leave with a unique undergraduate experience. For more information about the BioSAC organization, contact Dr. Maggie Braun at mabraun@andrew.cmu.edu.
The American Cancer Society is a nationwide community-based voluntary health organization dedicated to eliminating cancer as a major health problem by preventing cancer, saving lives, and diminishing suffering from cancer, through research, education, advocacy and service.