Wednesday, November 30, 2011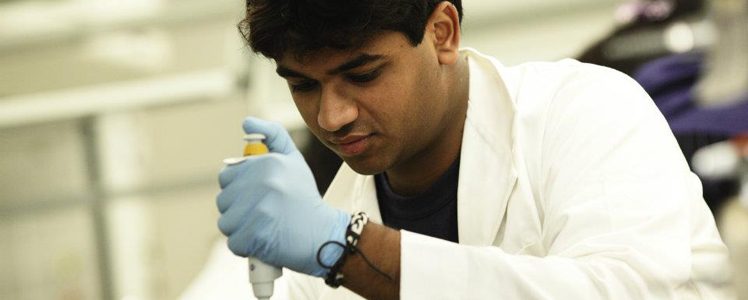 Students Simulate Disease Outbreak at Qatar Outreach Program
• Carnegie Mellon University in Qatar holds its first high school outreach program for biological sciences and computational biology.
• Program director: "The Student Biotechnology Explorer Program is part of CMU's new biology outreach initiatives helping students to understand science through real life problem-solving scenarios."
Doha, Qatar
Secondary school students learned how to analyze a simulated disease outbreak during a new interactive outreach program that was developed by Carnegie Mellon. The program aims to engage students through a laboratory experience, teach them lab techniques, and inform them about Carnegie Mellon's new programs in Biological Sciences and Computational Biology. Twenty-five students from 14 different schools across Qatar participated.
"The Student Biotechnology Explorer Program is part of the university's recently launched biological sciences undergraduate program. It is designed to ignite a passion for biology among the youth in the community, give students first-hand lab experience while using cutting-edge lab techniques, as well as teach students how their bodies function at a biological level," said Kenneth Hovis, Ph.D., assistant teaching professor of biology at Carnegie Mellon Qatar.
"Through this program, we hope high school students learn more about the biological sciences undergraduate degree at Carnegie Mellon and meet some of our current students and faculty," Hovis added.

Students who participated in the program used a test called an ELISA (Enzyme-linked immunosorbent assay) to track a simulated disease outbreak as it spread through the community. During the experiment students worked in groups and were able to track the outbreak, determine who was infected and identify the source of the disease.
"With my interest in medicine, the Student Biotechnology Explorer Program was definitely an exciting opportunity for me. We learned a lot and met new people from other schools. The program also gave me a chance to explore Carnegie Mellon's campus and learn more about the biological sciences degree it offers in Education City.
"I hope that this program continues in the future, as I would be looking forward to be a part of it again," said Basma Fakhroo, a grade 12 student at Qatar International School.
Carnegie Mellon's two recently-launched undergraduate degree programs in biological sciences and computational biology are a collaborative effort with Weill Cornell Medical College in Qatar, with students receiving their degrees from Carnegie Mellon.
View additional photos from the outreach event.
Article courtesy of Carnegie Mellon University in Qatar.