Thursday, May 12, 2011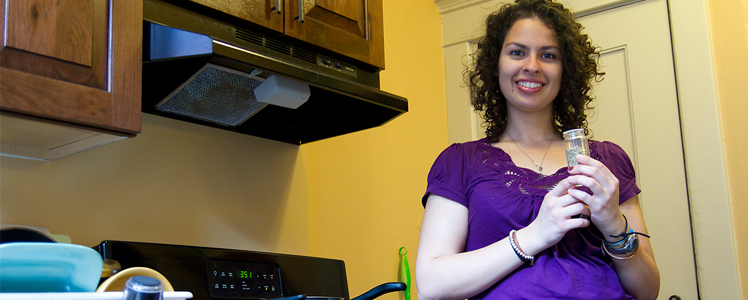 Undergraduate Alia Poonawala Named Commencement Speaker
Her Speech to Stir Restless Hearts
Alia Poonawala looks at human life through different lenses.
This year's commencement speaker, Poonawala is a biological sciences and drama major, who will share her experiences in a speech titled "Cor inquietum" - Latin for "restless heart."
The phrase comes from the St. Augustine of Hippo's saying "our heart is restless until it rests in you."
"I remember that really striking me during my freshman year," she said. "What a lovely way to put a title on our tendencies to want to go for things or want things."
Poonawala has her own restless heart. She worked to fulfill it at CMU by being able to attend a top-notch drama conservancy program and work toward a biology degree.
"I had these two sort of irreconcilable parts of me that I had to use," she said.
During her time at CMU, she has found ways that science and drama intersect. Her thesis project, a cooking show performance, demonstrates that intersection.
"The objective of the cooking show performance is to use performance, art and theater in order to educate people about scientific processes, culture and agriculture," she said.
Poonawala also noticed the parallels between food and cultural education while working at Conflict Kitchen, a takeout window that sells cuisine from countries the United States is in conflict with.
"I think food as a way to educate is a really wonderful medium," she said. "A lot of people who have a culinary sense of adventure can learn about a new culture that they might not be aware of or it could be a forum or a vehicle to discuss things that maybe weren't so easy to discuss before."
Poonawala said CMU has surrounded her with a very supportive community of professors.
"Some are very supportive of me in science, some are very supportive of me in my crazy dreams, and some are very supportive of me in my drama pursuits," she says. She has been affected by the way her professors care about her and strive to make the material less difficult.
Two influential professors for Poonawala are physics professors Kunal Ghosh and George Klein. Ghosh never taught Poonawala, but has been so supportive and inspiring to her.
"When someone believes so much in you, how could you not believe in yourself?" she says. "That's been very powerful for me." Klein made physics enjoyable for Poonawala, even though she didn't like the subject.
How will Poonawala combine drama and biology after graduation?
"I know whatever I do will involve food, travel and education," she said. "It sounds sort of idyllic but I think CMU has given me the confidence to know that that is very possible."
Read more about Poonawala at the Commencement website or
Watch Poonawala talk about how Carnegie Mellon has helped her explore drama and biology.
By: Katherine Stodola, Article from The Piper