Wednesday, November 30, 2011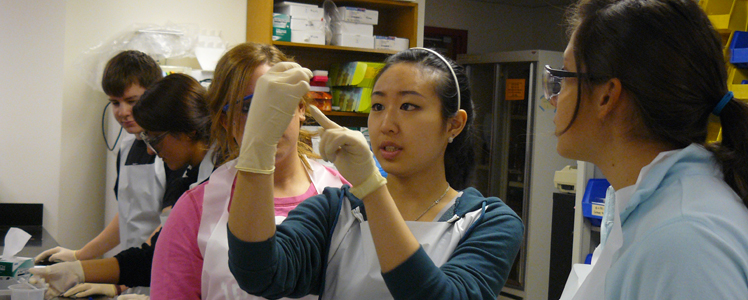 Making Glow in the Dark Bacteria
On November 8, seventy-eight students from Serra Catholic, Ringgold, Perry and Ellwood City High Schools, along with their teachers Cara DeSalvo (Serra Catholic), Barry Harris (Ringgold), Ronni Rosman (Perry) and Jonica Walters (Ellwood City), attended an outreach event hosted by the Department of Biological Sciences, the Sciences Teaching Club and the Biological Sciences Student Advisory Council (BioSAC).
At the event, the students performed the experiment "Making Glow in the Dark Bacteria," which fulfills a requirement in the AP biology curriculum. The experiment involved transforming E. coli with a plasmid containing the Lux gene from Vibrio fisheri. As a result, the bacteria that took up this plasmid glowed in the dark. At the end of the day, students transported agar plates with the transformed bacteria to their high schools to incubate for twenty-four hours. The students will analyze their results in their respective high school classrooms.
Numerous undergraduate and graduate students served as teaching assistants and guided the high school students through the experiment. The following graduate students assisted with the event: Jineta Banerjee, Alys Cheatle, Emily Furbee, Andrew Kehr, Cass Priddy and Suchitra Ramachandran. The undergraduates involved include: Rob Alberstein, Titas Banerjee, Joseph DeFazio, Danielle Divine, Alex Doonan, Lindsey Fong, Semawit Gebrehiwot, Stephanie Guerra, Naomig Gunawardena, Susan Hannes, Chelsea Hoffman, Sara Hoge, Isabel Hubbard, Terri Jones, Justine Kim, Minju Kim, Maria Kobidze, So Jung Lee, Amy Li, Wendy Li, Meg Libonati, Andrew McCoy, Tom Miller, Priyanka Nandakumar, Marianne Pan, Jesse Payton, Eric Pederson, Preri Reddy, Oliver Ruiz, Katie Supko and Chelsea Weber. The lead undergraduate teaching assistants were Medini Annavajhala, Ian Campbell, Lianne Cohen and Ajay Patel.
Additionally, Drs. Carrie Doonan and Nina DiPrimio coordinated everything on the day of the event, while Sara Blankenship completed the earlier organization of the event. Other departmental, alumni and university personnel who participated in the outreach event were Melissa Krajcovic, Maureen Stolzer, Diane Turnshek, and Chris Williams.