Monday, August 29, 2011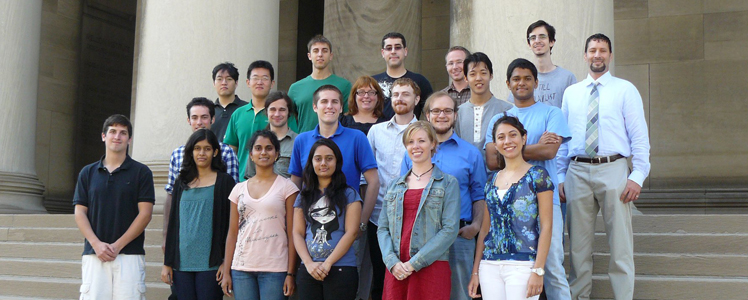 Welcome New Students!
With classes beginning today, the Department of Biological Sciences would like to welcome all of its new students.
Eleven Ph.D. in Biological Sciences students, Shawn Burton, Philip Davidson, Adam Foote, Beril Kumcuoglu, Stacie Oliver, Christopher Pratt, Tanvi Shashikant, Daniel Shiwarski, Ardon Shorr, Pieter Spealman and Tara Tappen are joining the department. Next week, these students will begin the first of three lab rotations, where they learn more about the department's faculty and research. After completing their lab rotations and core courses, the new students will select a research advisor, marking the beginning of their doctoral research at Carnegie Mellon University.
Additionally, twelve students begin their studies towards an M.S. in Computational Biology. They are Sheila Chandran, Sunguk Choi, Jayscott Cardinal-Tahkine, Divya Kagoo, Hulusi Kuzucu, Collin McCormack, Sirisha Penumetcha, Max Tomlinson, Nitesh Turaga, Sripradha Viswanathan, Yue Yu, David Zhou.
Sixty-four sophomores also declared a major in biological sciences, computational biology, or the unified major of biology and psychology.