Thursday, February 10, 2011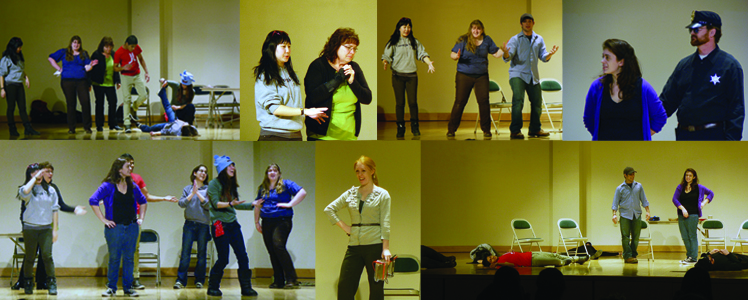 BioSAC Annual Murder Mystery Dinner
On January 23 and February 3, the Biological Sciences Student Advisory Council (BioSAC) hosted their annual Murder Mystery Dinner. BioSAC members Katherine Bonnington and Derek Lee wrote this year's play within a play entitled Murder at the Murder Mystery.
The play follows a series of unfortunate accidents at a BioSAC murder mystery rehearsal. Members of the BioSAC attempt to utilize their forensic molecular biology skills to identify the murderer before there is no one left alive to read the results of the agarose gel.
The cast of characters included:
Katherine Bonnington as Maggie Braun (February 3)
Dr. Maggie Braun as Police Officer #1
Vishnu Chandra as Ry Bissome
Lianne Cohen as Anne T. Body
Dr. Justin Crowley as Police Officer #2
Dr. Carrie Doonan as Carrie O'Type
Lynley Doonan as Maggie Braun (January 27)
Rebecca Elaynow as Jean Ohm
Alexandra Falk as Flo Thru
Lindsey Fong as Wilma Gelrun
Stephanie Guerra as Kim Wipes
and Andrew McCoy as Paul M. Erase.
Ian Campbell, Neha Chaurasia and Mridula Nadamuni also served as stage crew.
A prize, along with bragging rights for the year, went to the first audience group to identify "who dunnit" during the intermission between the two acts.
Click for more photos or to view the video of Murder at the Murder Mystery.