Thursday, May 19, 2011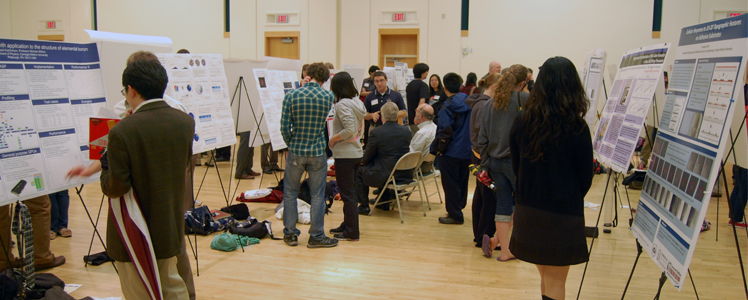 Biological Sciences Participates in the Meeting of the Minds
The Meeting of the Minds, Carnegie Mellon University's annual symposium celebrating undergraduate research, took place on May 4, 2011. Sponsored by the Office of Undergraduate Research, this event allows undergraduates to display their research to the entire campus community and visiting industry professionals.
Biological sciences and psychology major Howard Soh was runner-up within the psychology poster competition for his poster entitled "Cue weighting in speech categorization based on short-term cue variabilities." Through poster and oral presentations, 49 additional biological sciences undergraduates participated in the Sigma Xi poster competition portion of the event, which is open to any student presenting a poster in the quantitative sciences. Two undergraduates, David Huang and Katherine Fu, received awards within the Sigma Xi competition. David Huang was awarded first place for his poster entitled "Identification of New Candida albicans Adherence Genes;" his advisor was Dr. Aaron Mitchell. Katherine Fu received third place for her work with Dr. Christopher Bakkenist from the Hillman Cancer Institute. Her poster was entitled "Increasing the Efficacy of Cross-linking Agents in Lung Cancer."
In addition to the undergraduates, the Biological Sciences department supported this outreach event in numerous capacities. Emily Stark, Assistant Head for Departmental Affairs and Vice President of the Carnegie Mellon Chapter of Sigma Xi, served as organizer of the competition. Faculty members Fred Lanni and Russell Schwartz, research associate Cheryl Telmer, postdoctoral fellows Jill Blankenship, Shoba Subramanian, Wenjie Xu, Corey Flynn, Ken Hovis, Bistra Iordanova and Aarti Sahasranaman were among the judges.
Associate Professor A. Javier López also served as a judge for the Richard Schoenwald Phi Beta Kappa Undergraduate Research Prize.
Click to view photos from the Meeting of the Minds.
Biological Sciences Undergraduate Participants
Dasha Adamchik
Infants' Detection of Recurrent Evolutionary Threats
Advisor: David Rakison, Psychology
Eda Akyar
Understanding Hypertension and Health Literacy in Pittsburgh Neighborhoods
Advisor: Caroline Acker, History
Elizabeth Aguila
The Effect of Musical Expectation in Background Music on Short-term Phonological Memory
Advisor: Richard Randall, Music

Medini Annavajhala
Degradation of Naphthalene using Felll-TAML Catalysts
Advisor: Terrence Collins, Chemistry

Devleen Baksi
Understanding Hypertension and Health Literacy in Pittsburgh Neighborhoods
Advisor: Caroline Acker, History
Alice Basin
Challenging Infectivity of Phage
Advisor: Alex Evilevitch, Physics
Katherine Bonnington
Structural Analysis of Activation Induced Cytidine Deaminase via X-ray Crystallography
Advisor: Gordon Rule, Biological Sciences
Ian Campbell
Investigation the Role of Pwp1 in 60S Yeast Ribosome Assembly
Advisor: John Woolford, Biological Sciences
Emily Chao
Communal Coping Between Persons with Diabetes and their Partners: An Exploratory Study
Advisor: Vicki Helgeson, Psychology
Jillian Cheng
Communal Coping Between Persons with Diabetes and their Partners: An Exploratory Study
Advisor: Vicki Helgeson, Psychology
Han Na Choi
The Single Molecule Study of Glutathione Transferases
Advisor: Gordon Rule, Biological Sciences
Elizabeth Coyle
Role of TLR Signaling in the Chemopreventive Properties of Naturally Occurring Isothiocyanates
Advisor: Saumen Sarkar, University of PittsburgH

Danielle Devine
Dominant Mutations in Myosin II Heavy Chain Genes 6, 7 and 11 and their Affect on Myosin Protein Dimerization
Advisor: Peter Berget, Biological Sciences
Lynley Doonan
Understanding the Role of DEAD-box Protein DRS1 in Ribosome Assembly
Advisor: John Woolford, Biological Sciences

Katherine Fu
Increasing the Efficacy of Cross-linking Agents in Lung Cancer
Advisor: Christopher Bakkenist, Hillman Cancer Center
Katherine Fu
Perceptions of Childbirth Among American Expatriate Mothers in Switzerland: A Standard for Comparative Maternal Healthcare Systems in Two Countries
Advisor: Marie Norman, History
Monalisa Ghose
The Role of Golgin-45 in Ribbon Formation
Advisor: Adam Linstedt, Biological Sciences
Stephanie Guerra
Further Exploration of Non-skeletogenic Mesoderm of the Sea Urchin Embryo
Advisor: Charles Ettensohn, Biological Sciences
Andre Hersan
Investigation of Debranching Enzyme
Advisor: Mark Macbeth, Biological Sciences
Chelsea Hoffman
SNP Mapping of C.elegans to Identify an Alpha 1-antitrypsin Mutation
Advisor: Stephen C. Pak, University of Pittsburgh
David Huang
Identification of New Candida albicans Adherence Genes
Advisor: Aaron Mitchell, Biological Sciences
Mike Khan
Creation of Septin Mutants in Candida albicans via Transposon Mutagenesis
Advisor: Jill Blankenship, Biological Sciences
Claire Koechlein
Investigating the Role of Signaling in Establishing Axial Patterning in the Sea Star Ectoderm
Advisor: Veronica Hinman, Biological Sciences

Starsha Kolodziej
Visualizing 3-dimensional Structure in Biofilms of the Yeast Candida albicans
Advisor: Jonathan Finkel, Shantanu Ganguly, Fred Lanni and Aaron Mitchell, Biological Sciences
Allyson Koyen
APC2 and the Rescue of Brat11 Mutants in Drosophila Neuroblasts
Advisor: Brooke McCartney, Biological Sciences
Kellie Kravarik
Examination of Cell Autonomous and Non-autonomous Effects of APC Loss in the Developing Drosophila Wing
Advisor: Brooke McCartney, Biological Sciences
Eun Hwa Lee
Analysis of BRCA2 Protein Level in Pancreatic Cancer Patients by Western Blotting Method
Advisor: David C. Whitcomb, University of Pittsburgh
Julia Lekht
Towards a Bioadhesive Controlled-release Microchip Drug Delivery System
Advisor: Lee Weiss, Robotics Institute
Jane Lew
Structural Analysis of Mutant Adenosine Deaminase that Act on RNA (ADAR)
Advisor: Mark Macbeth, Biological Sciences
Yuanting Lu
An Initial Study of Ovarian Cancer Stem Cells and the Cytokine Network
Advisor: Vera Levina, Hillman Cancer Center
Heather Lynn
Breast Cancer Migration via BDNF Endothelial Expression Outside of Blood Vasculature
Advisor: Vera Levina, Hillman Cancer Center
Andrew McCoy
Designing and Testing Fluorogen Activating Protein (FAP) Biosensors for Thrombin and Matrix
Advisor: Peter Berget, Biological Sciences

Devin McGuier
PCIT and AF-CBT: Efficacy and Dissemination of Two Evidence Based Treatments for Disruptive Behavioral Disorders and Child Abuse
Advisor: Beth Christiano Zimick, Psychology
Anna Park
Understanding the Role of DEAD-box Protein DRS1 in Ribosome Assembly
Advisor: John Woolford, Biological Sciences
Subha Patibanda
Role of Small RNA of Unknown Function (RUF6) in Malaria Pathogenesis
Advisor: Kausik Chakrabarti, Chemistry
Alia Poonawala
OPA! Greek Performance and Cooking Show
Advisor: Jed Harris, Drama and M. Stephanie Murray, BHA
Devin Prior
Effect of Intralipid on iron Oxide Particle Labeling of Immune Cells during Organ Rejection
Advisor: Chien Ho, Biological Sciences
Kelly Shibuya
Analysis of APC2 Phosphorylation on Actin Furrow Formation in the Drosophila Syncytial Embryo
Advisor: Brooke McCartney, Biological Sciences
Katherine Siewart
Uncovering Domain Shuffling in the MAGUK Protein Family with Protein Domain Trees
Advisor: Dannie Durand, Biological Sciences
Adam Sinder
Elucidating Growth Rates of the Perennial Herbaceous Plant Maianthemum
Advisor: Susan Kalicz, University of Pittsburgh
Howard Soh
Cue Weighting in Speech Categorization Based on Short-term Cue Variabilities
Advisor: Lori Holt, Psychology 
Jason Stearns
Heme Oxygenase Expression Under Various Conditions of Oxidative Stress and Lipid Exposure in Rat Liver Sinusoidal Endothelial Cells and Human Microvascular Endothelial Cells
Advisor: Donna Stoltz, University of Pittsburgh
Akanksha Vaidya
Investigation of the Activity Dependent Expression of the 4 Subunit of the BK Channel
Advisor: Alison Barth, Biological Sciences
Priyanka Venkatesh
Effects of Fluid Shear Stress on Heterochromatin Regulation in Endothelial Cells
Advisor: Kris Dahl, Biomedical Engineering
Shriya Venkatesh
The Role of Diaphanous in the Drosophila Syncytial Embryo
Advisor: Brooke McCartney, Biological Sciences

Amy Wang
Structure-function Analysis of Adenosine Deaminase that Acts on RNA (ADAR) Substrates
Advisor: Mark Macbeth, Biological Sciences
Chelsea Weber
Functional Analysis of Essential Genes in Candida albicans
Advisor: Aaron Mitchell, Biological Sciences
Quinn Weisman
Differential Expression of Genes Involved in Skeletogenesis in Sea Urchin
Advisor: Charles Ettensohn, Biological Sciences
Cindy Zhu
The Role of Diaphanous in the Drosophila Syncytial Embryo
Advisor: Brooke McCartney, Biological Sciences

Nicole Zuerndorfer
Structural Analysis of Crystal Violet Binding Single Gene Variable Fragments by NMR
Advisor: Gordon Rule, Biological Sciences