Monday, November 7, 2011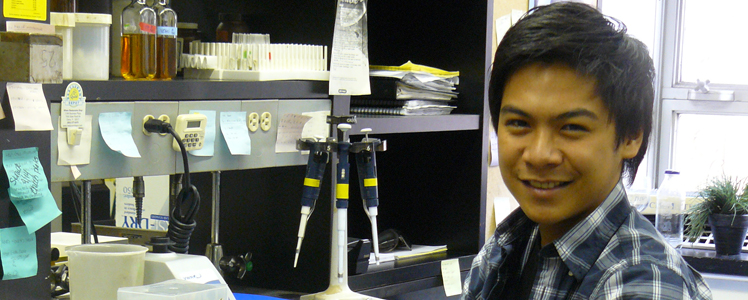 Graduate Student Receives Award at Rustbelt RNA Meeting
Michael Gamalinda, a third-year Ph.D. in Biological Sciences student, received the Outstanding Oral Presentation award at the 2011 Rustbelt RNA meeting in Dayton, Ohio. His presentation was entitled "The Years 60S Subunit is Structured by Ribosomal Proteins in a Stepwise Fashion."
Gamalinda's research explores the roles of large subunit ribosomal proteins in 60S subunit biogenesis. He and other members of the Woolford Lab recently discovered that ribosomal proteins of the large subunit could be classified by the distinct assembly steps (early, middle and late) that they affect. Together, these groups facilitate an ordered pathway of assembly by promoting the stable association of accessory proteins required for each assembly step. Interestingly, these groups correlate with the location of the ribosomal proteins in mature ribosomes. This result was surprising, because the 60S subunit structure was initially thought of as a single gigantic domain. It was not apparent that the 60S subunit could be segregated into distinct physical domains.
"The Rustbelt RNA Meeting was a nurturing experience for me as a budding researcher. The conference was really focused on the work of trainees. With outstanding lineup of talks and poster sessions, it was very enlightening to get to know more about cutting edge research in RNA biology. It was an excellent avenue to meet fellow graduate students and leading scientists in the field," said Gamalinda.
RNA researchers from Pennsylvania, Ohio, Indiana, Michigan, New York, and other surrounding states attended the meeting on October 21 and 22.
Congratulations Michael!
By: Alexander Deronde