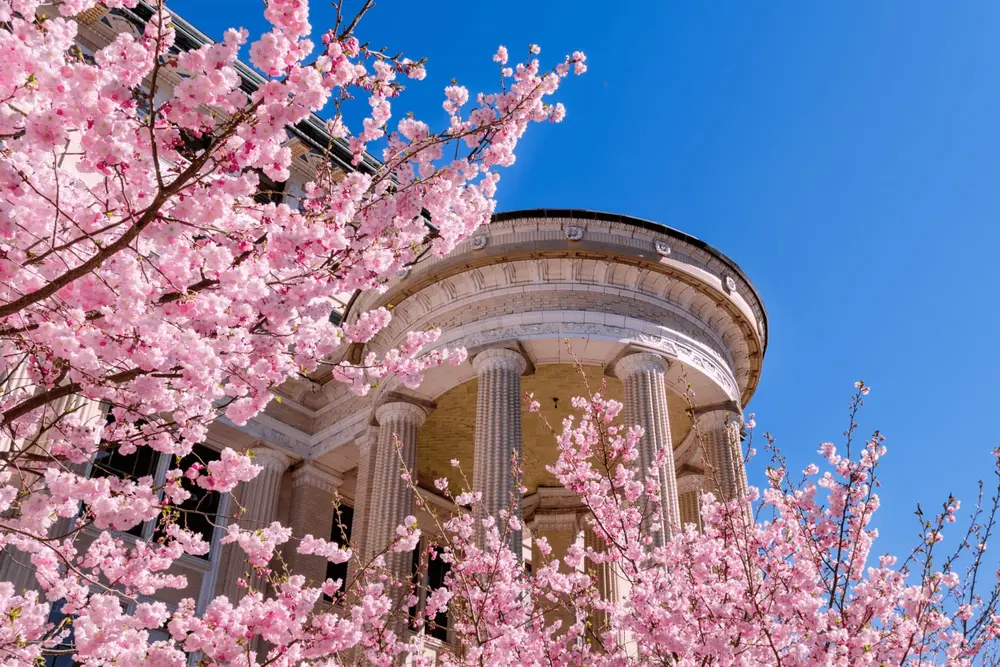 Am I able to visit campus before making my enrollment decision?

Yes! We're welcoming students and families to campus this April. Check out visit opportunities here.
I applied for financial aid. Where can I view my financial aid offer?

Regular Decision applicants who have submitted all required financial documents should receive a financial aid offer on their Where Am I In the Process? portals. The offer should appear next to your admission letter on the portal, but it won't show unless you've viewed your admission letter first.
Can my financial aid offer change from year to year?

Yes. The most common reasons why your financial aid offer could change include:

Increase or decrease in family income
Change in the number of family members in college
Change in household size
Increase in cost of attendance
Receipt of an outside scholarship
Unsatisfactory academic progress

You'll need to apply for financial aid each year because the information used to determine your eligibility may change annually.
When and how is housing assigned?

Housing applications are typically due at the end of May, and you can expect to learn your housing assignment in early July. The First-Year housing site provides more details about the assignments process and roommate matching. 
How do dining plans work for first-year students?

All first-year students are required to have a dining plan. Plans vary in meals/blocks and flexible spending dollars. A block can be used to purchase a meal from any of the dining locations on campus. Flexible dollars can be spent at these same locations for any number of items and are not restricted to a full meal. DineXtra (or flexible dollars) can be purchased in addition to a dining plan. Students should select the dining plan that best reflects their lifestyle and dining habits.
How and when do I get my Andrew ID?

You'll receive information on how to set up your Andrew Account, including your Andrew ID, once you enroll. This will allow you to access most of Carnegie Mellon's online resources for students over the summer. Physical ID cards will not be distributed until you arrive on campus for Orientation week in the fall.

If you've enrolled, we're working on your Andrew Account right now! You will receive an email from it-help@cmu.edu with the subject line "Action Required: Your Andrew userID Has Been Created".

This email will provide instructions on how to receive your Andrew userID, set a password and enroll in two-factor authentication (2fa) with DUO, Carnegie Mellon's multi-factor authentication service provider. This email will be sent a week after submitting your enrollment deposit. Please be sure to check your spam folder in the event the email does not appear in your inbox.
When do first-year students schedule classes?

The process for registering for classes varies across our colleges. Incoming students are typically contacted by an academic advisor by mid-June with more detailed information regarding registration for classes. 

Learn more about the course registration process for each college; dates are subject to change slightly for Fall 2023 first-year students.
Will I receive credit for my AP/IB/dual enrollment courses?

At Carnegie Mellon, each college or school creates their own curriculum and thus decides how AP or IB exams contribute toward your degree. Carnegie Mellon may grant advanced placement and credit for 4s and 5s on AP exams taken in the CEEB Advanced Placement program or for 6s and 7s on IB exams. Visit The Hub's credit awarding page for more information on the guidelines for receiving credit.
Who do I contact if I'm interested in a minor or double major?

We're often asked if it's possible to double major, or major and minor, or creatively combine two areas of study across our undergraduate colleges. For instance, is it possible to study both science and music, engineering and business, or art and computer science? The answer is almost always yes.

If you're interested in applying for a minor or second major, we recommend letting your academic advisor know when they first reach out to you in mid-June. Every college at Carnegie Mellon handles these programs slightly differently, and your advisor will be able to guide you through the process of scheduling classes to fulfill your program requirements.
How do I join clubs or student organizations once I'm on campus?

The FAIR is a showcase for our 400+ student organizations, 25 Greek organizations and 25+ arts, cultural and outdoor recreation partners from the Pittsburgh community. The largest fair occurs in September and is followed by an additional fair in January.

At The FAIR, you'll be able to mingle with the different representatives of student organizations. After the fair is completed, you'll be notified of upcoming meetings or events from various groups.
Can I have a car on campus? What's campus parking/transportation like?

Students are able to have a car on-campus, but it will be at the cost of a parking permit. We're in an urban environment, and parking off-campus may be difficult without a permit. If you're interested, you will apply for a parking permit through the Parking & Transportation Services website after you've enrolled.

All students are provided with access to Pittsburgh's Port Authority Transit buses/light rail system through their ID card, which is included in the cost of attendance. Public transportation will take you to virtually every area of Pittsburgh!
Is it possible to defer my admission/take a gap year? What is the process for deferring?

Admitted students can defer their enrollment one year at a time for up to two consecutive years as long as they agree not to apply to or enroll in a full- or part-time degree-granting program at another college or university in the interim. Since all first-year students are required to enter the university during the fall semester, deferrals for one semester only are not permitted. An approved deferral will secure your place in the incoming class for the following fall. To request a deferral or gap year, simply submit your enrollment deposit and email @email letting us know you'd like to defer or take a gap year. We'll then send you an official enrollment deferral/gap year request form. Please note that your request isn't approved until our office processes it and sends you an official confirmation letter.
How can I get from the airport to campus?

The Pittsburgh Port Authority(opens in new window) Transit shuttle buses run every day from Pittsburgh International Airport to Carnegie Mellon. The 28X Airport Shuttle service is available every day from 5:30 a.m. to midnight and costs $2.75 each way (you'll need exact change). The shuttle leaves the airport from the lower level ground transportation stop (follow the signs located in the baggage claim area) and stops directly in front of the university, just past Morewood Avenue. The trip will take approximately 60 minutes, depending on the time of day.