The Dietrich College of Humanities and Social Sciences is at the center of some of Carnegie Mellon University's most thrilling and innovative research.
We have developed computer models that can help diagnose brain dysfunctions and can identify a person's thoughts and emotions; educational software that has raised student achievement in underperforming school districts; and web-based tools for citizens to use to deliberate issues that affect their communities.
For in-depth examples of recent Dietrich College research, check out some of the videos below.
---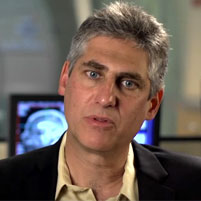 Video: What is BrainHub?
Learn how CMU's BrainHub research initiative builds on the university's strengths in biology, computer science, psychology, statistics and engineering to study on how the structure and activity of the brain give rise to complex behaviors, and develops new technologies that stand to transform neuroscience. Psychology Professors Marlene Behrmann and Michael J. Tarr are featured.
---
Heavily Decorated Classrooms Disrupt Attention and Learning in Young Children
Maps, number lines, shapes, artwork and other materials tend to cover elementary classroom walls. However, new research& shows that too much of a good thing may be bad because heavily decorated classrooms end up disrupting attention and learning in young children.
---
Pittsburghese: The Story of a Dialect
What's in a word? Plenty, if you're from Pittsburgh, Pennsylvania, where phrases like "Yinz going dahntahn to watch dem Stillers?" are symbols of local identity.
---
Researchers Identify Biological Marker That Predicts Susceptibility to the Common Cold
Researchers at Carnegie Mellon University have identified a biological marker in the immune system that -- beginning at about age 22 -- predicts our ability to fight off the common cold.
---
To watch more videos, visit
Dietrich College's YouTube channel
.