CMU Unveils Lunar Rover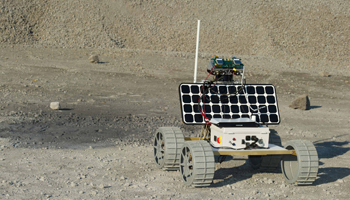 Carnegie Mellon has unveiled Andy, a four-wheeled robot designed to scramble up steep slopes and survive the temperature swings and high radiation encountered while exploring the moon's pits, caves and polar ice.
Andy, named after university namesakes Andrew Carnegie and Andrew Mellon, is CMU's contribution to an effort led by Pittsburgh's Astrobotic Technology to land a robot on the moon and win the $20 million-plus Google Lunar XPrize. It also represents a larger ambition.

"We don't do anything just to win a prize," said William "Red" Whittaker, professor of robotics and director of the Field Robotics Center.  "If we're on the moon anyway, we're going to do something while we're up there."
____________________________________________________________________
Shaw Receives Award at White House

Mary Shaw, the Alan J. Perlis University Professor of Computer Science in CMU's Institute for Software Research, received the prestigious National Medal of Technology and Innovation from President Barack Obama in a Nov. 20 White House ceremony. View the ceremony (forward to 49:23 of the video to see Shaw accept her award.)

Shaw was named a recipient of the nation's highest honor in technology and innovation early last month for her work in software architecture — helping to establish it as a recognized discipline — and "for pioneering leadership in the development of innovative curricula in computer science."

Learn more.
_________________________________________________________________

Students Create iExpress To Help ALS Patients
Using off-the-shelf technology, Abhishek Sharma and Douglas Rew, master's degree students in software engineering, have developed iExpress, a device that enables people with ALS, a neurodegenerative disease also known as Lou Gehrig's Disease, to communicate with caregivers, even after they have lost virtually all muscle control.

Neil Alexander, an ALS patient and founder of Live Like Lou, worked with the students to develop the device, and along with his wife, Suzanne, participated in a demonstration this past Tuesday. Using iExpress, Alexander can send a message to a caregiver's smartphone by staring at one of the message selections on a computer screen.

The device enables him to signal that he's hungry, needs the bathroom or has an emergency and lets him answer yes or no to questions.

Learn more.