Google VP Named SCS Dean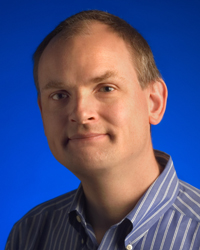 Google Vice President Andrew W. Moore has been selected as the new dean of Carnegie Mellon's renowned School of Computer Science (SCS), effective this August. Moore, a distinguished computer scientist with expertise in machine learning and robotics, served as a professor of computer science and robotics at CMU before being named founding director of Google's Pittsburgh engineering office in 2006.

"Andrew Moore combines an expansive vision, scientific expertise, and leadership strength that make him extraordinarily well suited to be dean of the School of Computer Science," said Carnegie Mellon President Subra Suresh. "As computing grows ever more critical to our global society, the scope of SCS and its importance to the world will continue to expand and its impact on the human condition will be more evident. Andrew is particularly well positioned to lead the school at this time."
Related Links: Read the press release | School of Computer Science
__________________________________________________________
Senior Leadership Moves Announced

Carnegie Mellon President
Subra Suresh
has announced several transitions in university leadership. They are:
Farnam Jahanian
(right) was selected to be CMU's new vice president for research, effective Sept. 1. Jahanian comes to CMU from the National Science Foundation, where he has been assistant director for Computer and Information Science and Engineering since 2011. He is at the NSF on leave from the University of Michigan, where he is the Edward S. Davidson Collegiate Professor of Electrical Engineering and Computer Science.
Mark Kamlet
(left) will be stepping down as provost and executive vice president, effective, July 1. "He has been a consummate university citizen in taking on numerous assignments in addition to his primary role as the chief academic officer. I am enormously grateful to him for agreeing to extend his long and devoted service to the university during the past year in order to ensure a smooth transition of leadership during my first year as president," Suresh said.
President Suresh also announced that
Nathan Urban
(right), the Dr. Frederick A. Schwertz Distinguished Professor of Life Sciences and head of the Department of Biological Sciences , will serve as interim provost.
Serving as interim executive vice president will be
John Lehoczky
(left)
,
who is stepping down as dean of the Deietrich College on July 1. "As dean, he has had a substantial impact on the university through many activities, including his leadership of the Dietrich College's Humanities Initiative, which comprises the Humanities Scholars Program, the Center for the Arts in Society, and the Humanities Center," Suresh said.
Related Links:
Farnam Jahanian
|
Transitions in the Office of the Provost and Executive VP
. 
_______________________________________________________________________
Pileggi Threads History of College of Engineering

Children's book author, personal essayist and blogger
Leah Pileggi
never intended to write a history book.
But while interviewing retired engineering professors for what she thought would be a series of articles, she began to see "a common thread"; a bigger picture developed and she's weaved a new genre into her literary repertoire.
"How to Design a World-Class Engineering College: A History of Engineering at Carnegie Mellon University" was published by Carnegie Mellon University Press late last fall.
"It's a narrative. It's not a technical book or a series of lists," said Pileggi, a professional assistant for the Electrical and Computer Engineering Department. "My goal was to write non-boring, nonfiction — to make it interesting for people going to the bookstore and asking if they had anything about the basic history. It's one thread with a few key people along the way who really championed the cause."
Related Links:
People Make the Times
|
Leah Pileggi