It Hurts So Good ... for Charity
No one likes to inflict pain or discomfort upon themselves, like dumping a bucket of ice water over their head, unless it's for a good cause, says Christopher Olivola, assistant professor of marketing at the Tepper School of Business.

Olivola, whose research focuses on human decision-making and behavioral economics, has conducted a series of studies and experiments examining the science of charitable giving. His findings help explain the fundraising successes of campaigns that are linked to physical activities requiring pain or effort, like running a marathon or even the widely popular "ALS Ice Bucket Challenge," a fundraiser to support victims of Amyotrophic Lateral Sclerosis.

"Our studies have demonstrated that when someone endures pain for a charitable cause, for example by soaking themselves in ice-cold water, the sacrifice of their own comfort makes their contribution to the cause seem far more meaningful than if they were baking cookies or attending a charitable ball. This is what we have termed as the 'Martyrdom Effect.' The result is that monetary giving increases accordingly," Olivola said.
Related Links: Read More | Tepper School
___________________________________________________________
Pittsburgh Biennial Opens at Miller Gallery

Carnegie Mellon's Miller Gallery debuts a new section of the Pittsburgh Biennial exhibition Sept. 20 through Nov. 30. It features an eclectic group of artists living in or connected to Pittsburgh.

Using processes in painting, sculpture, video and sound, these artists collect and reconfigure the data and debris of today's world, producing works with a fresh perspective. Throughout the exhibition, a rotating roster of presentations will showcase innovative experiments in dance, social practice, performance and more.
Related Links: Read More | School of Art
___________________________________________________
CNAST Receives $3.1M for Research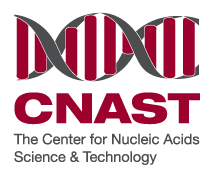 The DSF Charitable Foundation has given $3.1 million to Carnegie Mellon's Center for Nucleic Acids Science and Technology (CNAST). The gift will enable the center to create synthetic molecules aimed at understanding and treating genetic, neurodegenerative and infectious diseases.
"The DSF Charitable Foundation's extraordinary support for CNAST at Carnegie Mellon will have an impact on many lives," said CMU President Subra Suresh. "This pathbreaking research will advance the understanding of cellular processes and help to shape the way we diagnose and treat many kinds of disease."
Related Links: DSF Charitable Foundation | CNAST