CMU Launches Global Brain Research Initiative

Coalescing its strengths in computer science, neuroscience, psychology and engineering, Carnegie Mellon University today announced the launch of CMU BrainHubSM, a new initiative focusing on understanding how the structure and activity of the brain give rise to complex behaviors.
CMU scientists and their global partners will work together to develop innovative computational and technological tools for studying the links between brain and behavior, enabling new insights into topics such as cognition, learning and perception, as well as shedding light on brain disorders such as autism and Parkinson's disease.
Over the next five years, BrainHub and CMU's efforts in brain science will be supported by initial commitments totaling about $75 million. Leveraging funding from multiple sources, CMU will focus concerted efforts on understanding the brain, one of the grand challenges of the 21st century.
"Carnegie Mellon is home to some of the world's top scientists investigating brain function and human behavior," said Carnegie Mellon President Subra Suresh. "We also are home to the pre-eminent computer science program in the country and a world-class engineering school. By combining these areas of expertise, along with CMU's renowned talents in data sciences, the science of learning, policy and cybersecurity, we will enable innovative computational approaches to understanding brain function and dysfunction, as well as facilitate the development of tools to unravel the complexities of the human mind."
Related Links: Read the full announcement | BrainHub
_________________________________________________________________________
CMU President Suresh, Colleagues Create New Device To Help Assess Cancer's Spread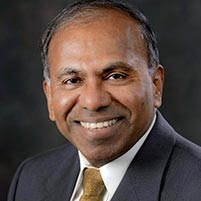 Carnegie Mellon University President Subra Suresh (right) and researchers from MIT and Pennsylvania State University have devised a new way to separate cells by exposing them to sound waves as they flow through a tiny channel.
Their device, about the size of a dime, could be used to detect the extremely rare tumor cells that circulate in cancer patients' blood, helping doctors predict whether a tumor is going to spread.
 
"The method we describe in this paper is a step forward in the detection and isolation of circulating tumor cells in the body," Suresh said. "It has the potential to offer a safe and effective new tool for cancer researchers, clinicians and patients."
The research is published online in the Proceedings of the National Academy of Sciences (PNAS).
Related Links: Tilted Acoustic Tweezers Separate Cells Gently | Sorting Cells With Sound Waves
_______________________________________________________________
Discovery Could Lead to Better Brain Therapies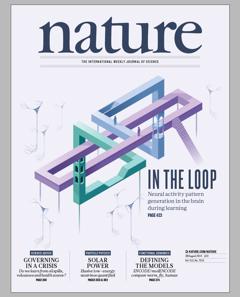 Learning a new skill is easier when it's related to an ability we already have. For example, a trained pianist can learn a new melody easier than learning how to hit a tennis serve.

Scientists from the Center for the Neural Basis of Cognition (CNBC) — a joint program between CMU and the University of Pittsburgh — have discovered a fundamental constraint in the brain that may explain why. Their reserach is published as the cover story in the Aug. 28 issue of Nature (right).

Understanding the ways in which the brain's activity can be "flexed" during learning could eventually be used to develop better treatments for stroke and other brain injuries.
Related Links: Read More and Watch Video | Nature | About the CNBC