June 14, 2023
Personal Mention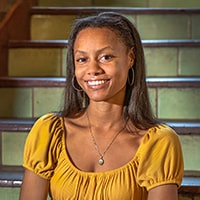 Morgan Boyd, a 2023 graduate in psychology, has received the Gretchen Goldsmith Lankford Award. This award recognizes a student with exceptional academic achievement who plans to pursue graduate studies in education. This award is granted annually to one graduating senior in the Dietrich College of Humanities and Social Sciences. Boyd, whose studies focused on developmental learning and creative writing, will continue her education at New York University, Steinhardt, where she will pursue a Ph.D. in developmental psychology. During her studies, she aims to research how to maximize successful outcomes in Black childhood education. Read the story.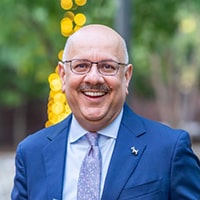 At its Great Night Gala and 40th birthday celebration, Children's Museum of Pittsburgh honored CMU President Farnam Jahanian with the Great Friend of Children Award for Jahanian's and CMU's efforts to create lasting and impactful experiences for K-12 students across the Pittsburgh region. A national thought leader in higher education, Jahanian said that as advances in technology are rapidly transforming how children are learning in K-12 environments, it is imperative to continue investing in immersive, hands-on and interactive programs — like those occurring at the museum and at CMU — in every facet of the learning continuum so that all young students in Pittsburgh and beyond have access to high-impact educational experiences. On CMU's campus, faculty, staff and researchers lead initiatives like the Cyert Center for Early Education, the Children's School and the Simon Initiative to improve learning outcomes in K-12 students and facilitate programs like the Girls of Steel, the Robotics Academy and the CS Academy, which engender passion for STEM-based disciplines in students locally and across the country. CMU's Entertainment Technology Center's (ETC) also works closely with the museum, including on its MakeShop and MuseumLab. "I am grateful for this recognition as a representative of the many CMU faculty, staff and leadership who have nurtured the long legacy of engagement between the Pittsburgh community, the Children's Museum and Carnegie Mellon for decades," Jahanian said. Read the story.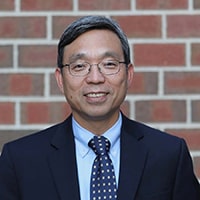 Henry Zheng, the vice provost for institutional effectiveness and planning, was named the recipient of the 2023 Association for Institutional Research (AIR) Outstanding Service Award for his professional leadership and mentorship in the field. Dr. Zheng's numerous contributions as an AIR leader, volunteer, and mentor as well as the positive impact he has had on the professional development and practice of numerous IR colleagues at the international, national, and regional levels through affiliated associations such as NEAIR and OCAIR led him to win the Outstanding Service Award (OSA). Colleagues nominating Dr. Zheng for this award praised his in-depth knowledge and application of IR practices and topics; "Henry's name is often seen to be associated with the important topics in our field, such as benchmarking, business intelligence, data analytics, data governance, and strategic planning." Also noteworthy to his peers was Dr. Zheng's demonstrated willingness to share his knowledge and networks with others — through a record of influential publications such as Big Data on Campus as well as more informally through presentations, training, and dialogue. As one colleague noted, "Knowledge can be said to be power but sharing of knowledge is far more powerful as demonstrated by Henry for his outstanding services to AIR and the IR community." All of his colleagues emphasize Dr. Zheng's ethos of service and inclusive approach — especially the mentorship of more junior IR professionals.
Who's New at CMU?
Carnegie Mellon welcomes the following new staff members this and last week.
Ira Teqja, Research Associate, Research Seed Funding – Qatar;

Alexander Johnson, Scholar Development Coordinator, Undergraduate Research Office;

Elizabeth DeVito, Administrative Assistant II, International Education;

Kristina Wong Davis, Vice Provost for Enrollment Management, Vice Provost for Enrollment Management;

Morgan Tenney, Research Associate I, Biological Sciences;

Vladyslav Kyryk, Research Assistant, Robotics Institute;

Yash Manian, Senior Robotics Engineer, National Robotics Engineering Center (NREC);

Yoko Nakamura, Teaching Consultant, Eberly Center;

Clarice Meffert, Study Recruitment Coordinator, Psychology;

Andrew Nickischer, Materials Characterization Facility Specialist, Materials Science & Engineering;

Jeffrey Bezak, Child Care Kitchen Manager/Head Cook, HR Operations;

Peter Jhon, Executive Director of the Delphi Research Group & Strategic Coordinator of Public Health Research Initiatives, Office of the Vice President for Research;

Sara Sub Laban, Research Assistant - MacWhinney Lab, Psychology;

Timothy DiSalvio, Sr. Financial Analyst, University Budget and Financial Planning;

Alexandra Jump, Assistant Director for Corporate and Foundation Relations, Mellon College of Science;

Brandon Jabout, Backend Java Developer, Software Engineering Institute;

Derrick Thrasher, Senior Receivables Accountant, Finance;

Kaila Cespedes, Help Center Consultant, Client Experience, Computing Services;

Lisa Long, Travel Supervisor, Payables;

Lori Reppermund, Assistant Director, Slate CRM/Events for Masters Admissions, Tepper School of Business;

Mark Paes, Associate Insider Risk Engineer, Risk and Resilience, Software Engineering Institute;

Michael Williams, Temporary User Services Associate, Software Engineering Institute;

Raymond Maloney, HVAC Mechanic I, Facilities Management Services;

Riley Wychock, Early Childhood Educator, HR Operations;

Yash Hindka, Assistant Embedded Software Engineer, Software Engineering Institute; and

Ashley Bronson-Walsh, Financial Assistant, Dean of Student Affairs.