September 07, 2022
News Briefs
Holt and Fiez to Lead Reimagined Neuroscience Partnership
Two neuroscience powerhouses, Carnegie Mellon University and the University of Pittsburgh, have a long-standing partnership in the Center for the Neural Basis of Cognition (CNBC), a 28-year-old neuroscience research and education program. After a yearlong reimagining process, the universities have announced that Lori Holt (above, right) of CMU and Julie Fiez of Pitt are the new leaders of what they call "the world's most exciting and neighborly playground for pioneering research and training in the neural basis of cognition."

The center leverages CMU's strong cognitive and computational neuroscience programs with Pitt's basic and clinical neuroscience expertise. It provides a way for students and faculty to connect formally and informally, including graduate training, undergraduate research opportunities and collaboration clusters, which encourage joint publications and grant submissions from the two universities.
Holt, a professor in CMU's Neuroscience Institute and Department of Psychology, is an expert in auditory cognitive neuroscience with a focus on understanding how humans interpret the complexity of spoken language. She has been a longtime member of the center and welcomes the opportunity to strengthen existing ties. Fiez is the chair of Pitt's Department of Psychology. Her research focuses on neural systems for language and learning, and integrates behavioral, neuroimaging, neuropsychological and intracranial recording methods in typical adults and clinical populations.
Learn more about Holt, Fiez and the partnership.
Lights Out! CMU Joins Effort to Save Birds, Reduce Energy and Carbon Emissions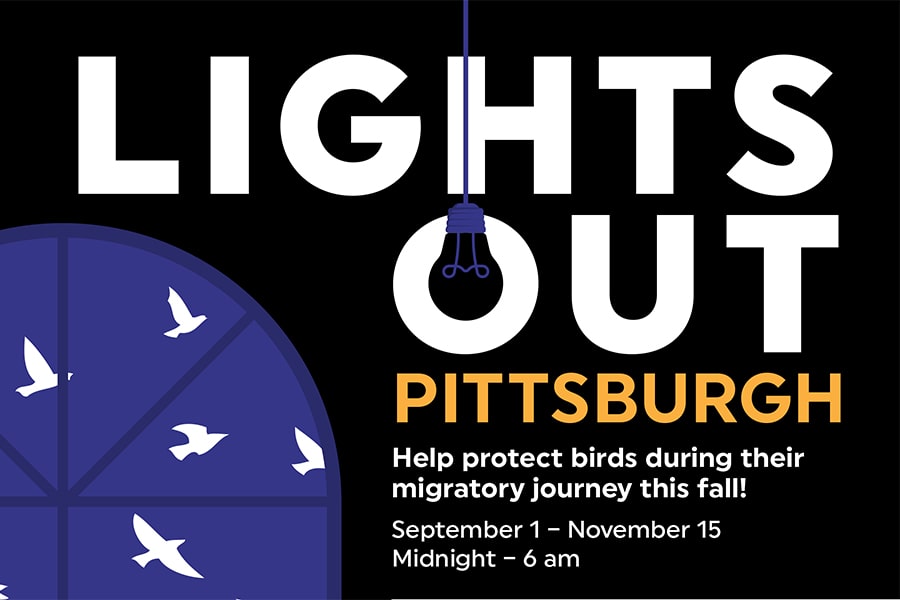 CMU is once again participating in Lights Out Pittsburgh, an effort to reduce unnecessary exterior lighting between midnight and 6 a.m. to save migratory birds, reduce energy costs and reduce carbon emissions. CMU is turning off the exterior, architectural lighting on and in several buildings and areas on campus, including:
Hamerschlag tower;
Walking to the Sky;
Hunt Library;
Gates bridge;
Pausch bridge;
Cohon Center fitness center;
Cohon Center swimming Pool;
Tennis courts;
Football stadium;
Soccer field; and
Warner Hall façade lighting.
About 100,000 birds pass over the Pi­ttsburgh region each year during migration. Bright lighting at night can disorient a bird's natural sense of navigation, drawing the bird toward the light and often causing window collisions. By turning off lights during peak migration seasons, you can help save birds. Turning off lights can also make a big difference in energy costs and help reduce the emission of harmful greenhouse gases like carbon dioxide.
CMU's participation is part of its commitment to sustainability and the 17 Global Sustainable Development Goals.
Traffic Alert: Buggy Practices Begin September 17-18; Road Closures, Parking Restrictions in Effect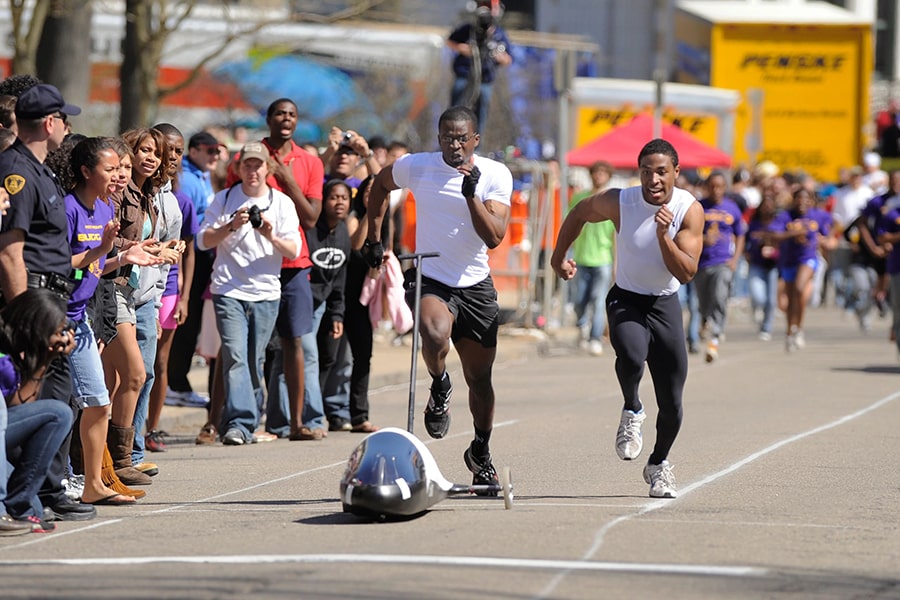 The annual Carnegie Mellon Buggy Freeroll practices will start Saturday, September 17. Practices take place on Saturdays (5 - 8:50 a.m.) and Sundays (5 - 9 a.m.) on Tech Street, Frew Street and Schenley Drive (weather permitting). During these times, vehicles will not be able to access or park on these roads. Parked cars will be towed. 
Here are the upoming practice dates:
September 17, 18, 24
October 1, 2, 8, 9, 15, 16, 22, 23, 29, 30
November 5, 6, 12, 13, 19, 20, 26, 27
December 3, 4
February 4, 5, 11, 12, 18, 19, 25, 26
March 4, 5, 11, 12, 18, 19, 25, 26
April 1, 2, 8, 9
The 2023 Buggy races will be held during Spring Carnival, April 14-15.
Please contact Elizabeth Koch, director of Operations and Engagement for SLICE and interim Sweepstakes Advisor, at elizabethk@cmu.edu or 412.268.8704 with any issues or concerns. For information on Sweepstakes, please visit: http://www.cmu.edu/buggy.
Provost Announces Office Hours for Fall 2022
Provost Jim Garrett will continue to host office hours for students, faculty and staff this fall. Office hours vary to accommodate the variety in our community members' schedules and will be held at the dates and times below:
Thursday, September 29 from 1 - 2:30 p.m.;
Monday, October 31 from 9:30 - 11 a.m.;
Wednesday, November 30 from 2 - 3:30 p.m.; and
Wednesday, December 14 from 9 - 10:30 a.m.
Appointments will be made in person on a first-come, first-served basis. All office hours will be held in CCR East in Warner Hall, unless otherwise noted.
Please join Provost Garrett to share your feedback and ideas or just to say "hi." He is always happy to meet and talk to the community about their experiences and ways we make the CMU experience better for everyone.
CMU-Alert Test This Friday, September 9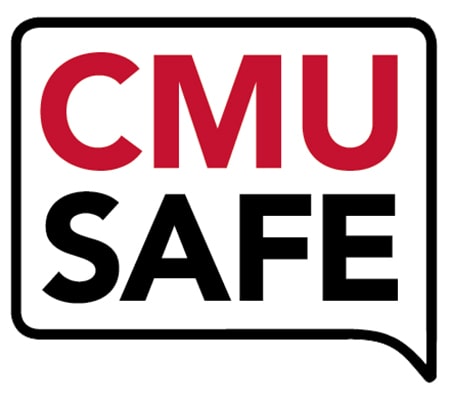 A test of the university's emergency notification service, CMU-Alert, will be conducted at 4 p.m. Friday, September 9.  In the event of an emergency, CMU-Alert sends email, voice and text messages. The messages provide brief details about the nature of the emergency and direct people to www.cmu.edu/alert for more information, instructions and updates.
Students receive CMU-Alert messages to their email and personal phone numbers listed in the Student Information Online (SIO) system. Faculty and staff receive CMU-Alert messages to their email, office phone and personal phone numbers listed in Workday. Students, faculty and staff should make sure their contact information is accurate. Faculty and staff can manage their contact information in Workday using this guide.
All contact information is treated confidentially. Community members will be contacted by the CMU-Alert system only if there is an incident or event that threatens public safety or during required periodical tests during the year. The tests are conducted to demonstrate and validate the functionality and reliability of this critical communications service.
Workday Update and Outage Set for September 9–11
Workday will be implementing enhancements to its homepage as part of the regularly scheduled bi-annual system update on September 12. While the look and feel of the user interface will change, the functionality of the applications and the underlying tasks will remain the same. To accommodate these updates, Workday will be unavailable from Friday, September 9 at 10 p.m. ET through Sunday, September 11 at 6 p.m. ET. 
The newly enhanced homepage displays relevant tasks, applications, announcements, as well as information and recommendations — completely personalized to the user. The updated user interface also provides a stronger search experience, balancing speed, relevancy and greater user control. Finally, machine learning drives suggested tasks, learning from the tasks that you perform in Workday day-to-day. The three recommended tasks should be the three most important for that given time. To learn more about the updated user interface, please view this brief video overview.
Workday will also update the appearance of the Careers website for external (non-CMU) users. Updates include additional flexibility with filtering, allowing users to create and link to a filtered search. To enhance the university's recruiting efforts, Workday is providing additional customization of onsite messaging.
These changes should enhance the user experience while leaving intact core functionality. Users will continue to receive task notifications via email and their Workday mailbox. Therefore, the extensive library of Workday user guides are still accurate. So, if you need guidance with any task in Workday, please reference the applicable guide.
Care@Work Provides Family Care Benefits
Carnegie Mellon offers family care benefits through Care.com. Through the Care@Work program, Care.com prescreens qualified caregivers to help eligible individuals find backup emergency care for children and adults. The program also includes a free membership to perform self-directed searches for a variety of caregiving needs.
Visit the website and view the Overview of Care@Work [pdf] to learn more.
Seeking Students to Make a Social Impact; Apply by September 14
What if you could help prevent the next pandemic? Or tackle other pressing problems like climate change, extreme poverty, global public health, nuclear security, risks from advanced AI or animal welfare?
Effective Altruism, CMU's Social Impact program, helps students figure out how they can do the most good with their careers by combining evidence and compassion to find the best opportunities for improving the world. Participants also will discuss criticisms of, and uncertainties about effective altruism.
The six-week program will start in mid- to late-September and run until early November. It will feature weekly discussions and optional socials to think through how you can increase your positive impact through your career.
Sudents need to apply by September 14.
Join CMU's Heart Walk Team September 17
On September 17, Carnegie Mellon's Employee Resources Groups (ERGs) will sponsor the first CMU Heart Walk team to benefit the American Heart Association (AHA). The Pittsburgh Heart Walk will take place in Point State Park (check-in at 8 a.m.; walk begins at 10 a.m.), and participants can complete either one or two laps around the park.
The Heart Walk is AHA's premier event and helps to:
Save the lives of kids born with congenital heart defects and adults struggling with heart disease;
Teach thousands how to save lives through CPR training; and
Fund the next heart and stroke medical breakthrough.
Visit the CMU team page to join our team or donate to the team or an individual walker.
Also, if you are not familiar with the ERGs at CMU, please visit the ERG website to learn more and get involved.
Who's New at CMU?
Carnegie Mellon welcomes the following new staff members this week.
Alphonse Niyibizi, Facilities Manager, Rwanda - Information and Communication Technology;
Benita Gwaneza, Administrative Support Coordinator, Rwanda - Information and Communication Technology;
Brett Zubiate, Project Scientist, Robotics Institute – Campus;
Esther Bugaiga, Faculty Support Coordinator, Rwanda - Information and Communication Technology;
Fazilet Cilli, Research Programmer, Robotics Institute – Campus;
Gisele Gihozo, Academic Affairs Coordinator, Rwanda - Information and Communication Technology;
Hayden Stec, Learning Game and Tutor Research Programmer, Human Computer Interaction Institute;
Ineza Raissa, Education Network Program Manager, Rwanda - Information and Communication Technology;
Meghan Shafer, HR Generalist I, Human Resources;
Miryah Rasheed, Coordinator of Student Support Resources, Community Health & Well-Being;
Mohammed Seidu, Full Stack Developer, Rwanda - Information and Communication Technology;
Oliva Uwimana, Administrative Support Administrator, Rwanda - Information and Communication Technology;
John Kasarda, Research Assistant, Psychology;
Rachel Kaufman, Administrative Coordinator, Institute for Software Research;
Theodossios Issaias, Adjunct Instructor, Architecture;
Alison Petrucci, Academic Advisor, Architecture;
Andrew Wickesberg, Adjunct Instructor, Music;
Benjamin Brosche, Arts Technician, Drama;
Brian Palmer, Security Officer, University Police;
Cheng Zhang, Research Assistant, Robotics Institute – Campus;
Isaiah Clark, Animal Husbandry Technician I, Micv Lab;
James Malaney, Research Assistant - Cantlon Lab, Psychology;
Robert Jose Azarcon, Senior Graphic Designer, Communications Design and Photography Group;
Sara Gaal, INI Director of Strategic Relations, Information Networking Institute;
Samantha Zemanek, Graphics Designer - MCS Dean's Office;
Taiwo Lasisi, CLIR Postdoctoral Fellow, University Libraries-Research & Academic Services;
Vanessa Rodriguez, Assistant Cybersecurity Operations Researcher, SEI Monitoring and Response;
Vicky Achnani, Adjunct Instructor, Architecture; and
Ariana Maloney, Scientific Storeroom Associate, MI Stores.
Did You Know?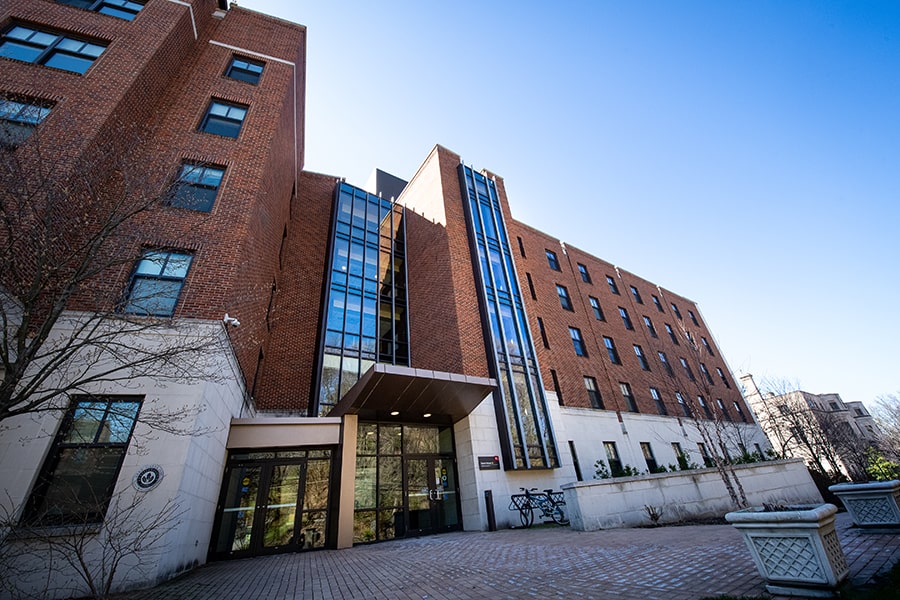 Built in 2003, Stever House, formerly known as New House, was the first residence hall in the United States to be certified for its Leadership in Energy and Environmental Design (LEED) from the U.S. Green Building Council. It has a silver LEED rating for its low environmental impact in both construction and function. Stever House is named in honor of H. Guyford Stever, CMU's fifth president from 1965-1972.