September 21, 2022
News Briefs
Research Suggests Drones are More Energy Efficient for Last-Mile Deliveries
A team led by Civil and Environmental Engineering Professor Costa Samaras and Ph.D. candidate Thiago Rodrigues has shown that using small drones for the last mile of package deliveries uses less energy and creates fewer emissions than conventional means.
As consumers, we've gotten used to the immediacy of deliveries. Order a product one day and have it at your house the next. But the logistics behind this massive movement of goods — and its environmental impact — mean that better solutions need to be implemented to balance consumer demand and the energy consumption of "last-mile" deliveries.
To address this issue, Samaras and Rodrigues researched what they refer to as "an increase in the demand for last-mile delivery while trying to reduce the environmental impacts of the transportation sector."
The team learned that both payload mass and total flight duration were the main contributors to the drone's overall energy consumption. "For small packages with high aggregated value, such as medical supplies and electronics, the quadcopter drones showed a considerably low energy consumption per mile traveled compared to other transportation modes," Rodrigues said.  
Learn more about the research.
Take Me Out to the Ballgame! CMU Day with the Pirates is September 25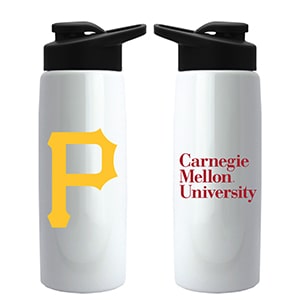 The Carnegie Mellon community is invited to PNC Park for CMU Day with the Pirates at 1:35 p.m., Sunday, September 25, when the Pirates play the Chicago Cubs.
Student Dormitory Council leaders Alex White and Catherine Cai will be serving as pitcher and catcher for the first pitch, and junior voice major Solomon Onyukwu will sing the National Anthem. A collection of CMU leaders, students and alumni, including Provost Jim Garrett, will perform the on-field group salute. 
Tickets can be purchased directly at cmu.is/pirates. There are two different ticket types to choose from and all tickets include a custom CMU Pirates Day water bottle and access to a before-game social for CMU guests in the Left Field Lounge. Groups of 10+ tickets can be purchased directly from CMU's sales representative at the Pirates, whose contact information is listed on the website. 
Join your friends and colleagues for the game, the panoramic views from PNC Park, and a celebration of CMU pride on Sunday, September 25.
CMU-Alert Test This Friday, September 23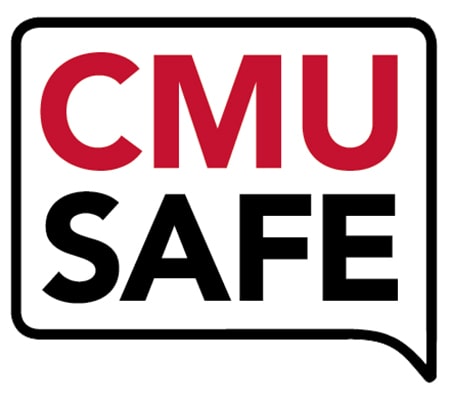 A test of the university's emergency notification service, CMU-Alert, has been rescheduled for 4 p.m. Friday, September 23. In the event of an emergency, CMU-Alert sends email, voice and text messages. The messages provide brief details about the nature of the emergency and direct people to www.cmu.edu/alert for more information, instructions and updates.
Students receive CMU-Alert messages to their email and personal phone numbers listed in the Student Information Online (SIO) system. Faculty and staff receive CMU-Alert messages to their email, office phone and personal phone numbers listed in Workday. Students, faculty and staff should make sure their contact information is accurate. Faculty and staff can manage their contact information in Workday using this guide.
All contact information is treated confidentially. Community members will be contacted by the CMU-Alert system only if there is an incident or event that threatens public safety or during required periodical tests during the year. The tests are conducted to demonstrate and validate the functionality and reliability of this critical communications service.
Provost Office Hours on September 29
Provost Jim Garrett will continue to host office hours for students, faculty and staff this fall. Office hours vary to accommodate the variety in our community members' schedules and will be held at the dates and times below:
Thursday, September 29 from 1 - 2:30 p.m.;
Monday, October 31 from 9:30 - 11 a.m.;
Wednesday, November 30 from 2 - 3:30 p.m.; and
Wednesday, December 14 from 9 - 10:30 a.m.
Appointments will be made in person on a first-come, first-served basis. All office hours will be held in CCR East in Warner Hall, unless otherwise noted.
Please join Provost Garrett to share your feedback and ideas or just to say "hi." He is always happy to meet and talk to the community about their experiences and ways we make the CMU experience better for everyone.
Join the CMWA;  Fall Reception is October 18

The Carnegie Mellon Women's Association (CMWA) will hold its Fall Membership Reception from 4:30-6 p.m. Tuesday, October 18 in the PNC Foundation Room on the second floor of the Tepper Quad. The reception will be an opportunity to connect with members across the university, ideate the future of the CMWA and enjoy a social event back on campus. Members must register by October 11.
If you are interested in becoming a member of the CMWA, or renewing your membership, please do so online. The CMWA celebrates the diversity and achievements of women at Carnegie Mellon while building a greater sense of community life on campus. The CMWA connects and supports members through networking opportunities, social gatherings and educational programming throughout the year.
CMWA membership contributions directly support the CMWA annual scholarships awarded to outstanding graduating seniors who demonstrate a commitment to their communities. Last academic year, the CMWA awarded scholarships to seven deserving students representing all CMU schools and colleges.
EHS Offers CPR/AED Training
Environmental Health and Safety (EHS) is offering several CPR/AED training classes this semester. Participants will learn how to recognize the signs of a sudden cardiac arrest, when to activate the EMS system, and how to do CPR.
Hands-on training will enable those who attend this class to become familiar with an AED and to successfully operate it in an emergency. Participants who complete the training will receive a two-year certification from the American Heart Association.
Training sessions will be held:
Monday, September 26
10 a.m.  – Noon
Facilities Management Services Building, EHS Conference room 307
Register through SciShield (formally BioRaft)
Saturday, October 1
10 a.m. - Noon
Porter Hall - 107E
Register through SciShield (formally BioRaft)  
Wednesday, October 12
10 a.m.  – Noon
Facilities Management Services Building, EHS Conference room 307
Register through SciShield (formally BioRaft)
Thursday, November 10
10 a.m. – Noon
Facilities Management Services Building, EHS Conference room 307
Register through SciShield (formally BioRaft)
Crowdfunding Is Now TartanFunder; Available Year-Round

Carnegie Mellon Crowdfunding is changing its name and expanding its availability for projects throughout the year. 
The relaunched and rebranded site — TartanFunder — is a comprehensive source for CMU crowdfunding. If you can dream it, you can make it happen — at any time and just as simply as ever.
TartanFunder is the CMU-exclusive, university-supported crowdfunding platform for students, faculty, staff and alumni to raise money for projects that benefit the Carnegie Mellon community. In the past, crowdfunding campaigns were offered as a resource twice a year, but after consulting with partners, CMU's Annual Giving team is expanding its availability to year-round.
The Annual Giving team provides training and resources to assist groups so they can use their own channels to raise awareness and achieve their fundraising goals. Past projects have seen terrific success, including Girls of Steel, who were able to attend a world championship in Houston as a result of their crowdfunding efforts.
For questions about TartanFunder guidelines, to learn about crowdfunding best practices, or to share an idea for a new type of project, please reach out to Jackie Otto, associate director of Annual Giving, at jlj@andrew.cmu.edu.  Project proposals can be submitted online.
Reminder: Fall Break is October 17 - 21
As posted on the 2022-23 Academic Calendar, Fall Break is October 17- 21. This break was implemented as a result of the Calendar Innovation Committee's 14-week semester pilot. 
The intention of the break is to give students and faculty a week of respite to relax, catch up on work, or explore research or professional development opportunities. Additionally, it offers symmetry between the fall and spring semesters, a benefit of the 14-week semester pilot.
While we all value hard work, it's also important to spend time for yourself. Students, faculty and staff are encouraged to use this time for rest and restoration, to travel, relax, catch up on work, pursue career opportunities, conduct research, or simply enjoy your free time! Instructors are asked to avoid assignments, large projects, or other activities that would interfere with the intention of this week-long break.
Workday Update Successfully Implemented
The recent Workday update was successfully implemented as scheduled on Monday, September 12.
The newly enhanced homepage displays relevant tasks, applications and announcements, as well as information and recommendations. The updated user interface also provides a stronger search experience, balancing speed, relevancy and greater user control. To learn more, please review the Workday Enhancements Guide [pdf] or view this brief video overview.
Workday applications and the underlying tasks remain unchanged. Also, users will continue to receive task notifications via email and their Workday mailbox. Therefore, the extensive library of Workday user guides are still accurate. So, if you need guidance with any task in Workday, please reference the applicable guide.
Who's New at CMU?
Carnegie Mellon welcomes the following new staff members this week.
Collin Abidi, Associate Software Developer, SEI Ai Team 1;

Melissa DeLucchi, Principal Lead Software Engineer, Physics;

William Gurfein, Early Childhood Aide, HR Operations;

Elizabeth Santos, Temporary Employment Service, HR Operations;

Jenna Bodnar, Sr. Technical Writer & Content Strategist, SEI OCOS Communication Services;

Lisa Schlar, Medical Director for Clinical Operations, Community Health & Well-Being;

Michael Bragg, Associate Cybersecurity Engineer, SEI Mod/sim and Exercise;

Scott Hurley, Robotics Technician, Robotics Institute, National Robotics Engineering Center;

Yue Zhang, Research Associate II, En Cai Lab, Biological Sciences;

Joseph Prentice, Research Associate I, Biological Sciences; and

Tahirah Moore, Research Associate I, Biological Sciences.