March 30, 2022
News Briefs
NiFTy, Flurry Student Teams Win McGinnis Venture Competition
The graduate student team behind NiFTy, pictured above with Swartz Center Executive Director Dave Mawhinney, and the undergraduate team behind Flurry took home top prizes at this year's McGinnis Venture Competition.
NiFTy is a platform for blockchain-based games where gamers can access games and buy, sell or trade their in-game assets as non-fungible tokens (NFTs). The winning team members are Pranjal Chavarkar, Adithiyajothiram Lakshmanaperumal and Kyle Snyder, all graduate students in the Integrated Innovation Institute. Their first-place win in the graduate track secured $25,000 to continue to develop their company.
Flurry, including team members Miguel Brandao, a junior in mechanical engineering; Jack Winters, a junior in business administration; and Steven Wu, a junior in computer science; earned the top undergraduate prize of $4,000. Flurry created hardware that plugs into a car's onboard diagnostic port and uses sensors to calculate a value representing a road's slickness and recommends driving speeds and stopping distances.
Presented by the Swartz Center for Entrepreneurship, the McGinnis Venture Competition invited student entrepreneurs from across Carnegie Mellon to compete for a total of $60,000 in investment funds to support their startup ventures. The competition began with two virtual rounds in which teams had the opportunity to work with alumni entrepreneurs and venture capitalists to develop their ideas and business plans.
"The McGinnis Venture Competition is an opportunity for CMU students to get intensive coaching, judging and feedback on their ideas and startups — which is equally important to the investment they win," Mawhinney said.

Find out more about the winners.  
Survivor Walk Planned for Sexual Assault Awareness and Prevention Month
The Office of Title IX Initiatives has planned a series of events and programs in April in honor of Sexual Assault Awareness & Prevention Month (SAAPM), in collaboration with campus and community partners, including the University Health Services Health Promotion Team and the Center for Student Diversity and Inclusion. See the calendar of events.  
One of the month's highlights is a Survivor Walk and Speak-Out called "Pittsburgh Universities Believe Survivors" on Sunday, April 3. This first inter-university SAAPM event was jointly planned and sponsored by Carlow University, the University of Pittsburgh and Carnegie Mellon. The event is open to the Pittsburgh community and participants are asked to meet at "The Porch" at Carlow at 3333 Fifth Avenue starting at 12 p.m. to register, check out a resource fair, make signs, learn chants and receive a free t-shirt. 
Expected to speak at The Porch are Carlow Student Caitlin Hoag, the mastermind behind the walk, and senior Carlow administration. At 1 p.m., the walk will begin along the sidewalks down Fifth Avenue to Bigelow Boulevard, past the Cathedral of Learning and down Forbes Avenue to Carnegie Mellon. There will be a Survivor Speak Out at the tent at the Tepper Quad. Individuals will be invited to share words of encouragement and resilience.
The walk was coordinated by the Sexual & Interpersonal Violence Prevention & Awareness Committee (SIVPAC), recently founded and co-chaired by Carrie Benson of Pitt and Jamie Edwards-Pasek from CMU's Office of Title IX Initiatives. SIVPAC includes professionals in Title IX and sexual violence prevention from Pittsburgh-area colleges and universities and related local nonprofits, including Pittsburgh Action Against Rape, Women's Center & Shelter and the Center for Victims. The purpose of SIVPAC is to share information, coordinate and collaborate on issues relating to sexual and interpersonal violence awareness and prevention among higher educational institutions and related organizations in the Pittsburgh area. 
Ph.D. Students Selected for Amazon Research Fellowships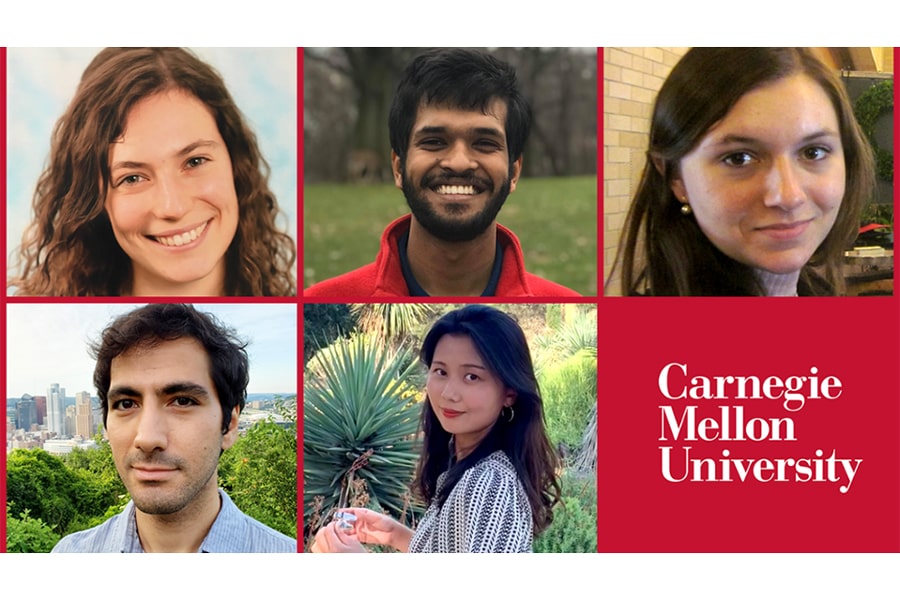 Emily Black, Saurabh Garg, Natalia Lombardi de Oliveria, Emre Yolcu and Minji Yoon have received Amazon research fellowships.
Amazon awarded its second round of research fellowships to five graduate students with ties to the School of Computer Science. They are Emily Black, Saurabh Garg, Natalia Lombardi de Oliveria, Emre Yolcu and Minji Yoon.
The program supports graduate students researching automated reasoning, computer vision, robotics, language technology, machine learning, operations research and data science. The students will be invited to interview for a science internship at Amazon.
Introducing an Employee Referral Program for CMU Staff Positions
The university is introducing a pilot employee referral program for select positions within Computing Services and the Cyert Center for Early Education. Eligible staff members who submit a referral through the duration of the pilot will receive an employee referral reward if the referred candidate is hired and completes their six-month provisional period. Visit the Careers website to learn more about the pilot program, the qualifying positions, eligibility requirements and how to make a referral.
TEDxCMU Hosts "Momentum" Saturday
TEDxCMU is hosting "Momentum" at 10 a.m. Saturday, April 2 in Mellon Institute.
Organizers say TEDxCMU's Momentum pushes us to keep moving in spite of the challenges we face and teaches the power of striving for more. 
Speakers will be sharing their personal experiences, including their individual struggles and successes. The five speakers are:
Rebecca Wahls, a second-year John Wells MFA Directing Fellow: "Yes, And: The Power of Improv in Everyday Life";
Kelly Limerick, crochet artist: "Regaining a Sense of Purpose with Slow Art";
Simran Kaur, financial writer and founder of Girls That Invest: "How Women Can Invest in the Stock Market";
Rebecca Munnell McHugh, Ph.D., assistant professor of psychology: "Visibility Management: Deciding When to Tell, and When to Hide, Our Hidden Features"; and
Samora la Perdida, a fifth-year drama and global studies major: "Do Latines Need to Speak Spanish? Finding My Lost Mother Tongue." 
Provost Continues Office Hours in April and May
Provost Jim Garrett continues to host office hours for students, faculty and staff this spring. Office hours vary to accommodate the variety in our community members' schedules and will be held at the dates and times below:
Wednesday, April 6 from 2:30 - 4 p.m.; and
Wednesday, May 4 from 10 - 11:30 a.m.
Appointments will be made in person on a first-come, first-served basis. All office hours will be held in CCR East in Warner Hall, unless otherwise noted.
Donate Your Unused Toiletries for the Red Door, April 6
Student workers in recreation are collecting toiletries for the Red Door organization in downtown Pittsburgh. Red Door provides bagged lunches and other necessities for the homeless. The Red Door program was started by St. Mary of Mercy Church in response to the Great Depression in an effort to relieve those struggling with financial adversity.
Drop off your donation of toiletries at any of CMU's three fitness center desks all day Wednesday, April 6. Drop off locations are:
The Cohon Center fitness center desk;
The Aquatics desk in the Cohon Center; and
The Tepper fitness center desk.
Impact Showcase Set for April 22
Impact CMU is an end-of-the-semester showcase and celebration of student-led social impact projects on campus. This year, Impact CMU will be an expo of all the projects in the Cohon Center on April 22. There will be an opening ceremony with lunch (food will be provided), voting throughout the day, and a closing ceremony around dinner. Stay tuned for more details.

Volunteers Needed for Take Our Children to Work Day
Take Our Children to Work Day on Thursday, April 28, is in need of campus community members to assist with registration, lunch, chaperone guided tours across campus, and monitor the children waiting to be picked up from Wiegand Gym. The time commitment for each role is detailed below.
Registration volunteers are needed from 10:45 a.m. through about 12:15 p.m.
Lunch volunteers are needed from 11:45 a.m. through 1 p.m.
Track Guides are needed from 1 – 3:15 p.m.
Session Presenters are needed from 1 - 3:30 p.m.
Monitors at pick-up are needed from 3 – 4 p.m.
Since these positions include direct contact with children as defined by the Pennsylvania Child Protective Services Law (as recently amended by "Pennsylvania Act 153") you will be required to obtain certain clearances prior to participating in the event. Information about these clearances and how to obtain them will be provided separately. If you are interested in volunteering in any capacity, please send email to toctwd@andrew.cmu.edu.
Who's New at CMU?
Carnegie Mellon welcomes the following new staff members this week.
Andrew Kraus, Senior IT Desktop Support Consultant, IT Service Desk (Comp Services);
Adison Ammons, Assistant Director, Donor Relations, Alumni and Constituent Engagement;
Christopher Csonka, Technical Writer, Pittsburgh Supercomputing Center;
Jesse Barrad, Contracts Analyst, Associate Vice President for Research & Academic Admin;
Jasia March, Administrative Coordinator, Social and Decision Sciences;
Rhiannon Morrison, AV Sr. Departmental TEF Technician, Technology Enhanced Facilities (Comp Services); and
Trisha Grace, Assistant Director of Donor Relations, Tepper School of Business.