October 13, 2021
News Briefs
CMU Staffer Hosts Radio Show Connecting Pittsburgh's Hispanic Community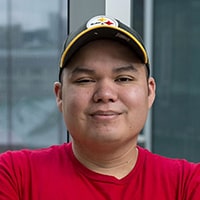 From WRCT 88.3 FM's radio station, nestled in the basement of the Cohon University Center at Carnegie Mellon University, Iván Cao-Berg connects to listeners across southwestern Pennsylvania. The host of Barrio Latino, Cao-Berg carries on the legacy of the region's longest running Spanish-language radio show. Cao-Berg took on hosting duties almost five years ago. An alumnus of CMU with a master's degree in computational biology, Cao-Berg works as a research software specialist for the Pittsburgh Supercomputing Center.
Born in Argentina and raised in Puerto Rico, Cao-Berg said when he studied at CMU, he wanted to contribute to conversations about diversity and inclusion. "I noticed that Latinos in Pittsburgh had no sense of community for many different reasons," Cao-Berg said. "I wanted to help build that community, to increase our visibility and help to build a historical footprint."
Cao-Berg has morphed Barrio Latino into more than a radio show. It's now a website, documenting the events and conversations of a population that doesn't have an exact geographic center. Through a network of email lists and Facebook groups, Cao-Berg serves as connective tissue for the Latino community.
Learn more about Cao-Berg and Barrio Latino.
Human Resources Introduces LifeCare Family Service
To provide more support for family care needs, Carnegie Mellon's Office of Human Resources is introducing LifeCare Family, a new service available through Care@Work.
LifeCare Family offers 24/7 access to care specialists who can provide personalized assistance with your parenting, child care, education and elder care related needs. In particular, they can assist with the search process and narrow down the field of caregivers by assessing your needs, searching for candidates and offering potential matches within one-to-three business days (or sooner for urgent needs).
Visit the LifeCare Family page to learn more, including eligibility details and how to access the service. If you need additional support, please contact HR Family Care.
Attention Faculty & Staff: Open Enrollment for Benefits is Oct. 25-Nov. 15; Important Changes Coming
Open Enrollment, the time of year that benefits-eligible faculty and staff get to select or make edits to their benefit elections, is October 25 through November 15. Based on the results of the Carnegie Mellon benefits assessment that included a faculty and staff survey and a benchmarking analysis of CMU peers and national plans, important changes are being made to CMU's 2022 benefit options. The goal is to make sure CMU offers a comprehensive, competitive and progressive benefits package.
These updates are the first part of a multi-year process to optimize benefit offerings, align CMU benefits to the market, and manage costs for both the university and faculty and staff members. For 2022, this includes:
Consolidating medical plan carriers;
Reducing copays for certain doctor visits that have grown in popularity due to COVID-19; and
Setting the stage for new offerings that will allow you to save money now and in the future.
The 2022 Open Enrollment Overview [pdf] provides a summary of the 2022 changes, information on Open Enrollment and where you can go to learn more, including information on upcoming Open Enrollment Change Overview presentations.
The Office of Human Resources is hosting virtual events to help faculty and staff learn more about benefit offerings, plan changes and the enrollment process. You will have the opportunity to ask questions about CMU's benefits and enrollment during these virtual meetings [pdf] before and during Open Enrollment.
If you have questions regarding Open Enrollment, please contact Human Resources Services at 412-268-4600 or hr-help@andrew.cmu.edu.
Provost Continues Office Hours for Fall 2021
Provost Jim Garrett will continue to host office hours for students, faculty and staff this fall. Office hours vary to accommodate the variety in our community members' schedules and will be held at the dates and times below:
Wednesday, October 20 from 9 - 10:30 a.m.; and
Thursday, November 18 from 3 - 4:30 p.m.
Appointments will be made in person on a first-come, first-served basis. All office hours will be held in CCR East in Warner Hall, unless otherwise noted.
CMU Hosts Community Blood Drive, Oct. 26
Carnegie Mellon will host a community blood drive from 9 a.m. to 2 p.m. Tuesday, October 26 in the Mellon Institute Social Room 328.
To schedule your lifesaving appointment, go to https://donateblood.centralbloodbank.org. Enter group code CU040004 to schedule your donation. If you cannot schedule online, please call 412-209-7000. For more information visit https://vitalant.org/.
Food Drive Gets Underway November 1
Carnegie Mellon's 28th annual Food Drive, sponsored by Staff Council, kicks off November 1 and runs through November 15.  Last year's drive was the most successful in history as the CMU community contributed $83,479.63 and 2,419 pounds of non-perishable items to the Greater Pittsburgh Community Food Bank. The pounds of non-perishables included 285 can openers that were donated to the CMU Food Pantry.
Look for more details, including how to donate to the food drive, in the next few weeks and at Staff Council's general body meeting on October 21. Visit the Staff Council website to see how you can attend the meeting via Zoom. If you are interested in volunteering, please contact committee chair Carole Panno at cp1g@andrew.cmu.edu.
Save the Date for Tartan Community Day, Nov. 5
Tartan Community Day is a day for students, faculty, staff and alumni to take a break from the daily norm and to connect, restore and play, in ways that are most meaningful to you.

This year's theme is connection, in all of its various forms, and the joy that comes from it. Connection can be big or it can be small, rambunctious or quiet, a moment or a lasting journey. It can be a connection to oneself, to a friend, to community and so much more.

During a time when change has been constant and life has presented challenges, we find joy through connection — by celebrating being on campus in a shared space whether in person or virtual, nurturing ourselves through self-care and self-exploration, and lifting each other up as we strengthen CMU's diverse and strongly knit community.

On this third annual Tartan Community Day, we will come together, to discover the power that can come from promises made and kept, to play games and have fun, in person or in a remote setting based on personal preference, and to take the time to check in with ourselves and others so that we can restore, re-center and rejuvenate for all the days ahead.
Staff Council Offers Discounts to Idlewild and Kennywood Fall Events
Carnegie Mellon Staff Council is offering the CMU community discount tickets to Idlewild's Hallowboo and Kennywood's Phantom Fall Fest.
Hallowboo at Idlewild
Purchase your group tickets and save $17 on the regular admission price ($39.99) for any weekend through October. To purchase your discount tickets online:
Select BUY NOW
Enter the number of tickets you wish to purchase and click NEXT
Select your DATE in October, then click NEXT
Click either CONTINUE SHOPPING or CHECKOUT and finish the transaction
Print out your ticket vouchers and bring them with you to the park
Phantom Fall Fest at Kennywood
To purchase your ticket at 10% off:
Click PROMO CODE at the top of the landing page
Enter PROMO CODE: cmu
Enter the number of tickets you wish to purchase at the discounted price and click ADD TO CART
Click either CONTINUE SHOPPING or SECURE CHECKOUT and finish the transaction by providing your credit/debit card information
Print your tickets and redeem them at Kennywood's main gate.
Questions? Visit the Staff Council website.
Want to be a Better Communicator? Attend the MAPW Information Session Oct. 27
The English Department's master's degree in professional writing has been a popular choice for many CMU staff seeking to become more effective communicators. If you're interested to learn about the Master in Professional Writing (MAPW) program, the English Department is hosting a virtual information session at 12 p.m., Wednesday, October 27. The MAPW teaches professional students to create and execute verbal and visual information strategies (including for print, online, social media and multimedia) and develops their skills for careers as writers, communication specialists and information designers.
The first and preferred master's degree application deadline is Wednesday, January 5, 2022. The English Department is waiving the GRE requirement for applications submitted for fall 2022 and fall 2023. RSVP here to receive the zoom invitation.  Find out more about the MAPW program.  
Who's New at CMU?
Carnegie Mellon welcomes the following new staff members this week.
Nicholas Vottero, Temporary Employment Service, HR Operations;
Sarah Bigelow, Temporary Employment Service, HR Operations;
Katie Willis, Temporary Employment Service, HR Operations;
Anne Driscoll, Associate Data Analyst, MLD: Machine Learning Department;
Daniel Geeza, Temporary Cybersecurity Engineer, SEI Research and Prototypes;
Heather Puskarich, Manager, Coulter Welcome Center, University Communications and Marketing;
Kathryn Rufo, Assistant Softball Coach, Campus Engagement;
Matthew McMonagle, Administrative Assistant II, Computer Science Department; and
Shannon Edgar, Communication Coordinator, Enrollment Services Administration;