October 01, 2021
Special Weekend Makes a Family Connection
By Bruce Gerson bgerson(through)cmu.edu
More than 2,000 moms, dads, brothers and sisters, and some grandparents, too, are expected to be on campus this weekend to visit their student and get a little taste of life at CMU.
Organized by the Student Affairs' Office of Parent and Family Engagement, Family Weekend, October 8-9, is the first fully in-person, on-campus event for parents and families since before the pandemic. This year's large get-together offers more than 40 different activities, including academic open houses and panels, student performances, intercollegiate athletic competitions and even a painting class on the Cut.  
"The goal of Family Weekend is to welcome families to campus, give them a chance to connect with their student, and help families get to know more about Carnegie Mellon and their student's experience here," said Diane Eshelman, assistant director of first-year orientation and family engagement.
"We're really excited to welcome families back to campus. What I missed most last year was not being able to connect with families in person. I talked to many of them over the phone and through webinars we offered, but it just wasn't the same level of engagement," she said. "I remember talking to a grandfather at Family Weekend in 2019 and he was telling me about his career in NASA. That was pretty cool."  
Following Carnegie Mellon's COVID-19 mitigation protocols, all parents and family members attending Family Weekend are required to be fully vaccinated or must have received a negative COVID-19 test result within three days of arriving on campus. Everyone will be required to wear facial coverings at all times while on campus.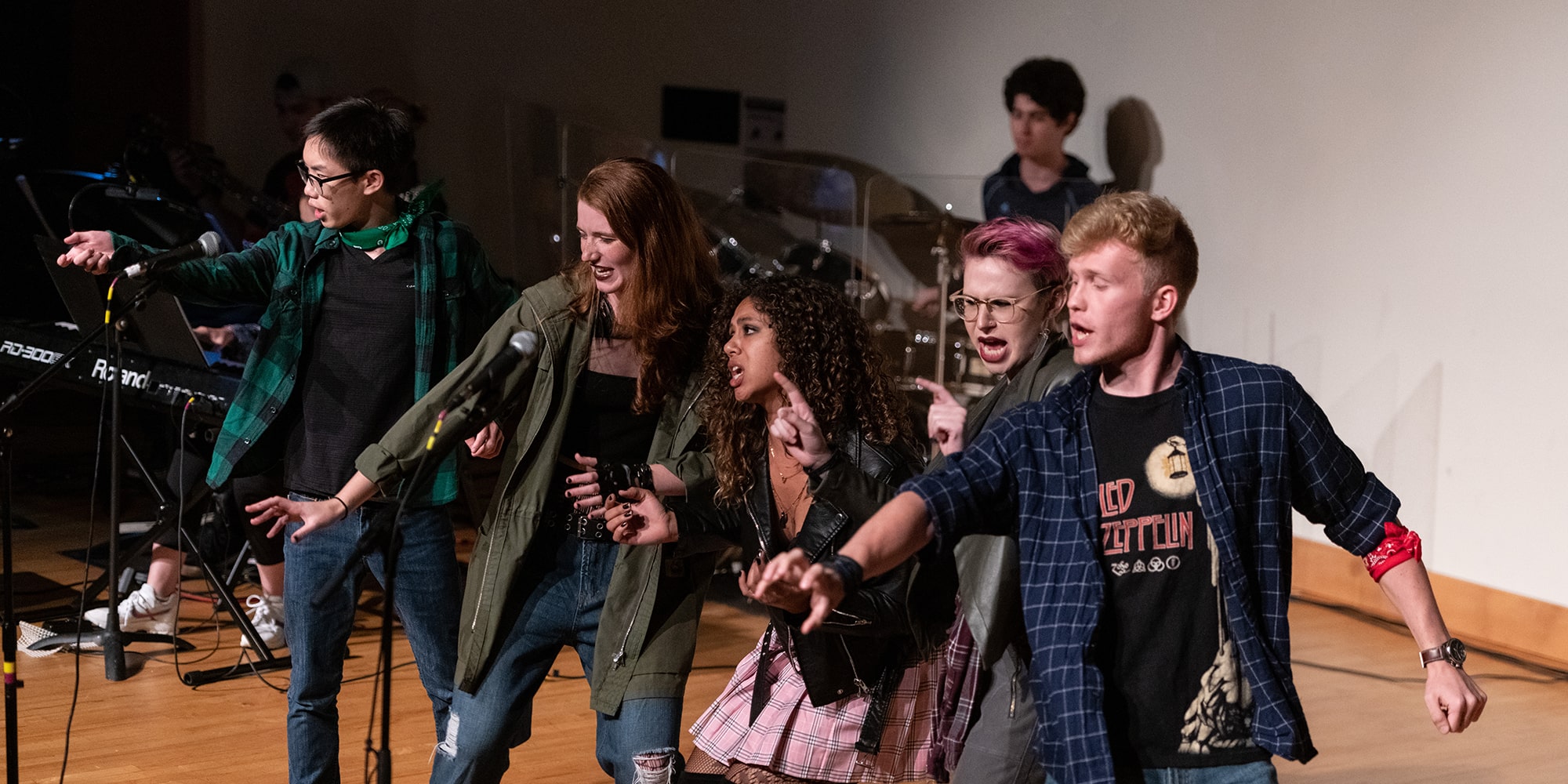 Scotch 'n' Soda, CMU's theatrical group for non-theater majors, will perform "Once Upon a Benefit Cabaret" live in McConomy Auditorium.  Here Scotch 'n' Soda performs at Family Weekend 2019.
Eshelman said typically families of first-year students make up the majority of Family Weekend attendees, but this year more second-year and upper-class families are expected since there was no in-person event in 2020 due to the pandemic.
"We're expecting a big turnout. This is our first big in-person family event in two years," she said.
Activities kick off late Friday afternoon with an open house at the Center for Student Diversity and Inclusion and meet-and-greets in each residential neighborhood, including the Fifth Avenue Neighborhood Commons at the new Fifth and Clyde House.
Scotch 'n' Soda, CMU's student theatrical group for non-theater majors, will perform "Once Upon a Benefit Cabaret" live in McConomy Auditorium. Also on Friday, the student organization Salsa is hosting "Noche Latina,"  a Latin and Hispanic cultural festival with dancing and games in Rangos Ballroom. Family Weekend has received an exemption allowing full capacity at indoor venues.
On Saturday morning, campus tours, the Donut Dash and the Family Weekend Welcome open a full slate of activities. The welcome will include remarks from university leadership and a panel discussion moderated by Julie Schultz, associate dean for parent and family engagement and first-year orientation. The conversation will revolve around CMU academics and student life.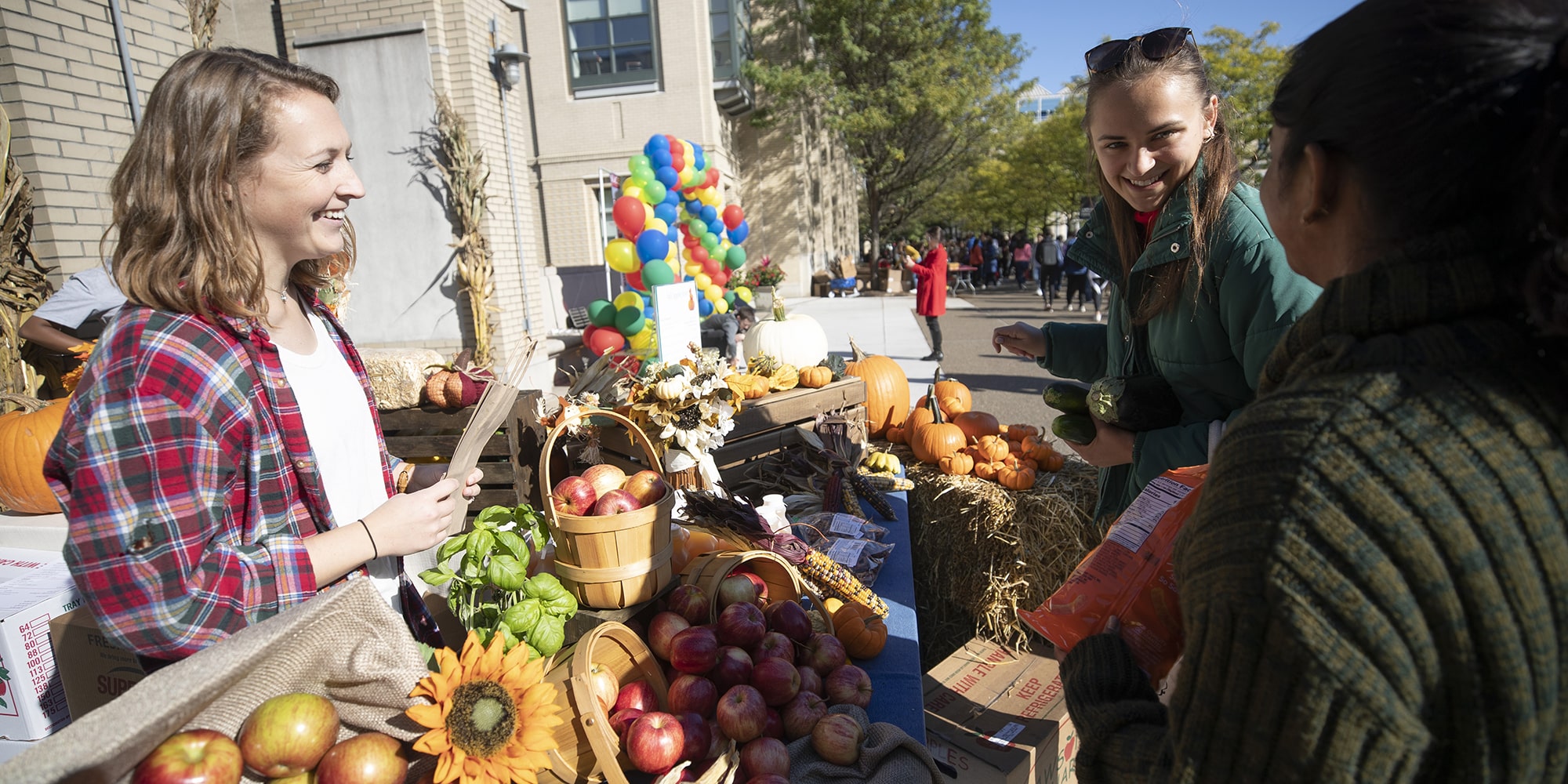 Chartwells will once again host an Apple Fest during Family Weekend.

Following the panel, families and students will be able to enjoy the culinary expertise of several vendors at the Chili Taste-Off on the Cut. The afternoon also will include information sessions from the Career and Professional Development Center (CPDC) and Undergraduate Research Office (URO). Several college breakout sessions will be held across campus, and the Center for Student Diversity and Inclusion, the Student Academic Success Center and the Tartan Scholars program will host open houses.
"The college sessions are always very popular as is hearing from university leaders," Eshelman said. "Families are also always interested in summer internships and career and research opportunities for their students."
Scotty Saturday, an annual fall happening, gets underway at 3 p.m. with arts and crafts, a marketplace, photo booths and Chartwell's Apple Fest on the Cut. Zeja Copes, a 2021 graduate of the School of Art, will lead students and family members in painting a colorful fall landscape. This year's Spring Carnival theme will be announced during Scotty Saturday. 
Family Weekend will culminate Saturday evening with the Tartans football game versus Westminster College and AcaPittsburgh, the signature evening event in Rangos, featuring several a cappella groups from CMU, including the Originals, Joyful Noise, the Treblemakers and Counterpoint.
"We have such talented students here at CMU," Eshelman said. "Families want to know all about life on campus and what CMU students are up to. And I think that's awesome."