December 06, 2021
Emergency Response Drill Puts Focus on Family Assistance Center
By Bruce Gerson bgerson(through)cmu.edu
Carnegie Mellon University's annual emergency preparedness and response exercise this year turned Rangos Ballroom into a mock family assistance center, where family members of victims impacted by a tragic event would be able to find comfort, information, counseling, spiritual support and other social services.
Organized by CMU's Enterprise Risk Management Department, the four-hour training session on November 9 brought together members of the university's emergency preparedness and response team, its executive management team, CMU Police, Student Affairs, Human Resources, Counseling and Psychological Services, and University Communications and Marketing to discuss and role-play activating and operating a family assistance center.
Additionally, the exercise went beyond CMU's expertise to include members of the Federal Bureau of Investigation, Pittsburgh Emergency Medical Services, the Allegheny County Health Department and social service agencies, including the Red Cross and the Center for Victims. Each of them participated in the discussion, detailing the resources and services they could provide to grieving family members and others affected by a tragedy on campus. Emergency response representatives from nearby Chatham University, Duquesne University and the University of Pittsburgh also participated, reaffirming their role as supportive university partners.
"Our annual exercise is an opportunity to practice and to learn how we would support members of our community, and in this case family members, during a tragic event," said Melanie Lucht, associate vice president for Enterprise Risk Management and chief risk officer at CMU. "While we take every precaution to protect the health and well-being of the campus community, being prepared in the event of an emergency is important, and that was the purpose of our exercise today."
Lucht praised her staff, most notably Francisco Molina and John Mayhoff, for coordinating the exercise and fostering the collaboration between the many CMU departments and outside agencies. Molina, CMU's director of Disaster Recovery and Business Continuity, and Mayhoff, an emergency preparedness and response specialist, coordinated efforts to bring nearly 100 individuals — virtually and in person — to the exercise.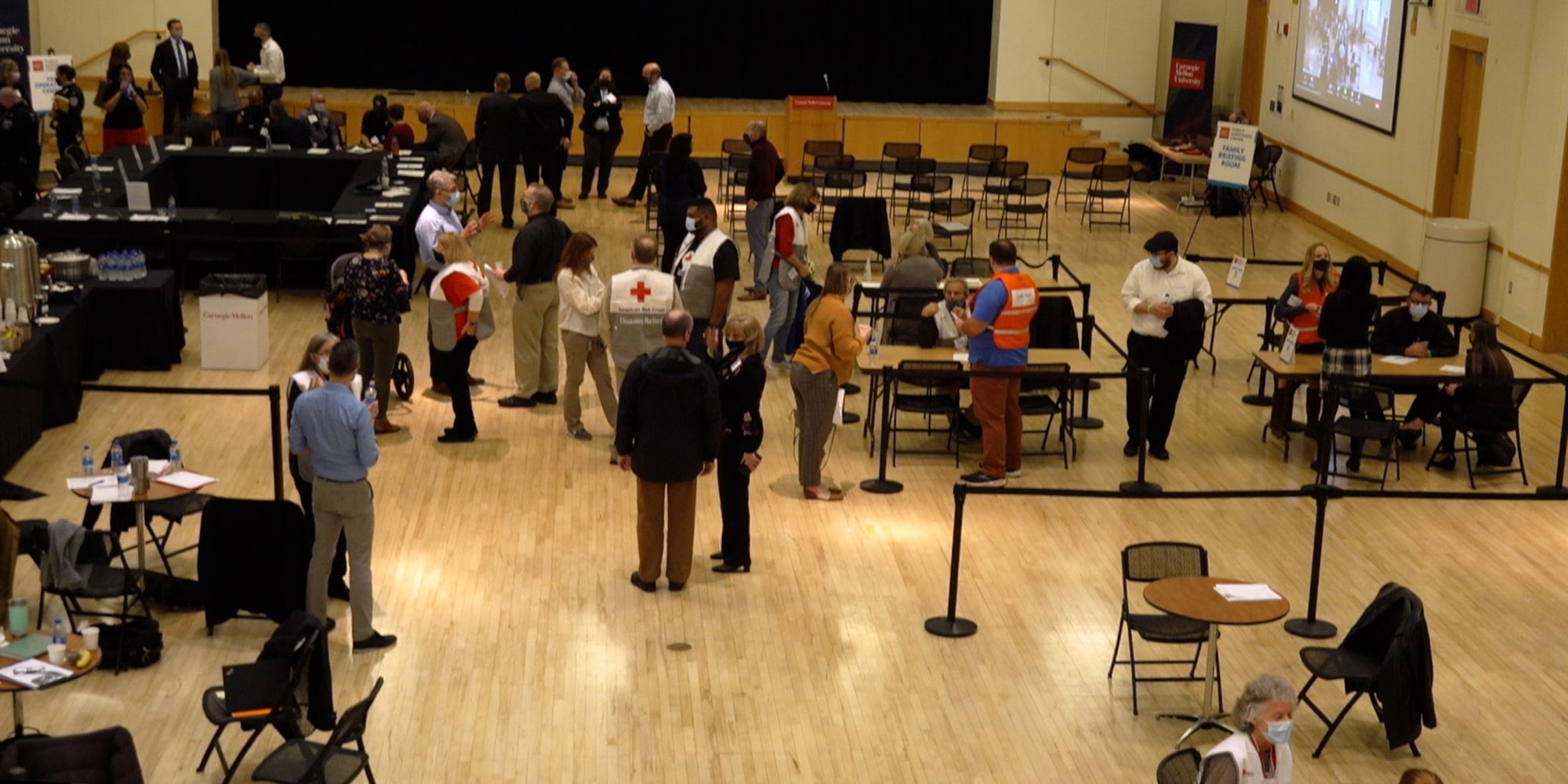 CMU's annual emergency exercise turned Rangos Ballroom into a mock family assistance center.
CMU Police Chief Tom Ogden said the training session served as an opportunity to collaborate and strengthen partnerships across the community and beyond.
"This opened everyone's mind to all the agencies involved, all the interaction and how everyone has a role to play," Ogden said. "Today was a great step forward. It opens the door for future emergency preparedness and education."
Carlos Carmona, disaster program manager for the Red Cross, said practicing a family assistance center doesn't happen that often, and he praised CMU for having the foresight to do so. 
"Today was a great collaboration among all the different agencies," Carmona said. "It's always better to know the faces and see the people you're going to work with now, rather than to exchange business cards at the time of the emergency."
Lucht said feedback will be collected from the participants regarding what worked and what could be better moving forward.
"Our goal is to continuously learn and improve so we can be diligent in enhancing our preparations and responsiveness should an emergency arise," she said.