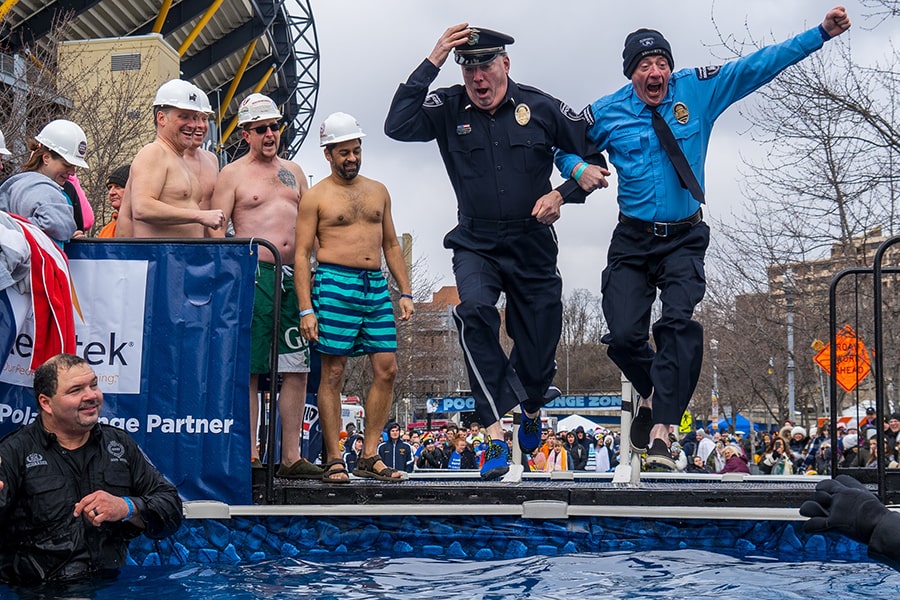 March 04, 2020
News Briefs
CMU Police, CDFD Take the Plunge for Special Olympics
Members of the Carnegie Mellon Police Department and Campus Design and Facility Development were "freezin' for a reason" last Saturday, when they took the plunge in icey cold swimming pools to benefit Special Olympics Pennsylvania. The CMU team raised over $43,000 dollars for Special Olympics.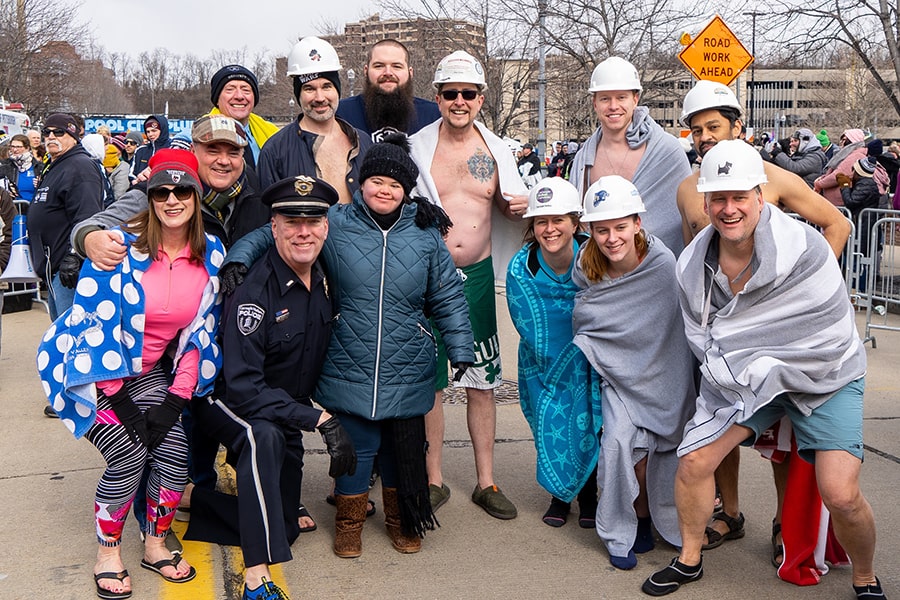 CMU's Polar Plunge team.
Staff Council Seeks Nominations for Divisional Reps
Are you or a fellow staff member interested in contributing more to the Carnegie Mellon campus community? Is there an issue that you are passionate about and want to make a change? If so, Staff Council encourages you to participate in the 2020 Staff Council Divisional Elections. You can nominate yourself or other staff members to serve as a divisional representative for the 2020-2022 term.
Staff Council Representatives:
Attend the general body meeting on the third Thursday of every month;
Serve on at least one standing committee;
Communicate information to their colleagues; and
Serve a two-year term.
A link to your division's nomination form was mailed to each staff member this week. The nomination period closes March 13. Visit the Staff Council website for more information.
Lunch and Learn with Dining Services 
Dining Services is hosting a Lunch and Learn in honor of National Nutrition Month from noon to 1 p.m., Friday, March 13 in the Cohon Center's Danforth Conference Room. Chartwells Registered Dietitian Marla Breitbart and Sustainability Coordinator Tyler Iddon will lead a discussion exploring the concept of plant-forward eating — a style of cooking and eating that emphasizes and celebrates plant foods — that can fit into any eating pattern. Chartwells Senior Executive Chef George will share and demonstrate his tips for incorporating more plants into a favorite dish without compromising taste, texture and visual appeal. 
Enjoy a light plant-forward lunch, compliments of Staff Council Wellness Committee and Dining Services. This event is FREE, but seats are limited. Please register.  Also, please consider bringing a non-perishable food donation for The CMU Pantry to help combat food insecurity on campus! Find out more.

CMU's Pre-College Application Deadline is Approaching
The final application deadline for Carnegie Mellon's Pre-College Programs is March 15.
The programs offer rising high school juniors and seniors opportunities to explore college life inside and outside of the classroom. Students mirror CMU's robust undergraduate experience, receiving instruction from acclaimed Carnegie Mellon faculty and staff.  
"It gives students the ability to test drive what they think they want to major in as an undergrad," said Susie Rush, director of the Pre-College Programs.
Students are accepted on a rolling basis. Learn more.
Who's New at CMU?
Carnegie Mellon welcomes the following new staff members.
Neil Uranic, Linux Systems Administrator, SEI OCOS IT Services;

Tera Monroe, Associate Dean and Director of Residential Education, Residential Education;

Heather Banning, Dispatcher, University Police; and

Lisa Fisher, Development Associate – II, Tepper School of Business.
The Piper Will Return March 19
The Piper will be celebrating Spring Break next week. We'll be back Thursday, March 19.