March 10, 2016
News Briefs
Au Bon Pain Sampling Event Tuesday
Au Bon Pain at Skibo Café will officially open its doors to the Carnegie Mellon community on Friday, May 13!
To build awareness and get students, faculty, and staff even more excited about this new addition to the dining program, Au Bon Pain will be on campus from 11 a.m. - 2 p.m., Tuesday, March 15 in the Cohon Center's Wean Commons to provide samples of its delicious items from its extensive menu.
Samples will include Caprese and roast beef/cheese sandwiches, three soups (lemon orzo, 12 veggie, mac and cheese), raspberry and cheese croissants, cookies, and two types of coffee (seasonal and morning blends).
Stop by for a taste of what's to come and to enter a drawing for an Au Bon Pain gift basket.
It's Pittsburgh Week at CMU-Q
A contingent of CMU faculty and students are in Doha this week visiting the Carnegie Mellon Qatar campus. The week kicked off with a performance by a CMU trio featuring School of Music faculty member Dimitri Papadimitriou on piano, master's degree student Cecilia Orazi on cello and senior Alyssa Wang on violin.
This past Monday, Dan Martin, dean of the College of Fine Arts, delivered a lecture on CMU's unique approach to arts education. "CMU believes the arts are not just decorative or diversionary, but reflective, restorative, persuasive and transformational," Martin said.
John Lehoczky, the Thomas Lord University Professor of Statistics, spoke to the CMU-Q community about real-time computer systems.
Ten undergraduates from Pittsburgh are also at CMU-Q to learn about Qatar and the unique culture and scholarship of the Doha campus.
"Moon Shot" Features CMU Lunar XPrize Team
Google has released a video trailer promoting "Moon Shot," a documentary Web series about the Google Lunar XPrize and you can't miss the Robotics Institute's Red Whittaker. The nine-part series, produced by Star Wars Episode VII director J.J. Abrams, will highlight the teams in the $30 million competition, including the Astrobotic Technology/CMU team.
"The Google Lunar XPrize called to me," Whittaker says. "This getting to the moon is really getting good."
The series will be available in mid-March on Google Play and YouTube. Watch the trailer.
Staff Council Elections Underway
The 2016 Staff Council divisional elections are underway. You can begin by nominating yourself or other staff members from your division (the survey will only list staff members within your division or division combination) to serve as a divisional representative for the 2016-2018 term.
Staff Council Divisional Representatives:
Attend the general body monthly meeting on the third Thursday;
Serve on at least one standing committee;
Communicate information to their constituents; and
Serve a two-year term.
All full-time and part-time Carnegie Mellon staff not represented by Faculty Senate or a collective bargaining unit are eligible for nomination. Staff Council seeks representatives from all departments and areas and even encourages you to nominate yourself. For more information about the election and serving on council, and to see the divisional breakdown, visit the Staff Council website. 
You may nominate up to three eligible staff members to run in this year's election. To nominate up to three eligible staff members, use the SurveyMonkey link that you received in an email from Staff Council. The email is uniquely tied to your Andrew ID, so please do not forward it to anyone else.
Please submit your nominations by noon Tuesday, March 15. Contact the Elections Committee at staff-council@andrew.cmu.edu if you have any questions.
Register Your Child for Gelfand's Summer Series
CMU's Gelfand Center Summer Series Classes for K-8 students are STEM focused and highlight the research and work of Carnegie Mellon faculty and staff. They are developed by CMU faculty and staff to be fun, engaging, rigorous and hands-on.
Classes include Anatomy and Robotics, Finch Programming, Junk-bots, Research @ CMU and Green Engineering. Activities include creating, designing and programming robots. Student scientists will explore, investigate and discover exciting topics throughout the weeks!
Space is limited. Don't delay, register today!
Join the Celebration: #CMUwomen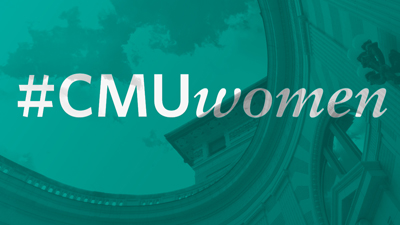 What do Marlene Behrmann, Mary Shaw, Lorrie Cranor, Dawn Waleski and Gina Grosso have in common? They're among 31 Carnegie Mellon women and programs being celebrated during Women's History Month in March.
Each day on social media, CMU will honor and recognize its history-making women and programs on Twitter and Facebook.
Join the conversation on Twitter at #CMUwomen.
NREC To Host Industry Day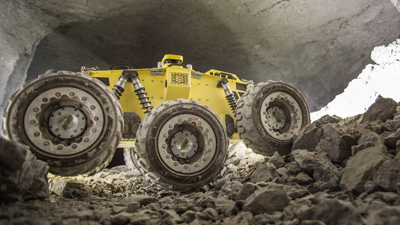 Carnegie Mellon's National Robotics Engineering Center is inviting industry engineering, operations and research leaders to tour its Lawrenceville facility and learn more about how its cutting-edge technology can address their companies' needs.
NREC Industry Day will be from 1 to 5 p.m., April 9. One-hour tours will include demonstrations of the latest robotics technology and systems and opportunities to interact with NREC technical staff members.
NREC is part of CMU's famed Robotics Institute. It performs advanced research and prototype development for a variety of government and industrial clients.
The event is free, but space is limited and advance registration is required. Find out more and register. 
Pictured above is Profiler, a robot for mapping low-ceilinged mines that was developed at NREC for Anglo American, one of the world's largest mining companies.
Student Employee Appreciation Lunch is April 6
Registration is now open for the Student Employee Appreciation Lunch from noon - 1 p.m., April 6, in the Cohon Center's Rangos Hall. Campus supervisors can host their student employees, and join them for lunch to celebrate the great work they do while attending college. Entertainment will be provided by The Originals, one of Carnegie Mellon's all-male a cappella groups. Register by March 31.
Forbes Avenue/Sidewalk Restrictions Underway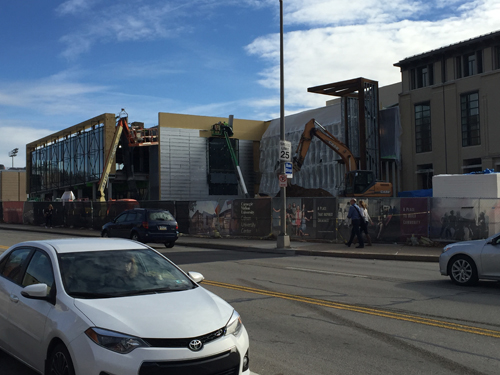 Modifications to the sidewalk in front of the Cohon University Center Addition are underway and will continue through early April.
The project work will include a new sidewalk, planting beds and a vehicle pull off in front of the Cohon Center.
The sidewalk along the Cohon Center construction site, between the bus stop and the East Campus Garage, will be closed 24/7 throughout this period. Pedestrian traffic along Forbes is being directed to the crosswalks at the Morewood Avenue and Beeler Street intersections and to the northern sidewalk along Forbes. Pedestrians also can follow the detour through campus.
In addition, the work is causing eastbound traffic on Forbes in front of the construction site to be reduced to one lane from 7 a.m. to 3 p.m., Monday through Friday. The restriction will be in effect from Morewood to just past the access drive to the Cohon Center loading dock. Westbound traffic on Forbes is not affected.
Access to Loading Dock and East Campus Garage
Access to the Cohon Center loading dock is restricted to a single lane through the end of March to allow for construction of a new concrete apron and lane divider. Due to this restriction, the access drive is limited to delivery vehicles only.
Access to and from the East Campus Garage is available from the Beeler Street Entrance/Exit during this time.
Find out more about the Cohon Center addition.
ProSEED/Crosswalk Grant Proposals Due March 31
Students, faculty and staff are invited to submit proposals for the next round of ProSEED/Crosswalk seed funds; proposals are due March 31. This program aims to foster and promote new ideas that cross boundaries within and outside of CMU. Funds ranging from $500 - $2,500 may be requested to support the development of new initiatives in areas such as quality of campus life, service learning, student competitions, new course development, entrepreneurial activities and pilot projects.
Learn more about ProSEED. Email questions to proseed@andrew.cmu.edu.
Swimming Lessons Offered
Carnegie Mellon's swimming and diving team is offering private swimming lessons for children (ages 3 and up) and adults. Each one-on-one, 30-minute lesson is designed to benefit swimmers of all levels: beginner, intermediate and advanced.
Lesson dates are March 28, 29, 30 and 31, and April 4, 5, 6 and 7. Lesson times are 4:30 – 5 p.m., 5 – 5:30 p.m., 5:30 – 6 p.m. and 6 – 6:30 p.m.
The cost is $25 for one lesson, $80 for four, and $150 for eight lessons.
For more information and to register, contact James Sica at 412-268-6082 or jsica@andrew.cmu.edu.
Responsible Research Conduct Sessions Offered
CMU's Office of Research Integrity and Compliance (ORIC) is once again sponsoring Responsible Conduct of Research (RCR) Brown Bag Sessions during the spring 2016 semester for faculty, students and staff. All sessions are from 12 – 1 p.m. in the Cohon Center's Connan room, as follows:
Wednesday, March 23: Human Behavior Monitoring;
Wednesday, March 30: Export Control Update: Changes to OFAC Regulations and Sanctions;
Wednesday, April 20: Intellectual Property at CMU; and
Wednesday, April 27: Data Management Planning.
More information is available on the RCR website. Space is limited, so please register early.
SURG and SURF Application Deadline is March 21
The application deadline for 2016 Summer Undergraduate Research Grants (SURG) and Summer Undergraduate Research Fellowships (SURF) is 5 p.m., Monday, March 21.
SURFs are open to all undergraduates interested in any form of research. Awards of $3,500 are available for eight to 10 weeks of full-time summer research on campus in any field of study. Students may work alone or in a group, but must apply for the fellowship as an individual — no group awards are available. There are two types of proposals: Type I for students in the creative arts and humanities who will submit a research-based "making" project; and Type II for all other students submitting proposals.

SURGs are open to all undergraduates in any discipline. Grants of up to $500 are available for single entries and grants up to $1,000 are available for group entries to cover costs such as supplies and materials, time on laboratory equipment, or travel to another city for data.
To assist students with their applications, a workshop is being held from 4:30 - 5:30 p.m., Tuesday, March 15 in the Gates Center 4102.
Whether or not students attend the workshop, it is recommended that they submit a draft proposal for review at least one week before the deadline. Proposals can be reviewed by Undergraduate Research Office Director Stephanie Wallach (sw4s@andrew.cmu.edu) or Assistant Director Joanna Dickert (joannad@andrew.cmu.edu). Please send them email for an appointment.