October 29, 2015
News Briefs
Education Award Nominations Due Nov. 2
Nominations for the 2016 Celebration of Education Awards are due Nov. 2. This year's awards include:
The Doherty Award for Sustained Contributions to Excellence in Education;
The Ryan Award for Meritorious Teaching;
The Academic Advising and Mentoring Award;
The Barbara Lazarus Award for Graduate Student and Junior Faculty Mentoring;
The Mark Gelfand Service Award for Educational Outreach; and
The New Teaching Innovation Award.
Find out more, including how to submit a nomination.
CMU Leaders Pledge Support for CMWA Student Awards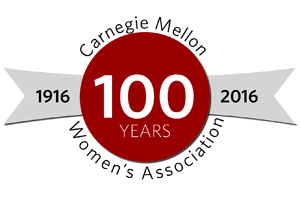 In honor of the 100th anniversary of the Carnegie Mellon Women's Association, CMU's senior leadership team has made a pledge to support CMWA's annual awards to graduating women students. The leadership team has pledged to match the total amount of membership dues this year up to $1,500.
Each spring the CMWA presents $1,000 to outstanding graduating women students. This year the association plans to grant awards to seven graduating women representing all seven colleges.
Simon Initiative and IDeATe Visit Qatar
The Qatar campus welcomed two visitors from Pittsburgh, who shared their innovations in educational research and programming.
Richard Scheines, dean of the Dietrich College of Humanities and Social Sciences, presented the Simon Initiative's research methodology and findings to a packed crowd of students, faculty, community leaders and media. Scheines discussed the concept of a virtuous cycle, in which educators use the best theories of learning, providing feedback that further improves educational practice.
Keith Webster, dean of University Libraries and director of Emerging & Integrative Media Initiatives, visited Doha to discuss the Integrative Design, Arts and Technology Network (IDeATe) with faculty and staff from the Qatar campus.
Engineering Seeks Staff Award Nominations
The College of Engineering Staff Awards Committee is seeking nominations for the Annual College of Engineering Staff Recognition Awards. The nomination deadline is Nov. 9.
Details on the nomination process and a list of eligible staff are available online. 
Seeking Applications for Posner Fine Arts Internship
The Posner Fine Arts Foundation funds one internship per semester for a CMU student to do individual research in the Posner Memorial Collection (rare books) and prepare a public exhibit. Interns receive a $3,000 stipend and work 15 hours per week to create their exhibits in collaboration with librarians. Hear recent interns talk about their experiences.
To apply, submit an application essay (project proposal) by Nov. 30. To earn academic credit for the internship, the student must obtain permission from the department or school before the internship begins and it is helpful to have a faculty adviser. The Posner Center internship program fulfills the Posner Fine Arts Foundation's mission for education, visibility and use of the Posner Memorial Collection by enabling students to participate in an active, collaborative learning experience; integrate knowledge from a variety of sources and fields; and present ideas in an exhibit and online project.
If you have questions about the internship, contact Mary Catharine Johnsen at 412-268-6622 or mj0g@andrew.cmu.edu.
#OpenCMU: Get the T-Shirt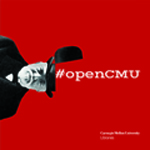 The university's #OpenCMU campaign aims to increase access to CMU work and to support recognition of scholarly work by those who approve grants and promote careers. Midway through the campaign seems like a great time to begin to get feedback on campus engagement with #OpenCMU — with a t-shirt competition.
Give us just one example of how open you are, and wear your #OpenCMU t-shirt with pride. See the Top 10 Ways To Win an #OpenCMU T-Shirt.
Seeking Volunteers for Stop Hunger Now Meal-Packaging Event
The Kraft Heinz Company Foundation has selected CMU as its first university partner to host a Stop Hunger Now meal-packing event. Partners Allied in Civic Engagement (PACE), a collaborative student-staff initiative aimed at increasing civic engagement at CMU, is recruiting 400 volunteers to package 100,000 meals for undernourished people in developing countries from 11 a.m. to 1 p.m. on Saturday, Nov. 7 in the Cohon University Center's Wiegand Gym.
Students, faculty, staff, alumni, family members (including children ages 4 and up) and friends are encouraged to register as volunteers by Nov. 1.
Comprised of rice, soy and vegetables, the meals include a life-saving micronutrient packet — a powder that delivers essential vitamins, minerals and iron when stirred or mixed into children's foods. These nutritious, easy-to-use powders are manufactured by Kraft Heinz and have proven to be effective in preventing and treating iron-deficiency anemia and other vitamin and mineral deficiencies. The micronutrient packets were developed by and donated through the Kraft Heinz Micronutrient Campaign. To preview a Stop Hunger Now meal-packaging event, visit the international nonprofit organization's YouTube channel.
Swimming Lessons Offered
CMU is offering private 30-minute swimming lessons for children, ages 3 and up, and adults. Two lessons are $60, five lessons are $150 and 10 lessons are $300. You must purchase a punch card at the Cohon University Center equipment desk. Cards must be purchased via debit card or credit card.
For a registration form, please contact Aquatics Director and Head Diving Coach Alicia Gorman at aliciag@andrew.cmu.edu. Once you have submitted your registration form you will be assigned an instructor. The instructor will contact you to schedule your lesson. You will need to bring your punch card to every lesson to have it punched.
Contact Gorman with questions at aliciag@andrew.cmu.edu or 412-268-2627.
ProSEED/Crosswalk Grant Proposals Due Nov. 4
Students, faculty and staff are invited to submit proposals for the next round of ProSEED/Crosswalk seed funds; proposals are due Nov. 4. This program aims to foster and promote new ideas that cross boundaries within and outside of CMU. Funds ranging from $500 to $2,500 may be requested to support the development of new initiatives in areas such as quality of campus life, service learning, student competitions, new course development, entrepreneurial activities and pilot projects.
Learn more about ProSEED. Email questions to proseed@andrew.cmu.edu.
Discounted Tickets Offered for Phantom Fright Nights, Hallowboo and Haunt at Halloweekends
Staff Council is offering discounted tickets to several halloween events at several theme parks.
You can purchase tickets to Kennywood Park's Phantom Fright Nights, Idlewild Park's Hallowboo and Cedar Point's Haunt at Halloweekends. To view the ticket offers, go to the Staff Council website and click on Benefits & Discounts in the left-hand navigation column. Scroll down and click on Fall Discounts at the bottom of the page.
If you have any questions, please contact Sharon Cavlovich at sharonw@cmu.edu.