March 12, 2015
News Briefs
Graduate Engineering Program Ranks Fourth in U.S.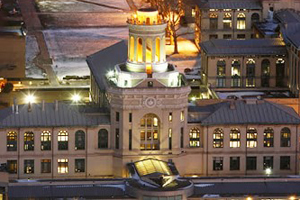 U.S. News & World Report has ranked the College of Engineering fourth in its 2016 Best Graduate Schools Rankings, the highest rank the program has received in more than 15 years.
"We are very excited about the momentum we have underway in the College of Engineering. With our strategic plan in place, we are poised for growth in the coming years," said Dean James H. Garrett Jr.
In specialty rankings, the college is ranked fourth in computer engineering, seventh in environmental, eighth in electrical, eighth in mechanical, ninth in civil, 10th in materials, 14th in chemical and 29th in biomedical.
Pictured is the College of Engineering's Hamerschlag Hall.
New ProSEED Grants Announced
Studying the changes in the brain during stress management and mindfulness training, optimizing water management in natural gas exploration and a match-making program for entrepreneurs in the developing world are among the 18 new research and student projects awarded funding through CMU's ProSEED grants. ProSEED was created by President Suresh in spring 2014 to provide seed funding for new research in targeted areas as well as startup support for cross-disciplinary and cross-campus projects.
Last fall two new ProSEED grant categories — BrainHub and EQT Energy — were introduced and awards were recently announced. Eight innovative projects have been funded under the BrainHub initiative (including projects at BrainHub partner universities), and three projects were supported through the new EQT seed fund for energy research. For a complete list of award winners, see http://www.cmu.edu/proseed/.
ProSEED/Crosswalk Grant Proposals Due April 1
Students, faculty and staff are invited to submit proposals for the next round of ProSEED/Crosswalk seed funds; proposals are due April 1. This program aims to foster and promote new ideas that cross boundaries within and outside of CMU. Funds ranging from $500 - $2,500 may be requested to support the development of new initiatives in areas such as quality of campus life, service learning, student competitions, new course development, entrepreneurial activities and pilot projects.
Learn more about ProSEED. Email questions to proseed@andrew.cmu.edu.
SURG, SURF Proposal Deadline is March 25
The proposal deadline for summer and fall Small Undergraduate Research Grants and Fellowships is 5 p.m., Wednesday, March 25.
Summer Undergraduate Research Fellowships (SURF) are open to ALL undergraduates interested in any form of research. The $3,500 awards are for eight to 10 weeks of full-time summer research on campus in any field of study. Students may work alone or in a group, but must apply for the fellowship as an individual — no group awards are available. There are special guidelines for Arts and Creative Humanities proposals.
Small Undergraduate Research Grants (SURG) are open to ALL undergraduates in any discipline. Grants are available — $500 for single entries and up to $1,000 for group entries — to cover such things as the costs of supplies and materials, time on laboratory equipment, or travel to another city for data.
Students should apply online at www.cmu.edu/uro/. It is strongly recommended that students review a draft of their proposal with Stephanie Wallach, director of the Undergraduate Research Office (sw4s@andrew.cmu.edu), or Jennifer Keating-Miller, assistant director of the Undergraduate Research Office (jkeating@andrew.cmu.edu), at least a week before the deadline.
Students also are encouraged to participate in the upcoming SURG/SURF application workshops:
Thursday, March 19: 4:30-5:30 p.m., University Center, Dowd Room;
Friday, March 20: 12–1 p.m., University Center, McKenna Room.

Gelfand Center Offers Summer Outreach Classes for K-8 Students
The Gelfand Center is presenting STEM-focused summer courses for K-8 students, designed by Carnegie Mellon faculty and staff. These weeklong workshops will be held in July.
Class titles are "Anatomy and Robotics," "Green Engineering," "Beginning Alice Programming," "Science and Engineering Summer Sampler," "Science of Everyday Stuff," and "Robotics Programming and Designing."
Advance registration for families affiliated with Carnegie Mellon can be found online.  
Summer Camps Offered at Carnegie Museums
Registration is now underway for summer camps at the Carnegie Museum of Art and Carnegie Museum of Natural History. Weeklong, half- and full-day camps accommodate children between the ages of 4 and 13. Additional programs are available for preschoolers and high schoolers. The Andy Warhol Museum will host camps at its North Shore location.

For more information and to register your child, go to http://artandnaturalhistory.org/camps/.
Seeking Presenters and Volunteers for Daughters and Sons To Work Day
Staff Council's Take Our Daughters and Sons to Work committee is looking for activity leaders/presenters and general volunteers to contribute their time and enthusiasm to this year's Take Our Daughters and Sons to Work Day event on Thursday, April 23.

The organizing committee is looking for individuals who would like to create and lead an activity or presentation for one or two sessions in the afternoon. Each session will run roughly 45 minutes. If you volunteer for both sessions, your total commitment will be from approximately 12:40 – 3:20 p.m., including set-up and tear down. Depending on the nature of your activity/presentation, you will have either a small group of children (15 maximum) or a larger group (30 maximum).

If you would like to lead a session, please register online. If you would like to be a general volunteer to help that day, please contact Gloria Gruber at ggruber@andrew.cmu.edu by Monday, March 23.
Register for Student Employee Appreciation Lunch
Registration is now open for the Student Employee Appreciation Lunch from noon - 1:30 p.m., April 8, at Rangos Hall in the Cohon University Center. Campus supervisors can host their student employees, and join them for lunch to celebrate the great work they do.
At the lunch, students nominated for the Carnegie Mellon Student Employee of the Year Award will be honored and Carnegie Mellon's representative for the National Student Employee of the Year honor will be announced. There also will be entertainment and a special guest speaker, Cassandra Osterman, who was Carnegie Mellon's 2014 Student Employee of the Year.
Field Day for Kids is April 12
The CMU Student Athlete Advisory Council is hosting the 6th annual Field Day from noon – 3 p.m., Sunday, April 12. The event provides children between the ages of 6 and 12 with the opportunity to play sports with CMU varsity athletes.
Field Day provides a unique chance for CMU student athletes to mentor young children through the sports in which they specialize and participate in during the school year. Student athletes from each varsity sport will be volunteering their time to show area youth how much fun sports can be.
Participants will have the opportunity to race on the track, go through soccer drills and play small-sided games, run training drills for football, play volleyball, and work on shooting, dribbling and passing for basketball, all in a fun and relaxed environment.
For more information and a registration form, visit http://athletics.cmu.edu/athletics/saac/fieldday/index.
Posner Internship Applications Due April 7
The Posner Center Internship Program is searching for student applicants.
During the fall 2015 semester, the CMU student intern will research a topic of their choice using books and artifacts in the Posner Memorial Collection, and curate an exhibit that will be displayed in the Posner Center in spring 2016.
Watch former Posner interns reflect on their internship experiences in this video.
The application deadline is 11:59 p.m., Tuesday, April 7. Visit http://www.cmu.edu/posner-center/internship/ for internship details and an online application, or call 412-268-6622.  
Carnegie Bosch Institute Seeks Proposals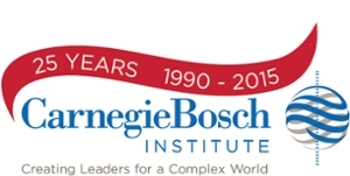 The Carnegie Bosch Institute is seeking research and seed grant proposals from CMU faculty.

The award program aims to identify and support cutting-edge research and outstanding Carnegie Mellon faculty in fields relevant to the CBI research agenda. Available grants include:
Mid-sized Project Grants: 1 - 2 Awards: $30,000 - $50,000; and
Small Project Grant or Seed Funding: Up to 5 Awards: $2,000 - $10,000.
The application deadline is April 15. Visit www.tepper.cmu.edu/CBIResearchAward for grant details, a proposal template and an online application, or call 412-268-7344.
AED/CPR Training Offered
The Environmental Health & Safety Department is offering two upcoming AED/CPR training classes for the university community. Those who have been certified more than two years ago also can attend to renew your certification. Classes are from 10 a.m. to noon in Rangos 2, Cohon University Center. Dates are March 24 and April 21.

Register for classes at https://cmu.bioraft.com/node/284547/sessions
Conduct of Research Seminar Series Underway
CMU's Office of Research Integrity and Compliance (ORIC) is sponsoring the Responsible Conduct of Research (RCR) Seminar Series during the spring 2015 semester for faculty, students and staff. All sessions for the spring 2015 semester are from 12 – 1 p.m. in the CUC, except where noted**.  Upcoming session dates and topics are scheduled as follows:
Wednesday, March 18: Data Management;
Wednesday, March 25: Data Security;
Wednesday, April 1: Safeguarding Your Writing: Fair Use and Proper Attribution;
Wednesday, April 8: Intellectual Property at CMU, 1 – 3 p.m.; and
Wednesday, April 22: Human Subject Research Best Practices.
Friday, May 1: Export Control Topics and Fundamental Research, 1 – 3 p.m., presented by Kevin King of Cooley, LLP
More information is available on the RCR website. Space is limited, so please register early.