May 05, 2021
A Mural of Stories
Senior Elise Delgado's paints a picture of empathy, hope for CMU's community
By Heidi Opdyke opdyke(through)andrew.cmu.edu
Media Inquiries
Jason Maderer
Marketing & Communications
Flowers bloom beneath the brush of Elise Delgado. As she paints, they flourish. A poppy, a daisy, an iris, a rose — all symbols of underrepresented voices in the Carnegie Mellon University community.
Step back from the mural, though, and its Delgado's own growth that comes into view.
When Delgado, a senior in psychology with a minor in soft technologies started at CMU, she said she struggled to find a sense belonging.
"I felt very alienated," she said. "I have a Puerto Rican background so I often have been the only brown person in the room in a lot of my classes."
That experience, she said, was not limited to classes. She opted not to return to CMU for the fall semester of her sophomore year. During this break she took courses — including one on mural painting — at a community college close to her home in suburban Philadelphia. After her time away, Delgado returned to CMU in the spring of 2019, resolved to finish what she had started.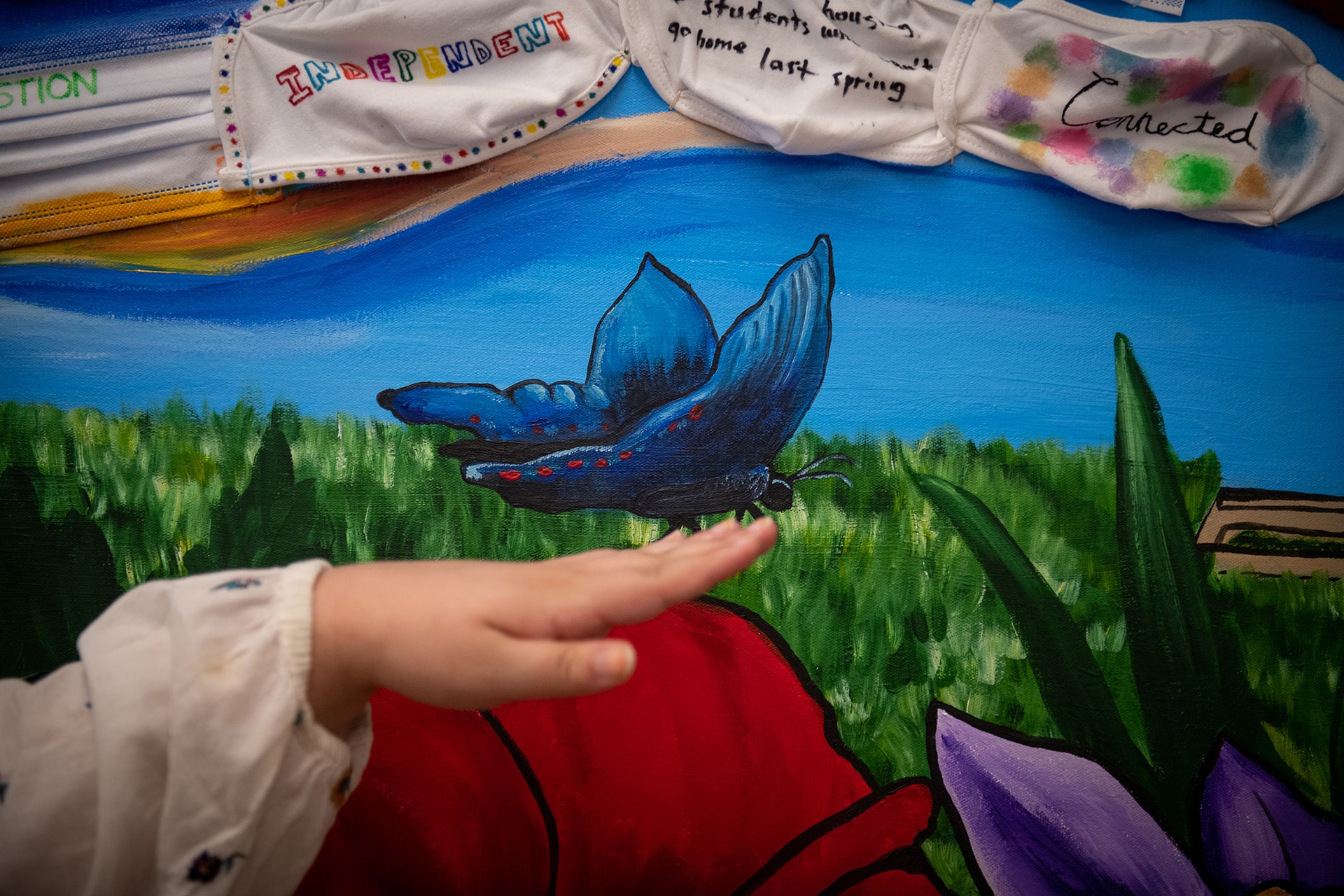 A butterfly detail in Delgado's mural symbolizes transition and hope. Above, facial coverings incorporated into the work were donated by underrepresented CMU community members.
Seeds were planted that first year. Delgado had participated in CMU's Origins program, which focuses on diversity, inclusion and leadership development for historically and socially minoritized first-year students. Through the experience, she met Shernell Smith, now director of the Center for Student Diversity and Inclusion. Smith said even then Delgado was thoughtfully contemplating cultural issues and how to navigate challenging situations.
"It's almost like that first year was preparing the ground for her to blossom. Things in the past had to be tilled and turned over to fresh soil in order to plant new ideas," Smith said. "I was not surprised to see her creative nature come forward in the academic setting and in other ways. That first year was a search for self. Now she is a powerful voice advocating for change."
Delgado also participated in CMU's Summer (re)CHARGE Program, which helps support undergraduate students maximize their opportunities and take advantage of everything CMU has to offer.
Chante Cox-Boyd, an associate teaching professor of psychology, was the lead faculty member of the program and taught a course designed in part to address student's feelings of isolation and their experience of imposter syndrome.
"One big goal of the program is to get students to understand these identity threats and to see that all types of students do indeed belong at CMU," she said.
The time away and summer program helped Delgado cultivate her gift in amplifying other people's voices. She returned in the spring of her sophomore year and was active in the SPIRIT fashion show and community service.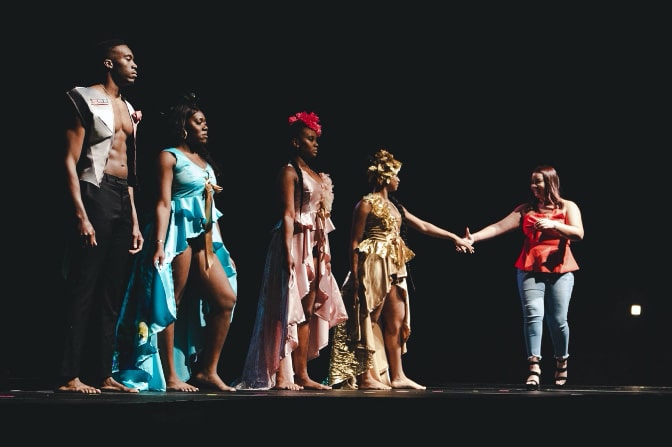 In April 2019 after a spring break service trip to Puerto Rico, Delgado created a mostly hand-sewn fashion line for SPIRIT Fashion Show: Apollo. Items from her family's past were sewn onto the jacket and dresses. Photo credit: @jinntonic
Courses part of the Integrative Design, Arts, and Technology (IDeATe) network at CMU also provided fertile ground for Delgado. IDeATe allows students to earn undergraduate minors or take courses in fields that merge technology and creativity with interdisciplinary collaboration.
"With her own artwork she's incredibly thoughtful of the work she's making as well as the symbolism," said Olivia Robinson, an associate teaching professor of textiles, who has taught Delgado in several courses. "There's always a story to what she's doing."
During her junior year, Delgado applied for, and was accepted, as a Dietrich College Honors Fellow, an opportunity that provides funds for students to spend the summer prior to their senior year undertaking early-stage research and development of their thesis topics. Delgado's thesis explores how underrepresented and marginalized communities feel at CMU and culminates with a public display of her mural.
"What I love about this project is that she has looked to the community and their experience. She has helped connect invisible, unsung individuals to ensure their voices are part of CMU," Smith said. "As we look over the last year there's a part of this experience that brings hope as well as transparency and authenticity of narratives. You can't hide things. You have to illuminate those things even if they cause us to be reflective and say 'we could have done better.' There's a part of the reflective process that leads us to true sustaining change."
Using her psychology training, Delgado interviewed some 75 underrepresented faculty, staff, vendors and students from all parts of campus from August to November of 2020. Each received the same five questions related to what it means to be a part of a community.
"I really came in wanting to have an open mind. The overarching theme with students was that they wanted empathy," Delgado said. "Something else that resonated with me were the different ways that people described how they felt. I remember a professor describing a community that they felt welcome in as 'vibrant.'"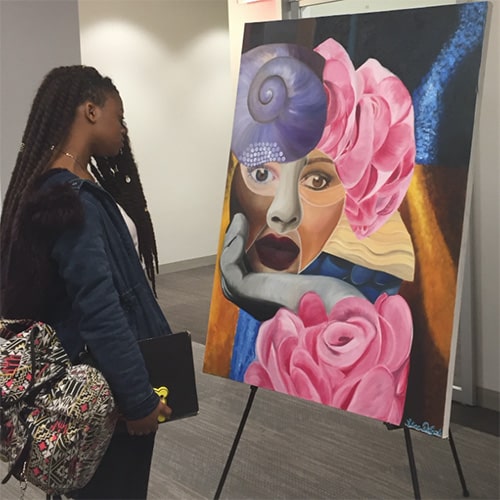 Dominique Aruede views one of Delgado's paintings during an art showcase at the Center for Student Diversity and Inclusion.
Through interpreting the interviews, she created her latest mural, which is full of symbolic imagery. Flowers throughout the work represent different groups, such as a rose in the colors of the BIPOC (Black, Indigenous, People of Color)/LGBTQ+ flag, poppies for veterans and a sunflower to symbolize the intersex flag. Anonymous words from the interviews are incorporated into a path. Donated facial coverings from underrepresented CMU community members provide texture.
"Elise is like CMU in the way that she brings scientific and art backgrounds," said Cox-Boyd, who is advising Delgado's fellowship. She added that Delgado's latest project builds on concepts she contemplated during the Summer (re)CHARGE Program. "Through this art project, Elise is able to show that all of the CMU community, regardless of their identity, matter."
The mural is inspired by Judy Baca, a professor at UCLA, who created a mile-long artwork known as "The Great Wall of California" or "The History of California" in Los Angeles with the help of 400 at-risk youth over a decade.
"Baca went out into the community and asked people for their stories. But she also hired many of them to work with the actual painting," said Delgado, who had originally planned to include people in the painting process but could not due to the pandemic.
Delgado's mural spans three 3-foot by 6-foot panels. Smith and the Center for Student Diversity and Inclusion, which is supporting the project, are working with Delgado to find a campus site for it to be temporarily displayed.
"There's art on campus, but I feel like a lot of it doesn't address social activism, aside from the Fence," Delgado said, referencing the structure that students paint for various causes and organizations. Delgado helped paint it when Hurricane Maria struck Puerto Rico. She later took a service trip to the island. She recalled colorful murals covering the walls along many streets.
"Murals like that are always inspiring," she said even in the midst of being without electricity and other services because of the storm. She hopes her work will nurture others.
Cox-Boyd said that Delgado's journey has, in some ways, mirrored the recent social justice movement in the U.S., which is reflected in her piece through incorporating the portraits of George Floyd and Breonna Taylor.
"I see Elise as a symbol of it," Cox-Boyd said. "A little uncertain, a little quiet, and the longer she was here, the more she started to find her voice. In classes she's now one who wants to speak up. I've just loved to see how she's changed and evolved."
As for what comes next, Delgado is planning a fertile future in graduate education once the pandemic is complete. Until then, she'll continue to foster her combined crafts in research and art.
"The path is not smooth for everyone at CMU," Delgado said. "There are divides that make the path more difficult, especially for marginalized and underrepresented people. But out of these cracks, we can grow. You can still find resiliency and strength, and there's beauty in that."