February 08, 2021
CMU-Q Student's Art Offers Hope, Inspiration
By Angela Ford aford(through)andrew.cmu.edu
Media Inquiries
Alanoud Al-Ghamdi has transformed a passion for calligraphy into public art pieces that express messages of hope and inspiration.
A senior in business administration at Carnegie Mellon University in Qatar (CMU-Q), Al-Ghamdi was selected in November 2020 to participate in JEDARIART, Qatar Museum's initiative to infuse Doha with murals and meaningful street art.
For JEDARIART, Al-Ghamdi used kufic script, a geometric style used for Quran translation and architectural design, to create a striking mural at Qatar National Library's metro station in Education City.
"I chose the prayer, 'and say, My Lord, increase me in knowledge,' because Education City is a place where people from all over the world gather to seek knowledge," she said.

Alanoud Al-Ghamdi has painted several public art pieces in Doha, Qatar. 
Al-Ghamdi's art is featured elsewhere in Doha. Earlier in the pandemic, she created a mural at the quarantine compound, again in collaboration with Qatar Museums.
"The mural presents the word 'HOPE' in geometric art and a fusion of positive colors. In the midst of a pandemic, it's sometimes hard to see the light at the end of the tunnel," she said.
Abdulrahman Al Ishaq, director of public art for the Qatar Museums said: "The Umm Slal quarantine compound initiative enabled us to infuse positivity into the living space of COVID-19 patients and healthcare workers. Qatar Museums is grateful to all the artists who volunteered their time to create murals that deliver a message of hope in extremely challenging times."
In 2019, Al-Ghamdi worked in collaboration with the Supreme Committee for Delivery and Legacy on four murals at the Education City stadium. Titled "Authenticity," the paintings present verses from the national anthem of Qatar.
"I wanted to showcase that our modern, cultural heritage is the inspiration for a bright future," she said.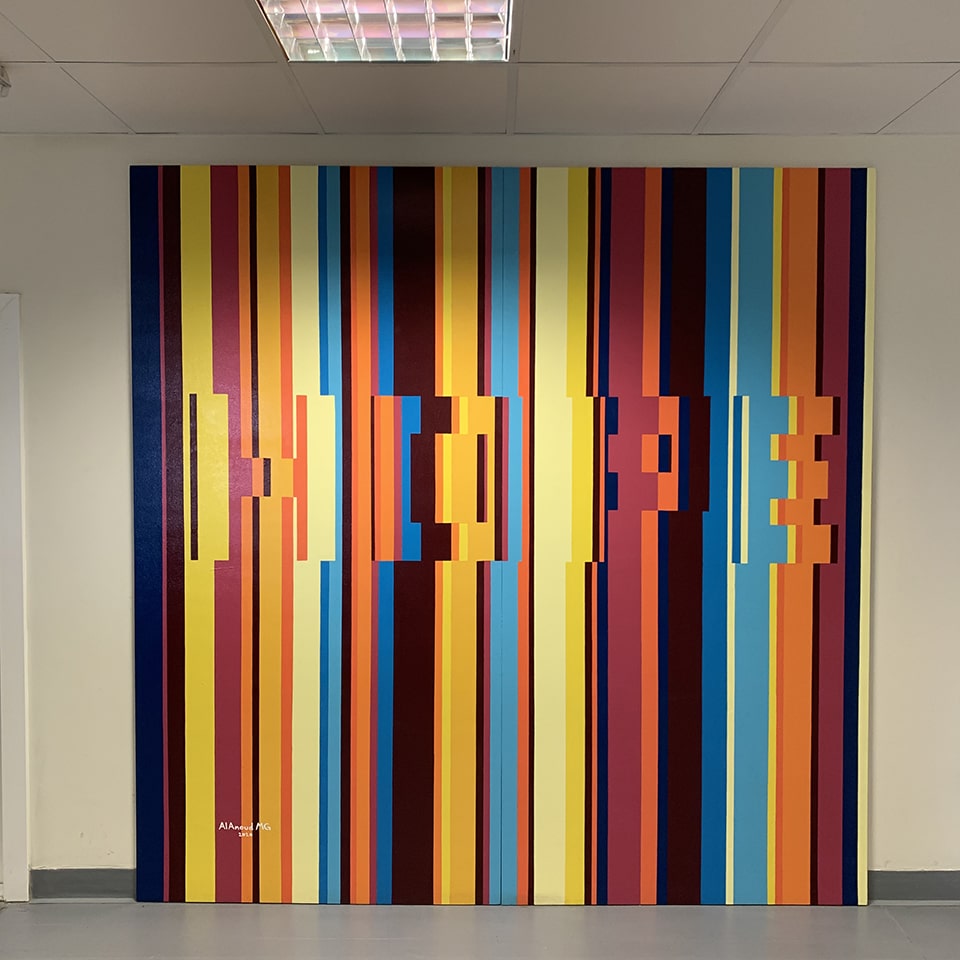 Al-Ghamdi's "HOPE" mural conveys positivity and energy in the diagnostic area of the Umm Slal quarantine compound.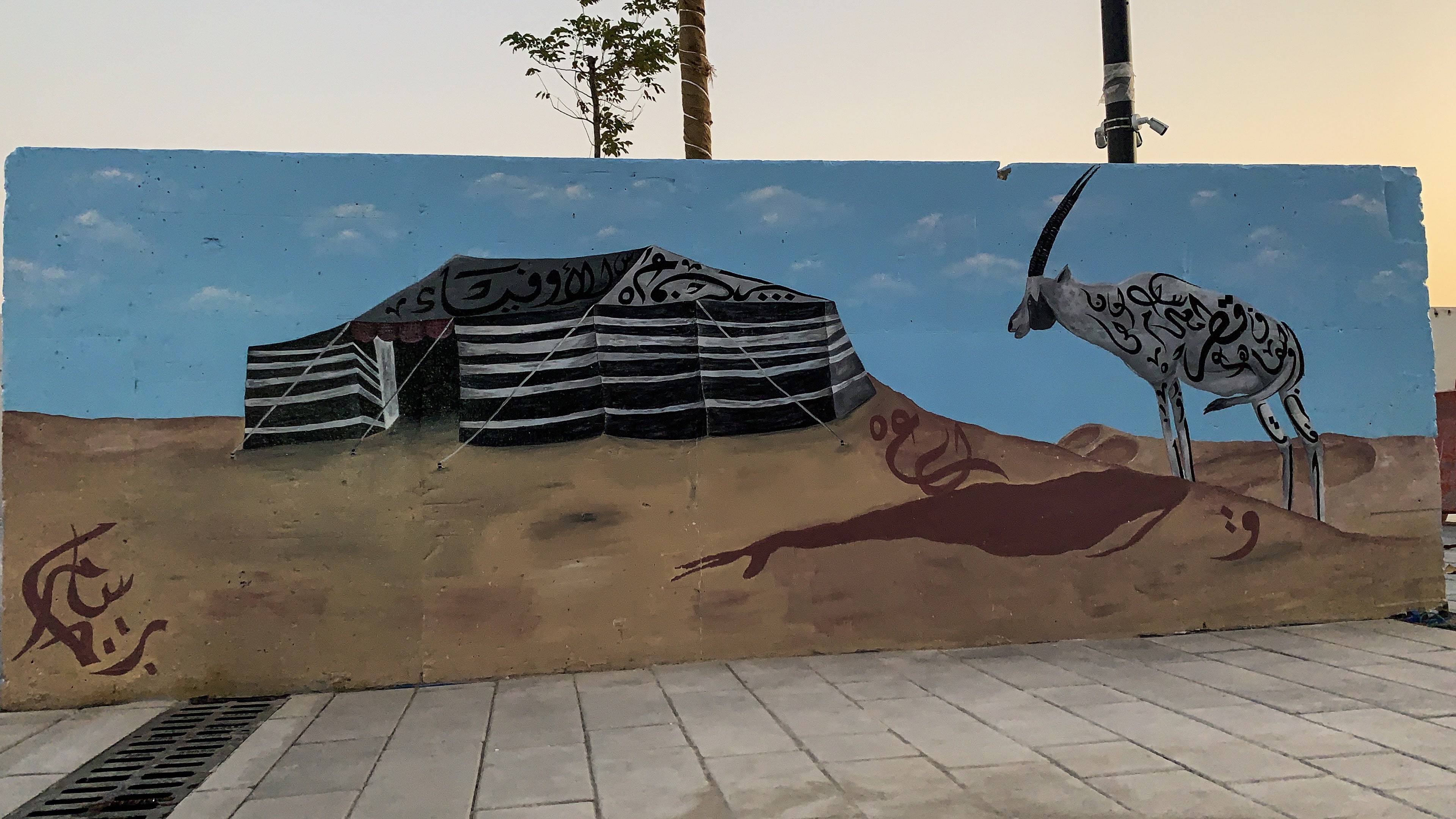 One of four murals Al-Ghamdi painted for the Education City stadium, the series is titled "Authenticity" and incorporates verses from Qatar's national anthem.
Studying at CMU-Q, Al-Ghamdi has also found ways to develop her artistic expression. She designed the cover of the CMU-Q student art anthology, and started a club that offers Arabic calligraphy tutorial sessions to students and staff.
"I always wanted to share my love for Arabic calligraphy with others who haven't been introduced to it yet," she said.
Al-Ghamdi sees her art as a natural extension of her studies at CMU-Q.
"Being a CMU-Q student taught me that it's important to increase our knowledge, since it's as infinite as the universe," she said.
Al-Ghamdi also credits her parents for helping her to pursue different passions.
"They are my No. 1 supporters of my small and big achievements, academic and non-academic. Without them, I would not have been able to achieve anything," she said.
In 2004, Carnegie Mellon and the Qatar Foundation began a partnership to deliver select programs that will contribute to the long-term development of Qatar. Today, Carnegie Mellon Qatar offers undergraduate programs in Biological Sciences, Business Administration, Computer Science and Information Systems. More than 400 students from 52 countries call Carnegie Mellon Qatar home.
Graduates from CMU-Q are pursuing their careers in top organizations within Qatar and around the world, and many have started their own entrepreneurial ventures. With 13 graduating classes, the total number of alumni is nearly 1,000.