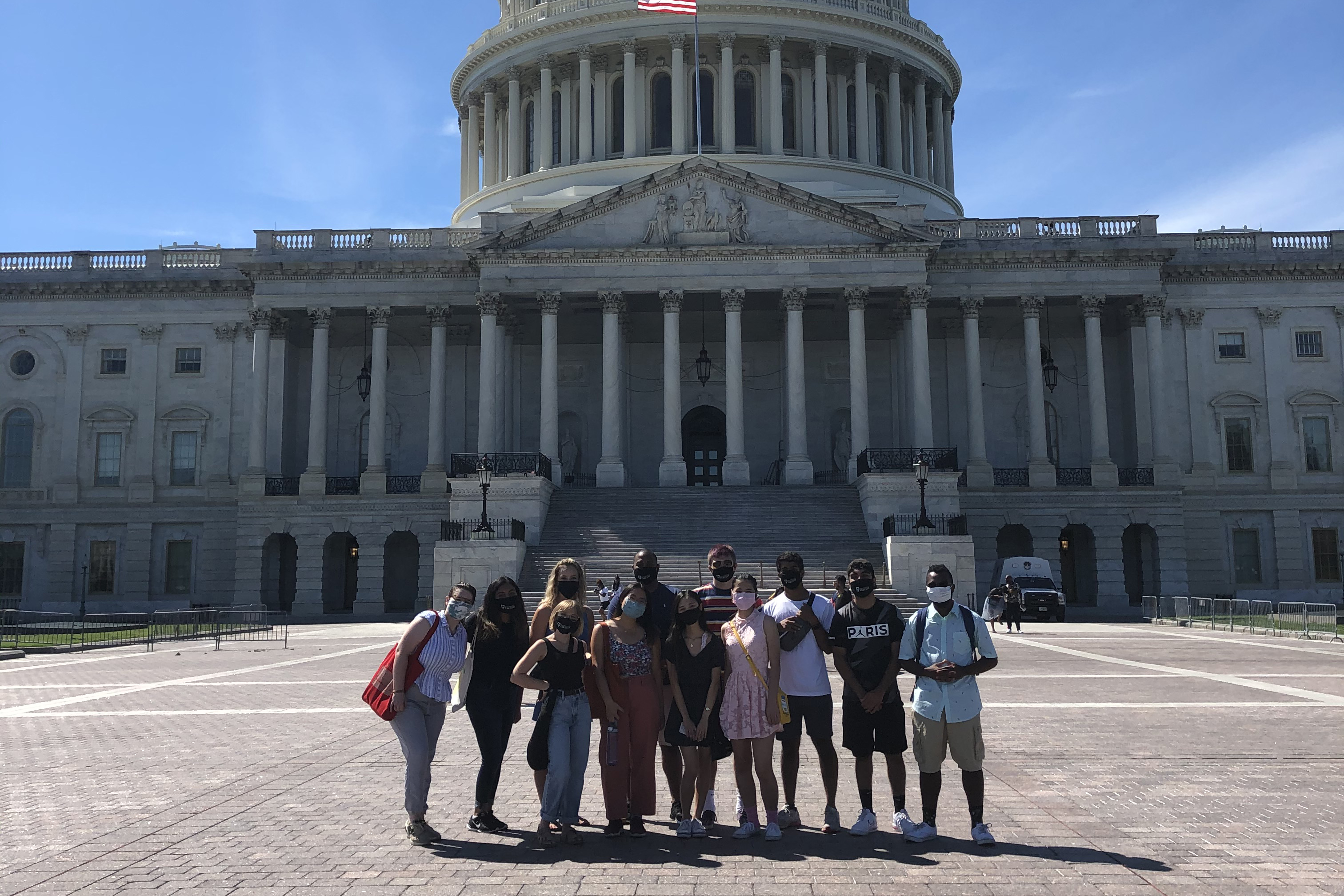 March 12, 2021
Washington Semester Program Students Study, Intern on Capitol Hill
By Bill Brink wbrink(through)andrew.cmu.edu
Media Inquiries
Abby Simmons
Dietrich College of Humanities and Social Science
Students who attend classes during the Carnegie Mellon University's Washington Semester Program, do so at the United Methodist Building on Maryland Avenue. From the window of the Institute for Politics and Strategy's fifth-floor office and classroom space you can see the Supreme Court. If you walk across the street, you're standing in the shadow of the Capitol.
Every member of the CMU/WSP cohort experiences this, and some of them get even closer: with a House or Senate internship. That is part of the allure of the program, which allows undergraduates from any course of study to live, learn and intern in the nation's capital. This firsthand experience teaches them valuable lessons about the inner workings of Congress.
"The legislative process can be quite slow, perhaps even more so with increasing political polarization," said Gisselt Gomez, who participated in the CMU/WSP in Fall 2019 and interned in the office of Congresswoman Alexandria Ocasio-Cortez. "My time as an intern on Capitol Hill especially highlighted this aspect of our political system: Without cooperation, debate, and compromise amongst peer members of Congress, there is little hope that legislative proposals will become law."
Interns on Capitol Hill typically answer phone calls, manage incoming mail, greet visitors and conduct tours of the Capitol. Gomez, a fifth-year architecture student, received an additional project thanks to her academic background: compiling data on public housing developments across congressional districts and using that data to build an interactive web map intended to supplement the Green New Deal for Public Housing Act. The final day of her internship was her birthday, and the Congresswoman and her staff threw her a surprise party.
"I am very grateful for the opportunity to have interned with the Congresswoman and feel extremely fortunate to have worked so closely with her staff members," Gomez said.
That close relationship with Congressional staff can have a large impact.
"My favorite part of the Washington Semester Program was working in Congress during this bustling time, and being able to work in a committee office as well as a personal office was very exciting because my day-to-day varied so much and my office trusted me with so much responsibility," said Victor Tavarez, who interned on the House Committee on Small Business and in the office of Representative Nydia Velazquez in Spring 2017. "I was able to demonstrate that I was a true leader in my office, and that was a great feeling."
Kellen Carleton interned in the office of Pennsylvania Senator Pat Toomey in the spring of 2017. The internship coincided with the beginning of the Trump administration, a busy time for everyone in Washington but especially for a senator charged with confirming nominees to federal appointments. 
"He's not always on the fence about things, but he is enough that people are interested in how he's going to vote on things, whether he'll go a certain way," Carleton said. "Just to have all these things happening and with a Republican Senate and President, I think they all kind of knew … they were going to have a chance to push a lot of things through."
Emmett Witkovsky-Eldred also interned with a Pennsylvania elected official, in his case Representative Brendan Boyle in the spring of 2016.
"He was a freshman congressman at the time, so it was kind of like you are getting into this congressional office at the time where I felt like being an intern could be the most impactful, because you are surrounded by people who themselves are learning the ropes and just getting started," Witkovsky-Eldred said. "You got a lot of exposure as an intern to more substantive work.
Tavarez is now a consultant at FSG, a firm that supports social change. Carleton is a security consulting analyst at Accenture.
"If you have a chance to go to DC, 100 percent do it," he said. "… It's kind of brought to life this whole world of politics and public policy and how all these different fields are changing so rapidly. Any small way you can get involved in IPS, I would absolutely recommend it." 
Witkovsky-Eldred is in his second year of law school at Yale.
"I can safely say that without the WSP — the people met and friendships built, the issues experienced and explored, the knowledge and skills gained — I would never have decided to apply to law school to continue an advocacy career first set into motion during that memorable and irreplaceable semester in DC," he said.
To learn more about the types of internships available in the Washington Semester Program, visit our internship resources page or contact CMU/WSP Program Manager Meghan Mattern.