December 09, 2019
CMU Offers New Master's Degree in International Relations and Politics
Program combines coursework in Pittsburgh with experiential learning, networking in Washington, D.C.
By Abby Simmons abbysimmons(through)cmu.edu
Media Inquiries
Abby Simmons
Dietrich College of Humanities and Social Sciences
Carnegie Mellon University's Institute for Politics and Strategy (IPS) has launched a new Master of Science in International Relations and Politics program (MS IRP) and is accepting applications for its first cohort, to begin in fall 2020.
"The Institute for Politics and Strategy is uniquely situated as a university-wide institute at a top research university dedicated to interdisciplinary work. The MS IRP provides students with the resources they need to understand, navigate and lead in our rapidly changing political landscape," said Kiron Skinner, IPS director and Taube Professor of International Relations and Politics.
Through the full-time, two-year program, IPS seeks to train the next generation of political scientists to examine and understand domestic and international government institutions and processes in the 21st century's continuously changing global political structure.
The MS IRP preserves and expands CMU's interdisciplinary tradition in political science, while at the same time, taps into and contributes to CMU's strengths in other sciences that combine analytical and empirical methods. IPS also employs an innovative approach incorporating decision science in political science.
The program serves four academic goals:
To allow students to specialize in one of four conventional areas of political science: international security, international relations, American politics or comparative politics;
To equip students with strong methodological skills;
To guide students in the production of a significant and publishable thesis; and
To prepare students to enter the job market, whether their interests are in academia or the professional world.
Through support from the Hewlett Foundation, students interested in international security will benefit from IPS courses uniquely focused on cybersecurity and international conflict. In addition, all MS IRP students will have an opportunity to publish excerpts from their theses in CMU's Center for International Relations and Politics' CIRP Journal. While coursework is located on CMU's Pittsburgh campus, students will participate in networking and policy-oriented events at the program's Washington, D.C. office on Capitol Hill.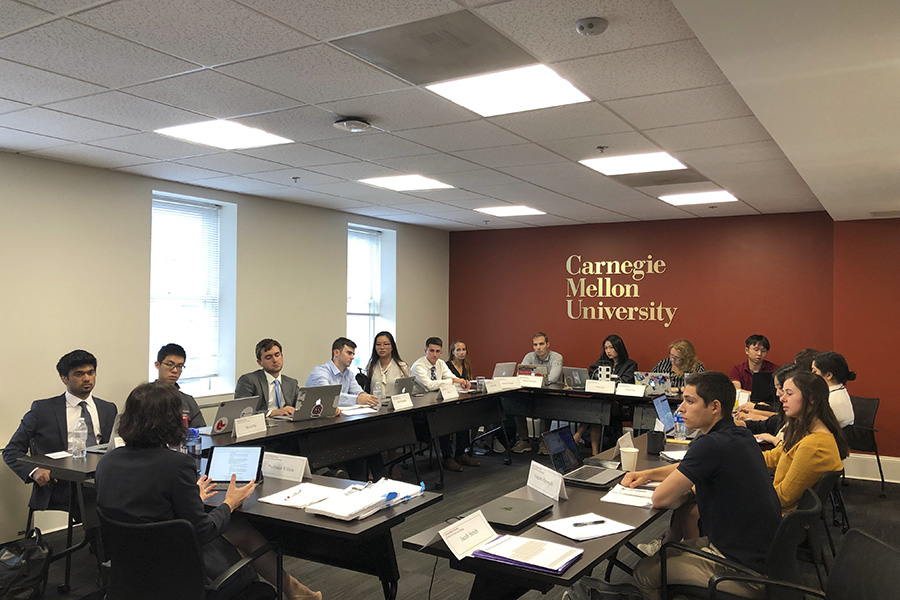 Students participate in a seminar at the Institute for Politics and Strategy's Washington, D.C., office.

In addition, students are required to complete a summer internship in a related field between the first and second years of the program. The internship will allow students to synthesize the program's studies in the context of practical and hands-on experiential learning opportunities. IPS has dedicated staff to support students in all aspects of the internship process.

The CIRP Policy Forum is one key way in which IPS brings international relations and politics into the intellectual conversation at CMU's Pittsburgh campus. The CIRP Policy Forum regularly brings diplomats, scholars, policymakers, journalists and other thought leaders to the university to address major issues facing the United States and the world. MS IRP students will enroll in a three-unit Policy Forum Seminar each semester and be expected to participate in and reflect on their interactions throughout the CIRP Policy Forum lectures and roundtable discussions.

In addition to the new MS IRP Program, IPS will continue to offer its Accelerated Master of Science in International Relations and Politics (IRP/AMP) specifically for CMU undergraduate students. Students in the IRP/AMP begin graduate coursework in their senior year and complete the master's degree in their fifth year of study. The IRP/AMP, launched in 2016, provided the foundation for planning the MS IRP program.

"The greatest impact the program had on me was the opportunity to work in-depth with leading researchers in a smaller class setting," said Rob Stephens (DC 2017, 2018), who now works for the U.S. Department of Defense. "The opportunity to work one-on-one with the faculty in IPS has given me a greater attention to detail that I employ every day in a fast-paced government environment."

While many program graduates pursue employment in the public and private sectors, others have continued to pursue additional advanced education.

"The graduate program was the perfect opportunity to explore a subject matter focus prior to law school. The professors were especially impactful in shaping and inspiring my career goals," said Alex Pasch (DC 2017, 2018), who now is enrolled at Georgetown Law.

Applications for the MS IRP program for fall 2020 are due by Feb. 7, 2020. Contact IPS Deputy Director Emily Half with questions about the program or application process.