August 13, 2021
Stroll Through CMU's History Via Art Displays
By Heidi Opdyke opdyke(through)andrew.cmu.edu
Media Inquiries
At Carnegie Mellon University, art created by members of the Tartan community and others is woven into the fabric of everyday life. An intentional wayfarer can find unexpected treasures along with iconic imagery that is just so CMU.
A walking tour starting at the Jared L. Cohon University Center can rival a day at a museum. Explore the first, second and lower levels of the building to see some of these pieces and more.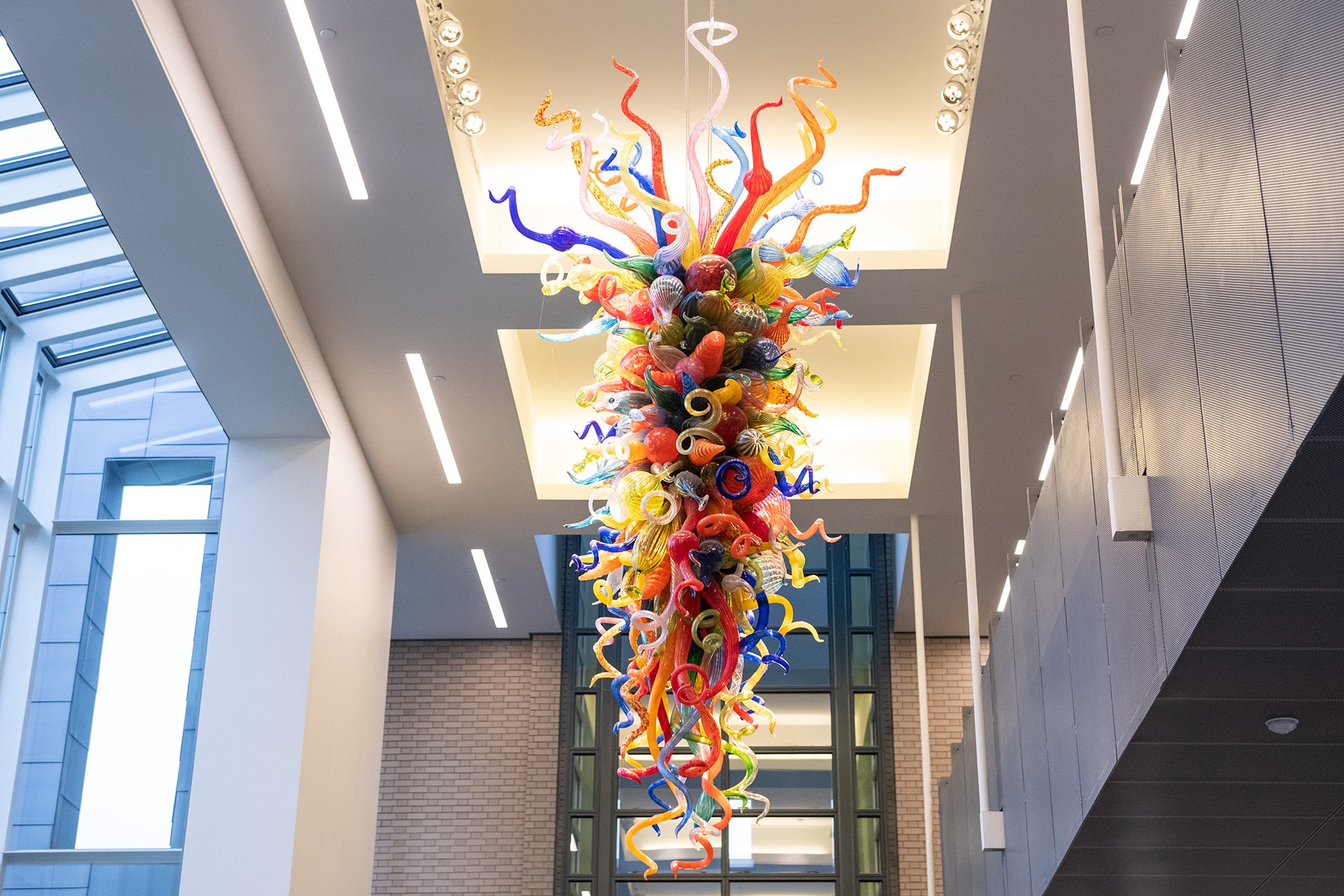 "Frank-Ratchye End of the Day Chandelier" 

Artist: Dale Chihuly
This glass wonder was donated in 2013 by Trustee Edward H. Frank, who graduated with a Ph.D. from the School of Computer Science in 1985, and his wife, Sarah G. Ratchye, who graduated with a Master's of Fine Arts from the College of Fine Arts in 1983, in honor of Jared L. Cohon, CMU's eighth president. They said that, to them, the multitude of colors and shapes symbolize his sustained commitment to making CMU a diverse place where all are welcome. Learn about CMU's Frank-Ratchye STUDIO for Creative Inquiry.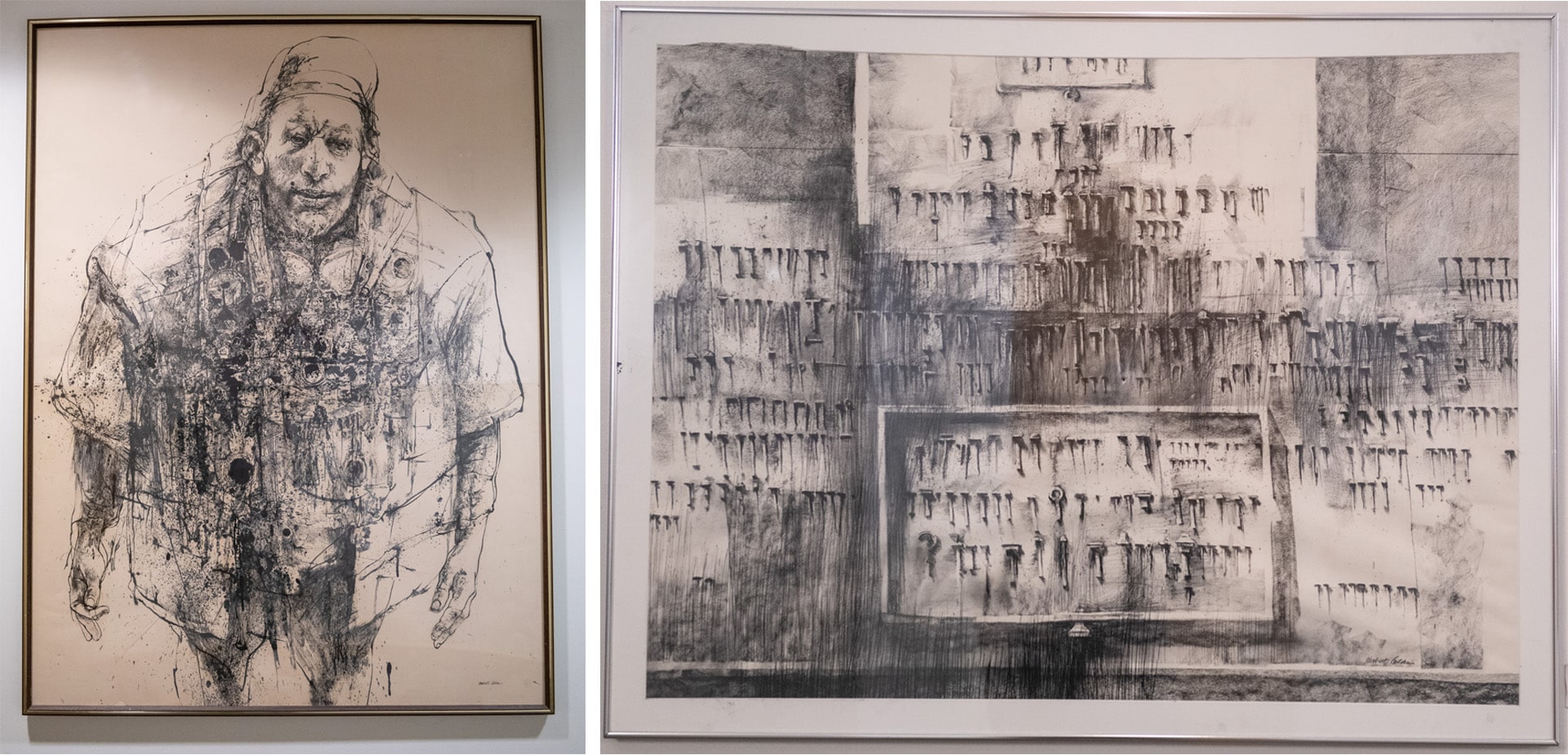 "Untitled" and "Untitled" 
Artist: Herbert Olds
Some of the paintings lining the hallway of meeting rooms are by Herbert Olds, who graduated from the CFA in 1960 and is the former Stubnitz Professor of Art. Olds often works in charcoal.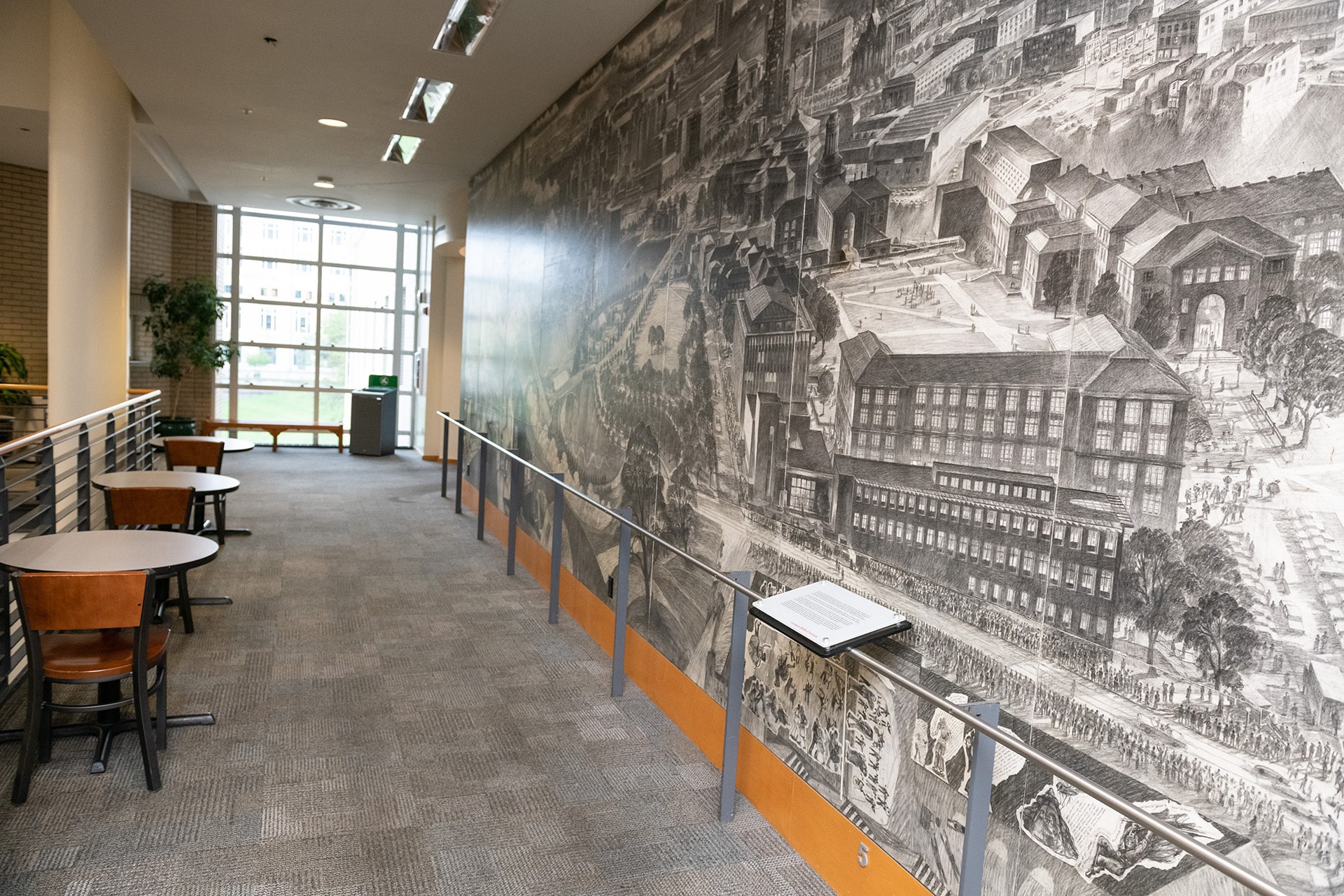 "University Center Mural"
Douglas Cooper
Outside the Rangos Ballroom, faculty member Douglas Cooper, who graduated from CFA in 1970, created a printed mural that depicts CMU's campus as it looked in 1996 before the Purnell Center for the Arts was complete.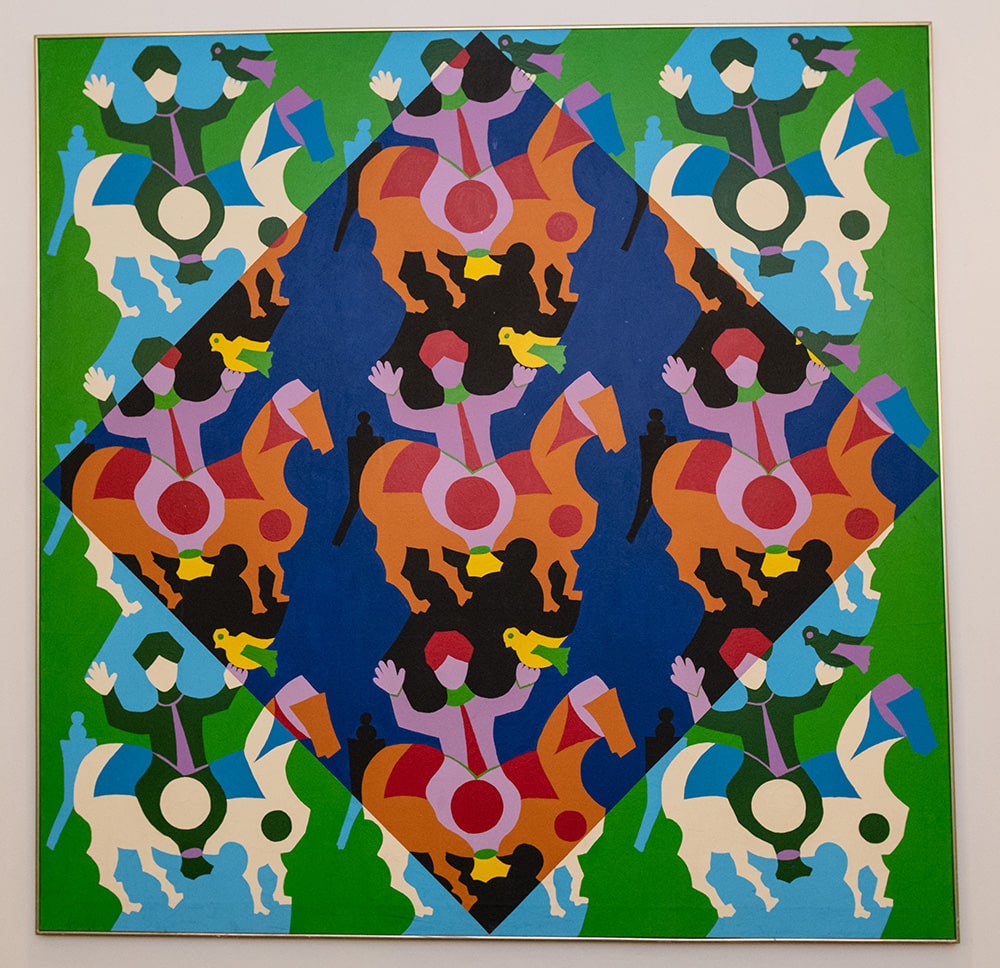 "Riders No. 2"
Artist: Watfa Midani

A native of Egypt, Watfa Midani was the wife of Akram Midani, a former CFA dean. A prominent artist, her work has been exhibited in Istanbul, Jerusalem, Cairo, New York, Los Angeles and Philadelphia.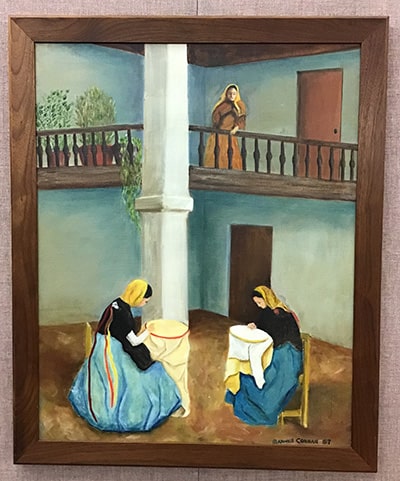 "Untitled"
Artist: Maxwell Connan

On the first floor near Kirr Commons is the Connan Room where several oil paintings by former Trustee Maxwell Connan hang. Connan, who graduated from the College of Engineering in 1939, often painted scenes of the Southwest.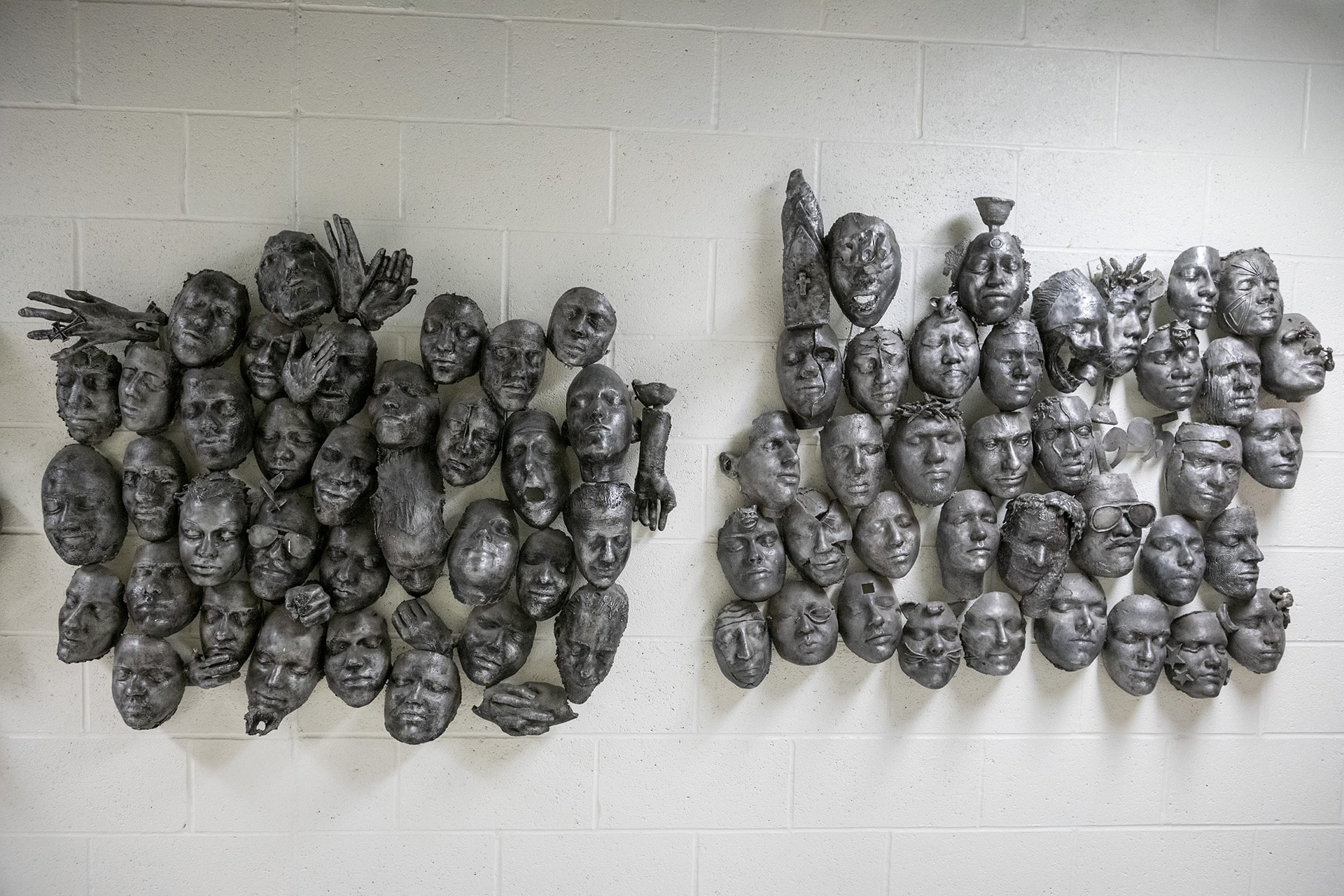 "Sophomore Faces"
Artists: Various
In the basement is a series of self portraits. For many years sophomore students in Ron Bennett's Introduction to Foundry class would mold their own faces through a process using wax, plaster and finally aluminum to learn the technical aspects of casting. As a result, more sculptures were added annually until Bennett retired.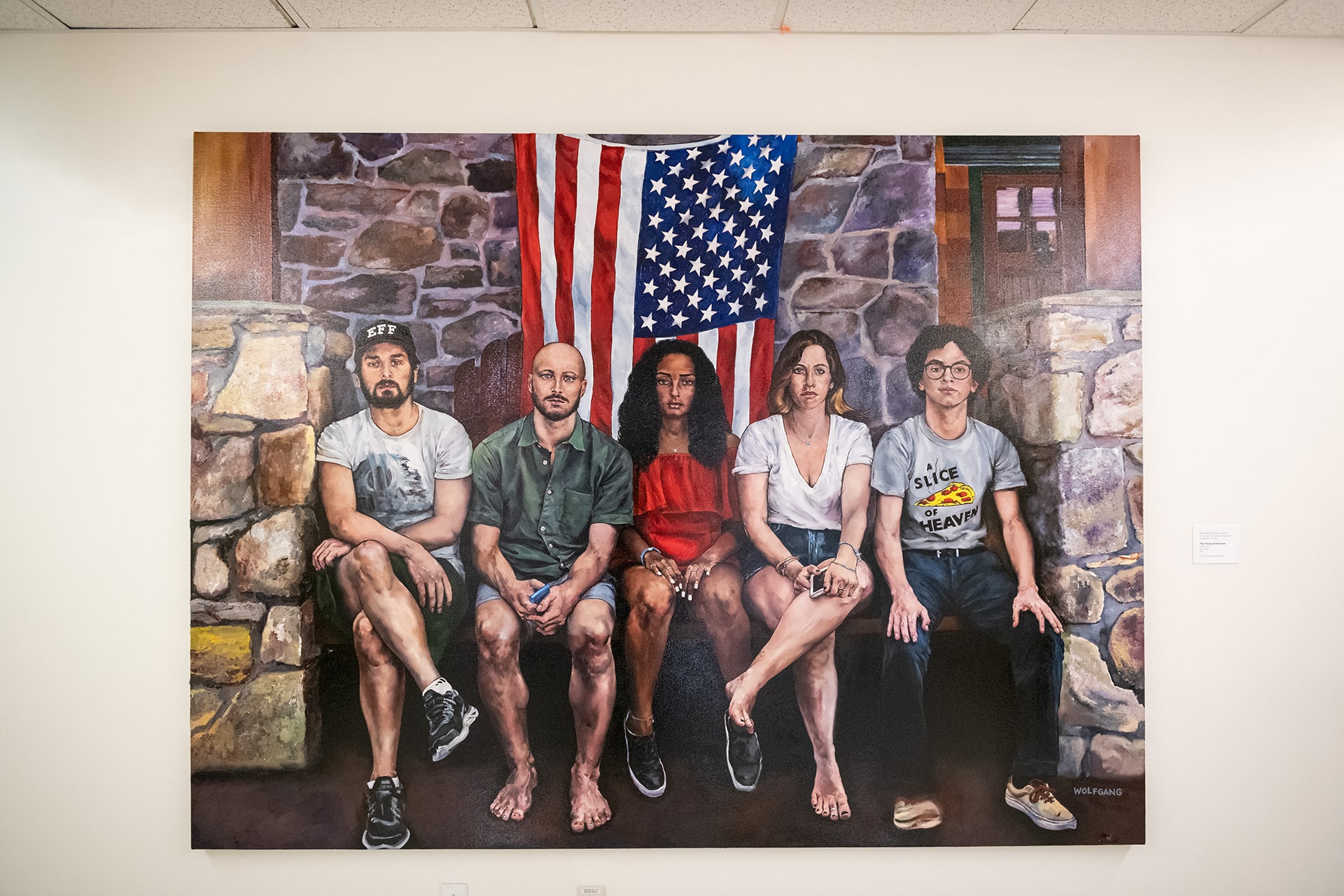 "The Young Americans"
Artist: Sherri Wolfgang
Also in the basement is work by Sherri Wolfgang, who graduated from CFA in 1983. Through her series "American Pathos" she attempts to capture the dark cloud of millennial doubt that rears its head, even during periods of stability and satisfaction.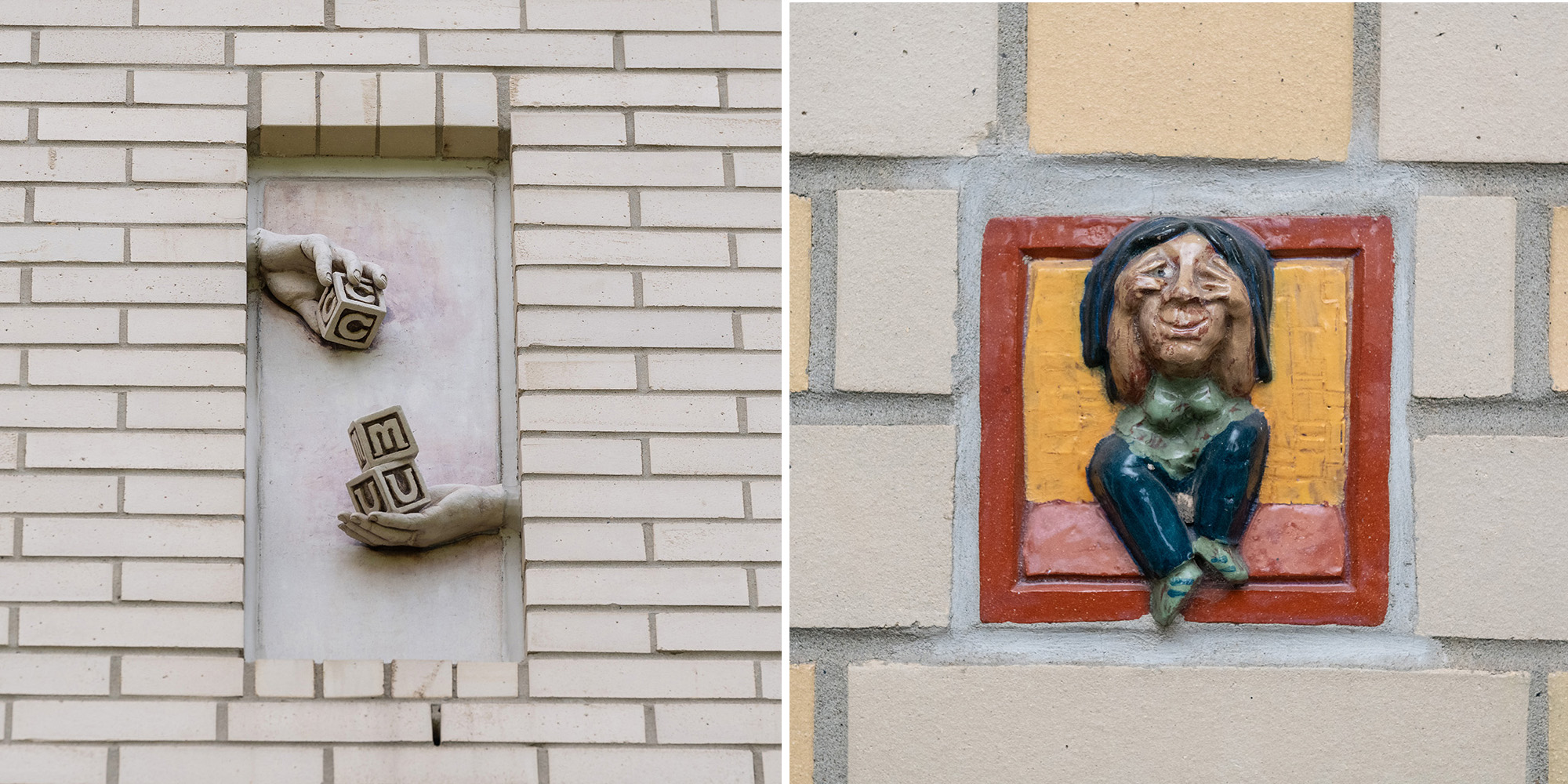 "University Center Tiles" (left)
Artist: Joseph Mannino
The façade of the Cohon University Center has art embedded throughout its bricks. Former art professor Joseph Mannino cast the hands found along the building from people who worked and studied at CMU. The sculptures include props requested by the individuals.
"University Center Ceramic Tiles" (right)
Artist: Erika Fairchild
Erika Fairchild, a tile and mosaic designer, described the pieces as little people in the walls. The tiles have themes such that follow the elements — earth, air, water and fire.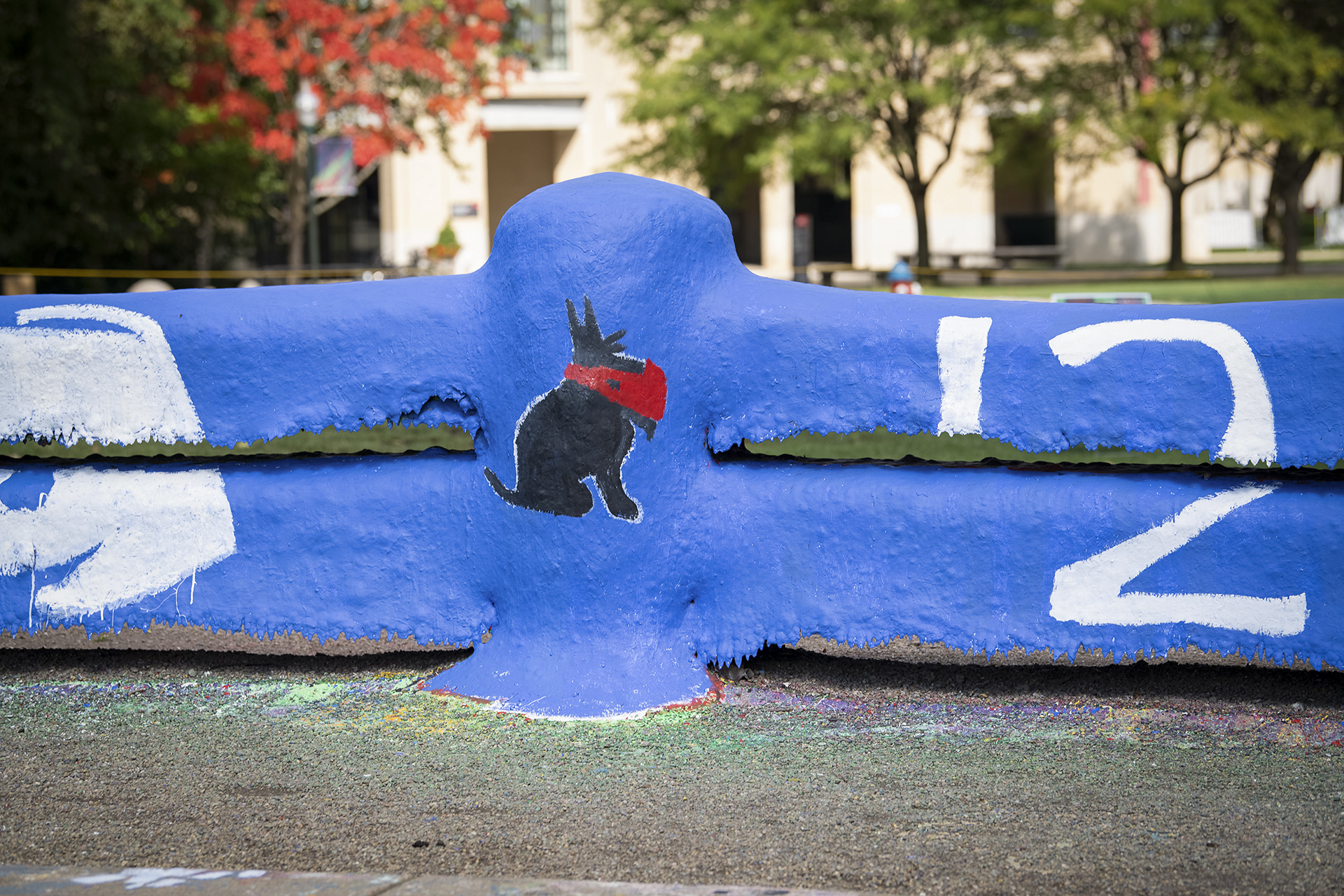 "The Fence"
Artist: Various
Down the Cut is the Fence. Not as much public art as it is CMU's unofficial billboard, students paint it from midnight to sunrise using a strict set of rules. At one time, it held the record for being the world's most painted object. LEarn about CMU's Fence tradition.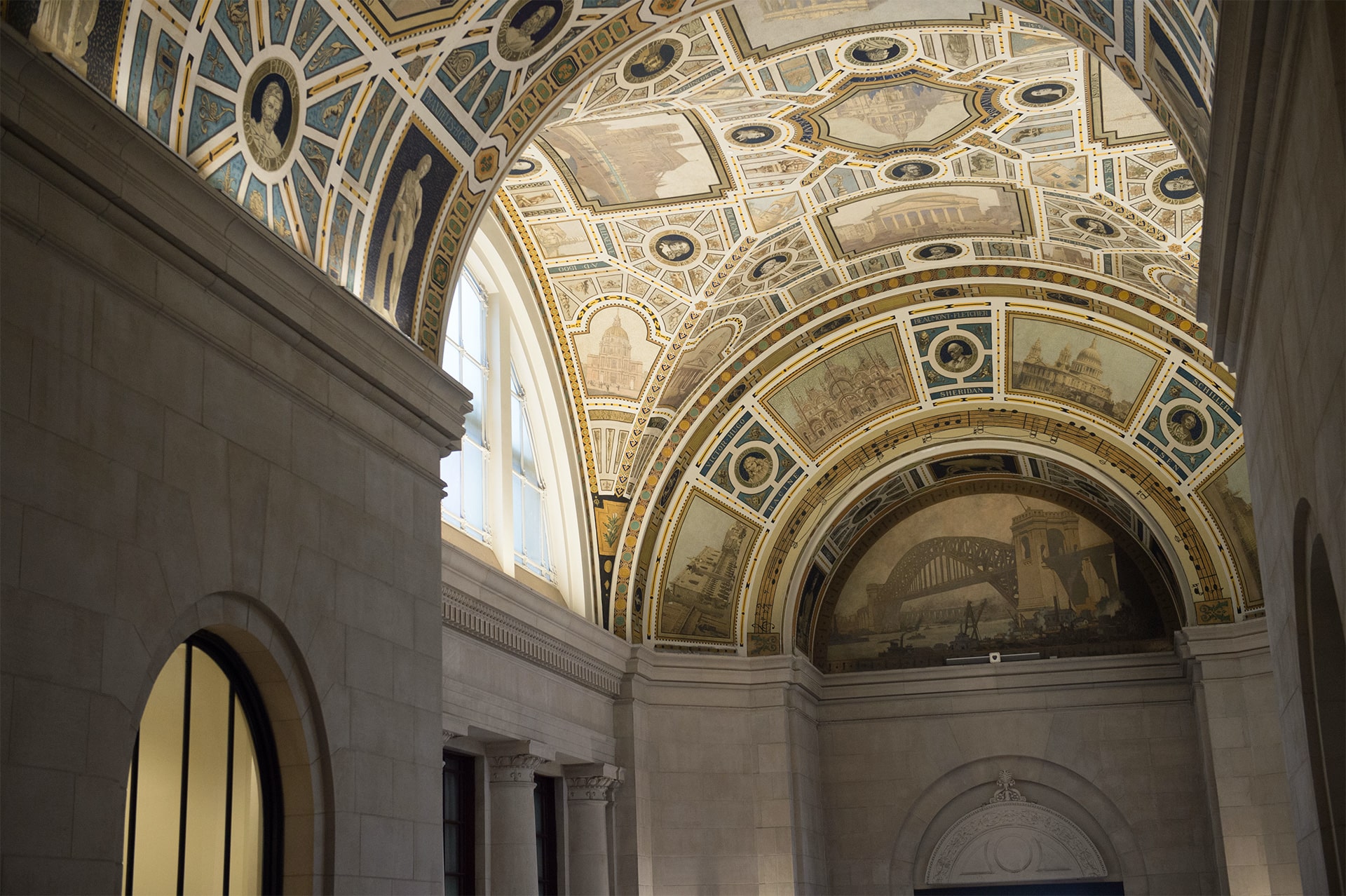 "College of Fine Arts"
Artist: Henry Hornbostel
To the left of the Fence is the CFA building. The building's interior ceiling is a mural of famous buildings and portraits of artistic giants. The floor has plans for both classic and medieval buildings, and plaster casts of sculptures line the walls of the Great Hall.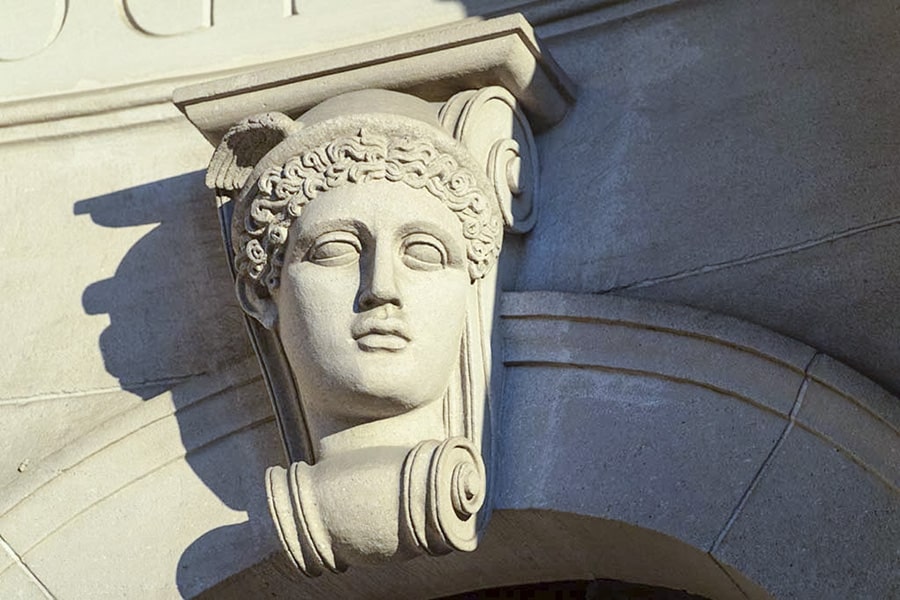 "College of Fine Arts Niches"
Artist: Archille Giammartini, Nicholas Fairplay
Five exterior sculptural niches represent different styles of architecture. Archille Giammartini started the niches in 1912. It took nearly 80 years for the niches to be completed by stone carver Nicholas Fairplay and architects Bruce Lindsey and Paul Rosenblatt.
Watch Nicholas Fairplay restore the exterior sculptures of the CFA building in a documentary produced by CMU's Paul Goodman.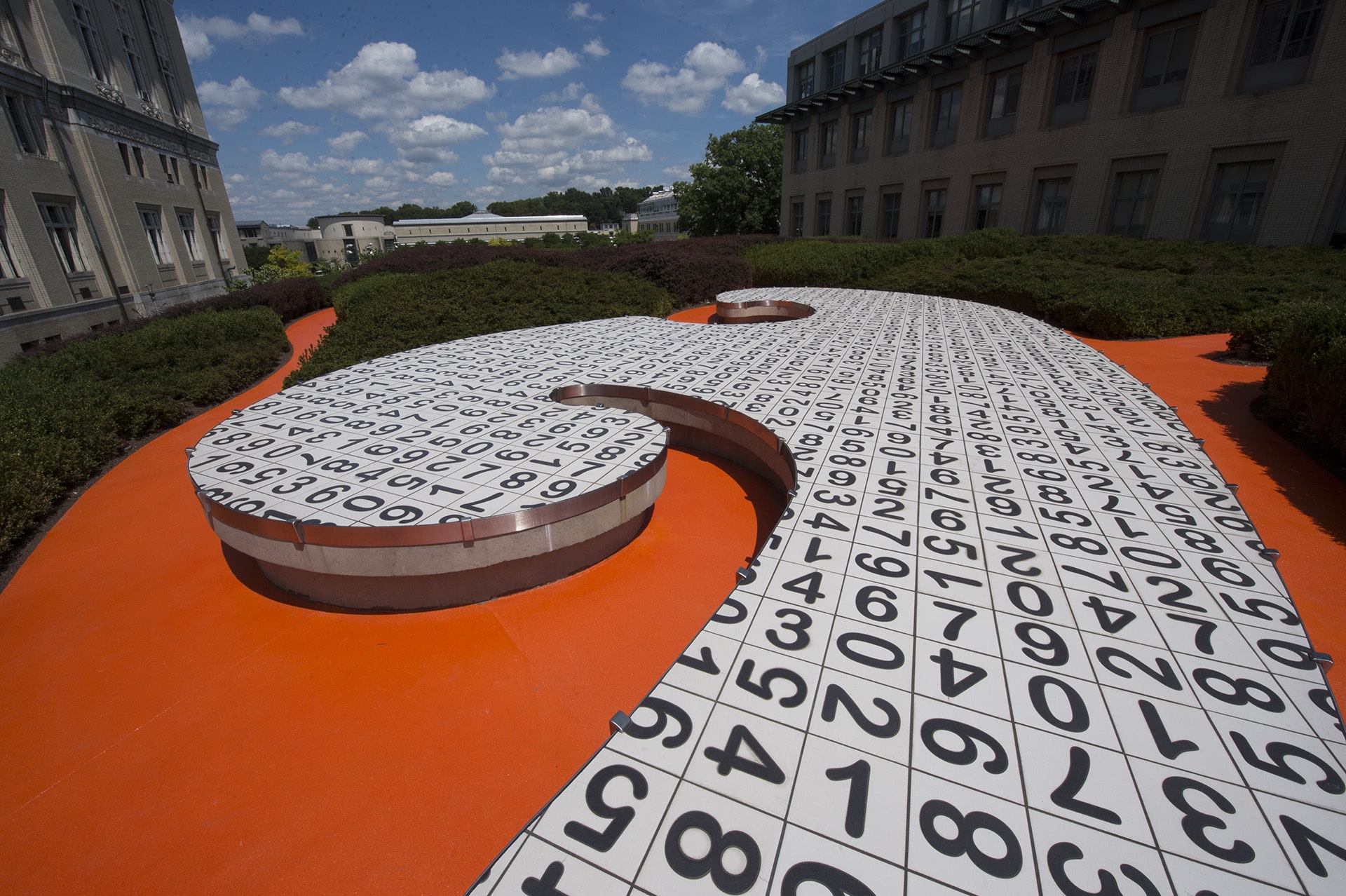 "Kraus Campo"
Artists: Mel Bochner and Michael Van Valkenburgh
Next to CFA is the Kraus Campo, which was created by alumnus Mel Bochner, who graduated from CFA in 1962, and Michael Van Valkenburgh. Donated by former Trustee Jill Gansman Kraus, who graduated from CFA in 1974, and her husband, Peter Kraus, the space challenges the definition of a garden: It is both garden-as-sculpture and sculpture-as-garden.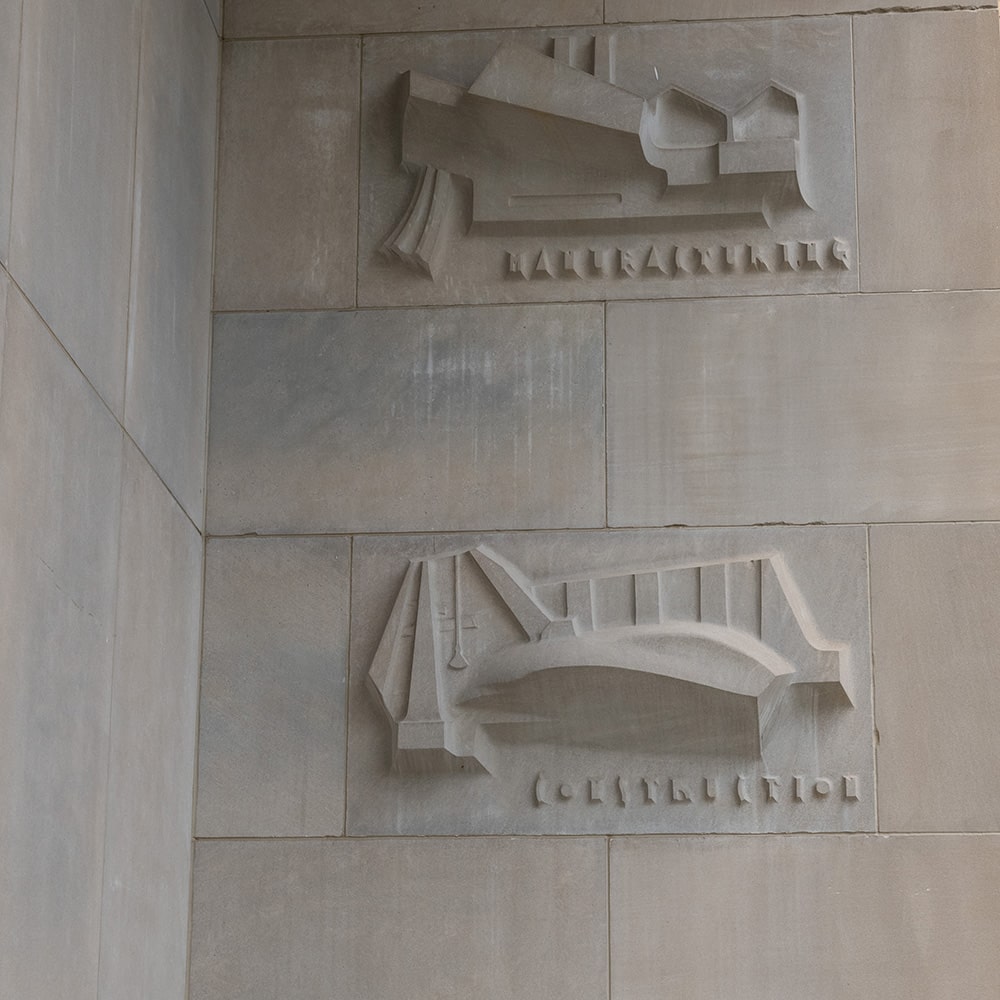 "Industrial Reliefs"
Artist: George Koren 
On Tech Street, find a mural on the exterior of what is now the Hall of the Arts. Previously home to the Graduate School of Industrial Administration, George Koren, who graduated from CFA in 1936, created six abstracted reliefs conveying industrial materials such as steel, oil and coal and activities like manufacturing, construction and transportation.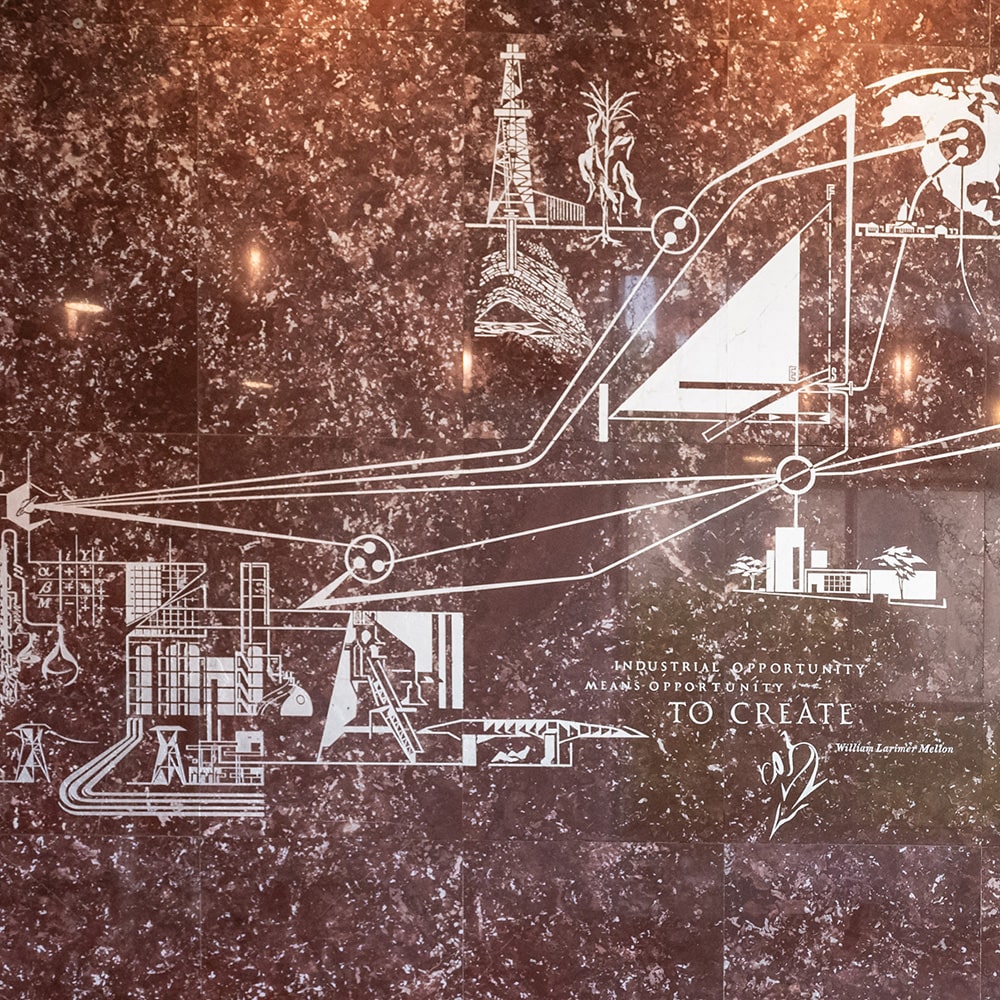 "Reliefs"
Artist: Robert Lepper
Former CMU Professor and alumnus Robert Lepper, who graduated from CFA in 1927, sandblasted the industrial mural in Hall of the Arts lobby closest to Koren's "Industrial Reliefs." Lepper encouraged his students to look at ordinary items from their daily lives as art. Among his students: Andy Warhol, who graduated from CFA in 1949.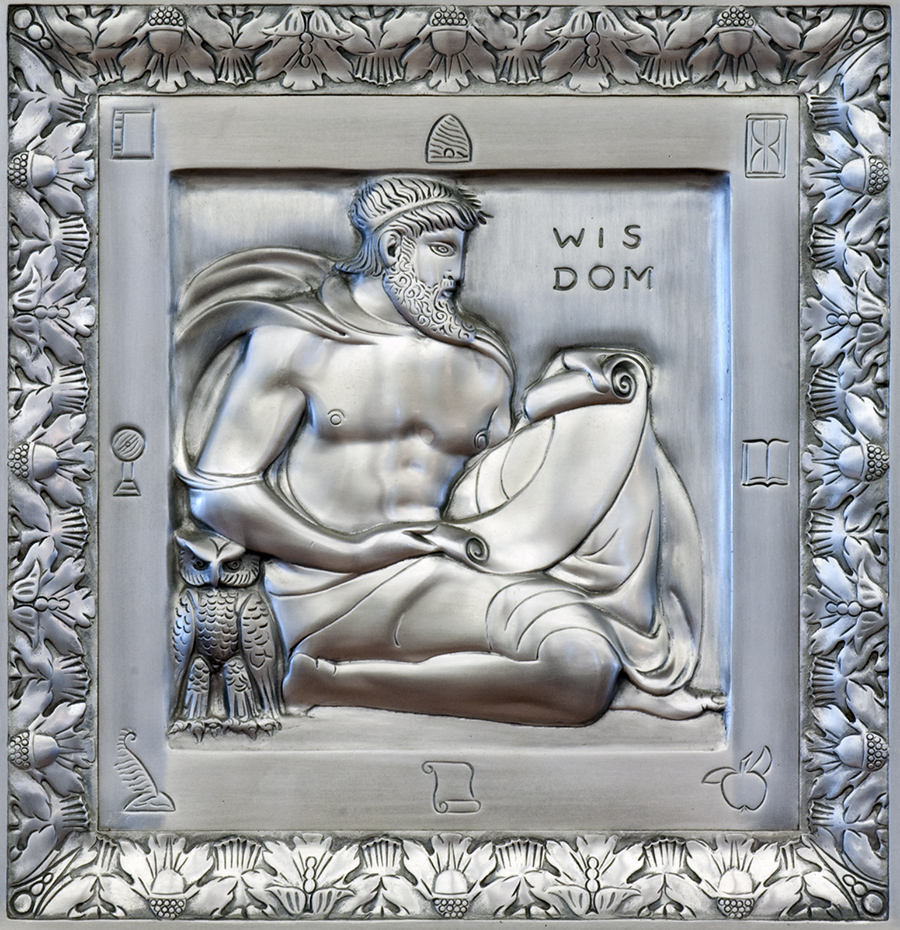 "Untitled"
Artist: Unknown
Created for the Aluminum Company of America, better known as Alcoa, two cast aluminum doors were entrusted to CMU in 1988 by the Hunt Foundation and installed in the Hunt Library. Their panels depict the ideals of wisdom, education, prosperity, thrift, architecture, engineering, auditing and independence.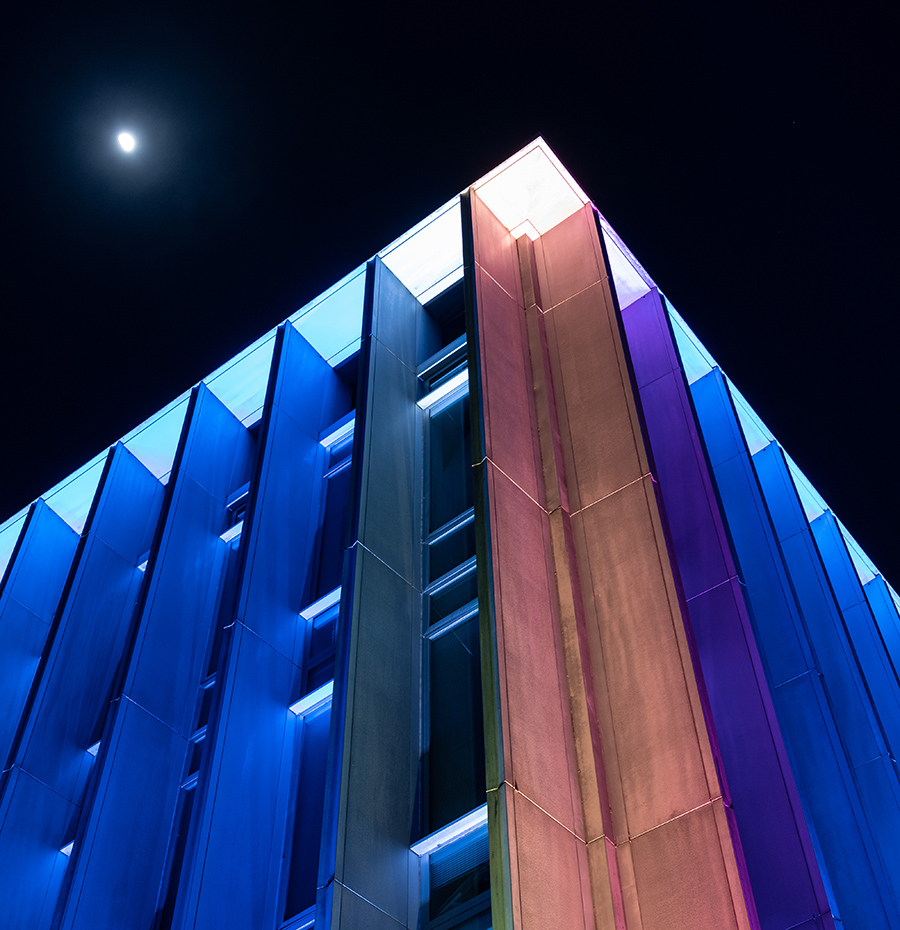 "Hunt Library"
Artists: C & C Lighting LLC: Cindy Limauro and Christopher Popovich
Students helped CMU Professors Cindy Limauro and her husband, Christopher Popowich, create an energy-efficient LED exterior lighting system with more than 16 million different color possibilities. Learn more about the project.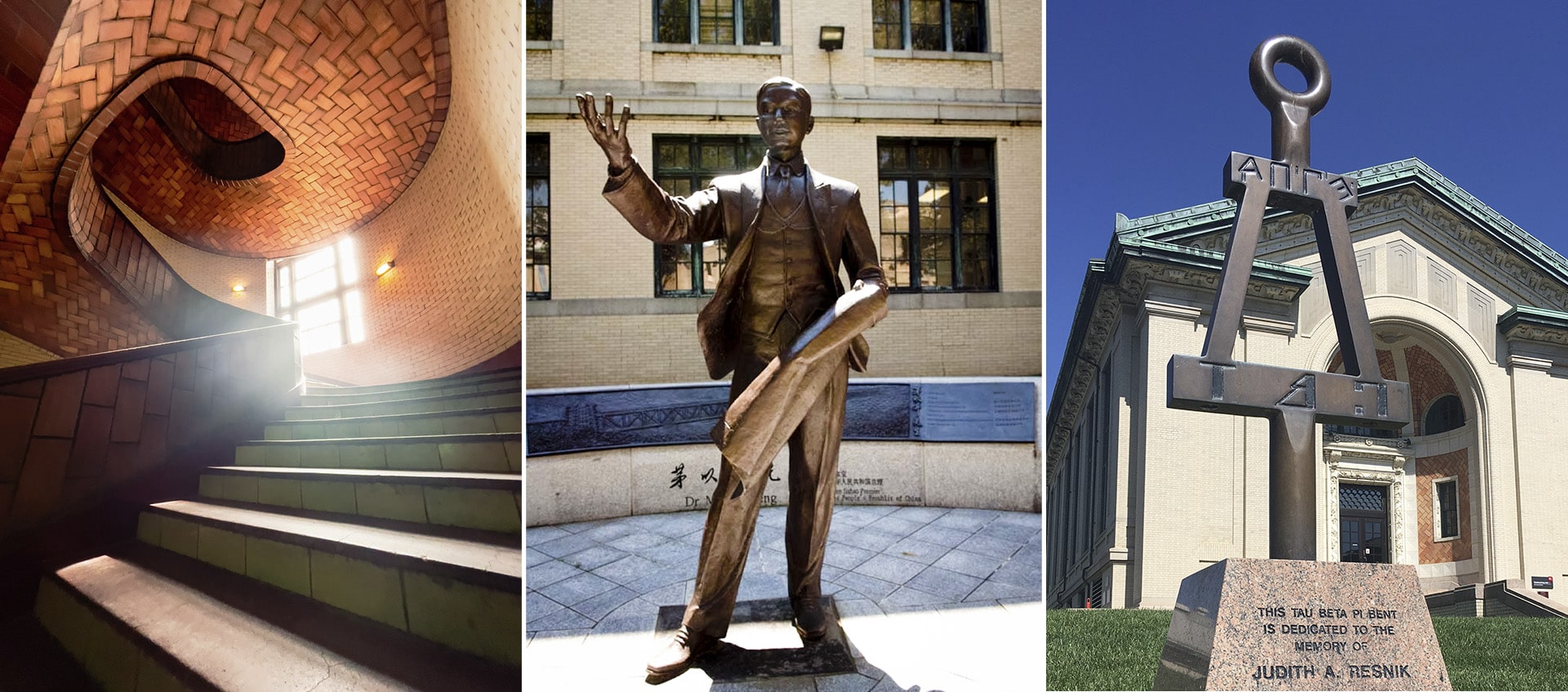 From left, the Baker Hall stairwell, Mao Yisheng statue and Judith Resnik memorial.
"Baker Hall Staircase" (left)
Artist: Rafael Guastavino
In Baker Hall is a complex staircase. Created by the renowned Spanish builder, it is made with layers of interlocking terra cotta tiles set in a herringbone pattern. The structure is so complicated that no one has figured out how to replicate the geometry.
"Mao Yisheng" (center)
Artist: Sun Lu
From the first floor, exit to the Mall side of Baker Hall near Porter Hall to find the statue of Mao Yisheng, CMU's first doctoral graduate student. Yisheng designed two of China's most famous modern bridges, the Qiantang River Bridge and the Wuhan Yangtze River Bridge, and is regarded as the father of modern bridge engineering. He was the first of his family to graduate from CMU, but not the last. One of his great-granddaughters also graduated from CMU. The statue was donated by the Broad Air Conditioning Company.
"Judith A. Resnik Memorial" (right)
Artist: Unknown
In front of Hamerschlag Hall, the piece honors Judith Resnik, who graduated from the College of Engineering in 1970 and died in the Challenger Space Shuttle disaster on Jan. 28, 1986. A mission specialist on that flight who had logged more than 145 hours in space, Resnik received a bachelor's degree in electrical engineering from Carnegie Mellon in 1970.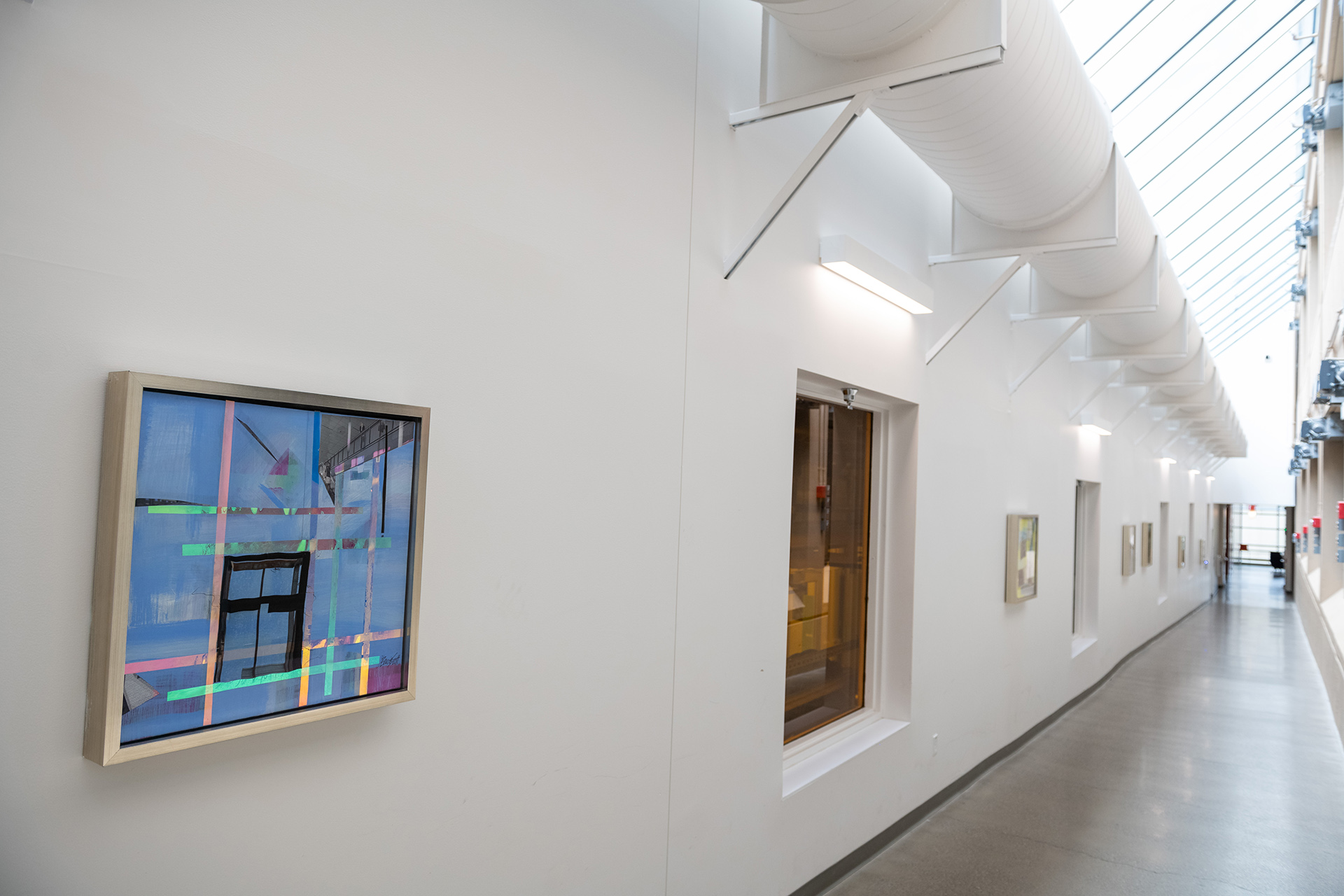 "Collage Innovations: series of 6 works" (above)
"The Grey City" (right)
Artist: Joyce Bowie Scott
Trustee Joyce Bowie Scott, who graduated from CFA in 1965, donated several pieces of her work, which are installed in Sherman and Joyce Bowie Scott Hall, including a collection of six pieces in the fourth floor corridor that connects Scott Hall to Wean Hall. A larger work, "The Grey City," is installed on the sixth floor of Scott Hall.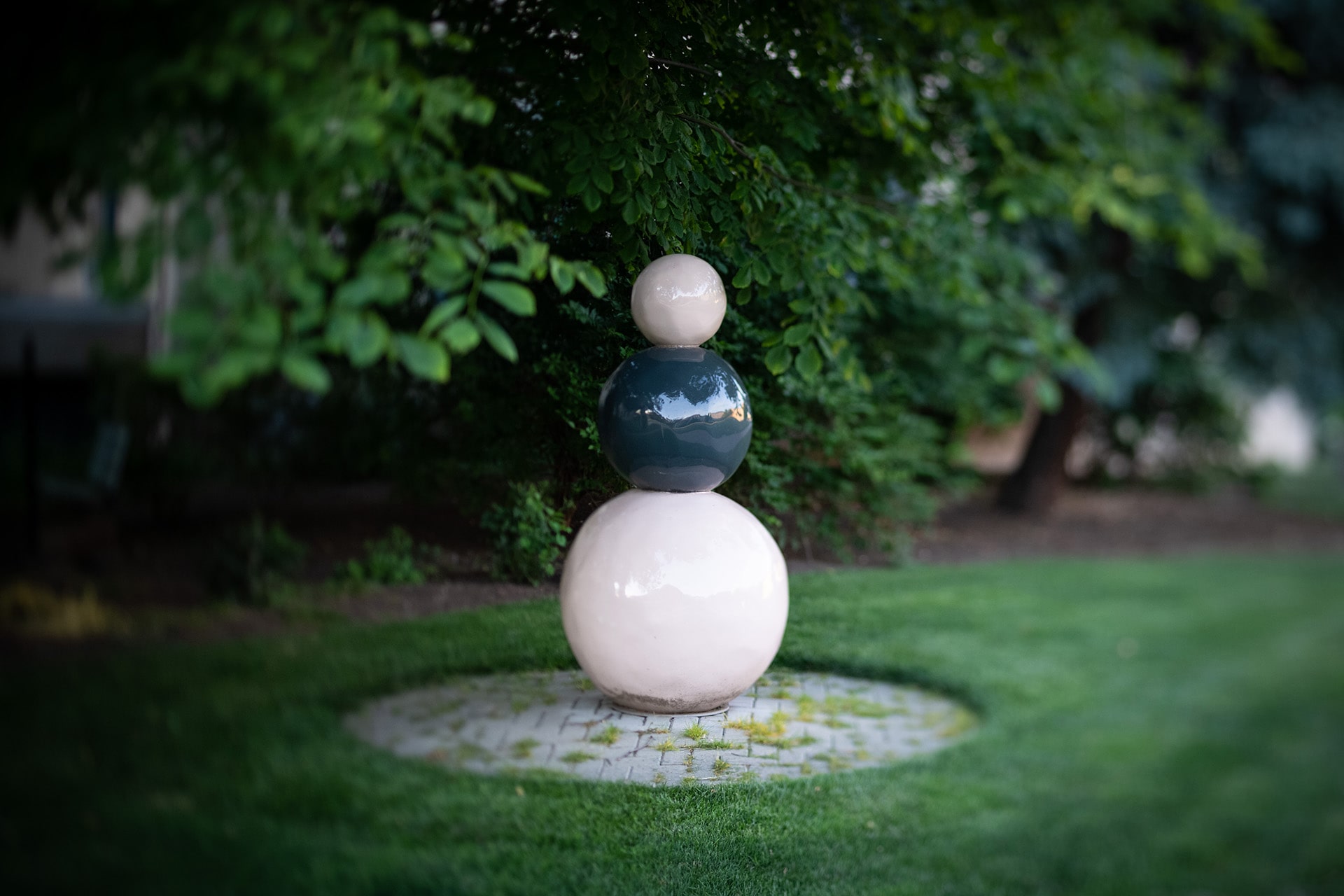 "Snowmen"
Artist: Gary Hume
Donated to CMU in 2004 by Milton and Sheila Fine and located near Doherty Hall, Gary Hume's work often focuses on pure forms with bright and simplified colors, such as in his Snowmen series.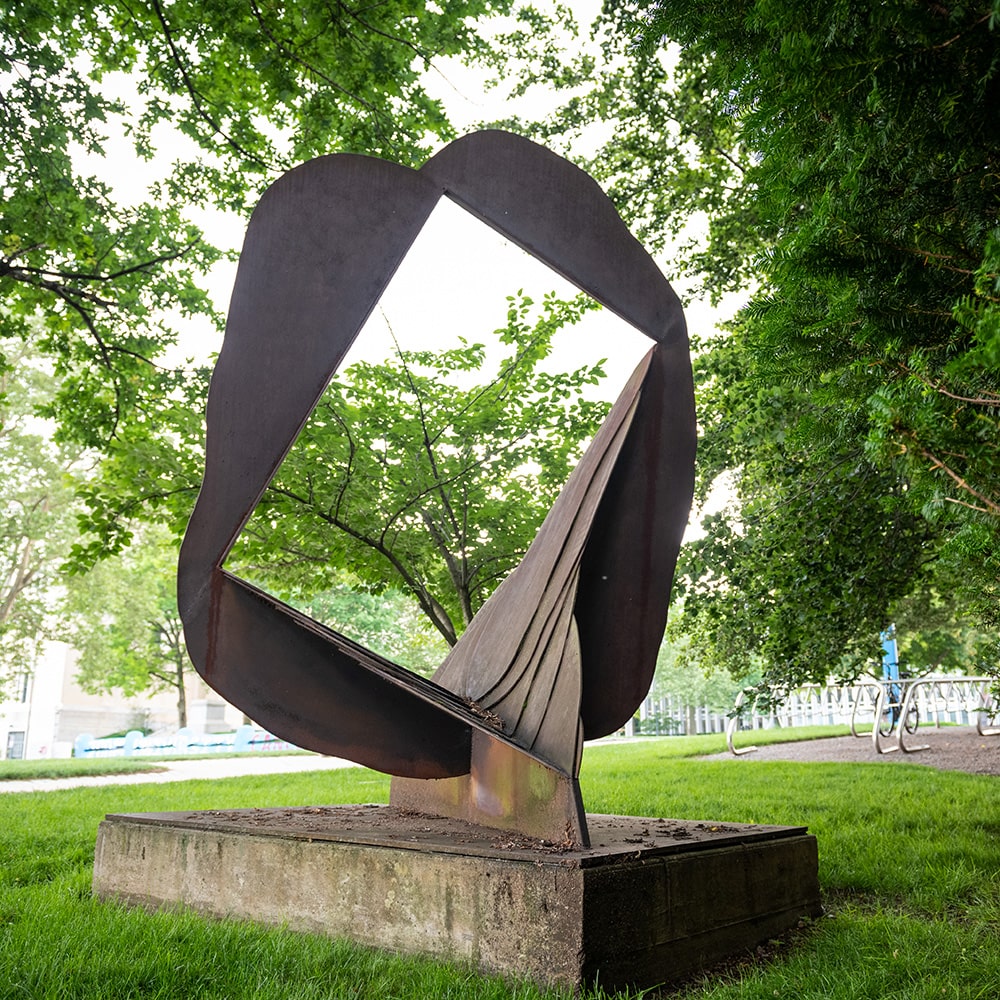 "Cloud Window"
Artist: Ron Bennett
Walk around the Hall of the Arts and head back to the Cut. Across the Cut near Doherty Hall is "Cloud Window," by former faculty member Ron Bennett. Prior to sculpting it, Bennett had learned to fly and recorded shapes and forms of the land through aerial photography.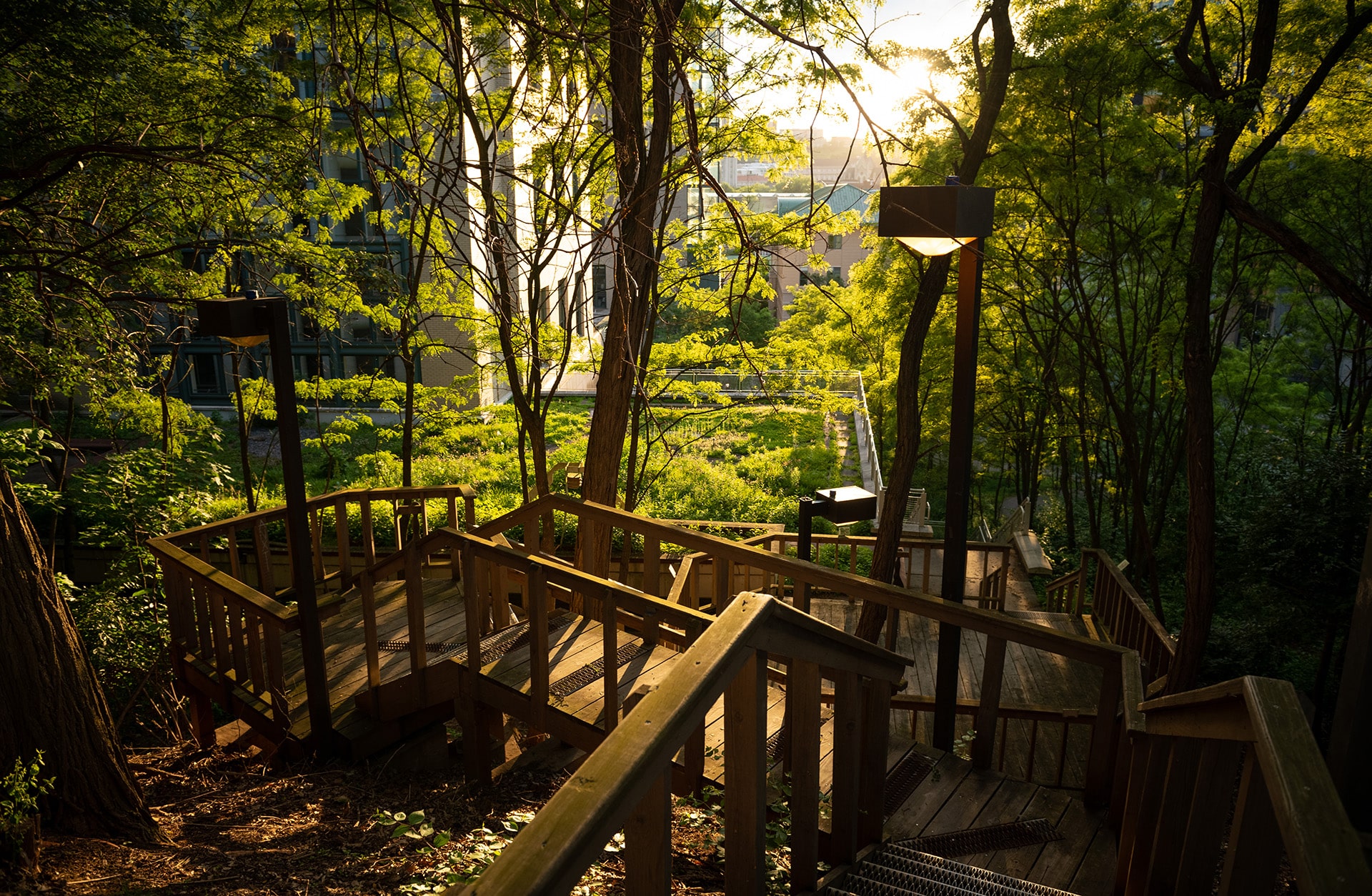 "Doherty Stairs"
Artists: Various
As a professor, alumnus Larry Cartwright provided real-world experience for students in his design and construction course. The staircase was built in 1998 after students were seen clambering up the hillside from art studios located in the subbasement of Doherty Hall to the Cut. A rainy April meant the project lasted past graduation. CMU's UpLift challenge carries on Cartwright's legacy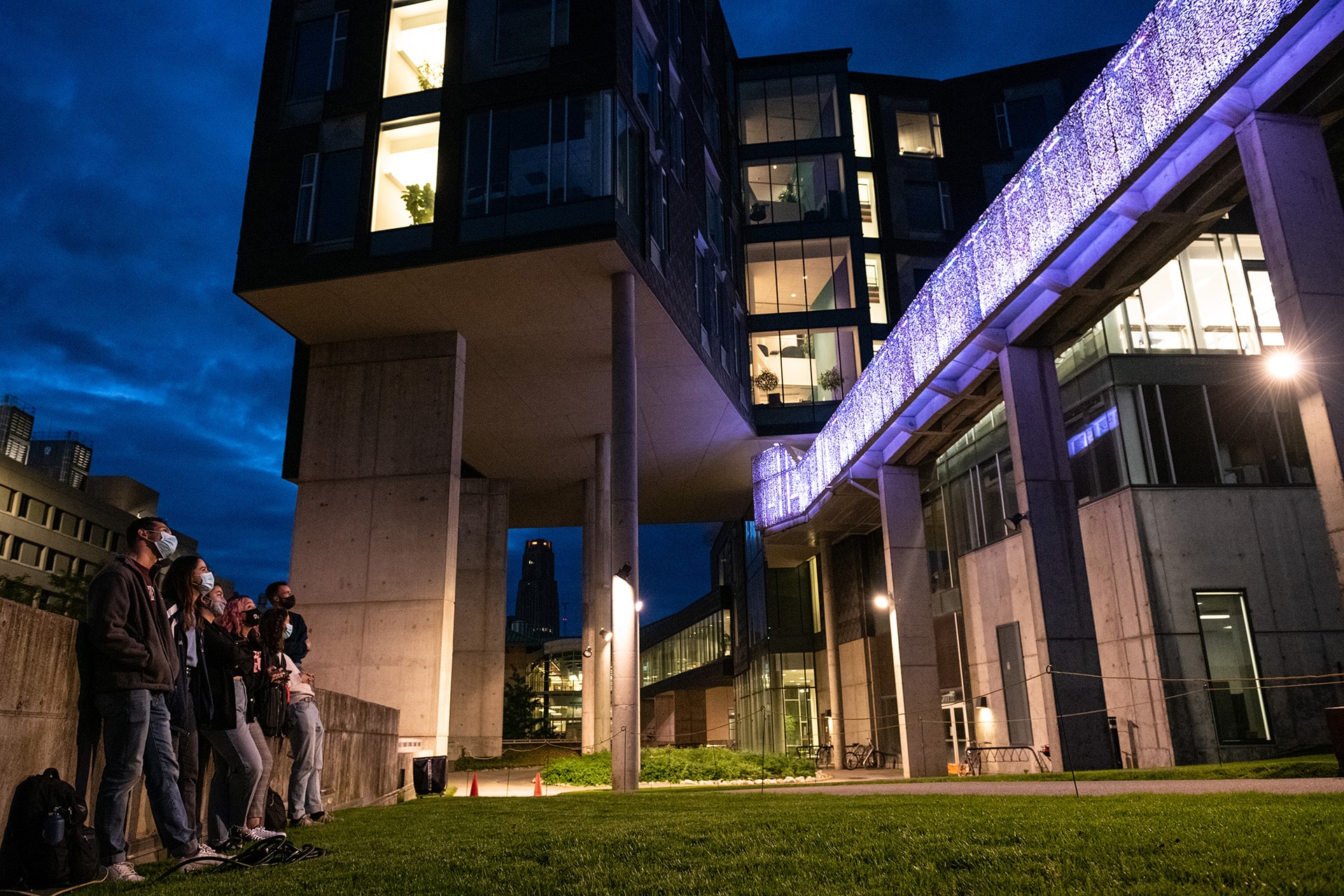 "The Pausch Bridge"
Artists: Mack Scogin, Mack Scogin Merrill Elam Architects; C & C Lighting LLC: Cindy Limauro and Christopher Popovich
Dedicated in memory of professor and alumnus Randy Pausch, author of "The Last Lecture," the bridge is a physical example of how CMU connects art and science. Faculty and students use the structure to create illuminating light shows. Read about light as language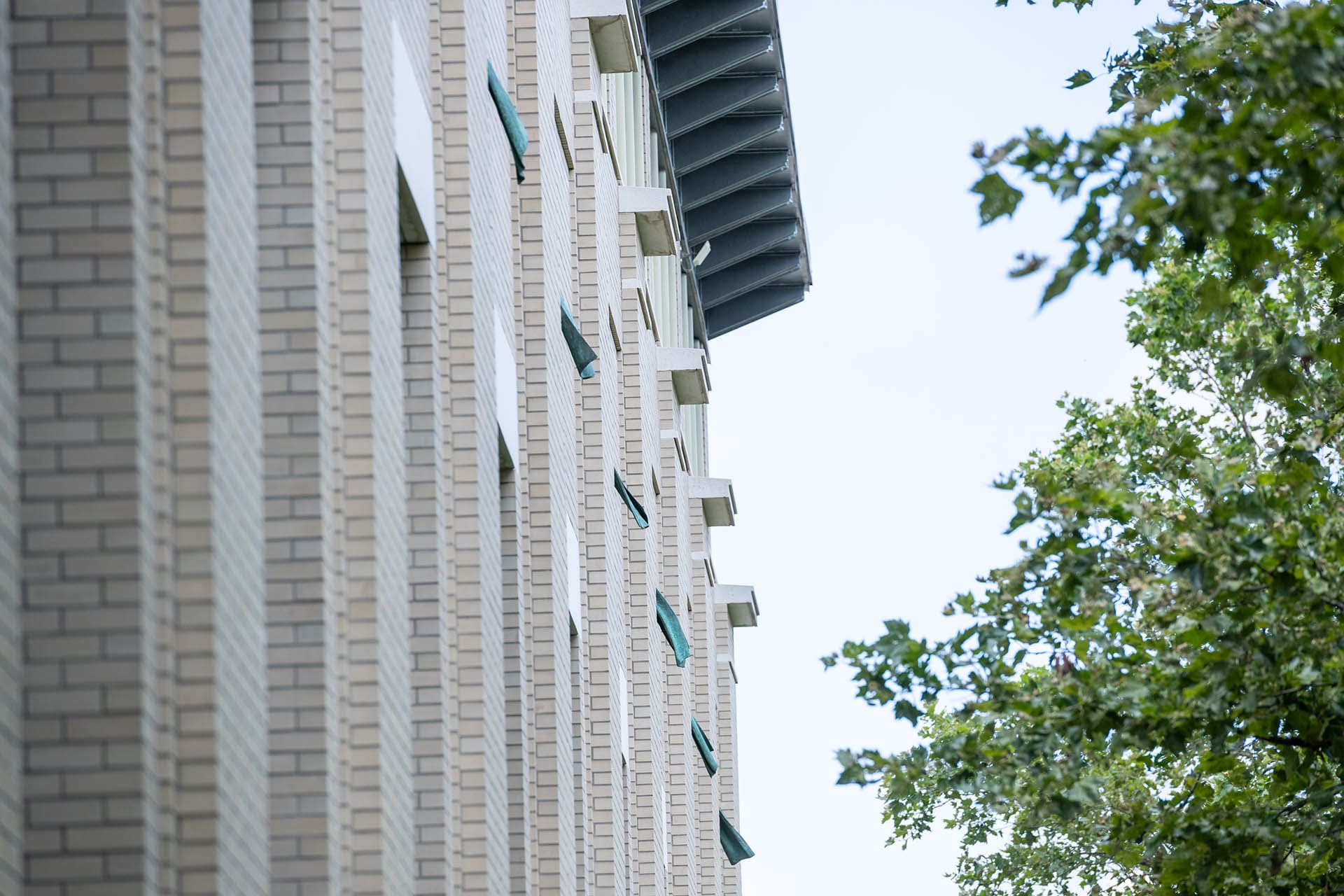 "Curtains"
Artist: Carol Kumata
Longtime faculty member Carol Kumata created bronze forms that evoke stage curtains on thePurnell Center for the Arts. Peeking out behind the waving forms are architectural motifs from architect Henry Hornbostel's CFA building. Read about her retirement.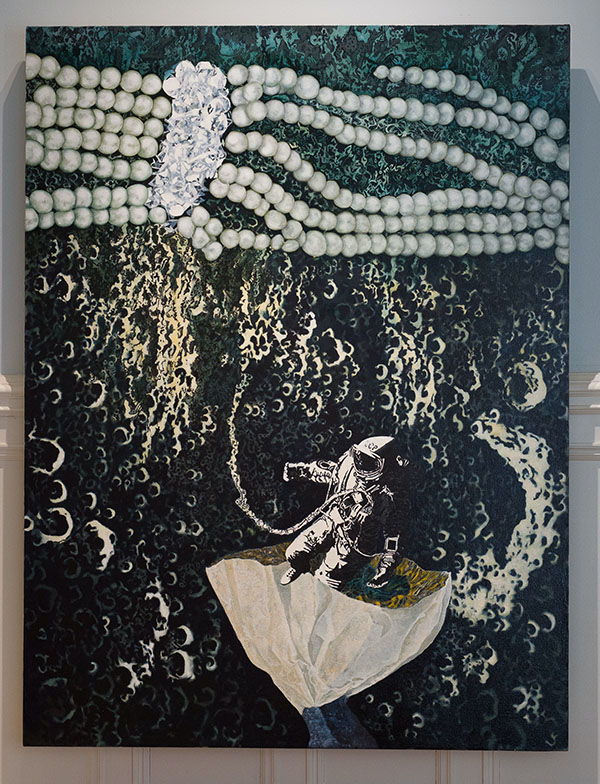 "Relm uv StrAnj"
Artist: Sarah G. Ratchye
Hanging in CMU's Alumni House, Sarah G. Ratchye's astronaut paintings are an expression of a transcendent past. In "Relm uv StrAnj" she used diamonds and pearls to signify the monetary and intellectual resources and the economic drives behind all exploration.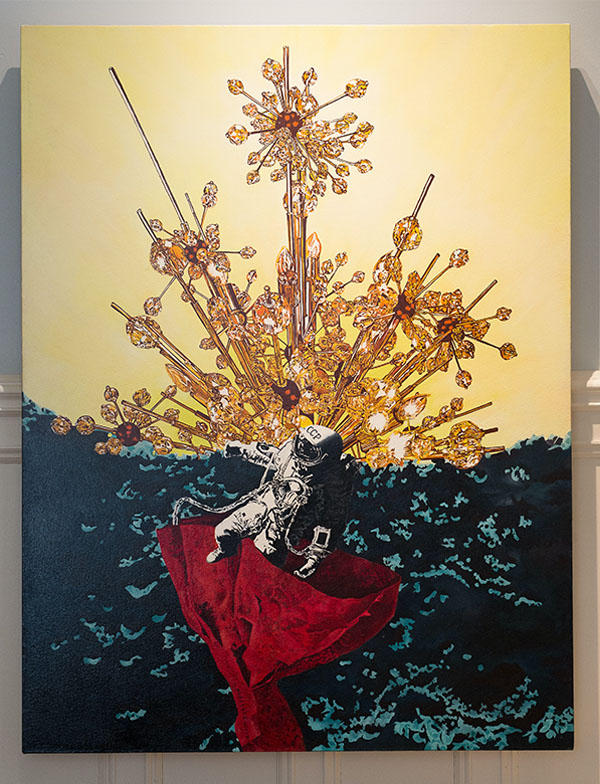 "SpAs BOrn"
Artist: Sarah G. Ratchye
In "SpAs BOrn" the gigantic chandelier halo, present above the astronaut just at the instant of revelation, or breach of the atmosphere, is fraught with expectation, responsibility and the unknown. Ratchye graduated from CFA in 1983.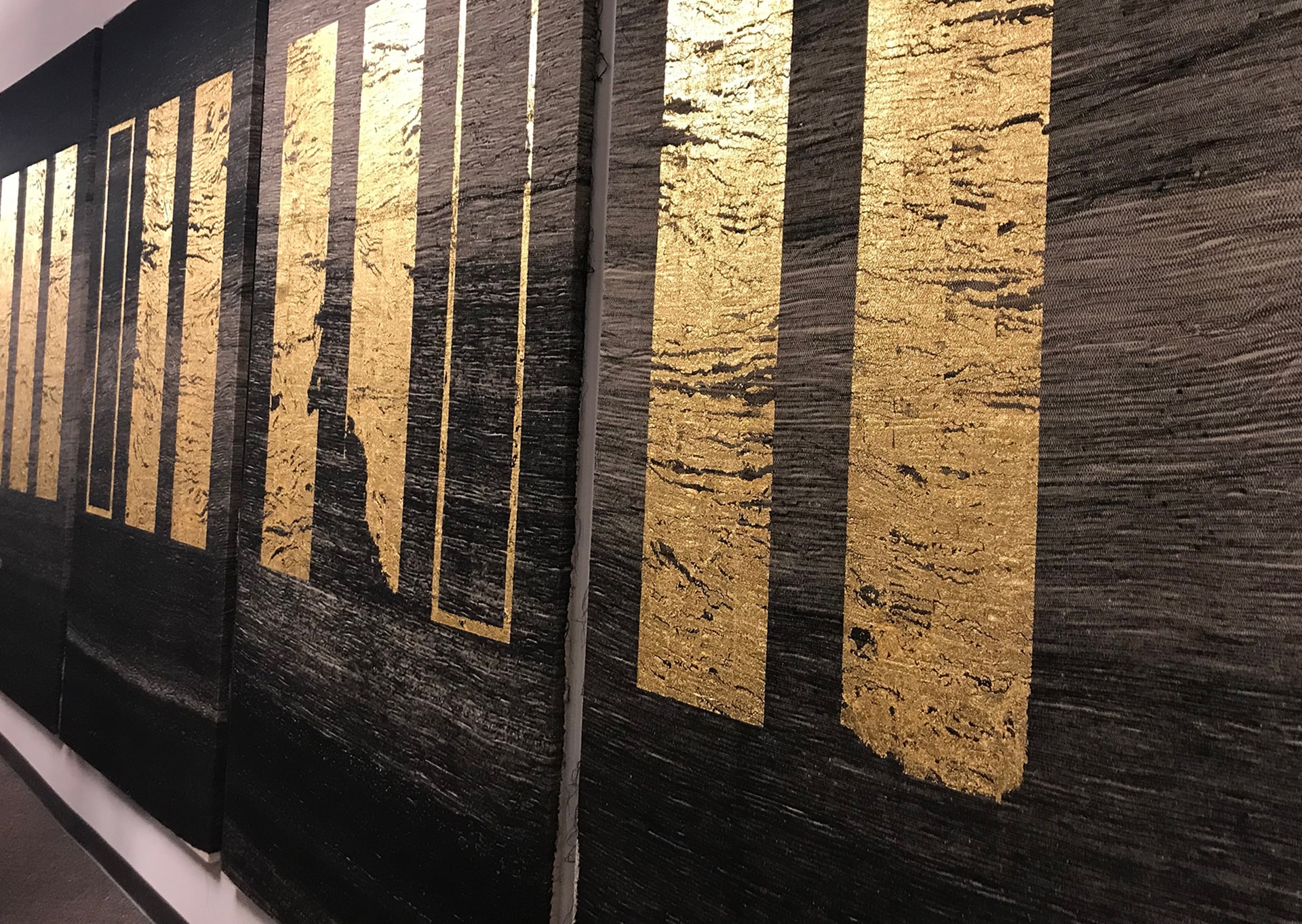 "Next Year You'll Wish You Started Today" 
Artist: Terry Boyd
The Heinz College of Information Systems and Public Policy commissioned alumnus Terry Boyd, who graduated in 2013 with a master's degree of arts management and in 2009 with a bachelor's degree in fine arts, for a work to hang in Hamburg Hall. Autobiographical in nature, the piece uses 67.5 miles of embroidery and depicts 10 years dedicated to the education, discovery and personal growth of one individual set within the walls of CMU.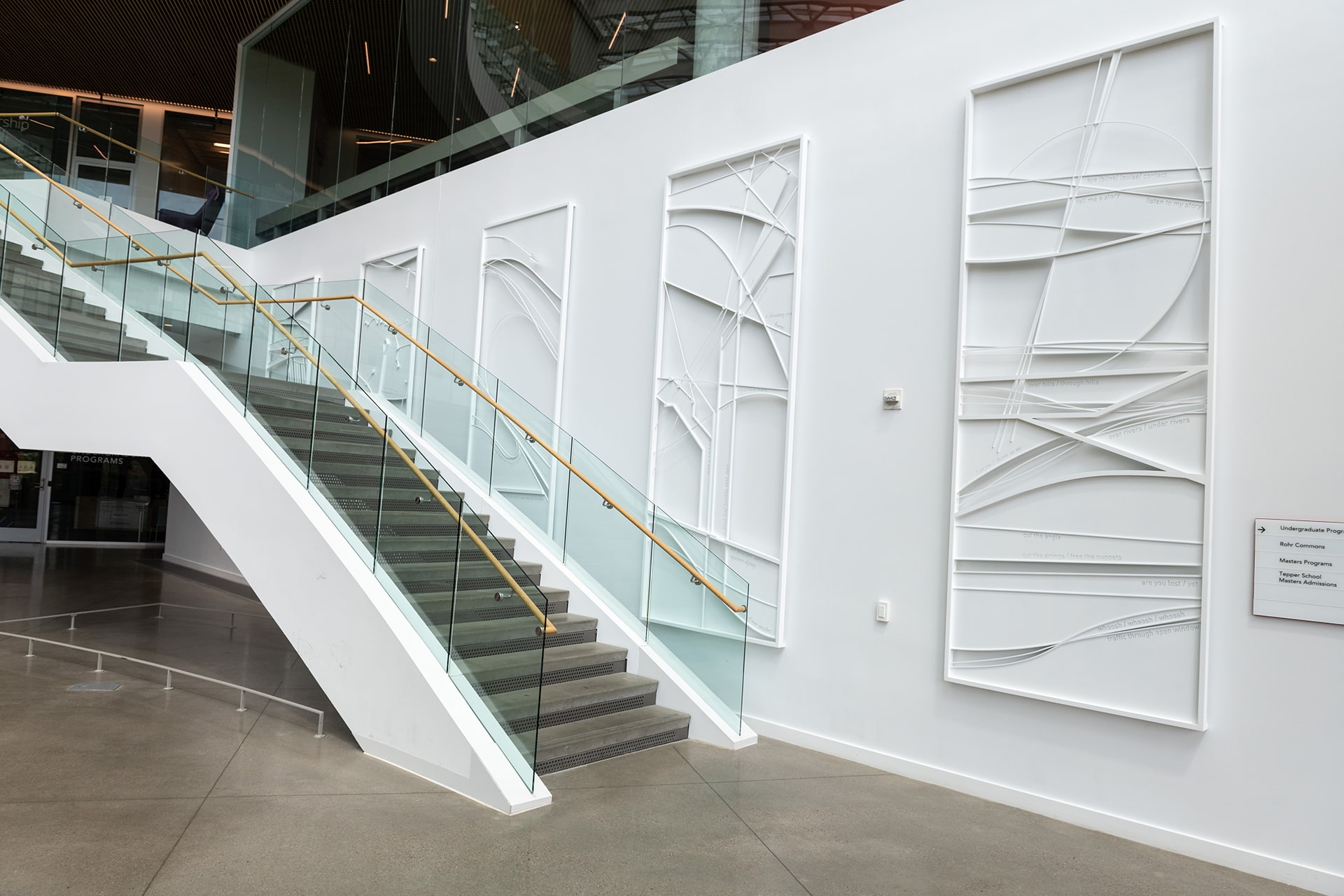 "Reliefs II"
Artists: Mark Baskinger and Jim Daniels. Fabrication by Dee Briggs
The collaborative mural serves as an extension from and interpretation of "Relief" by Robert Lepper in the original home of CMU's business school. "Reliefs II," in the David A. Tepper Quadrangle Atrium, provides a visual representation of the connections between modern business concerns and their impacts on the local, national and global communities. The piece, created by faculty members Mark Baskinger and Jim Daniels, comprises five thematic panels on ethics, synergy, empathy, discovery and perseverance. Learn more about the collaboration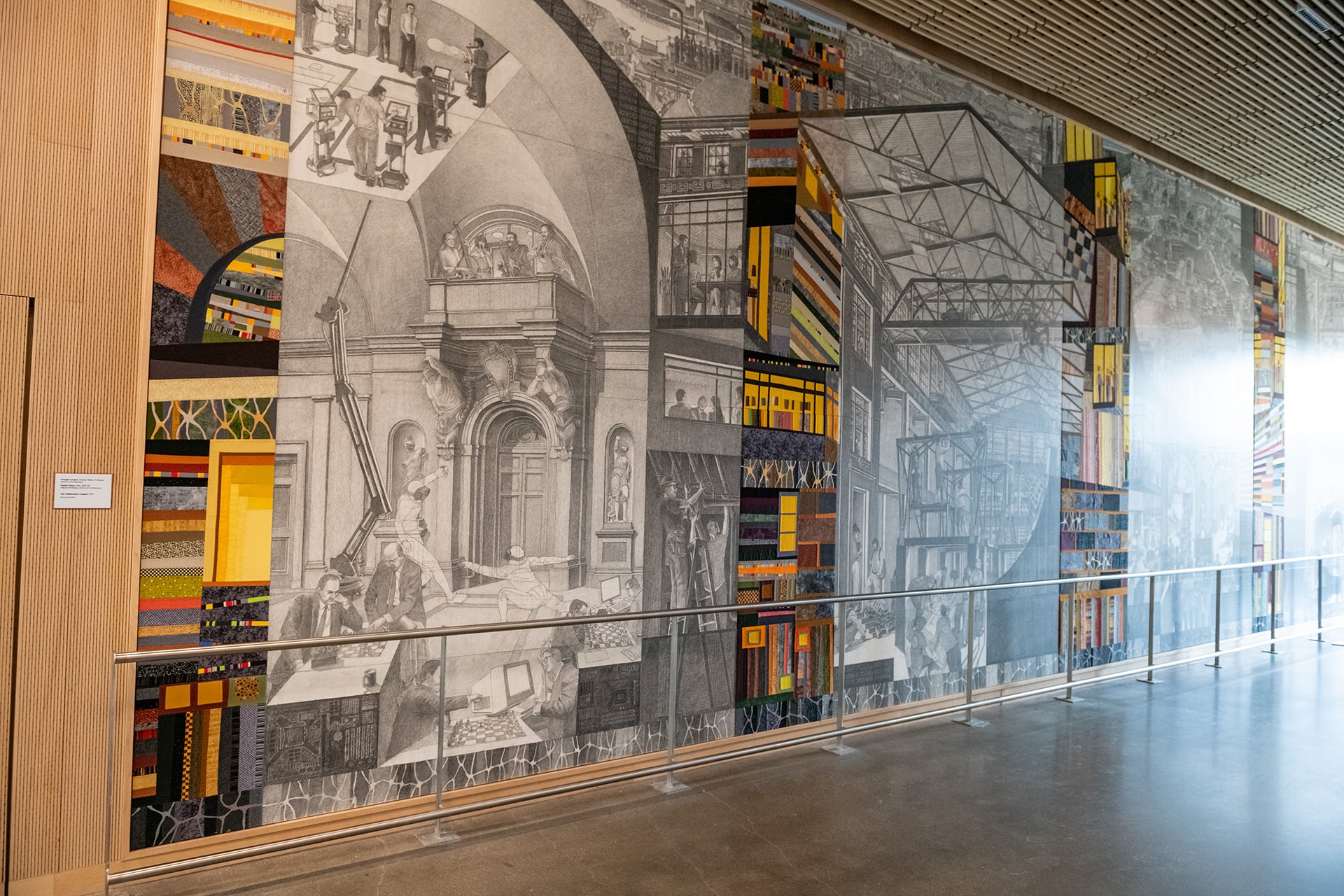 "The Collaborative Campus"
Artists: Douglas Cooper and Stefani Danes
On the first floor of the Tepper building, faculty members Douglas Cooper, who graduated from CFA in 1970, and his wife, Stefani Danes, partnered to create art that explores different ways in which knowledge and community are built through collaboration. Learn more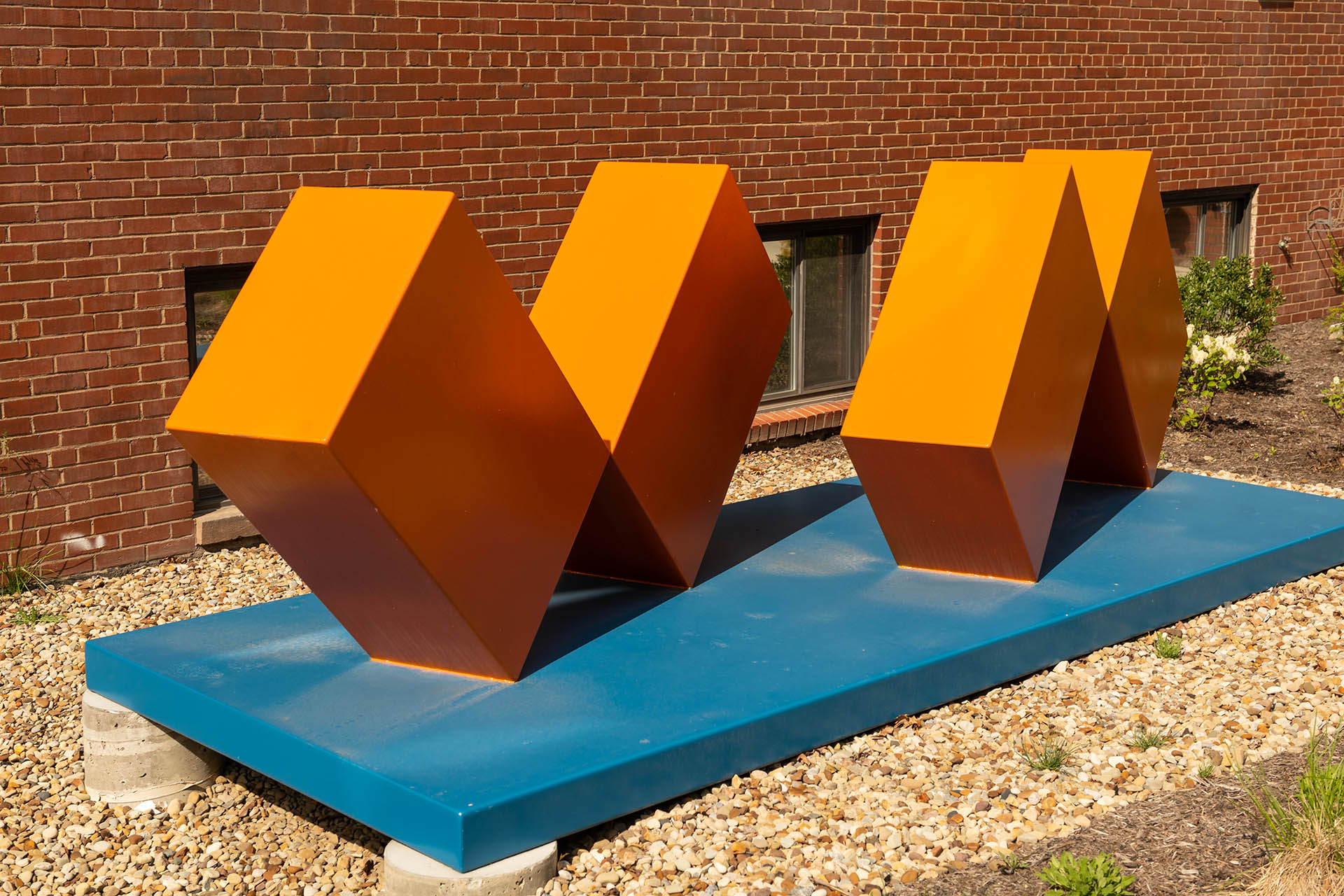 "For The Love of Two Oranges"
Artist: Clark Winter
Four orange rectangular blocks and the resulting parallelograms and triangles that they enclose capture the viewer's eye along Fifth Avenue against the backdrop of Fifth Neville Apartments. The statue, created by former Professor Clark Winter, was recently renovated and has moved locations over the years. Learn about its restoration.
Looking for More Art?
CMU is home to the Miller Institute for Contemporary Art and the Hunt Institute for Botanical Documentation. Learn more about each organization.
The Hunt Institute, on the fifth floor of Hunt Library, houses a collection of 438 artworks by Anne Ophelia Todd Dowden, who graduated from CMU in 1930, which includes this watercolor of Eglantine (sweet-briar), Musk-rose (trailing rose), Woodbine (honeysuckle).
The Miller ICA at Carnegie Mellon University will present the first major monographic survey of Jacolby Satterwhite's wide-ranging practice Aug. 14 to Dec. 5. Curated by Elizabeth Chodos, "Spirits Roaming on the Earth" traces 10 years of Satterwhite's panoramic oeuvre, cataloging his evolution as an artist and exploring his creative lifeworld.