May 14, 2021
Light as Language
By Heidi Opdyke opdyke(through)andrew.cmu.edu
Media Inquiries
Pam Wigley
Aaron Aupperlee
School of Computer Science
On a chilly May night, snowflakes sparkled on the Randy Pausch Memorial Bridge near the heart of Carnegie Mellon University's Pittsburgh campus.
The wintry scene wasn't caused by unseasonably cool weather. Rather, Victor Huang, a sophomore in computer science and human-computer interaction, digitally created the effect in the minicourse "Interaction and Expression using the Pausch Bridge Lighting."
Huang first learned about Pausch, the late professor of computer science, author of "The Last Lecture" and co-founder of the Entertainment Technology Center, as a high school student in Singapore.
"I knew about CMU because of Randy Pausch," said Huang, "I wrote about it in my admission essay. I had an amazing school counselor who showed 'The Last Lecture.'"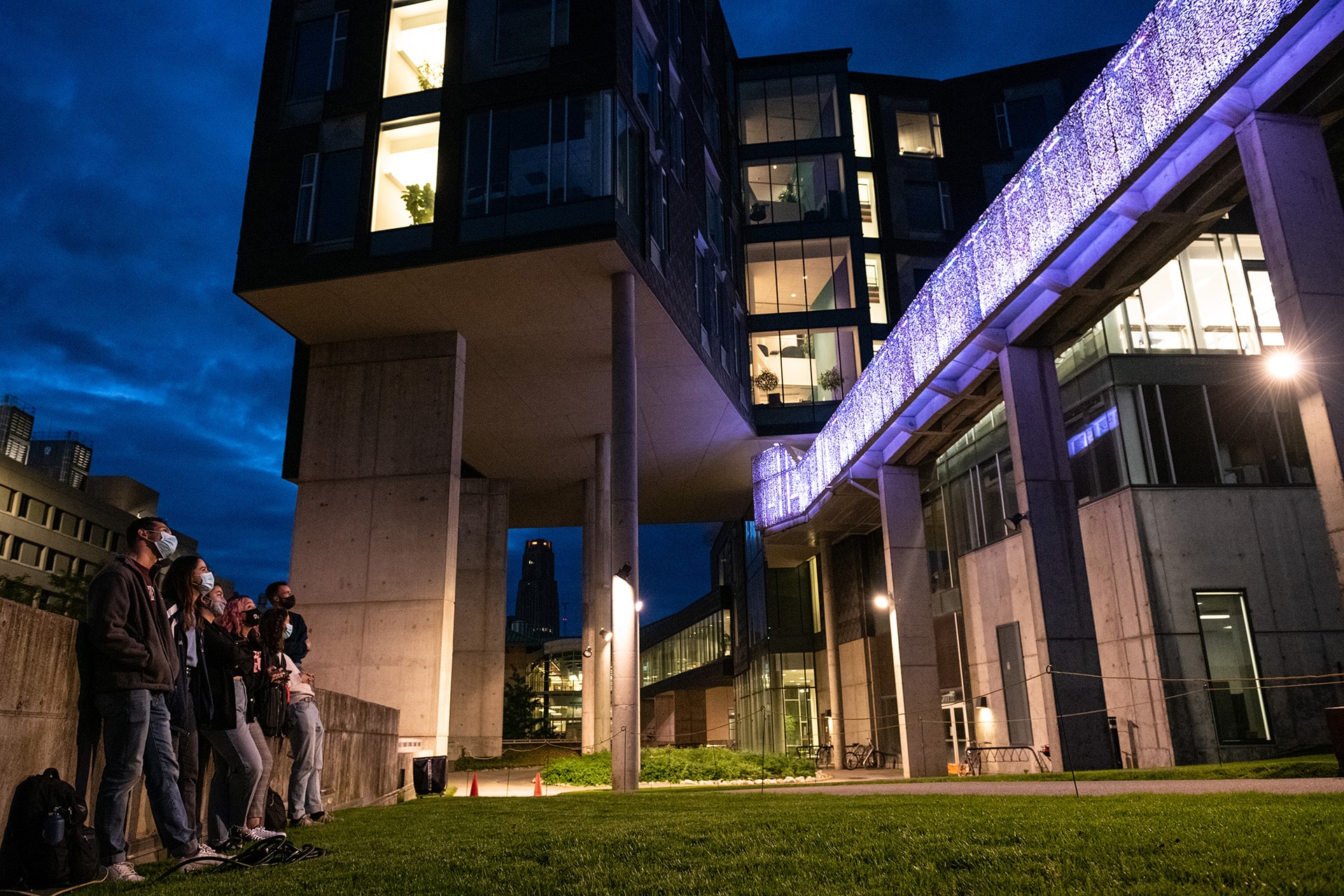 From left, David Cohen, Fernanda Wenzel, Julianne Tippett, 

Claudia Osorio

, Marissa McAfee, Douglas Gearhart and Ian Thomas watch student-created light shows displayed on the Pausch Bridge on May 6. The sequences were designed as part of a class.
Pausch encouraged computer scientists and artists to work together, and the 230-foot-long bridge, which connects the Gates Center for Computer Science and the Purnell Center for the Arts, is a monument to his legacy. The bridge is lit by more than 7,000 programmable LED lights.
This is the 10th time a bridge lighting course has been taught. Working on cross-disciplinary teams, students explore light as art, interactive design and programming using a Pharos lighting control system, the type employed on the Pausch Bridge.
"I had heard about this magical class that allows you to program the bridge," Huang said. "There is a huge interdisciplinary culture here where computer science can be melded together with aspects of the arts. I came to CMU for experiences like this."
"I'm drawn to light because, I believe, it is a living breathing thing! There are stories embedded in every single lighting choice." — Matt Weisgable
Cindy Limauro is a University Professor of Lighting Design who has worked on the bridge since its beginning. She and her husband, Christopher Popowich, designed the lighting system and created the first light show, which was inspired by visual metaphors from Pausch's lecture and book. She's been involved in all of the bridge lighting courses. This year's course is co-taught with Garth Zeglin, an IDeATe Network instructor based in the Robotics Institute.
Limauro said the Pausch Bridge is like the Fence of the 21st century, referencing CMU's unofficial university billboard that students paint at night with a variety of messages.
"Students can paint the bridge with light," she said. The 26 students in this semester's six-week course, held virtually for the first time, came from disciplines such as computer science, engineering and drama.

Inspired by Antonio Vivaldi's "Four Seasons," one team added large speakers borrowed from CMU's Activities Board Technical Committee to play the song as the bridge lights danced. "The challenge was synching up the audio and the visual component of the lighting," said Nick Pollock, a senior studying lighting design in the School of Drama. To solve the problem, Zeglin developed a special piece of software to allow the bridge software to send out information to an internet radio that could be picked up by the computer controlling the speakers. "It was an incredible learning opportunity to be able to experience this creative coding application that was not part of my professional practice and to lean on the experience of some of the CS students in the course," Pollock said. "The implementation was fascinating."
Last year, as the CMU community responded to the coronavirus pandemic, Limauro's light show paused to reflect the subdued tone of campus. Zeglin composed a new one-minute show in January to learn the controls as well as create a starting point for lighting the bridge once again. He followed it up with a five-minute show as part of SCS Day celebrations in the School of Computer Science in February.
"We wanted to start gently to reflect the slow return to campus by having this architectural feature slowly resume its own life," Zeglin said.
Huang's group, which included Ying Yee Wong, Yumi Sato and Hesper Yin, all undergraduates in the School of Computer Science; and Nish Nilakantan, a sophomore in the College of Engineering, created their 13-minute presentation to follow the path of an ordinary farmer becoming a hero to save his love from a dragon. Huang's snowflakes represented the protagonist pushing through a snowy landscape.
Limauro teaches both theatrical and architectural lighting design courses.
"There are many top architectural lighting designers who studied theatrical lighting and transitioned to public spaces," she said. "When you are lighting a play, it's all about creating the world of the characters so you need to think of the people first. When you are lighting a building, you also need to think about people and how the lighting will not only be used for tasks but how it creates mood and impacts quality of life in the space."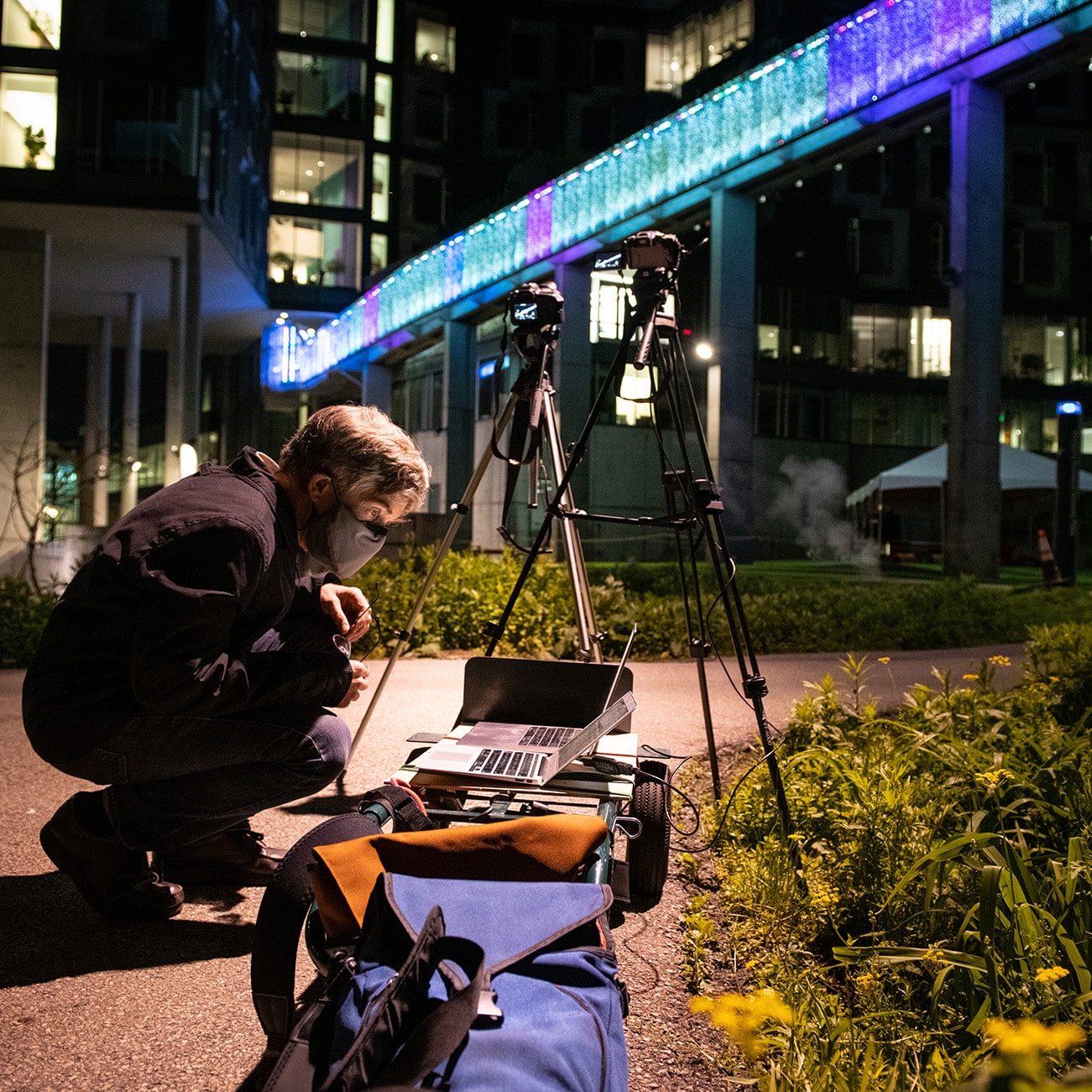 Garth Zeglin checks a computer as a student show lights the Pausch Bridge.
Matthew Weisgable came to CMU as a graduate student to study architectural lighting design as well as continue to broaden his knowledge in theatrical lighting design.
"People view light as inanimate! We expect it to be there," Weisgable said. "I'm drawn to light because, I believe, it is a living breathing thing! There are stories embedded in every single lighting choice."
The class, which wrapped up in early May, did most of their work with specialized lighting programs.

Students used Pharos, a lighting design program, to plan their bridge light shows. At left shows the design that was used to create the scene on the right.
"The programming system gives them a pretty abstract view of how designs will look," Zeglin said. "They can perceive color, tempo and general form. But when you actually see the bridge in person it's a very three-dimensional structure. Depending on the viewing angle, the way the light interacts with those cut-out panels will give subtly different appearances at different moments."
Zeglin livestreamed all of the final presentations so remote students could see their work play on the structure. Weisgable was one of a number of students who were able to see the presentations in person. His group used global warming as their theme and created imagery to represent elements such as sunrises, forest fires, floods and meadows.
"There were a lot of people walking on the bridge, And the lights would appear to be pushing them up the bridge like wind. It was very breathtaking to see," he said.
Zeglin and Limauro aim to run the course again next spring to let a new class of technologists and artists work together.
"It's unlikely most of the students will ever use a Pharos lighting controller again, but the specifics of the technology are not the point," he said. "It's about learning how to be both an artist and engineer and making sure that students are fully engaging their conceptual, visual and rhythmic selves to think through each new composition."