February 12, 2019
Mural Embodies Collaborative Spirit of CMU
By Kelly Saavedra ksaavedra(through)cmu.edu
Marriage has become the ultimate collaboration — in art and in life — for Carnegie Mellon University architecture professors Stefani Danes and Doug Cooper.

Playing off each other's preferred art mediums — Danes enjoys working with fabric while Cooper draws primarily in charcoal — the husband and wife team began sketching out their ideas for a mural on campus whose theme would explore different ways in which knowledge and community are built through collaboration.

The result is a richly woven tapestry of Carnegie Mellon stories that respect where we've been, show where we are and hint at where we are going.



"We call this mural 'The Collaborative Campus,' and that sums up something we felt is so characteristic of Carnegie Mellon, not just in the present day, but it really goes back to its early history," Cooper said. "It's always been a place where people have gotten somewhere in their lives by working together."

The mural, composed of alternating panels of drawing and fabric on fiberboard, is installed outside Simmons Auditorium in the Tepper Building. Colored fabric columns create an abstract structure for a multitude of campus scenes as they transition from one seam to another.
The scenes are visually grounded in the Tepper Building, yet they reach out toward endless possibilities between the university's colleges and schools and beyond to the surrounding community.

"Whether it's people in Pittsburgh, or Qatar, or Africa, it's reminding us that this collaborative campus really belongs to a larger collaborative community," Danes said.

The first of the mural's four main panels is set in the College of Fine Arts, where Herb Simon and Allen Newell are engaged in a game of chess as a way of exploring the cognitive strategies of expert players. In the background, statues sport augmented reality headsets while the award-winning rescue robot CHIMP crawls up the steps.

"We took the idea of place as the setting for collaboration but stretched that idea across campus and suggest some surprising ways in which you sometimes find collaboration where you don't expect it," Danes said.

And it's not just academic collaborations that are depicted. Maintenance workers and food preparers also can be found in the mural, as Cooper acknowledges the many people behind the scenes who keep the campus running smoothly.

"This place doesn't just hum along by itself," Cooper said. "There's a tremendous number of people behind the scenes who have to work together effectively for this place to continue being itself."
A repeating motif in the mural resembles a connected line of dancers. It is Danes' abstract take on neurons in cells and the synapses that connect and communicate information.

"You can interpret it in a number of different ways, and you'll find that we set it up as the foundation that holds the whole composition together along the bottom — sometimes in fabric, sometimes in drawing — but you'll also find it dancing through the whole mural," she said.

From networking to NREC to Tartan traditions to a performance of "The Magic Flute" in the Gates Building atrium, the mural overflows with imaginative ways to connect.

"The ways that people find to work together here are open to everybody's imagination, and suggest maybe there are new ways that we haven't even thought of," Danes said.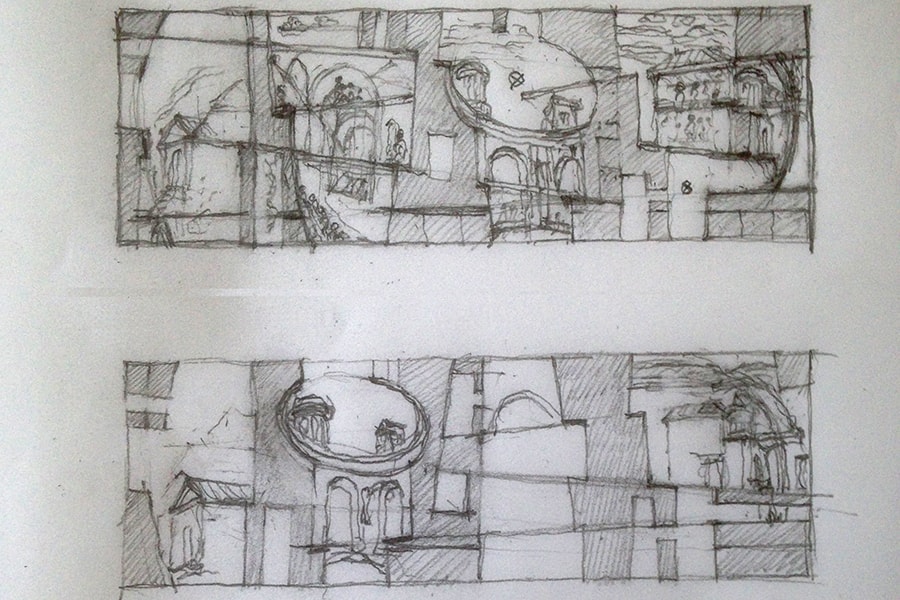 Cooper and Danes began sketching out their ideas for "The Collaborative Campus" mural in the spring of 2018.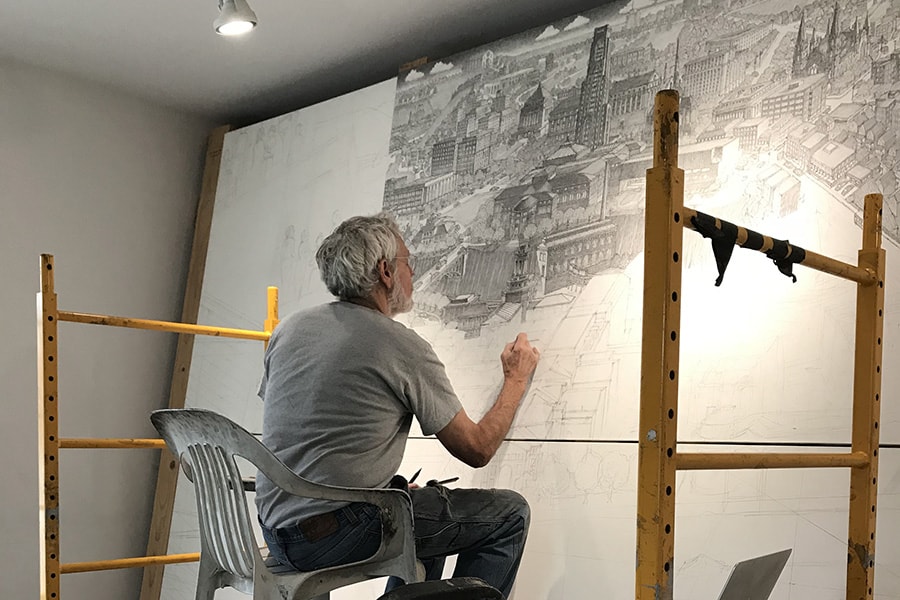 Cooper drew everything in pencil first. Then he went over his drawing with charcoal, filling in tones and details.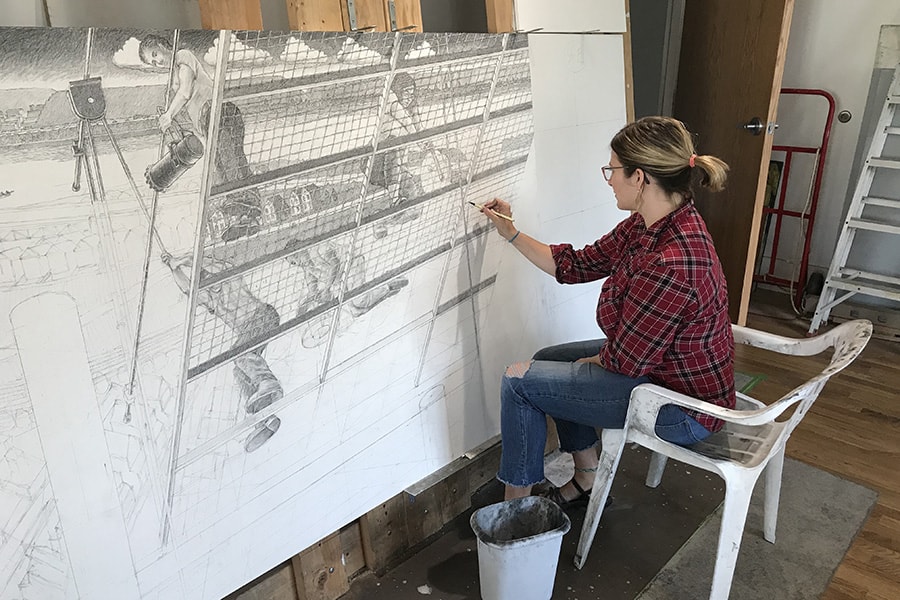 In order to complete the mural by the established deadline, Cooper enlisted the help of Adryan Miller-Gorder, a set design student in the School of Drama, who created most of the figures appearing in the mural.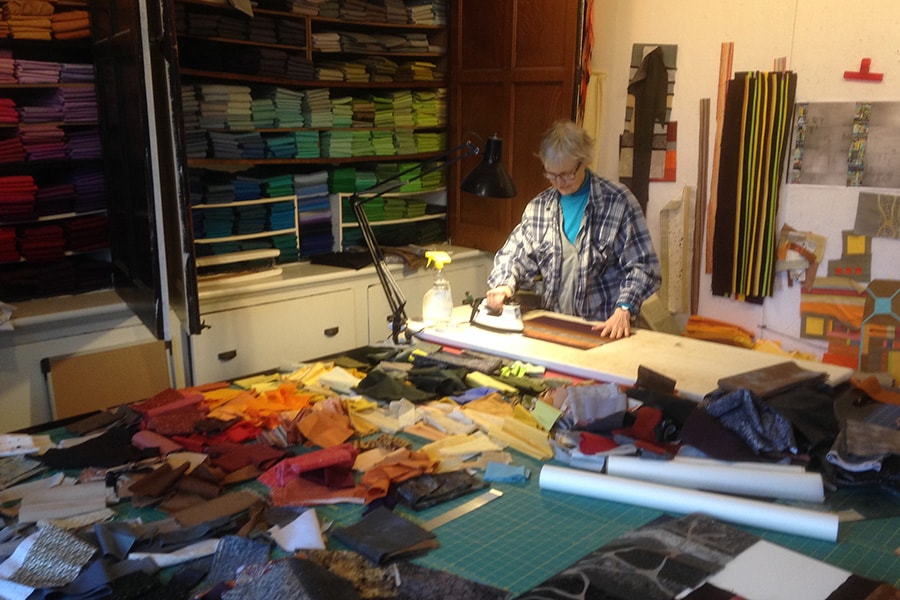 Once Cooper completed his initial outline, he was able to give Danes the reference points she needed to design a fabric panel that would line up with each drawing panel and match with regard to light and dark tones.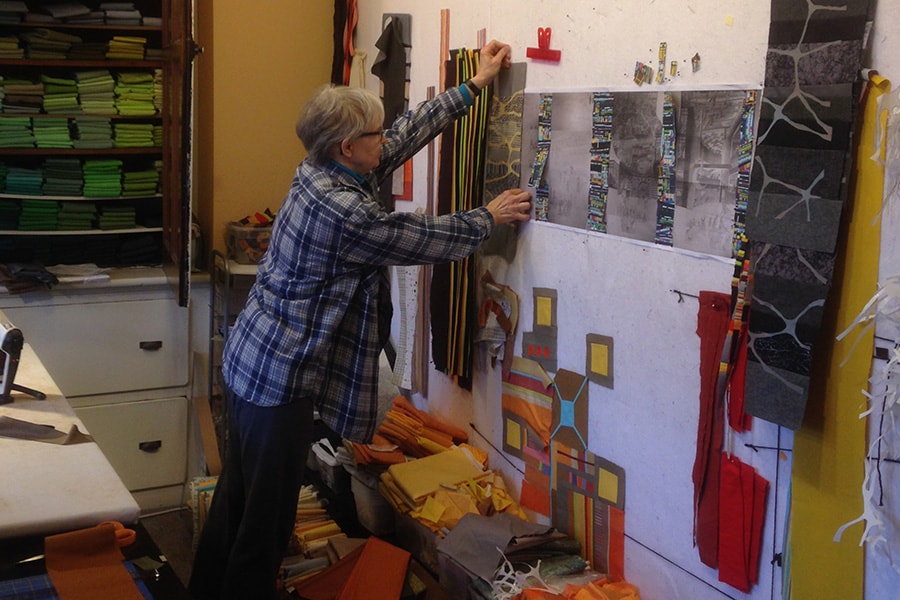 Danes makes adjustments to her designs for the mural in her home studio.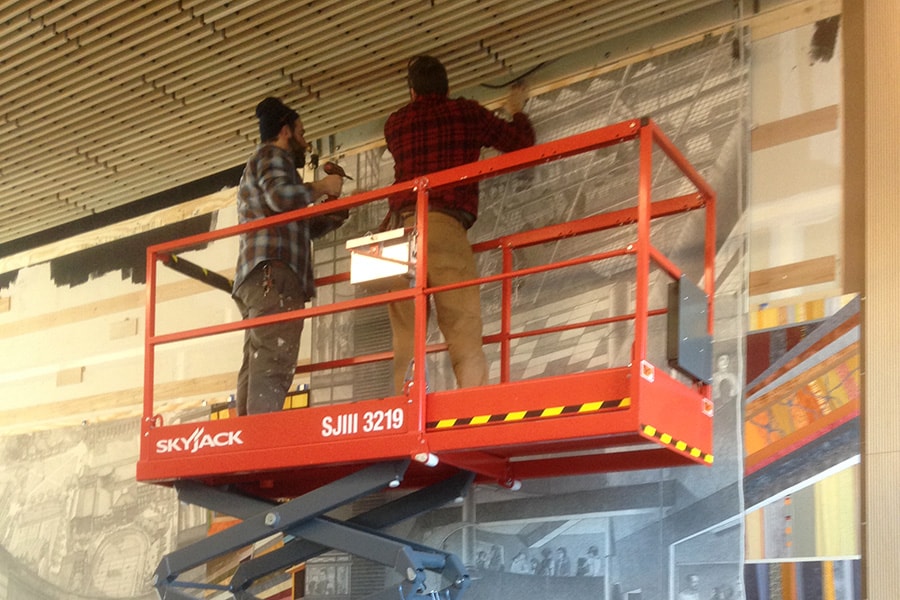 A scissors lift was used to raise and install the large, heavy panels.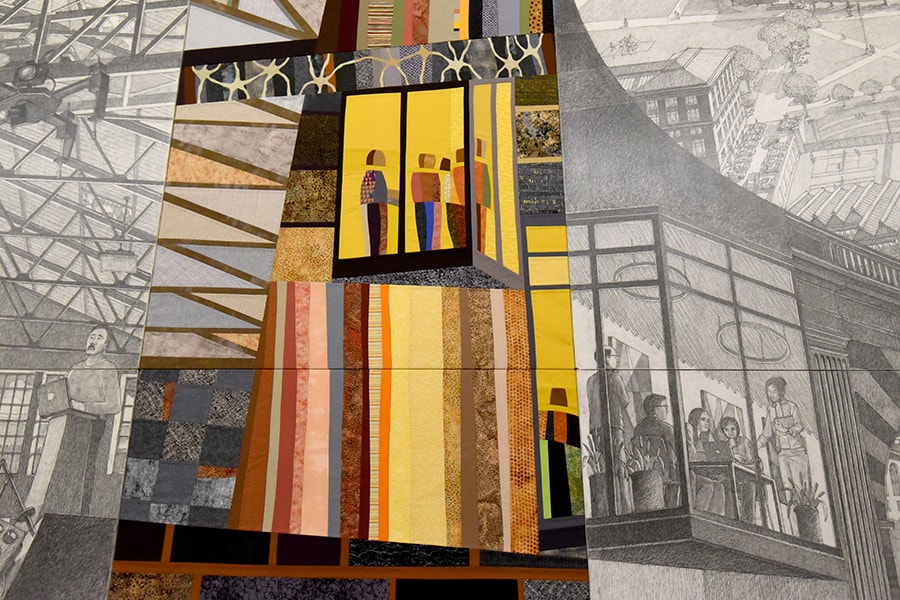 A closeup view of the mural shows the fluidity of the design as it crosses a seam between the fabric and drawing panels.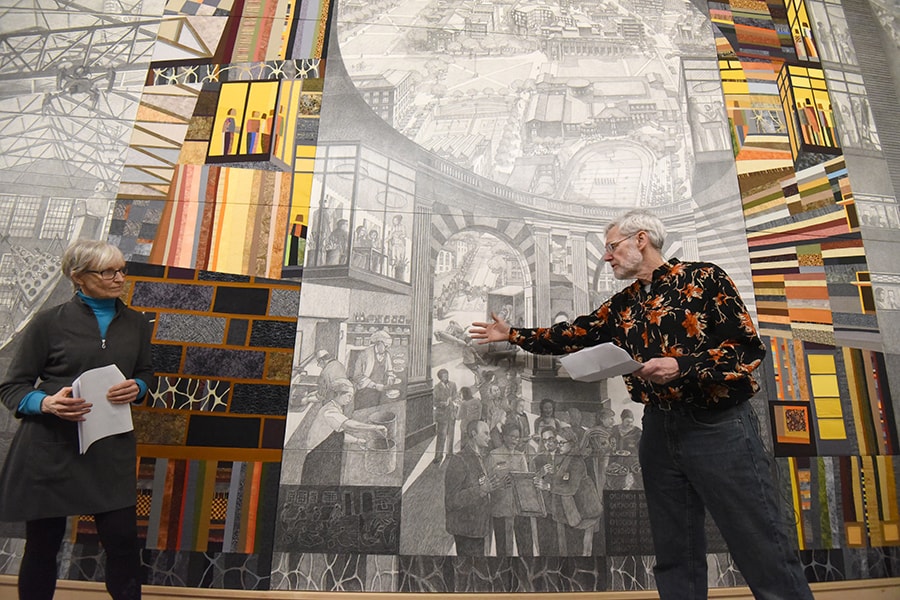 Danes and Cooper draw attention to various features of the mural during a recent talk.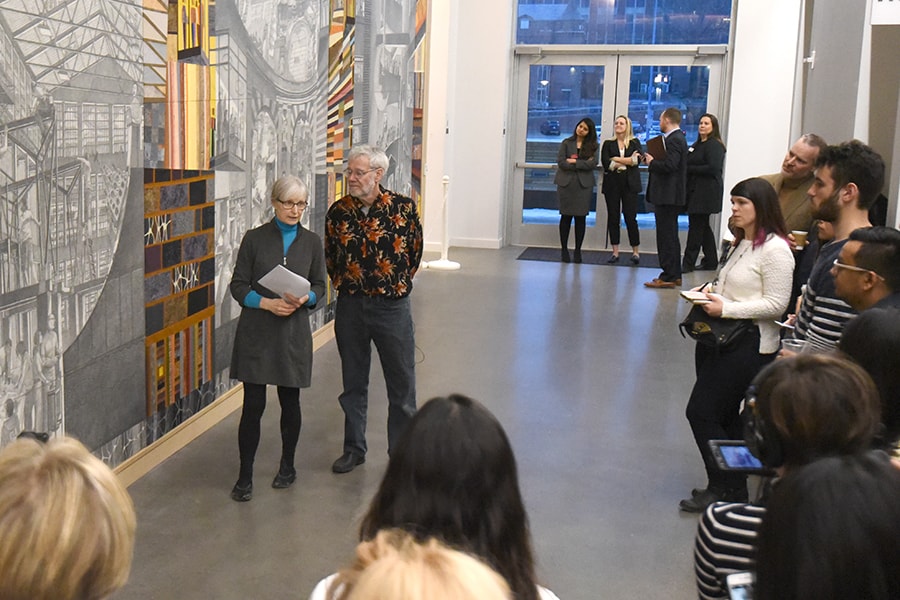 Student ambassadors, who assist visitors to Carnegie Mellon in the Coulter Welcome Center, gather around Danes and Cooper to learn about the mural.