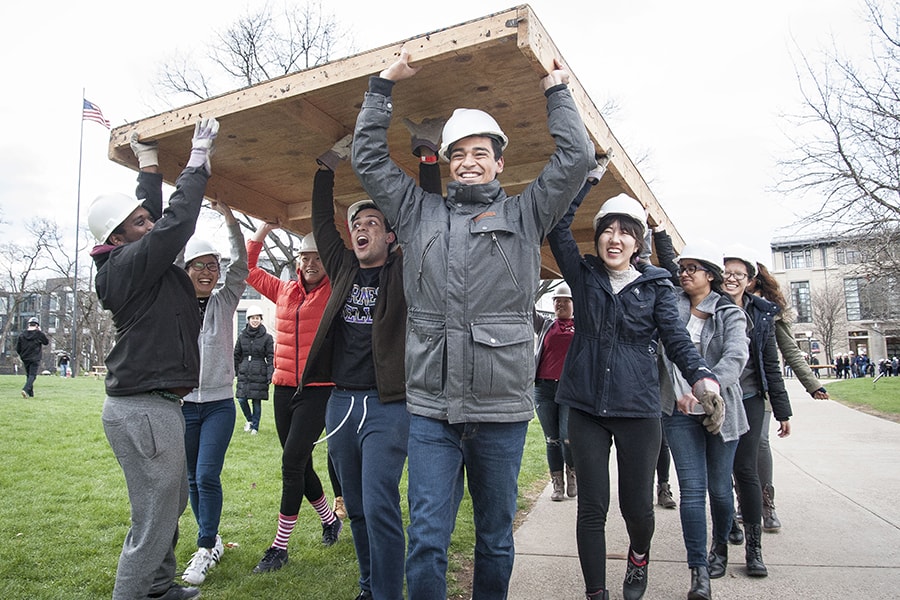 August 07, 2017
Five Projects Selected To UPLift Campus Life
Media Inquiries
Abby Simmons
Marketing & Communications
The selected projects from Carnegie Mellon University's inaugural UPLift Challenge will offer ways to help the Pittsburgh campus community have fun, relax and recharge.
Last spring, the Task Force on the CMU Experience invited students, faculty and staff to submit creative ideas to make common spaces more engaging, collaborative and fun. The term UPLift refers to University Place-making, or the idea that the right kind of physical spaces can meaningfully influence community and culture. Proposals were encouraged to align with three overarching themes: Health and Wellness; Crossroads of the Mind; and Recognizably CMU.
"The UPLift Challenge celebrates the power of our community to suggest meaningful placemaking projects that benefit the entire campus," said Interim President Farnam Jahanian. "Each of these winning proposals reflects the thoughtful creativity that defines a CMU problem-solver."
A faculty-staff-student committee selected five ideas from among the 59 proposals to be funded and implemented by the university during the 2017-2018 academic year. The committee included representation from the Campus Infrastructure working group of the Task Force on the CMU Experience, including co-chairs Kristen Kurland, faculty in the College of Fine Arts and Heinz College, and Marsha Lovett, director of the Eberly Center for Teaching Excellence and Educational Innovation.
"We've made a lot of big infrastructure investments on our campus, but I think UPLift is a wonderful example of how we can do a lot with a little and really impact the day-to-day experience on our campus," said Daragh Byrne, assistant teaching professor of architecture who spearheaded the UPLift project as a member of the Campus Infrastructure working group.
The selected projects are:
"Dodo" Hammock Cluster and Nap Map
School of Architecture Assistant Professor Stefan Gruber and Master of Urban Design students Yidan Gong and Chun Zhen proposed a dedicated space for outdoor naps. Inspired by the French word for nap, "dodo," this project will install a cluster of hammocks in a common outdoor space on campus. A corresponding Nap Map also will be developed to highlight the best spaces on campus to catch some shut-eye.
Enhancement of Gates Outdoor Space
UPLift will enhance the seating area for the outdoor space east of the Gates Center, adding new benches and an outdoor grill to create more opportunities for community gatherings. This project complements planned renovations to the existing volleyball court outside Gates, which the School of Computer Science Dean's Office will resurface to create a more resilient playing area. This effort was proposed by Angela Lusk, program director of Student Affairs Wellness Initiatives; Elizabeth Rappaport, associate director of Student Activities; and James Skees, director of building facilities for the School of Computer Science.
Games for Health
Proposed by School of Design students Michael Arnold Mages and Francis Carter, Games for Health involves a series of playful, strategically placed "micro-intervention" signs throughout campus to share healthy tips and exercise and wellness activities. Signs, games and designated healthy lifestyle zones aim to encourage students and staff to participate in playful activities that allow them to practice active living, relieve stress or become more attuned to their bodies and sense of self.
Campus Swingset
Proposed by recent computer science graduate Ariana Weinstock, a swing set uniquely designed for the Carnegie Mellon campus will be added to the lawn space behind Donner Hall, known as "Donner Ditch," for anyone who wants to pick up their feet and relive playground childhood moments.
Wean Stairwell Installation
Proposed by Geoffrey McGovern, a lecturer in the Institute for Politics and Strategy, a creative light display will be installed in the stairwell between the fourth and fifth floors in Wean Hall. As a study in color theory, the 40 color-changing tubes will present a continuous pattern that reveals itself as visitors use the stairwell. This renovation will improve this busy corridor, while creating a conversation piece.
These grassroots initiatives complement other projects to improve the Pittsburgh campus, including the recently announced learning spaces renovation project, the transformation of the Sorrells Library last spring, and the addition of 25 colorful Adirondack chairs donated by the Osher Lifelong Learning Institute in celebration of its 25th anniversary.
The UPLift Challenge is dedicated to the work of the late University Professor Larry Cartwright, who worked with civil and environmental engineering students to enhance the student experience and Pittsburgh campus through various building projects.
The next round of the UPLift Challenge will be announced in the coming months.