May 26, 2020
The Pittsburgh Packers
CMU staff members spend month packing belongings for students
By Jason Maderer
Media Inquiries
Jason Maderer
Marketing & Communications
Jaime Rzepecki moved every year as a student at the University of Pittsburgh. Dorm to dorm. Apartment to apartment.
Several years later, she finds herself back in a residence hall, loading up boxes, surrounded by clothes, books and personal items. Except this time, none of them is hers.
Rzepecki, an assistant director of conference and event services, is one of nearly 50 Carnegie Mellon University staff members volunteering to pack up residence halls for students who can't return to campus. The group of workers, who represent numerous divisions, are emptying more than 500 rooms throughout the month.
"It feels really good to be a part of something bigger than ourselves, which is the main reason I and a lot of other people work in higher education," said Rzepecki. "I don't typically interact much with students during my regular job, so it's nice to immerse myself into their world. It's also a bit nostalgic."
Many students couldn't or didn't make it back to Pittsburgh after Carnegie Mellon announced during spring break that remote instruction would continue through the remainder of the semester. Their rooms have remained untouched for more than two months.
Now the semester is finished. Some of the students have indicated they plan to return for their belongings in the next few weeks. But for various reasons — mostly because of distance — about half cannot.
At the end of April, Housing & Residential Education emailed the campus community in Pittsburgh for help. Carnegie Mellon staff was needed to help box up personal items that would either be shipped to students' homes or held in storage until the fall semester.
"I remember our team looking at each other after spring break and saying 'this is going to be interesting,'" said Louis McCauley, Carnegie Mellon's director of facilities for Housing Services. "But we received an outpouring of support from the CMU community and things have run very smoothly."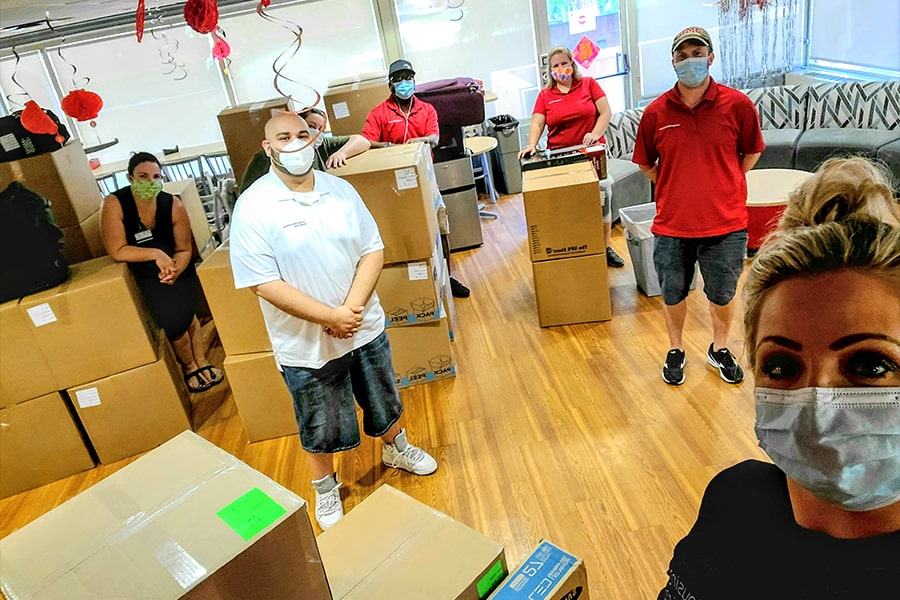 A team of Housing Services and Residential Education staff members oversee the group of 50 packers.
The masked, packing populace has been at it since May 13, social distancing its way through various residence halls and fraternity and sorority houses. Each daily shift includes 20 packers and four Department of Student Affairs supervisors. Workers call or Zoom with the student while in the room, learning what he or she wants in storage or sent home.
"Some students are very emotionally attached to their clothes," said Tera Monroe, associate dean of Student Affairs and director of Residential Education. "They want specific sweatpants shipped back to them — their most comfortable sweatpants. Or they need summer gear because they left in March and didn't expect to stay home until August."
As for the things students don't want, Housing Services is doing its best to set aside items such as fans, linens and appliances so they can be donated and reused. Unopened food items and toiletries are going to the CMU Food Pantry.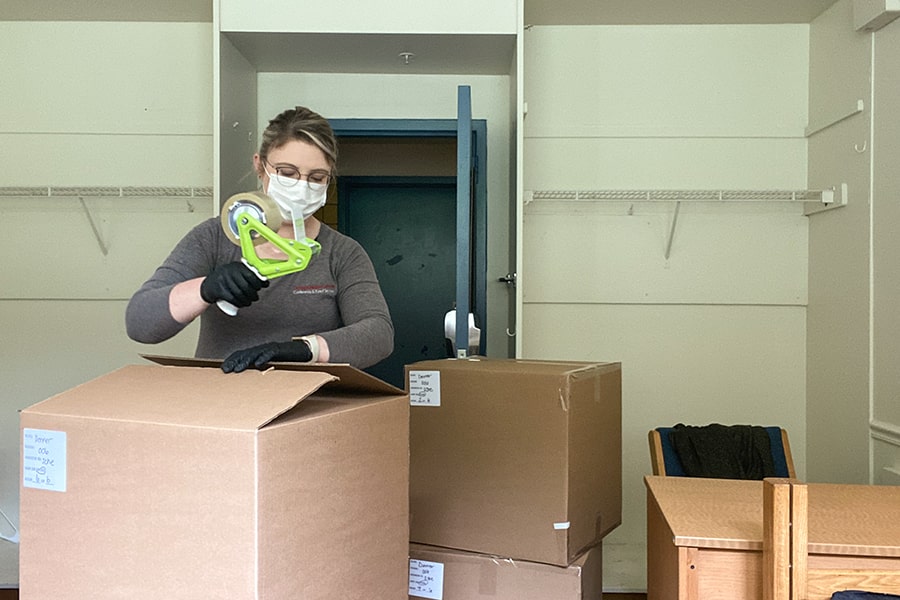 Jaime Rzepecki seals boxes that will be shipped or stored, depending on the students' requests.
During her normal job, Ruth Ann Maloney preps labs for students in the Mellon College of Science Department of Biological Sciences. Like everyone else, the pandemic forced her to go home. She spent six weeks at her computer developing prep sheets and going over manuals before getting the Housing email. While volunteers were required to commit to a minimum of three shifts, Maloney got permission from her supervisor to sign up for 11. She's working every day.
"We're here for the students. That's what drives us all." — Perry Cansick
"I'm a workhorse. I like to keep busy," Maloney said. "I'm physically drained at the end of every shift because we're walking up and down stairs, moving around rooms. I'm definitely going to bed earlier since starting this project, but it's been a wonderful experience."
Staff are typically boxing up the belongings of three people per day. For students coming back in the fall, it could be a box or two shipped home. A graduate, however, might need everything. One worker had to pack 35.
Thomas Rainey is a Housefellow for Mudge House and has worked every shift this month. He packed 27 boxes in one room, and learned a bit about fashion in another.
"One student was trying to figure out what they would wear this summer, so I pointed my camera into their closet as we Zoomed and they selected specific outfits to have shipped back home," said Rainey, coordinator of residential housing. "The students I've spoken to have been very grateful. At the same time, these three weeks have reinvigorated me and reinforced the many reasons why I work at Carnegie Mellon. It's been a cathartic experience."
"At CMU, we've very much like a family, heavily invested in the lives and academics of our students," said Assistant Director of Facilities Perry Cansick, who is building the packing schedules and overseeing the supervisors. "People just want to help, so we roll up our sleeves to get the job done. We're here for the students. That's what drives us all."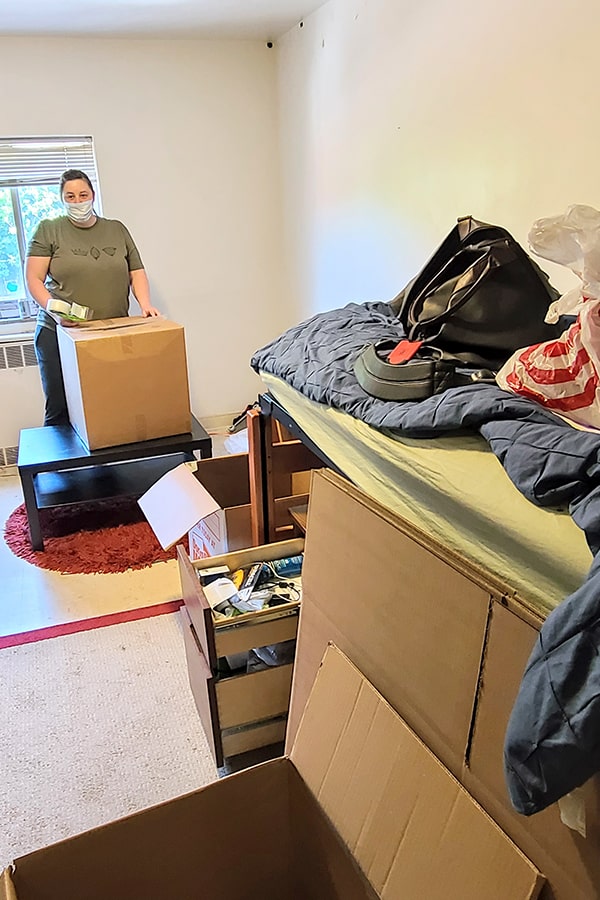 Kristine Kengor is a Housefellow of Stever House. This month she is supervising volunteer packers.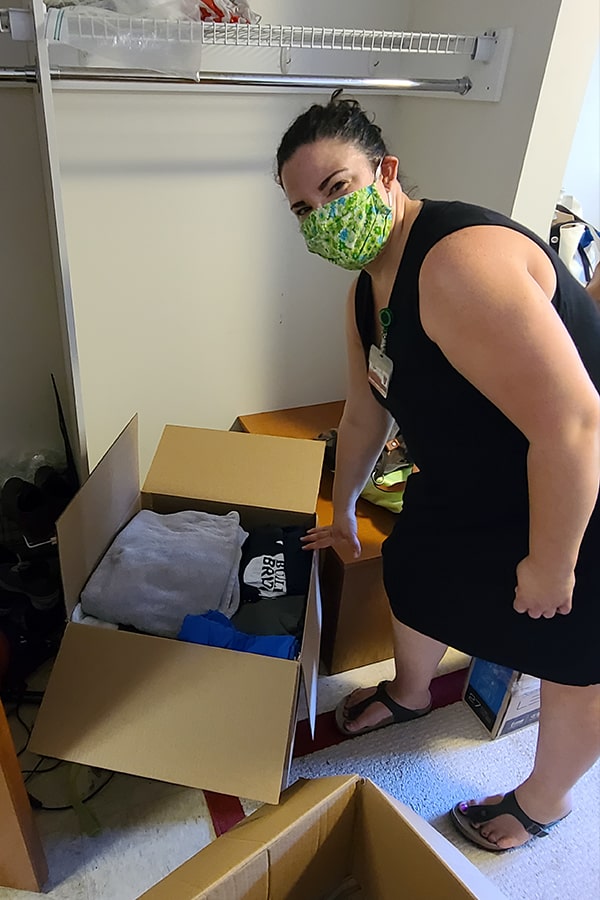 Tera Monroe is the director of residential education and one of the packing supervisors.