May 27, 2020
Desire to Serve Students Sends Zingle Packing
By Kelly Saavedra ksaavedra(through)cmu.edu
Donning a face mask and armed with a packing tape dispenser, Shari Zingle ventured out of her home office to tackle a project in her comfort zone.
As an executive assistant at Carnegie Mellon University, Zingle's primary responsibility is to support all things related to the ever-competing demands of the vice president for Student Affairs and dean of students, namely managing Gina Casalegno's schedule and helping her with her many efforts in support of the student experience.
But when volunteers were needed to pack the belongings of hundreds of students who were not able to return to campus due to the pandemic, Zingle was ready. Having lived in 14 different houses in five different states, she has packing down to an orderly science.
"Especially in these times, I think we all want to help where we can," Zingle said. "Our Student Affairs culture lends itself to an all-hands-on-deck mentality and willingness to do whatever it takes when it comes to serving students."
For the most part, however, work for Zingle has been business-as-usual in a world that is no longer business-as-usual.
"Most communication is as quick and as efficient as in the office. Where we used to run in and out of colleagues' offices, we now Zoom, Slack, Jabber, phone, text or email," she said. "It's not the same as someone plopping down in the chair next to your desk for a session of laughing or commiserating. I am definitely missing the in-person connections with my work family and can't wait to hug everybody when social distancing is over."
In some of her more recent work interactions, Zingle said, a number of people have been remarking on the heightened sense of gratitude they are experiencing these days.
"Gratitude was something so easily pushed aside in the busy day-to-day life before the pandemic," she said. "To watch what's happening in the world and to see so many struggling and in need right now, it's been like a personal recharge to see the good in our lives."
Having a place in the CMU community and working alongside Casalegno, who "leads with her huge heart," rank high on Zingle's gratitude list. From the pandemic's onset, she has indirectly observed university leadership and her Student Affairs colleagues skillfully navigate their way through a deluge of challenges as each government guideline generated a new university protocol.
She was impressed with how quickly her colleagues laid the groundwork for faculty to teach remotely, for staff to work from home, and all while having to make numerous critical decisions pertaining to the path forward and students' well-being.
"We have no idea what it's going to look like on the other side, but I know we are in good hands," she said.
Zingle came to CMU eight years ago from the Boston area, where she worked in Academic Services at Brandeis University. She received her bachelor's degree in communications and journalism from Penn State and her master's degree in sociology from Brandeis.
Outside of work, she loves reading, travel, walking while listening to her favorite tunes and is a huge fan of musicals. She and her husband, Roger, enjoy visits with their two grown children and going to movies, concerts and the theater.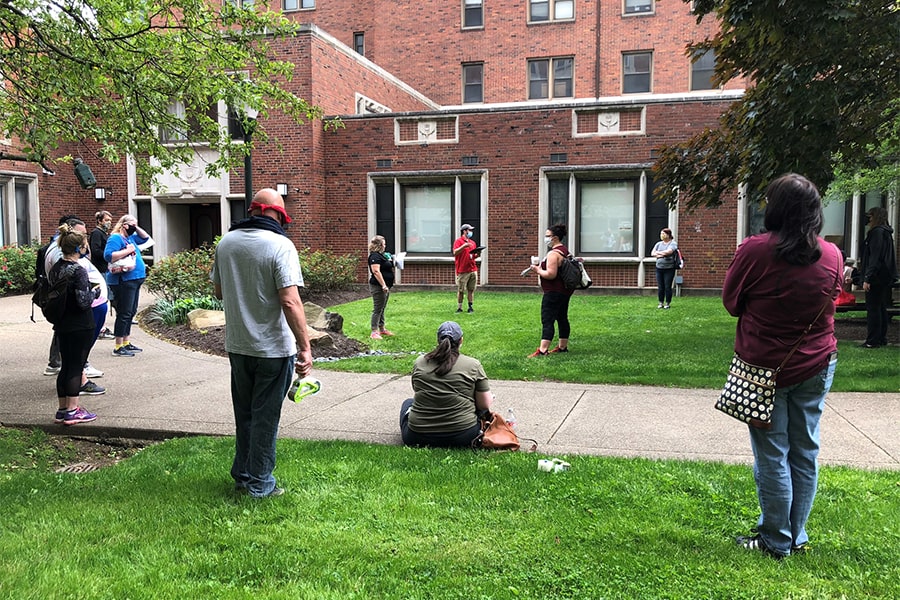 Volunteers from the campus community who offered to help pack students' belongings await their instructions outside Morewood Gardens.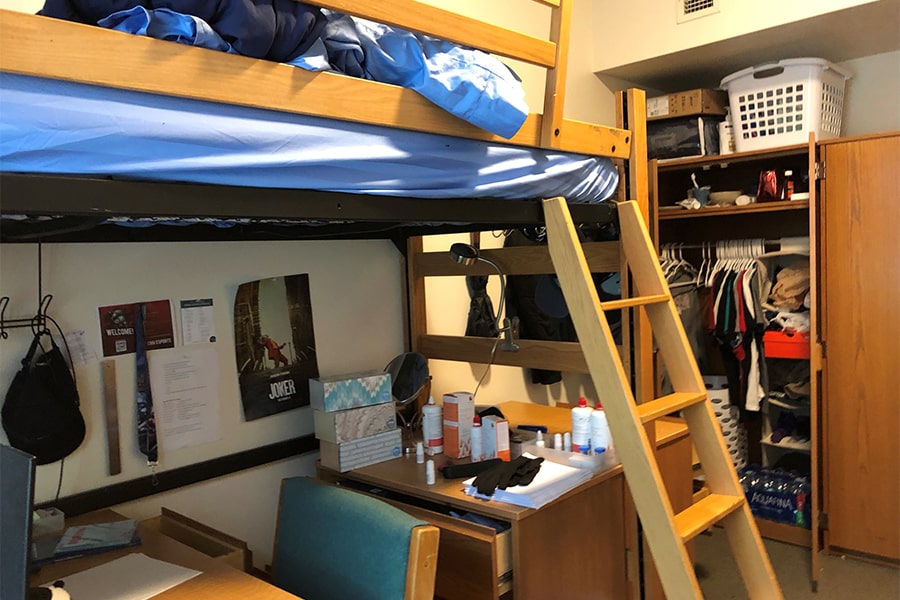 Students' rooms were just as they left them when they departed for Spring Break in March, unaware they would not return to campus to finish the semester.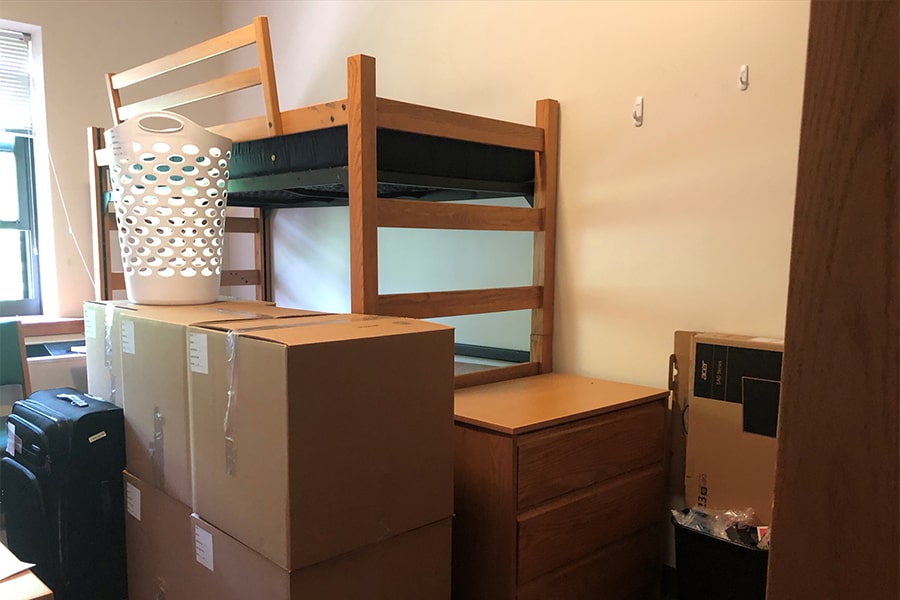 Students will have some belongings sent to them to use over the summer per their request, while the rest will be placed in storage until fall semester.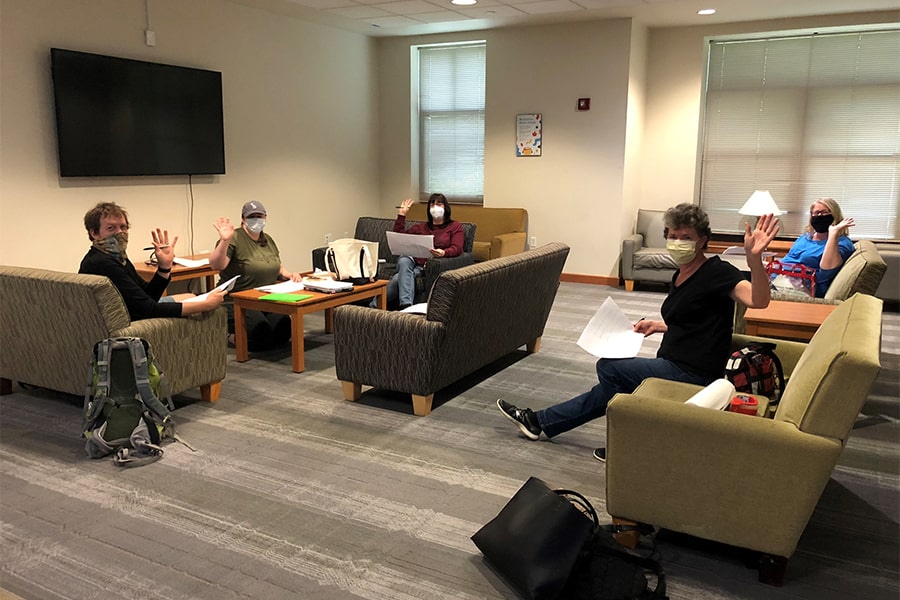 Volunteers wait for instructions before heading off to pack belongings for residents of Stever House.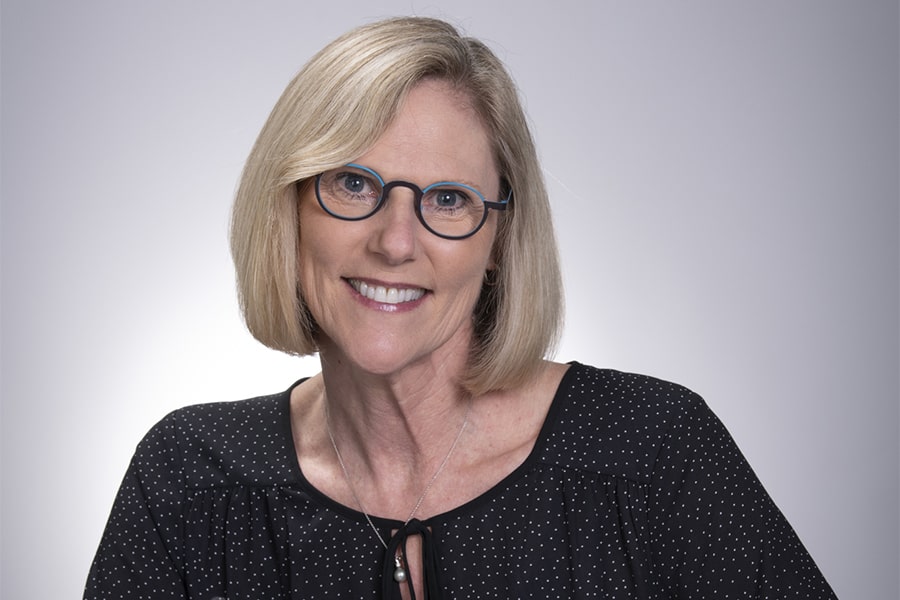 Shari Zingle (pictured) says her work as executive assistant to Vice President of Student Affairs and Dean of Students Gina Casalegno has remained business-as-usual in a world that is no longer business-as-usual.