January 29, 2020
One Million Minutes Meditated
By Katy Rank Lev klev(through)andrew.cmu.edu
Media Inquiries
Angela Lusk
Julie Mattera
Marketing and Communications
Morgan Boddorf always wanted to complete a triathlon. Until she started the Headspace sports training meditation course, she never quite managed to reach her goal.
In 2018, Carnegie Mellon University began to offer Headspace for free to all faculty, staff and students in the community. Boddorf, assistant director of Student Financial Aid, enrolled, and hasn't looked back.
"I realized that if I wanted to be serious about my goal, then I needed to be intentional," Boddorf said. She started with 12-minute meditation sessions about staying present and becoming more aware of her thoughts. "I learned to combine the physical aspect of my training with the emotional and mental stamina I still needed to develop."
She completed her triathlon in August of 2019, but stuck with the daily meditations along with her daily runs. She said, "Headspace helped me achieve so many of my goals. I feel like I'm a better employee now, too—my runs help me find clarity to complete my work."
CMU Tartans rely on the calming voice of Headspace founder Andy Puddicombe to fall asleep, eat mindfully and prepare for exams. Since the partnership began, over 4,000 users from Pittsburgh, Doha and Silicon Valley locations have completed over 90,000 sessions, and the Tartan community has just reached an impressive milestone: one million minutes meditated.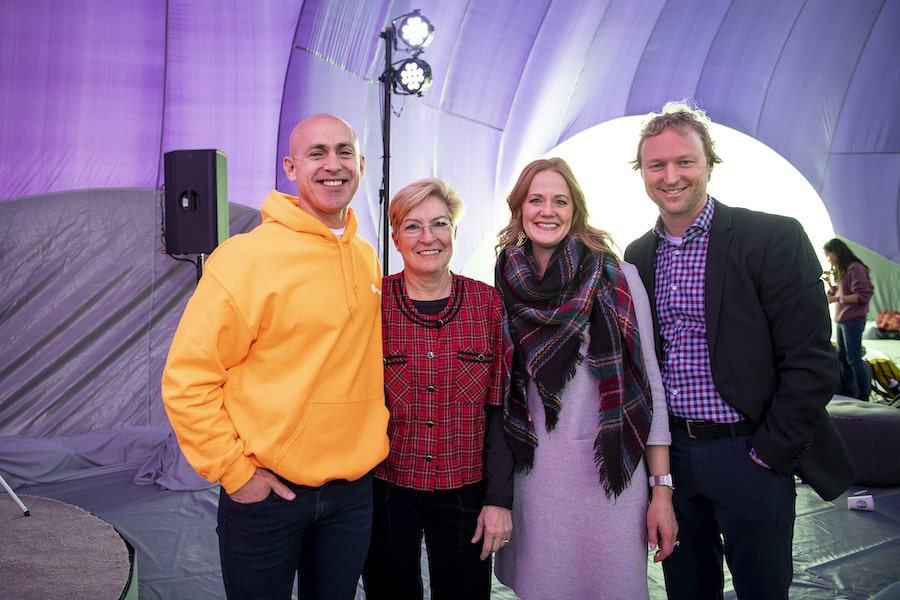 Headspace selected Pittsburgh to kick off its national Happy, Healthy America tour. Pictured L-R, Headspace founder Andy Puddicombe, Operations Manager of Fitness and Aquatics Pattye Stragar, Program Director for Student Affairs Wellness Initiatives Angela Lusk, and Psychology Professor David Creswell gather in the meditation bubble. 
"We are supporting our campus community by being more individually mindful. Headspace is a communal resilience project as much as it is a benefit to individuals," said Angela Lusk, program director for Student Affairs Wellness Initiatives. "CMU is one of the first institutions of higher education to adopt Headspace in this capacity, because the university is incredibly invested in building a holistic wellness culture."
Ingrained in CMU Culture
Headspace is part of a larger mindfulness movement at the university. The Mindfulness Room in the West Wing residence offers weekly guided meditations at no cost, and students can explore workshops focused on a deeper dive into the conversation around and practice of meditation.
 Students also can enroll in a range of for-credit courses building skills in areas such as mindful living, stress management, healthy relationships, wellness and resilience.
"We see learning about health and well-being as much a part of a student's education as any other area of learning," Lusk said. "Building and supporting our wellness culture requires us to look both innovatively and creatively at the resources we offer."
One innovative approach to incorporating mindfulness into everyday life has been adopted by University Health Services, where providers have begun prescribing meditation to certain students. Executive Director Beth Kotarski said some students come to the health center demonstrating physical symptoms from the daily life and stressors of being a college student.
"Many times, they're just overwhelmed and have tunnel vision," Kotarski said. "Meditation can help students learn tools to reflect, to be more mindful of how stress impacts their lives."
Graduate student Octavio Mesner was certainly feeling the physical impacts of stress. The fifth-year PhD student from Engineering and Public Policy and Statistics had learned about meditation as an undergraduate student, but was inspired to pick up the practice again once CMU partnered with Headspace.
"I really appreciate the little tips the app provides while I'm meditating," he said. Mesner meditates in the mornings before diving into work on his dissertation. The practice, he said, "helps me find stillness when life feels chaotic. I'm learning how to prioritize my time better, too."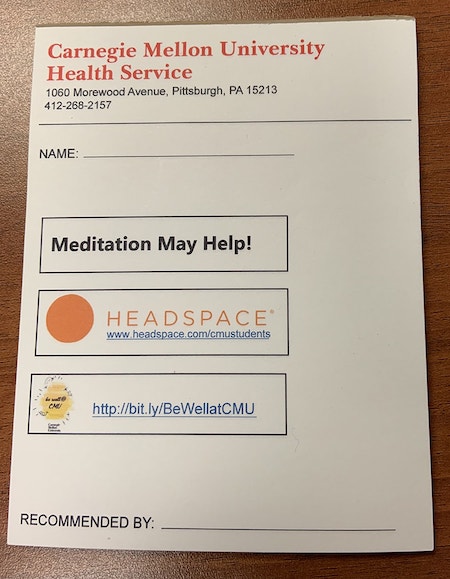 Integrated, Innovative Approach
Recent investments in mindfulness and meditation have come in large part from initiatives of the Task Force for the CMU Experience.
"We have always offered meditation and mindfulness in some capacity," Lusk said. "The goal in recent years has been to scale resources to the broad campus community."
Another long-term plan recommended by the task force has taken a huge step toward becoming a reality. This fall, CMU announced a $35 million grant from Highmark, Inc. to support the construction of a 160,000 square foot building devoted to student health, wellness and athletics.
The space will unite critical student well-being services under one roof on the university's Pittsburgh campus. This project is intended to convey the university's commitment to supporting a student's mind, body and spirit.
Gina Casalegno, vice president of Student Affairs and dean of students, has long envisioned such a central space, catering to the holistic needs of the student body by considering the day-to-day essentials like access to medical services, as well as recreational athletics, religious and spiritual guidance, and gathering spaces for students to be supported, developed and nurtured.
"This building will really transform the way we deliver healthcare, mental healthcare, general wellness programs and intercollegiate athletics," Casalegno said. "Each dimension of CMU's community health and well-being has incredible services, and this new space can match both the work we are currently doing and our aspirations for the future."
The integrated approach is part of the university's model for assisting students to develop their whole selves through initiatives inside and outside of the classroom, and also supports the university's culture of collaboration.
"Just as students find permeable membranes between their academic departments, sparking innovation at the boundaries between disciplines, Tartans will be able to access the full spectrum of wellness opportunities under one roof," Casalegno said.
Imagining a Mindful Future
 As plans begin to formalize for the wellness center, Lusk said the scaffolding to support mindfulness throughout the university will continue to build. Student Affairs will continue to introduce new workshops, and Lusk envisions courses in Mindfulness-based Stress Reduction, an evidence-based intervention to support health and well-being in much the same way Mental Health First Aid supports mental health.
"Students are the ones who hold the keys to how they want to consume this flourishing integrated approach," Lusk said. "The more we partner, the more we see this spin off into new, exciting ventures."