August 26, 2020
A Fall Semester Unlike Any Other
CMU students will see classroom modifications to support social distancing and other health-promoting behaviors
By Jean Hayes jeanhaye(through)andrew.cmu.edu
Media Inquiries
Jason Maderer
Marketing and Communications
Fall semester 2020 will be like no other for higher education institutions across the nation and around the world. At Carnegie Mellon University, teams from across campus, including the
University Registrar
,
Eberly Center
,
Computing Services
,
Campus Design and Facility Development
(CDFD) and
Facilities Management and Campus Services
(FMCS), have worked diligently to prepare classrooms for teaching and learning in the midst of a global pandemic. Campus instructional spaces will now accommodate recommended practices for physical distancing and enhanced sanitation for students and faculty returning to campus later this month.
Classrooms with fixed furniture will have red indicators to mark unavailable seats in order to adhere to physical distancing parameters. Moveable desks in classrooms will be spaced 6 feet apart. Students can expect to see custodial porters wiping down classrooms with disinfectant, and sanitizing wipes will be available in each classroom for students to wipe down their own seating area before and/or after use. Instructional spaces with two doors will have one reserved for entry and the other for exit.
"Students can expect to see signage across campus with reminders for healthy behaviors including physical distancing, wearing face coverings and hand washing. Furniture, including seating and desks, will be significantly reduced," said Charity Anderson, director of facilities operations in FMCS. "It is imperative that we maintain social distancing inside and outside of the classroom in order to keep our community safe. Each one of us needs to own this and respect the protocols that have been put in place."

John Papinchak discusses classroom changes this fall. 
Along with signage for seating, occupancy signage will be posted within the classrooms and large poster-sized sign stands will be placed at every building entrance, dining location and high-traffic common areas as a reminder to wear facial coverings, maintain social distance and wash hands frequently. Two-way directional arrows will be placed in stairwells and walkway bridges reminding people to "stay to the right."
Over 350 hand sanitizer stations have also been placed around campus, with a focus on entrances, exits, elevator lobbies and common areas. Hand hygiene signs are placed in all restrooms and throughout campus as a reminder to wash hands frequently for 20 seconds at a time.
As part of
A Tartan's Responsibility
and the
Student Code of Conduct
, students are required to wear a face covering while on campus, sufficient to cover the nose and mouth, both inside and outside of buildings. Face coverings will be the norm in classes and elsewhere on campus unless eating or drinking or alone in a private residence or office.
"It is imperative that we maintain social distancing within the classrooms in order to keep our community safe. Each one of us needs to own this and respect the protocols that have been put in place." — Charity Anderson
"We've been very busy over the summer, really since late March or early April, thinking about how we were going to handle course scheduling as well as how we were going to manage instructional spaces across campus," said University Registrar John Papinchak. "We've been working to get these spaces ready for our faculty and students to be able to attend courses either remotely or in person and supporting the provost's hybrid model."

One of the initial processes started with a campus-wide occupancy assessment because more instructional space would be needed given the protocols for physical distancing. The review covered more than just traditional learning halls with fixed seating — it also included collaborative classrooms, seminar rooms, studios, theatres, laboratories, hands-on maker spaces and even conference rooms.

Simultaneously, the spaces were assessed for health and safety factors like heating, air conditioning and ventilation, as well as room lighting and assessing the instructional technology already in place in each space. Over 900 HVAC assessment surveys were completed for spaces throughout campus to ensure that each space used for instruction has adequate ventilation and filtration.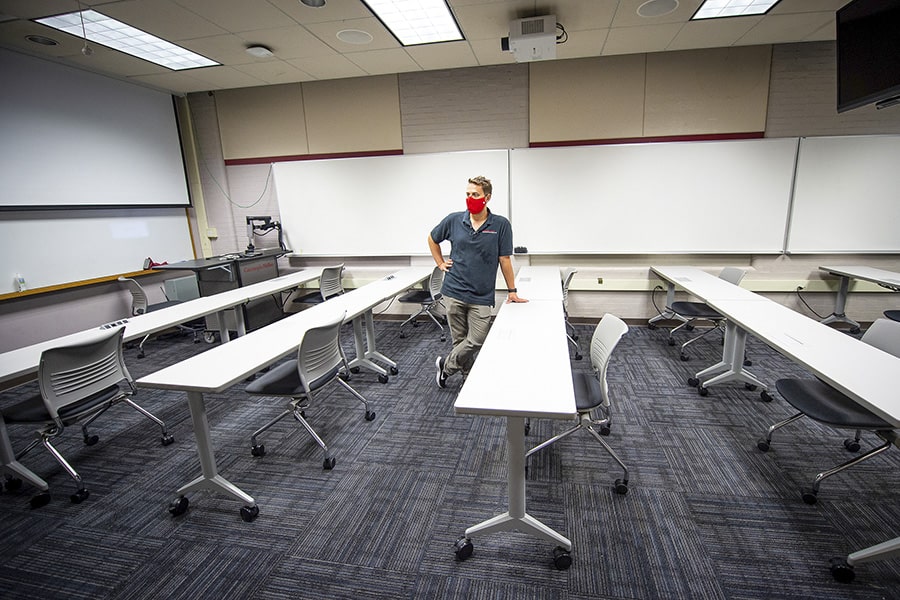 Face coverings sufficient to cover the nose and mouth are required on campus.

"I think these physical changes are important for the university to make in our learning spaces so that we're making sure we're presenting the best learning experience we can for those students who are attending in person as well as those attending remotely," Papinchak said. "It's important that our remote students are engaged as valued members in the classroom experience and can participate so it's not just a one-way communication. It really becomes a dialogue," Papinchak said.

Through it all, Papinchak says the most rewarding part of this experience has been the collegiality and the cooperation from all of the CMU teaching departments. "Our campus administrators — I can't stress this strongly enough — how much they care about their students and faculty and programs. I've been at Carnegie Mellon for 35-plus years and I have really seen this campus come together as a group. It makes me very proud to be an alumnus, an administrator, a parent of an alumnus and someone who just really loves Carnegie Mellon," he said.