August 05, 2020
Scrubbing Up for Fall
By Bruce Gerson bgerson(through)cmu.edu
Spring cleaning has never ended at Carnegie Mellon University. It has continued this summer and will extend through the fall.
Facilities Management and Campus Services (FMCS) is leading a massive cleaning effort on campus to help mitigate the spread of COVID-19. In April, about 170 custodians embarked on a campus-wide deep-cleaning effort to clean and disinfect every room in each of the 100 buildings on campus. Ceilings, walls, upholstery, furniture, baseboards, carpeting and floors were on the "to-do" list.
Charity Anderson, director of facility operations for FMCS, said the deep-cleaning effort is expected to be completed in mid-August, when an extensive fall cleaning effort will get underway.
"This fall, common areas, bathrooms and high-touch surface areas will be cleaned and disinfected frequently with hospital grade disinfectant, high-powered hand-held electrostatic sprayers and automatic industrial strength floor scrubbers," Anderson said. "Backpack sprayers that can hold more disinfectant have been purchased, and the cleaning products we are using have all been approved by the EPA."
Anderson said occupied spaces will be cleaned every 24 hours based on occupancy.  High touch surfaces such as classrooms, bathrooms, dining areas, common areas and entrances/exits will be wiped down several times a day. To facilitate this effort, additional custodial porters will be stationed throughout the campus.  Shared bathrooms and common spaces in housing will be cleaned twice a day, and custodial porters will be on standby to wipe down and disinfect common areas and high touch surfaces often.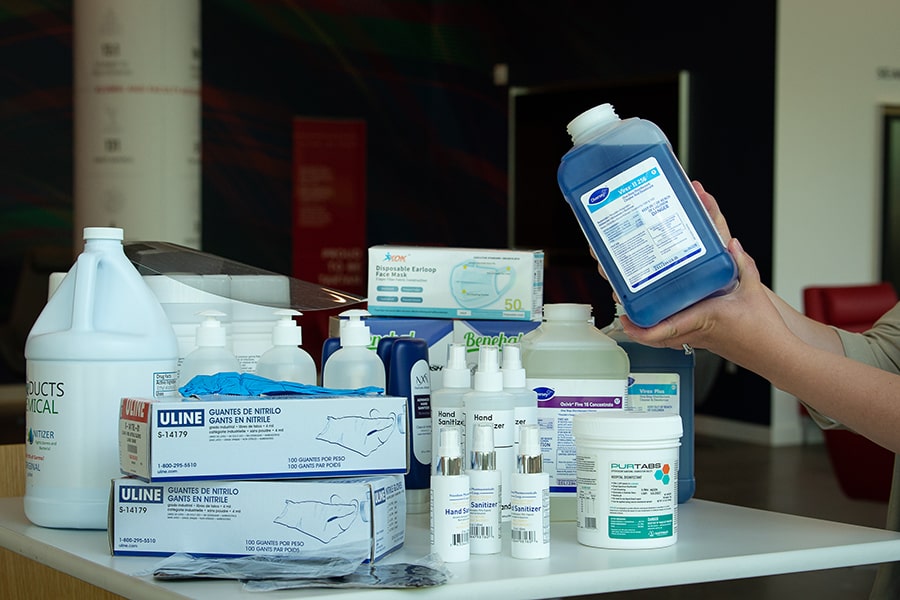 Cleaning products being used are approved by the EPA.
More than 300 hand sanitizer dispensers have been installed in building entrances, elevator lobbies and major walkways. 
Anderson said FMCS is tracking the cleaning and disinfection guidelines from the CDC, Pennsylvania Department of Health and Pennsylvania Department of Education.
The FMS store room is providing hand sanitizer, disinfectant spray, disinfectant wipes and disposable gloves to departments as they return. These items can be used within departments to wipe down equipment between use in shared spaces such as labs, copier locations and kitchenettes.
FMCS is available for consultation regarding additional cleaning of offices, laboratories and other spaces needed for unit operational plans. As part of every return to work plan, a custodial consult is required.  This allows FMCS to understand the nature, occupancy and cleaning needs of each specific department as they return. It also allows the opportunity for FMCS to walk through their cleaning process so that expectations are managed on what is cleaned, who cleans it and how often. 
Dawn Roerink, assistant director for Grounds and Custodial for FMCS, has been leading these consulting efforts. As of the end of July, over 175 individual cleaning consults have been completed for the return to research and return to instruction. 
"This is Just one example of how seriously cleaning efforts and communication around cleaning processes are being taken," Anderson said.  "The safety and welfare of our community is critical and we must ensure we take every precaution to safeguard our community as they slowly return to campus."
Questions and/or requests for cleaning or cleaning supplies should be sent to cleanit@andrew.cmu.edu.