August 11, 2020
"Every Day is a Tuesday" as Facilities Management Prepares Campus for Fall
Team enhances HVAC systems, maintains CMU since pandemic's outbreak
By Jason Maderer
Media Inquiries
Jason Maderer
Marketing & Communications
In the early days of COVID-19, when Carnegie Mellon University was emptied and even less was known about the virus, Steve Guenther repeatedly found himself undressing in his garage. As the university engineer, Guenther continued coming to campus, seven days a week, for weeks at a time. And every night when he returned home to his wife and two kids, he made sure to keep his work clothes outside the house for safety reasons.

"We didn't know much about the coronavirus back in March, so better safe than sorry," said Guenther, Carnegie Mellon's assistant vice president for facilities management and campus services (FMCS). "It feels like I never left campus. I didn't sleep there, but I didn't sleep much either."

Together, Guenther and a team of nearly 300 maintenance and custodial services workers have ridden the wave of the coronavirus pandemic. In fact, they've ridden three, each representing a different phase within the last five months.


Steve Guenther explains how improvements in filtration methods will positively impact campus.
The first came in those initial weeks as COVID-19 crept its way across the world and into Pittsburgh. That's when the team learned how to deal with the rapidly changing plans and precautions. For instance, workers reset furniture in all campus buildings and outdoor spaces, moving thousands of tables and chairs to allow for social distancing.

The second phase began after CMU was largely abandoned in mid-March. The hundreds of employees were forced to reimagine their daily cleaning, repairing and maintenance duties while working alongside one another.


"Changing a light bulb is different when you're working in a space that could have been occupied by someone with COVID-19," said Guenther. "We train our staff to work safely in dangerous environments every day, but doing our job safely in this new world is even more critical, especially when it comes to figuring out how to physically distance when working in pairs."

Like that second phase, the third is ongoing. Facilities employees lost a critical part of their responsive maintenance program when the buildings became mostly empty. As Guenther notes, having 18,000 people onsite means there are 36,000 eyes available to notice small things, such as burned-out lights or HVAC issues, or big problems, such as busted pipes or power outages.

"One leg of our service model is responding to issues identified by our customers," said Guenther, who just celebrated his seventh anniversary at Carnegie Mellon. "With the low campus census, we retooled and restructured to proactively find disruptions before they find us. With help from the Carnegie Mellon Police Department, we are walking around and inside buildings 24/7, trying to identify small issues before they become substantial problems."

As an example, a small water leak on the second floor of a building needs to be addressed before it seeps down to a first-floor computer server room, especially if those servers are housing thousands of students taking remote CMU courses. Without a steady stream of people walking across campus, it's up to the facilities team to always be on the lookout.

In the next few weeks, they'll be re-joined by faculty, staff and students. Guenther and the entire FMCS team are gearing up again as the university enters this upcoming fourth phase.

"It's been a busy summer — every day is a Tuesday," he said. "Our team has done great and stepped up to the challenge. They love this place and miss having people here. We've been on campus since March, still doing the same jobs as before. We're just doing them differently, making sure we're paying attention with new dimensions of safety for the entire CMU community.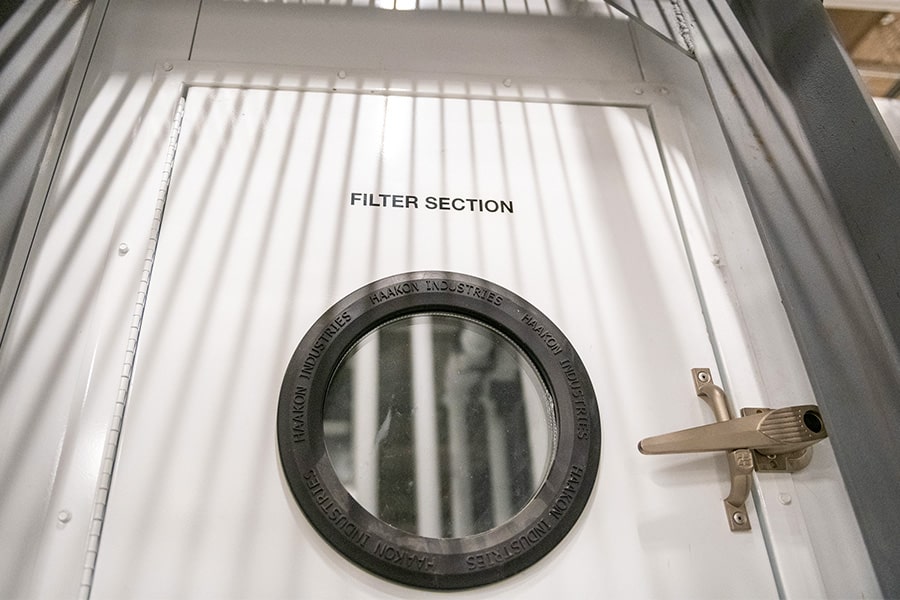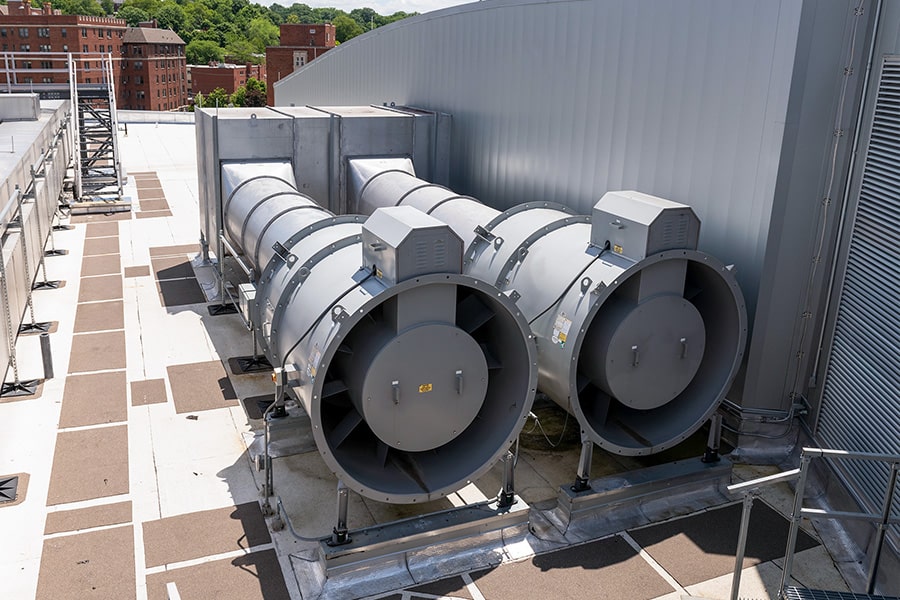 The Tepper Buliding's exhaust fans.