September 04, 2019
Mill 19 Opening Signals New Era of Manufacturing
Media Inquiries
Jason Maderer
Marketing and Communications
Carnegie Mellon University researchers and robots will soon occupy a state-of-the-art facility at the newly constructed Mill 19 building on the 178-acre site known as Hazelwood Green.

The first building of the new Hazelwood Green development, Mill 19 once served as the location of the Pittsburgh region's most productive steel mills, employing more than 5,000 workers during its heyday. Today, as Carnegie Mellon gathers with community members and partners to celebrate its grand opening, Mill 19 will once again represent the region's leadership in manufacturing.

It is an exciting chapter in a story first envisioned and brought to life by three Pittsburgh foundations — The Richard King Mellon (RKM) Foundation, The Heinz Endowments and the Claude Worthington Benedum Foundation. In 2002, they purchased the dormant site with the goal of creating a new platform for experimentation to advance Pittsburgh's evolving innovation economy.

"Mill 19 at Hazelwood Green represents both our storied past and the promise of the region's future as a global innovation leader," said Carnegie Mellon President Farnam Jahanian. "The opening of this hub will usher in a new era of manufacturing while also serving as a powerful reminder of what we can achieve when public, private, civic and community partners come together to fuel innovative discovery and broaden opportunity."
Before construction began on the first building, the nonprofit Advanced Robotics for Manufacturing (ARM), which was catalyzed by Carnegie Mellon, and CMU's Manufacturing Futures Initiative (MFI) signed on as the anchor tenants with the Regional Industrial Development Corporation (RIDC), which owns Mill 19.

Along the way, partnerships have been key in shaping the efforts of these first tenants.

ARM launched in January of 2017 after receiving an $80 million grant from the Department of Defense. Before Mill 19, its headquarters operated out of Carnegie Mellon's National Robotics Engineering Center. The nonprofit's goal is to take new technologies and accelerate their adoption into commercialization, while catalyzing the workforce development programs to ensure that the United States has a skilled workforce for emerging technologies.

As part of the Manufacturing USA network, the creation of ARM puts Pittsburgh and CMU at the center of a new wave of U.S. manufacturing innovation, leveraging artificial intelligence, autonomy, 3D printing and other emerging technologies to make industrial and collaborative robotics more affordable for businesses of all sizes, adaptable for many uses and able to achieve more.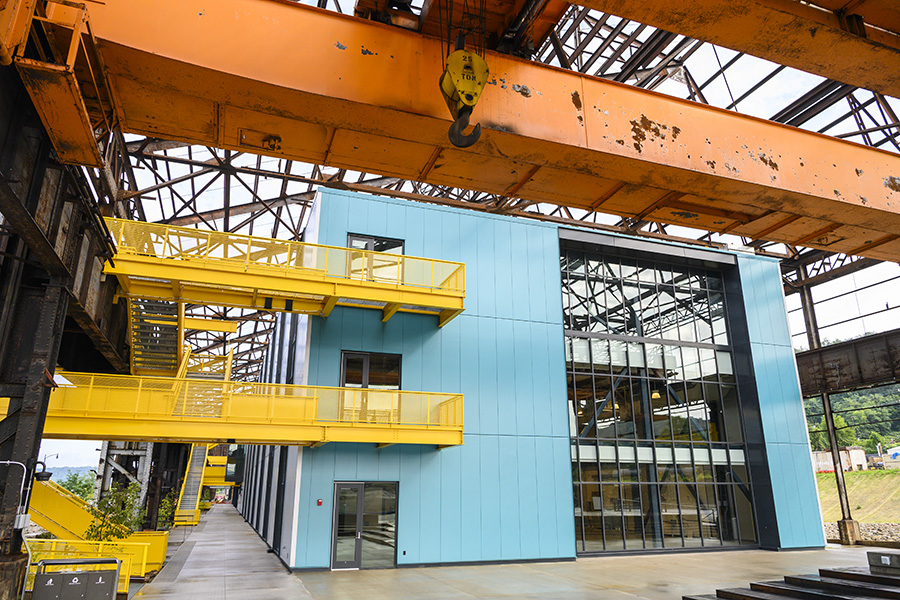 The new construction at Mill 19 was done entirely within the frame of the old steel mill.

"Mill 19 gives us a home to prototype and advance new technologies," said Brett Lambert, chair of ARM's board of directors. "Research institutes and technology companies in the United States are great at creating innovation, but manufacturers sometimes hesitate putting brand-new technology on the factory floor because it carries operational and financial risk. Our purpose is to de-risk those applications, helping manufacturers feel comfortable putting new technologies to work. And, our state-of-the-art training center will also facilitate educational programs to advance the skills of the American manufacturing employee."

With more than 200 members, ARM prepares American companies to achieve global leadership in innovation by equipping workers with the best technological tools and workforce programs. ARM also will help small businesses that have been shut out of previous robotics advances to adapt the newest technologies to their needs, further building the manufacturing base and promoting innovation.

Also co-located at Mill 19, MFI was launched in 2017 after receiving a $20 million gift from the RKM Foundation. MFI brings Carnegie Mellon researchers together to advance discovery in the areas of machine intelligence, manufacturing technologies and human intelligence. The initiative builds on CMU's strength in research and development. It aims to attract public and private sector partners to push advanced manufacturing research, bridge the gap between manufacturing research and industrial use and foster economic development in the region and the state.
"Research and innovation are what we do best at CMU. We will be fortified by the partnerships and community surrounding #Mill19," says VP of Research and @cmualumnihouse Michael McQuade #research #robotics https://t.co/bmcxK7HXlS pic.twitter.com/YcFhkF7Kgh

— Carnegie Mellon (@CarnegieMellon) September 4, 2019


"CMU's core activities in education and research are focused on invention, discovery and relentless innovation," said MFI Faculty Director Gary Fedder. "MFI will serve as the mechanism through which we create new technologies that ARM will then introduce to industry and bring out into the real world for transformative impact."

Mill 19 will function as a collaborative innovation space for MFI and ARM. The two organizations occupy the first two floors of the building and nearly 60,000 square feet. The space includes a high bay and a corridor of flexible lab bays, as well as a conferencing and workforce training center. Catalyst Connection, southwestern Pennsylvania's manufacturing extension partner, is moving its headquarters to the third floor of the Mill 19 building in November of 2019. The organization serves as a resource for small and medium manufacturers in the region, and will collaborate with both MFI and ARM.

Sandra DeVincent Wolf, executive director of MFI, is determined to bring research and partnerships to Mill 19 that will have lasting impact.

"We are excited to be able to provide a home for students, faculty, government and industry partners alike to come together to foster revolutionary ideas in the field of manufacturing and are committed to making this a vibrant resource," Wolf said. "The opening of Mill 19 is a bold next step, one that will serve to further the vision of transforming manufacturing and catalyzing economic development in Pittsburgh and beyond."

Both MFI and ARM are working with neighborhood organizations such as the Hazelwood Initiative to realize a vision for the development that will create opportunity, while promoting diversity and economic sustainability.

"We are excited to join the historic Hazelwood neighborhood," said Jahanian. "As a transformative new model for collaborative community development, Hazelwood Green will help to leverage technology to bring opportunity to all citizens. We look forward to continuing our engagement with neighbors in Hazelwood and beyond to advance this effort."

In July, Carnegie Mellon announced that it acquired options for an additional 8.3 acres on the Hazelwood Green site for a possible expansion. The university plans to establish a committee to explore potential uses for the area, working closely with the community and in collaboration with the Greater Hazelwood Neighborhood Plan.
Carnegie Mellon University is committed to educating, empowering and aligning its community around the world to address the Sustainable Development Goals, also known as the Global Goals, which aim to create a more peaceful, prosperous planet with just and inclusive societies. Recognizing the critical contributions that universities are making through education, research and practice, CMU publicly committed to undertaking a Voluntary University Review of the Global Goals. The 17 Global Goals cover wide-ranging issues, including reducing violence, ending extreme poverty, promoting equitable education, fighting inequality and injustice, advancing economic growth and decent work, and preventing the harmful effects of climate change by 2030.

The preceding story demonstrates CMU's work toward attaining Global Goals 9 and 7.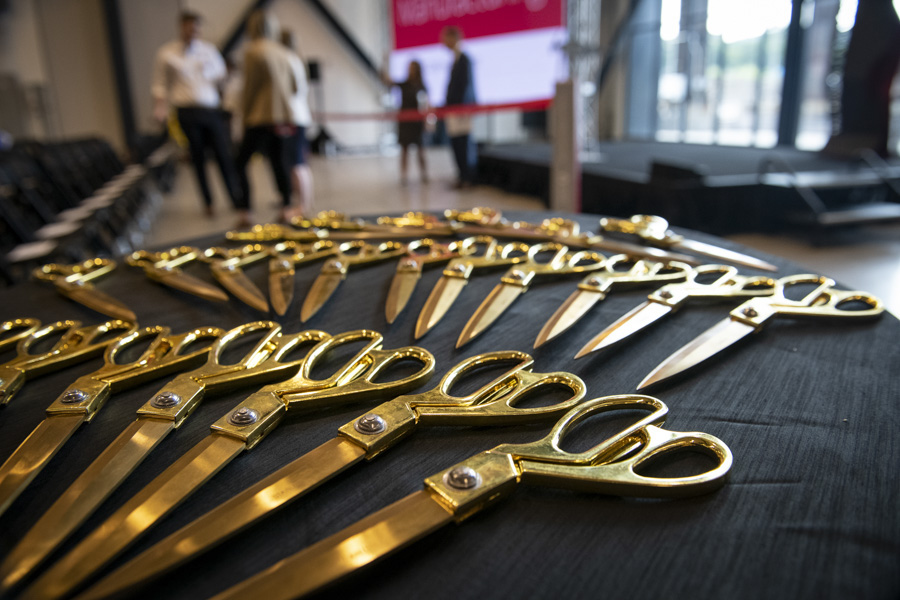 Golden scissors are laid out for the official ribbon cutting at the grand opening of the first Mill 19 building.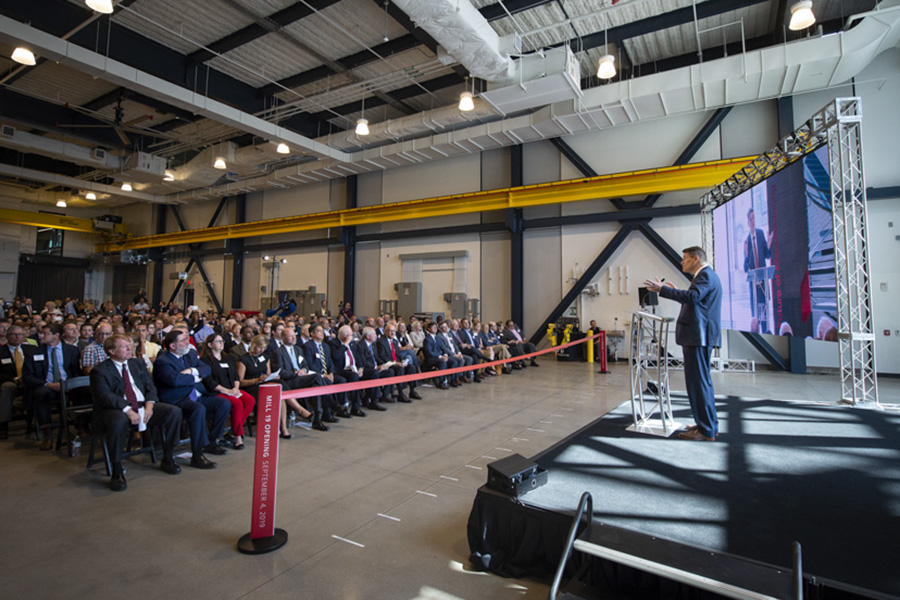 Gary Fedder, faculty director for Carnegie Mellon University's Manufacturing Futures Initiative, speaks at the grand opening of Mill 19.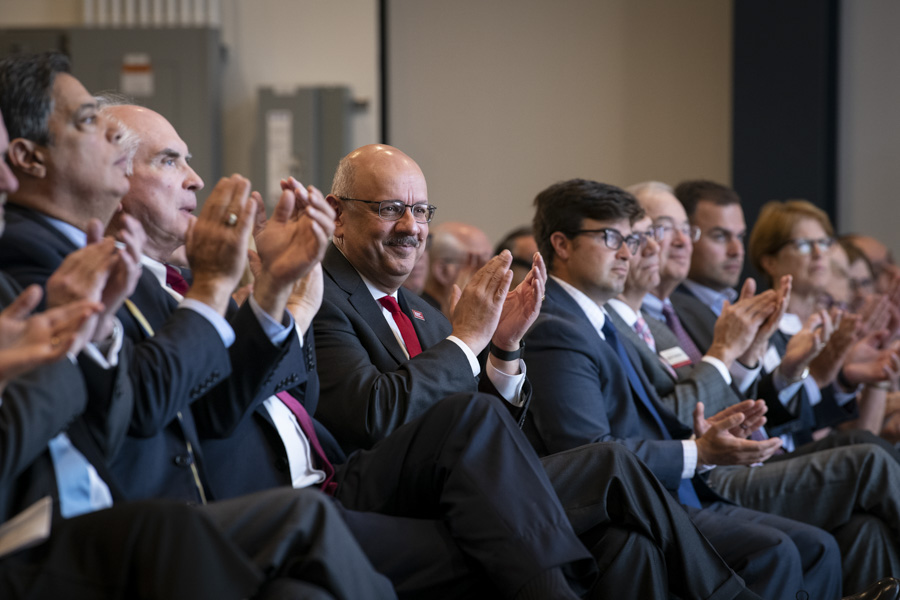 Carnegie Mellon President Farnam Jahanian, center, joins a round of applause during the official Mill 19 grand opening ceremony.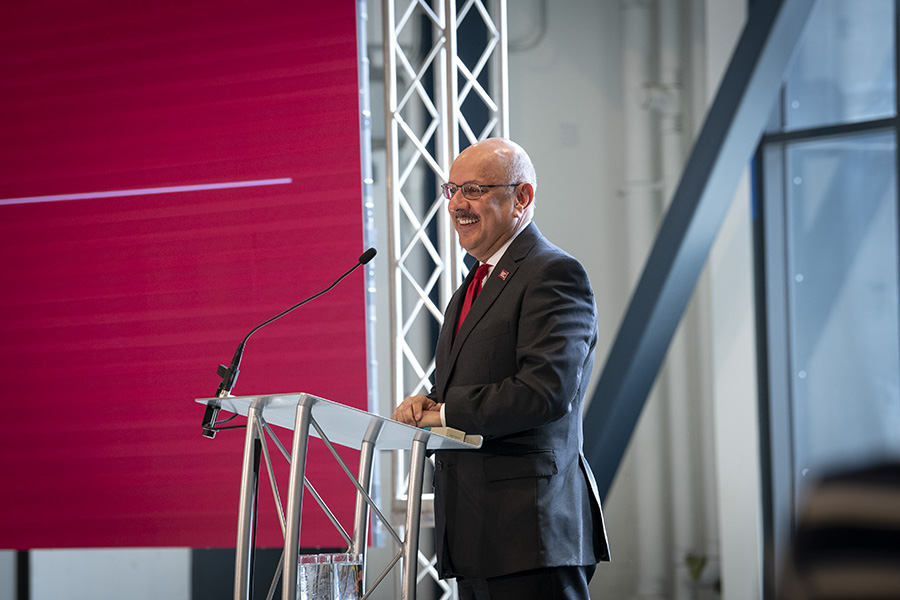 CMU President Farnam Jahanian speaks at the Mill 19 grand opening ceremony.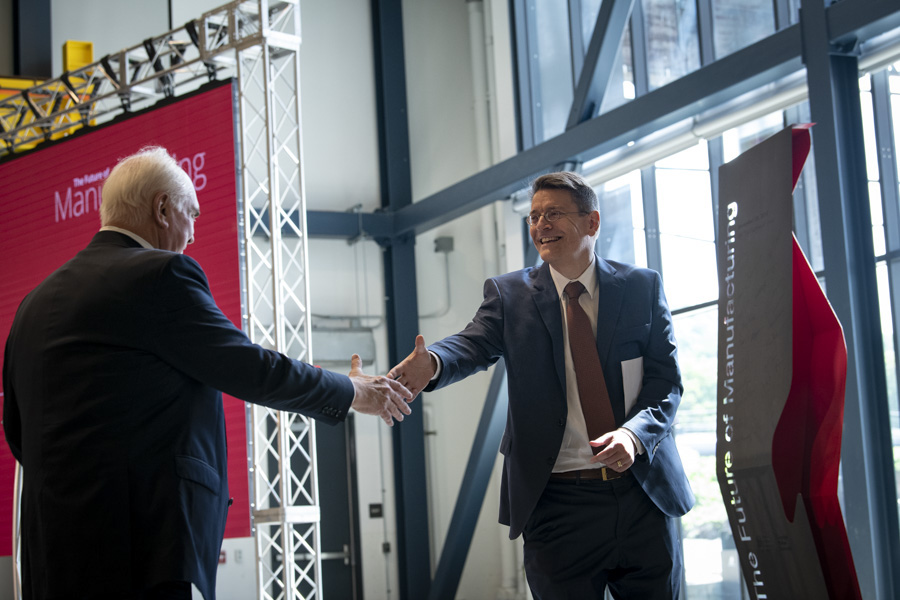 Gary Fedder, faculty director of MFI, shakes hands with U.S. Rep. Mike Kelly as he takes the stage to give remarks at the grand opening of Mill 19.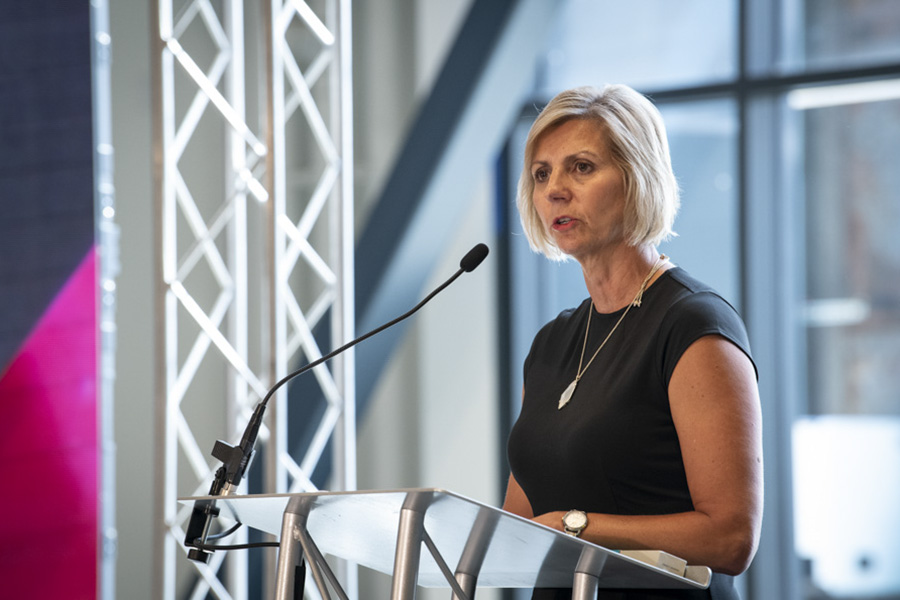 Petra Mitchell, president and CEO of Catalyst Connection, speaks during the grand opening ceremony for Mill 19.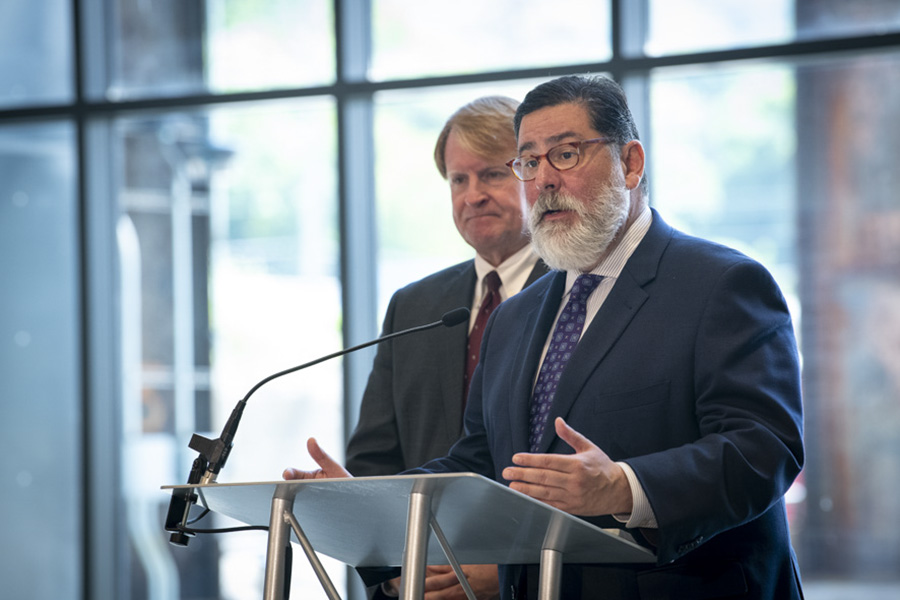 Pittsburgh Mayor Bill Peduto and Allegheny County Executive Rich Fitzgerald speak during the grand opening ceremony for Mill 19.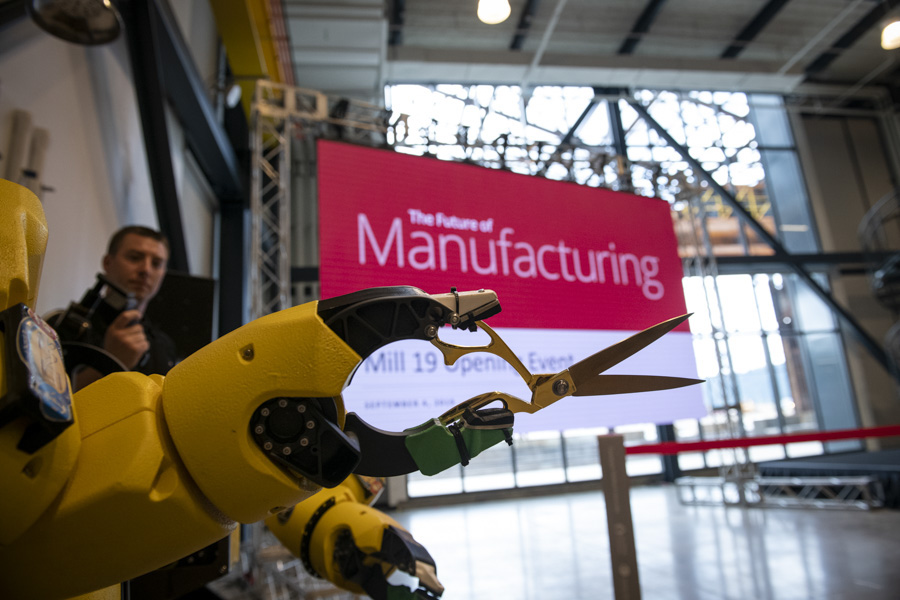 A robot holding a pair of scissors prepares to aid in the official ribbon cutting of Mill 19.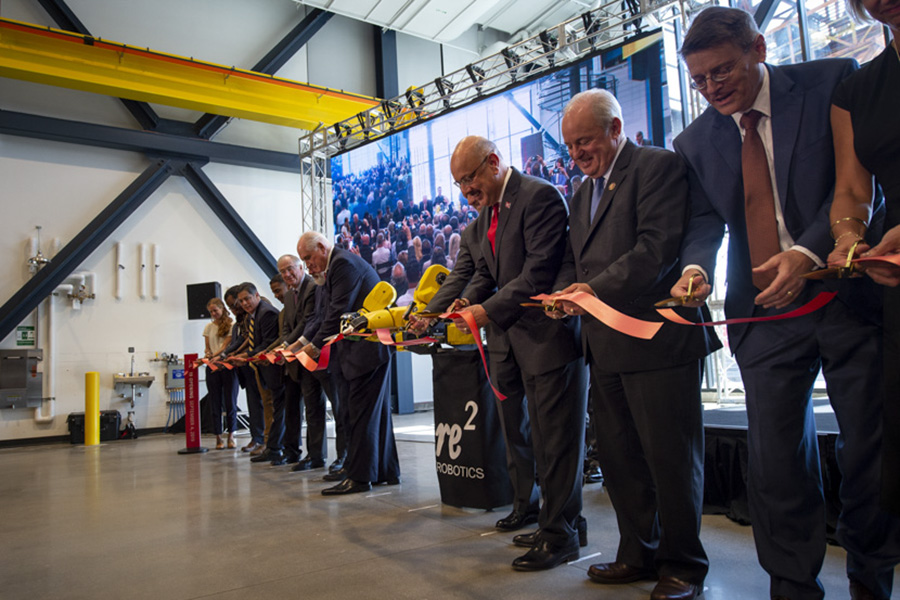 A robot aids in the official ribbon cutting of Mill 19, the new home to CMU's Manufacturing Futures Initiative (MFI) and Advanced Robotics for Manufacturing (ARM).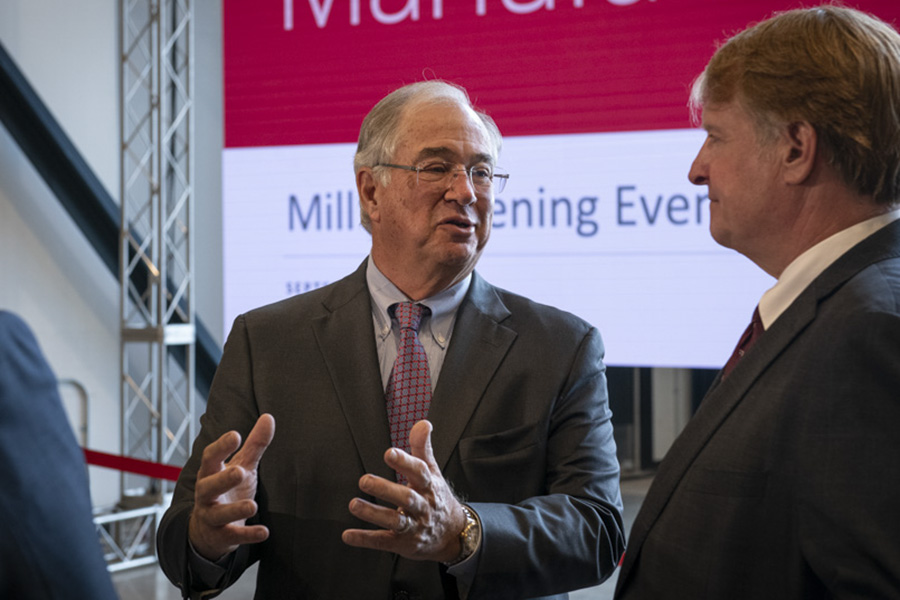 James Rohr, chairman of the board of trustees of Carnegie Mellon University, speaks with Rich Fitzgerald, Allegheny County executive, after the ribbon cutting.