October 25, 2017
Future of Manufacturing To Rise Within Abandoned Steel Mill
New home for advanced robotics manufacturing research and development will lead transformation of industry, new chapter in Pittsburgh renaissance
Media Inquiries
Abby Simmons
Marketing and Communications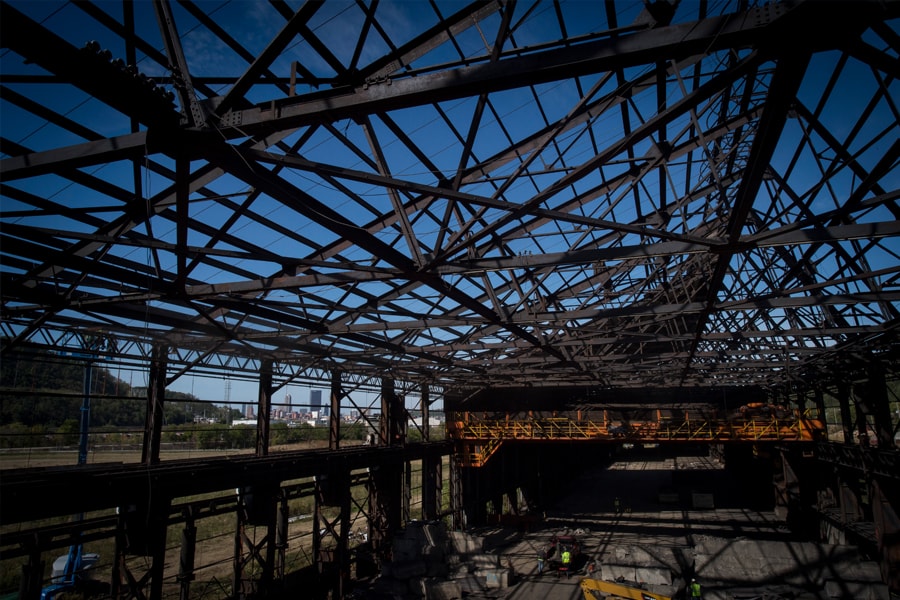 A view of downtown Pittsburgh is visible through the beams of the Hazelwood Green site. Download hi-res image.
Two major advanced manufacturing initiatives founded by Carnegie Mellon University will anchor the redevelopment of an iconic, abandoned steel mill in Pittsburgh's Hazelwood neighborhood, signaling a new era in manufacturing for America and the world, and a new chapter in Pittsburgh's resurgence as a global innovation leader.
As part of an agreement between Carnegie Mellon and the nonprofit Regional Industrial Development Corporation, the university has agreed to a lease for two floors, or approximately two-thirds, of a new 94,000-square-foot building. The new building will be constructed entirely within the enormous skeleton of the historic steel mill known as Mill 19, located on the Hazelwood Green development site.
The cutting-edge facility will house research, development and office space for the nonprofit Advanced Robotics for Manufacturing Institute (ARM), a $250-million public-private collaborative catalyzed by CMU that puts new technologies to work for industry, and for CMU's Manufacturing Futures Initiative (MFI), an interdisciplinary research initiative. A $20 million gift from the Richard King Mellon Foundation helped launch the MFI, providing significant support for research and for CMU's new facility at Mill 19.
The new facility will bring to life the 178-acre Hazelwood Green development, transforming the enormous riverfront site that once housed the historic Jones & Laughlin Steel Hazelwood Works. As home to a new, one-of-a-kind advanced manufacturing hub, bringing together large-scale academic research and corporate development under one roof, the former monument to industrial strength holds the potential to once again put the United States at the forefront of a new industrial economy.
"Advances in robotics, artificial intelligence, materials science and 3-D printing are rapidly transforming manufacturing, with the power to trigger a significant resurgence of this economic pillar in the United States, and in Pittsburgh in particular," said Farnam Jahanian, interim president of Carnegie Mellon University. "CMU's global leadership in research and in catalyzing economic development brings us to the cusp of a historic shift in manufacturing."
"We are deeply grateful to Pittsburgh's foundation community, which has long labored to make this vision a reality," said James Rohr, chairman of CMU's Board of Trustees. "In particular, the Richard King Mellon Foundation has put advanced manufacturing at the top of the agenda and seeded progress now underway, while the Heinz Endowments, R.K. Mellon and the Claude Worthington Benedum Foundation have joined together to make the Hazelwood Green site a center of hope for new jobs, economic growth, community involvement and environmental sustainability in the region."
Since the last steelmaking ended on the site in 1998, the three foundations joined forces to purchase the site, which was known as Almono for many years until it was renamed Hazelwood Green on Oct. 13. Together with partners in local government and the community, the foundations developed a vision for a project that will create economic opportunity, while promoting diversity and economic sustainability.
"The commitment ARM and Carnegie Mellon are making signifies a turning point for Hazelwood Green, and a milestone for Pittsburgh," said Rebecca Flora, authorized agent and project director for Hazelwood Green on behalf of the Almono LLC. "Not only will this create a unique hub to revolutionize manufacturing, it will catalyze further development of this pivotal riverfront site and its adjoining neighborhood of Hazelwood. This brings enormous momentum to a project that can change how we think about economic development, community engagement and environmental sustainability."
Organizers say the new advanced manufacturing hub in Mill 19, the first major building of the Hazelwood Green project to reach fruition, will foster further investment in Pittsburgh's largest undeveloped property. Carnegie Mellon and the ARM Institute will host a groundbreaking ceremony later this year.
"RIDC's mission is to support economic development in communities around the region by breathing new life into facilities that housed the great companies of Pittsburgh's past," said Don Smith, RIDC's president, "and making them into homes to new companies that are driving our economic future. We're proud of our continuing support of Carnegie Mellon's commercialization efforts, which include among them some of the innovative companies that are changing the world. We are building on the past successes of the Software Engineering Institute, University Technology Development Center and most recently the Collaborative Innovation Center that housed Google, Apple and Disney Research."
The Advanced Robotics for Manufacturing Institute
The ARM Institute — founded at Carnegie Mellon and now operating as an independent nonprofit at a site in Pittsburgh's Lawrenceville neighborhood — won a national competition for an $80 million grant from the Department of Defense in January 2017, supported by an additional $173 million in commitments from more than 220 partners in industry, academia, government and the nonprofit sector.
As part of the Manufacturing USA network, the creation of the ARM Institute puts Pittsburgh and CMU at the center of a new wave of U.S. manufacturing innovation, leveraging artificial intelligence, autonomy, 3-D printing and other emerging technologies to make industrial robotics more affordable for businesses of all sizes, adaptable for many uses and able to achieve more.
"ARM's mission is to catalyze innovation and expertise in robotics to accelerate growth of U.S.-based manufacturing and high-value careers. We are grateful that the partnership with CMU, R.K. Mellon Foundation and many other stakeholders has made possible the state-of-the-art ARM headquarters at Hazelwood Green, designed to meet the technology and workforce goals set by the ARM Institute," said Gary Fedder, president and interim CEO of ARM.
ARM actively develops, demonstrates and facilitates early adoption of robotics solutions to bolster national manufacturing, focusing on critical growth sectors that are ripe for rapid adoption of robotics in manufacturing.
An industry-led road-mapping process drives ARM's projects, which span across a broad range of robotics technology and workforce development topics, with an aim to accelerate manufacturing robotics technologies that are low cost, versatile, collaborative with workers and easy to deploy.
ARM's current call for project proposals addresses topics in apprenticeship programs; identifying, packing, unloading and unpacking objects; transport and delivery through complex, crowded spaces; materials inspection; tracking and traceability of components; surface treatments; and manipulating compliant materials.
By arming workers with the best technological tools, ARM will allow American companies to compete effectively with low-wage manufacturing abroad. ARM will also help small businesses that have been shut out of previous robotics advances to adapt the newest technologies to their needs, further building the manufacturing base and promoting innovation.
Through ARM, part of the Mill 19 facility also will be devoted to workforce development initiatives, ensuring that workers, throughout their careers, can get the training needed to benefit from advanced technologies adopted by industrial manufacturers.
ARM member corporations, projected to number well over 100, will have opportunities to take part in ARM projects and access technologies that arise out of ARM projects, institute organizers say.
Manufacturing Futures Initiative
CMU will participate directly in the Hazelwood Green manufacturing hub through its Manufacturing Futures Initiative, created in 2016 to promote interdisciplinary research in the creation and implementation of new materials and new processes that will transform manufacturing.
"Thanks to the support from the R.K. Mellon Foundation, we are very excited to announce the campus-wide Manufacturing Futures Initiative, which builds on Carnegie Mellon's research strengths in manufacturing technologies, machine learning, and end-to-end data collection to advance manufacturing capability and accelerate workforce and economic development in the new era of human-machine collaborative intelligence," said Burcu Akinci, CMU associate dean for research in the College of Engineering and co-director of MFI.
The initiative serves as the collaborative home of CMU's manufacturing research projects, and helps connect them to the innovation pipeline spurred by ARM and the rest of the Manufacturing USA institutes, and build Pittsburgh into the country's leading manufacturing hub.
"A special thanks and acknowledgement goes to Professor Erica Fuchs, who spearheaded the MFI concept and served as its founding director for the past year. We are excited about MFI's future co-location with the ARM Institute in Mill 19 to continue to push the envelope in advanced manufacturing related research, bridge the gap between manufacturing research and industrial use, and foster economic development in the region," Akinci said.
The initiative will attract and collaborate with industry, as well as public, private and academic partners, with a mission to accelerate adoption of new technology through interdisciplinary research on materials discovery, product design, robotics and automation, machine learning, policy, workforce training and education.
MFI-funded projects include high-throughput polymer 3-D printing; molecular mechanical properties programming of polymers; additive layup of custom architectural building materials; machine learning and cost minimization applied to metals additive manufacturing; rapid web-based training in cell-culture manufacturing, and development of economic models of production and labor markets that account for these types of emerging manufacturing technologies.
Both ARM and MFI are fitting heirs of Pittsburgh's industrial past, and epitomize the city's ongoing evolution toward its global leadership and manufacturing future.
The site was first developed as a steel mill in 1884 by the Jones & Laughlin Steel Company — the most determined regional competitor to the Carnegie Steel Company made famous by CMU founder Andrew Carnegie. The mill was last known as the LTV Coke Works, and has sat shuttered since 1998.
But in a classic example of Pittsburgh's progressive civic leadership, four foundations originally came together as Almono LP to purchase the Monongahela riverfront site in 2002, clean up its industrial waste and prepare the site for development. The Hazelwood Green site is now ready to accept tenants who will advance the Pittsburgh region's global position in the innovation economy and align with key sustainability goals established for the site.
The mixed-use project plan has registered for LEED Neighborhood Development certification. The use of LEED at a site-wide development scale will attract tenants that are seeking quality places designed for people and the environment, that are resilient to fast-changing conditions, and efficient to operate and maintain.