November 18, 2019
CMU Helps Bring Meditation to the Masses
By Katy Rank Lev klev(through)andrew.cmu.edu
Media Inquiries
Stacy Kish
Dietrich College of Humanities and Social Sciences
On Friday, Nov. 15, Carnegie Mellon University Professor David Creswell began his day meditating with the mayor.

Seated on fluffy cushions inside a giant, purple bubble on Schenley Plaza CMU's Pittsburgh campus, Creswell and members of the university's Division of Student Affairs came together with civic and foundational partners, leadership from other institutions of higher education and local K-12 schools to promote mindfulness and meditation in the region.

The morning meditation exercise kicked off a weekend of mindfulness activities for the community, led by Headspace — the evidence-based meditation app, which sponsors some of Creswell's research in the Dietrich College of Humanities and Social Sciences. The company launched its national tour in Pittsburgh  to demonstrate the many ways meditation can impact every aspect of life.

Once everyone opened their eyes, the group heard from philanthropist Cindy Citrone, who announced a multi-year, multimillion dollar grant from Citrone33 to support EMBRACE Pittsburgh in their objective to bring mindfulness to the people of Pittsburgh as a means to increase happiness, reduce stress and improve sleep.

Because of CMU's leadership in university-wide adoption of Headspace, as well as the university's research collaborations with the company, Headspace chose CMU and Pittsburgh as models of innovation in wellness and mindfulness.

Headspace will partner with CMU, Allegheny Health Network, EMBRACE, and the JuJu Foundation to pilot a mindfulness program for area children based in social and emotional learning principles.

During the weekend, Creswell was also given the opportunity to discuss his own research on the impact of meditation on various populations. "My Health and Human Performance Lab has partnered with Headspace to study how mindfulness training can reduce workplace burnout," Creswell said. The study involves a 30-day stress management program looking at how customer service employees in Pittsburgh can foster stress resilience circuits in the brain and, hopefully, reduce job burnout. "I'm excited to see the results of the trial," Creswell said.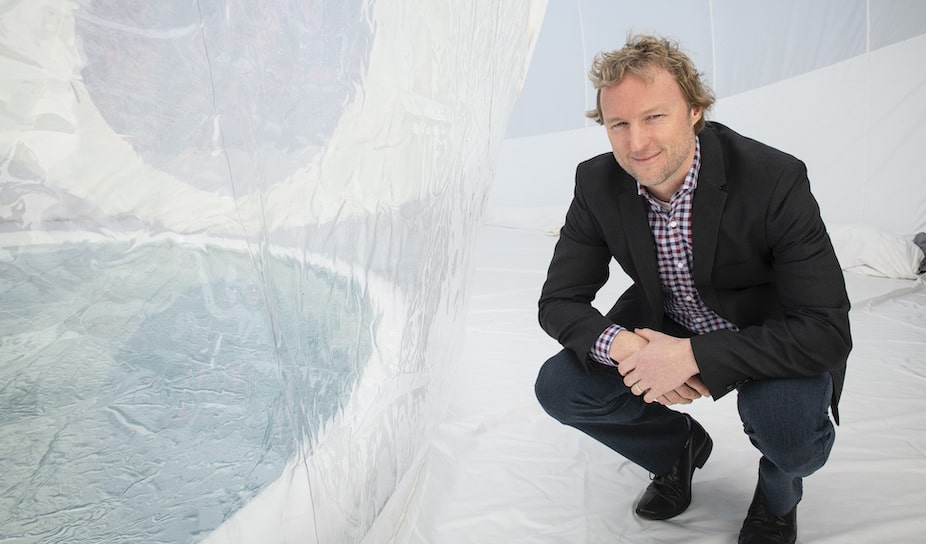 David Creswell, Associate Professor of Psychology in CMU's Dietrich College,  conducts research on mindfulness in various populations. 
Over in the bubble, CMU student volunteers supported activities ranging from mindful eating, walking meditation and communal resilience exercises, while CMU English professor Jane McCafferty read her Pittsburgh-inspired sleepcast entitled "River City" on Saturday evening.

Angela Lusk, program director for Student Affairs Wellness Initiatives, was excited about the opportunity to showcase CMU's leadership in mindfulness and meditation. She said, "CMU is becoming known in Pittsburgh and around the country for innovations in this arena. We can help drive these opportunities and practices."

In addition to investing in a Mindfulness Room, that is open to all members of the community and hosts regular guided meditations, CMU became one of the first universities to offer all faculty, staff and students access to the Headspace meditation program.

The public event with Headspace provided CMU's 3,700 registered users an opportunity to engage with the company in a rich, immersive way. "Meditation is in large part a very solitary practice," Lusk pointed out. She noted that live group meditation and the ability to connect with other users of the app, offered an exciting way for the entire community to come together, camp out on a cushion and relax.
Carnegie Mellon University is committed to educating, empowering and aligning its community around the world to address the Sustainable Development Goals, also known as the Global Goals, which aim to create a more peaceful, prosperous planet with just and inclusive societies. Recognizing the critical contributions that universities are making through education, research and practice, CMU publicly committed to undertaking a Voluntary University Review of the Global Goals. The 17 Global Goals cover wide-ranging issues, including reducing violence, ending extreme poverty, promoting equitable education, fighting inequality and injustice, advancing economic growth and decent work, and preventing the harmful effects of climate change by 2030.

The preceding story demonstrates CMU's work toward attaining Global Goal 3.