March 07, 2019
CMU Launches Undergraduate Degree Program in Economics and Politics
By Noelle Wiker nwiker(through)cmu.edu
Media Inquiries
Noelle Wiker
Tepper School of Business
Abby Simmons
Dietrich College of Humanities and Social Sciences
Carnegie Mellon University has introduced a new bachelor's degree of science program in economics and politics, launching this spring. A joint effort between the Institute for Politics and Strategy and the Undergraduate Economics Program, the degree program involves interdisciplinary study emphasizing a data-driven approach to understanding economic and political decision-making.
"The connections between politics and economics are nearly endless. Political decisions have an effect on economic growth, and economic outcomes shape political decisions," said Sevin Yeltekin, professor of economics and senior associate dean of education at the Tepper School of Business. "This new program reflects the realities of these important interactions."
The curriculum includes several key foundational and analytical economics courses from the Tepper School and the Dietrich College of Humanities and Social Sciences, which jointly offer the undergraduate degree programs in economics. In addition to foundational and intermediate level courses in microeconomics and macroeconomics, the curriculum includes advanced courses in economics and data science, econometrics and economic elective courses (including regulation, political economy, financial crises and risk, emerging markets, etc.).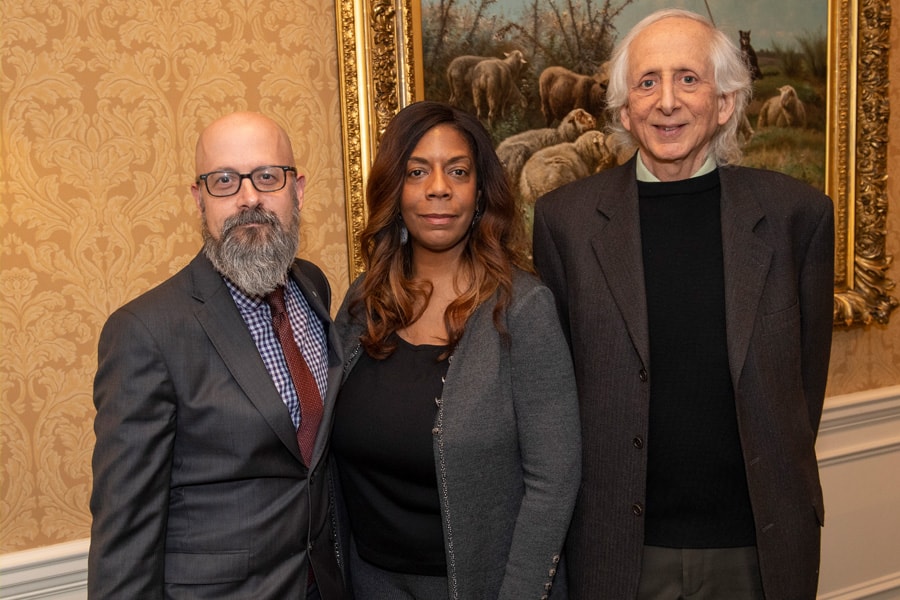 Christopher Sleet, professor of Economics and head of Economics at the Tepper School; Kiron Skinner, Taube Professor of International Relations and Politics and director of the Institute for Politics and Strategy (on leave); and Baruch Fischhoff, Howard Heinz University Professor and interim director of the Institute for Politics and Strategy.
"A strong focus on a data-driven, analytical approach to decision-making sets our program apart from similar programs at other schools," said Christopher Sleet, professor of economics at the Tepper School who heads CMU's economics programs. "Students graduating with a B.S. in Economics and Politics will have the technical skills to conduct well-informed, strategic policy discussions. They will be able to build strong careers in financial policy, governmental regulation, political and business consulting, law, or lobbying."
In parallel with the economics coursework, students pursuing the economics and politics degree will gain a background in political science, international security and international relations from courses offered at the Institute for Politics and Strategy. Students will take foundational courses in U.S. politics, comparative politics and international relations. More advanced coursework includes courses in international political economy, political science research methods and electives (e.g., international and national security, grand strategy, cybersecurity and international conflict, international development, etc.)
The Bachelor of Science in Economics and Politics will be available as a primary major and an additional major.
"Economics and politics are interwoven in countless ways, from fiscal and monetary policies to political decision-making that influence economic growth and income distribution," said Carol Goldburg, executive director of the Undergraduate Economics Program. "The importance of understanding and navigating the overlap between these two disciplines is crucial."
Institute for Politics and Strategy is a university-wide institute dedicated to research and education in the fields of political science, international relations, national security policy and grand strategy. The institute was formed under the leadership of Kiron Skinner, Taube Professor of International Relations and Politics, with the guidance of an executive committee that included the late Allan Meltzer, The Allan H. Meltzer University Professor of Political Economy. Meltzer championed the interdisciplinary study of economics and politics at Carnegie Mellon during his long career at the university.
"Without a solid awareness of the complex dynamics of governing decisions, economic policymakers cannot produce effective solutions," Skinner said. "The research and educational aims of the economics program and the Institute of Politics and Strategy have a natural harmony in the study of political economy. I am happy to see this innovative and collaborative endeavor launch at Carnegie Mellon."
Students pursuing the degree program are encouraged to participate in the Washington Semester Program led by Skinner. Undergraduate students from any program at CMU may participate in the program, which involves firsthand policy experience through an internship and coursework in Washington, D.C.
"In this transformative era for international politics and economics, it is critical that our students, as future leaders in these sectors, possess a comprehensive understanding of financial principles, political interests, and policymaking," said CMU Provost James H. Garrett, Jr. "With our university's steadfast commitment to interdisciplinary education and a data-driven approach to the study of social sciences, graduates of this new program will be well-poised to address the challenges and opportunities that nations may face during times of societal and economic change."