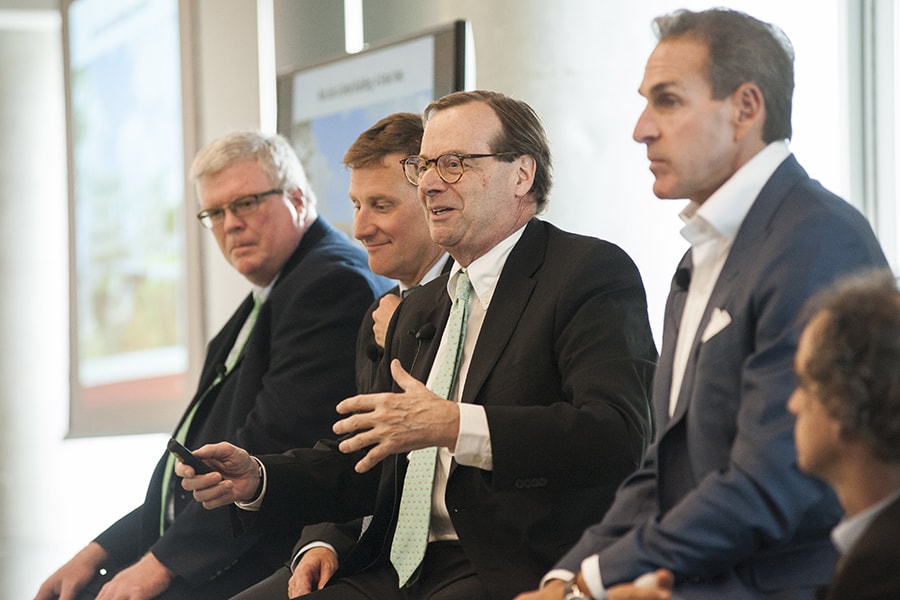 September 17, 2018
The Creation of the Tepper Quad: From Pipedream to Pipes
By Kelly Saavedra ksaavedra(through)cmu.edu
Media Inquiries
Julie Mattera
Marketing & Communications
Jason Maderer
Marketing & Communications
After six additions over a 50-year lifespan, Carnegie Mellon University finally had to admit its Tepper School of Business — formerly the Graduate School of Industrial Administration — had no more room to grow on its original site.

Casting their net far and wide, university planners scoured the Pittsburgh campus for a new location and narrowed the choices down to four possibilities. The first, south of Forbes, was determined to be too far away from campus. The second, Skibo Gym, was too complex. The third area considered was the location of the tennis courts. Too small.

The Morewood Lot, however, was just right.

"The Goldilocks site really was this one that we're standing on, which was really exciting because we had, for many years, talked about the expansion of campus across Forbes Avenue and the growth of campus [in this direction]," said Bob Reppe, senior director of design and planning at Carnegie Mellon, during a panel discussion at the building's grand opening.

The new Tepper Quad repositions CMU's top-ranked business school at the heart of campus, opening the door to its namesake's new vision for higher education.

"This is very different from the way business schools were built in the past. They used to be built on the edge of campus," said Bryan Routledge, associate professor of finance and co-chair of the Tepper Quad Working Group.

Moore Ruble and Yudell Architects and Planners designed the Tepper Quad to promote interconnectedness in new ways. There are no hallways, but rather an atrium through which people can see others one or two stories up or down from where they are standing.

"There are these kinds of eddies and places where the streams [of people] intersect and where these interactions that are serendipitous happen, which is part of the architecture," said Buzz Yudell, partner in Moore Ruble and Yudell.

Every square foot and every dollar counted as the teams incorporated their ambitious economic and environmental goals. The Tepper Quad is seeking LEED Gold certification. Ninety-five percent of the 2,100 tons of waste generated during construction was recycled. A cistern can collect up to 120,000 gallons of rain water, which will be used to reduce overall water usage by an estimated 50 percent.

Early in the planning stages, a decision was made to integrate the use of a BubbleDeck voided slab system. Nearly 2,000 cubic yards of concrete was replaced by 219,147 "bubbles" made from recycled plastic, reducing the building's concrete by 25 percent. This is currently the largest BubbleDeck project in North America.

Among the advantages of using BubbleDeck was that many of the floors, ceilings and columns in the building could remain exposed.

"The BubbleDeck allowed us to get the right height for all the spaces to be flexible, so they could go from active learning to tiered to laboratory-like spaces," Yudell said.

An integrated system of structural, mechanical, finish surfaces, sun shading and interior partitions work together as an ensemble, giving the building the gritty feel of a loft and an elegance when the occasion calls for it.

At the end of the panel discussion, Jeff Kaplan, chief operating officer of David Tepper's hedge fund Appaloosa Management, noted that the Tepper Quad project was completed on time and on budget.

"On time and on budget also meant, and more importantly meant, on strategy and on mission," Kaplan said.