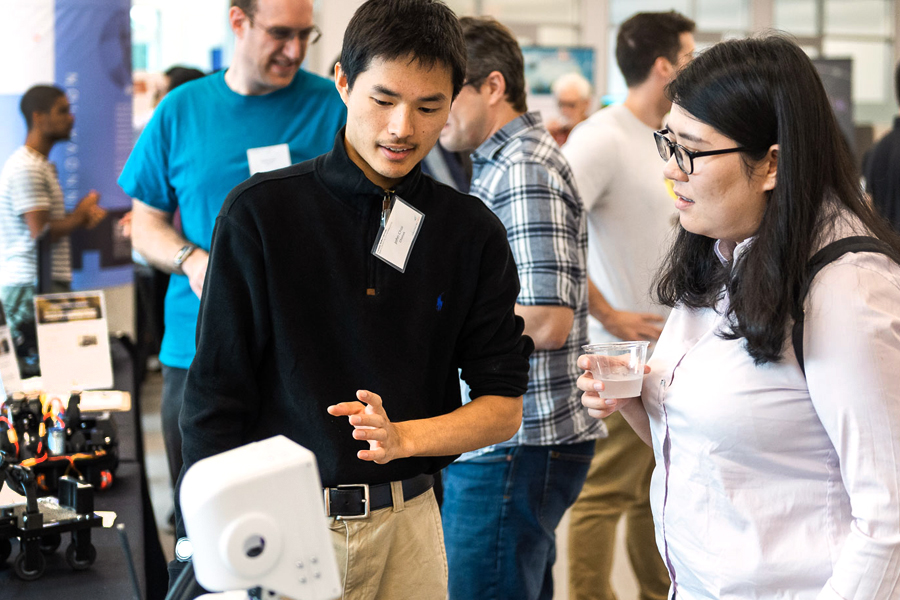 October 16, 2018
LaunchCMU Honors Startups Rooted in Scientific Research
Science@CMU celebrated new Swartz Center for Entrepreneurship space at Tepper Quad
By Noelle Wiker nwiker(through)cmu.edu
Carnegie Mellon University celebrated new space for the Swartz Center for Entrepreneurship and groundbreaking scientific startups at LaunchCMU, an entrepreneurial showcase featuring technology and research.
Titled "Science@CMU," this year's event featured companies such as LumiShield Technologies, a Carnegie Mellon spinoff developing sustainable aluminum electroplating to be used as an alternative to heavy metal-based anti-corrosion coatings.
"The Swartz Center recognizes and celebrates the changing role of universities, not only as originators and keepers of knowledge, but also as engines for discovery and innovation," said Carnegie Mellon President Farnam Jahanian during the event. "In the last five years alone, CMU has generated 1,900 invention disclosures; more than 1,500 patents; and more than 1,300 licenses, options and other agreements executes for more than 2,300 inventors. And since 2008, more than 280 companies have been started."
A Tradition of Interdisciplinary Collaboration
LaunchCMU, sponsored by Latham & Watkins in collaboration with Oracle and Insperity, occurs each spring in Silicon Valley and each fall at CMU's main campus in Pittsburgh. Dave Mawhinney, associate teaching professor of entrepreneurship and executive director of the Swartz Center for Entrepreneurship, said Carnegie Mellon plans to introduce a third LaunchCMU in New York City.
"We are entering a new era of entrepreneurial excellence at Carnegie Mellon," said Mawhinney, who praised the new Swartz Center space as an ideal hub for innovative work. "The Swartz Center was conceived to be a community gathering place for Carnegie Mellon's world-renowned interdisciplinary collaboration. The Swartz Center is at the geographic center of our campus - it is now even easier for our engineers, designers, life scientists, computer scientists, artists and business people to come together, innovate and create great startup companies that deliver value to our communities."
Laurie Weingart, interim provost for Carnegie Mellon and the Richard M. and Margaret S. Cyert Professor of Organizational Behavior and Theory, highlighted the culture of interdisciplinary collaboration endemic to the Swartz Center and to Carnegie Mellon as a whole.
"When the Swartz Center opened a few years ago, it brought together entrepreneurial activities from all across campus. It exemplifies Carnegie Mellon's tradition in promoting excellence in education, research and scholarship," she said.
CMU Ventures on Display
Lenore Blum, Distinguished Career Professor of Computer Science at Carnegie Mellon, introduced the LaunchCMU showcase speakers. Blum founded Project Olympus at CMU, an early-stage innovation center that is now a part of the Swartz Center, where she is a faculty director.
"My vision was to create a sandbox where students and faculty could practice their ideas and make connections with the business community," Blum said.
In addition to the showcase talks, LaunchCMU includes demo and poster sessions with local and CMU-affiliated startups. Some of the featured companies have dedicated "garage" space in the Swartz Center — a key component of the center's design — including NoRILLA, Nabla Ascent, Zensors and Delta Band.
One of the companies presenting at the poster sessions was Root Health, a mobile application co-founded by Raj Sharma, who graduated earlier this year with an MBA. Root's chief operating officer and second-year MBA student Parul Aggarwal called Root Health "the next best app for patient management in clinical trials."
Aggarwal spoke very highly of the support she has received as a Tepper School of Business student.
"There is no limit to the opportunities, no limit to the people who want to help," she said. "The first day I came for a school visit — the day of my interview — was the very day I knew I wanted to be here. I made it known that I wanted to be here, no matter what."
JJ Xu, who graduated with an MBA earlier this year, presented her startup, TalkMeUp, during the poster sessions.
"We equip our end user with an AI-based smart coach on their mobile devices to provide training in communications skills, which better prepares them for situations such as job interviews or sales pitches," she said. "The coach provides real-time, detailed feedback based on a consistent rubric. Our service is 10 times cheaper, but five times better, than what most communications consultants can offer."
Roots of Entrepreneurial Support
Xu was a 2016-2017 Swartz Entrepreneurial Fellow, one of a cohort of Carnegie Mellon students driven to pursue technology ventures. The fellowship program is one of a number of professional and educational resources offered by the Swartz Center, and is supported by a generous gift from alumnus and entrepreneur Jim Swartz, a 1966 graduate of CMU's business school, and his wife, Susan.
"These efforts have one and only one objective: to make Carnegie Mellon the destination of choice for the best entrepreneurs of the world," Swartz said during his remarks at the grand opening. "With world-class faculty in the technologies of the future, CMU attracts the best world-class academic and research programs. Now these research programs will be matched by world-class entrepreneurship programs."
In its new space, the Swartz Center will have more opportunity to continue its support of CMU-connected entrepreneurs.
"Our aspirational plans for the Swartz Center include dramatically increasing the expertise our startups have access to through programs like our Entrepreneurs-in-Residence, providing more early-stage funding for our startups, creating bridges to the Silicon Valley and New York City startup ecosystems where we have many thousands of alumni and access to capital, and continuously improving our educational offerings," Mawhinney said. "These efforts will secure our leadership position among the best startup universities."