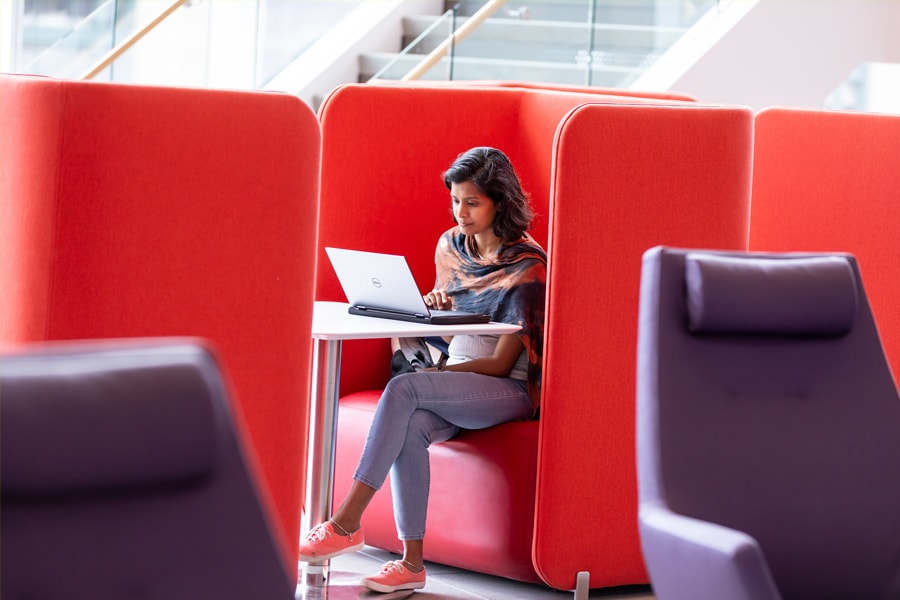 December 10, 2018
Carnegie Mellon's Tepper School Launches Part-Time Flex MBA
New flexible format begins fall 2019 for Pittsburgh-area professionals
Media Inquiries
Mara Falk
Tepper School of Business
Carnegie Mellon University's Tepper School of Business has introduced a new part-time MBA degree for Pittsburgh-area professionals designed to provide more flexibility with a combination of online, evening and weekend study.
The Part-Time Flex MBA takes the place of the Part-Time On-Campus MBA previously offered by the Tepper School. The previous format required part-time students to attend three hours of evening classes at Carnegie Mellon's Pittsburgh campus twice a week. The new flexible format will deliver core courses through a combination of intensive in-person weekend classes six times a year on campus and 75-minute classes twice a week that students can take from wherever they are-at work, at home, on the road-through an innovative online platform. Students will continue to be offered the choice to take electives in evening, daytime or online.
Like its on-campus predecessor, the Part-Time Flex MBA is a three-year program offering the same top-ranked curriculum and faculty as the Full-Time MBA as well as continued access to the same career resources and professional development opportunities.
"This is the MBA program designed for the future of Pittsburgh," said Kathryn Barraclough, head of the MBA program at the Tepper School. "Pittsburgh is rapidly evolving to become a leader in technology, health care and energy, and the Tepper School of Business is committed to help grow the technical and analytical skills of the local workforce to meet the demands necessary for continued growth."
Barraclough said the Part-Time Flex MBA is ideal for professionals with demanding schedules.
"We've heard from many of our part-time candidates, both current students and graduates, that it is becoming increasingly difficult to juggle various demands on their time-full-time jobs, business travel, raising young families-and coming to campus for three hours a night, twice a week is a challenging commitment to keep," she said. "The new Part-Time Flex program will give them the flexibility they need without sacrificing the existing high-quality Tepper experience."
Unique Professional Development Opportunity
Unlike a full-time student who tends to seek an MBA to change careers, many part-time students typically enroll in an MBA program to advance their career at their existing company.
A feature that sets the Tepper School apart from other part-time MBA programs is the Tepper Roadmap, a three-year personalized professional development plan that emphasizes self-discovery, leadership development, network building and career skills that complements the classroom experience to take a student's career to the next level. No other MBA program offers this opportunity.
"As busy working professionals, we find that our part-time students know where they want their career to go, but they need help creating and executing a plan for how to get there," said Kelly R. Wilson, executive director of Masters Admissions. "The Tepper Roadmap provides a framework for students to focus their efforts and the school's resources to advance their growth during and after the program."
"With the Tepper School's strengths at the intersection of business, technology and analytics — along with CMU's reputation for expertise and innovation across industries — companies know that our graduates are uniquely prepared to address the business challenges of the 21st century," said Sevin Yeltekin, senior associate dean of Education.
The Part-Time Flex MBA includes key coursework in business analytics, business technologies, management, finance, economics and communications. Students have the option of completing one or more concentrations or tracks that help them focus their coursework toward their career goals. In addition, students work with leadership coaches to create a personalized professional development plan to build their presentation, communication and leadership skills.
For qualifying candidates, the Tepper School will participate in a matching program for employer tuition reimbursement benefits and provide merit scholarships.
For more information about Part-Time Flex MBA, please visit https://www.cmu.edu/tepper/programs/mba/program-options/part-time-flex-pittsburgh/index.html.